METRO DETROIT — There shouldn't be any doubt that the top prep golfers in Michigan play in the Catholic High School League — not after CHSL teams put up a near sweep of state titles last weekend.
Detroit Catholic Central won the state championship in Division 1, Bloomfield Hills Brother Rice won its second consecutive title in Division 2, and Ann Arbor Greenhills won the Division 3 crown. In Division 4, Clarkston Everest Collegiate placed second.
In addition, Greenhills' Cale Piedmonte-Lang and Royal Oak Shrine's Jeffrey Andrus won individual state titles.
While Brother Rice and Greenhills coasted to their team titles, it took a bit of late-round heroics for Catholic Central to finish atop the pack in the Division 1 finals at Big Rapids' Katke Golf Course.
"I think we were 10 shots back with four holes to play. We played the last four holes at 12 under par and ended up winning by two," coach Mike Anderson said. "The guys didn't have a sense of where they stood; it was more a case of being able to play within their abilities."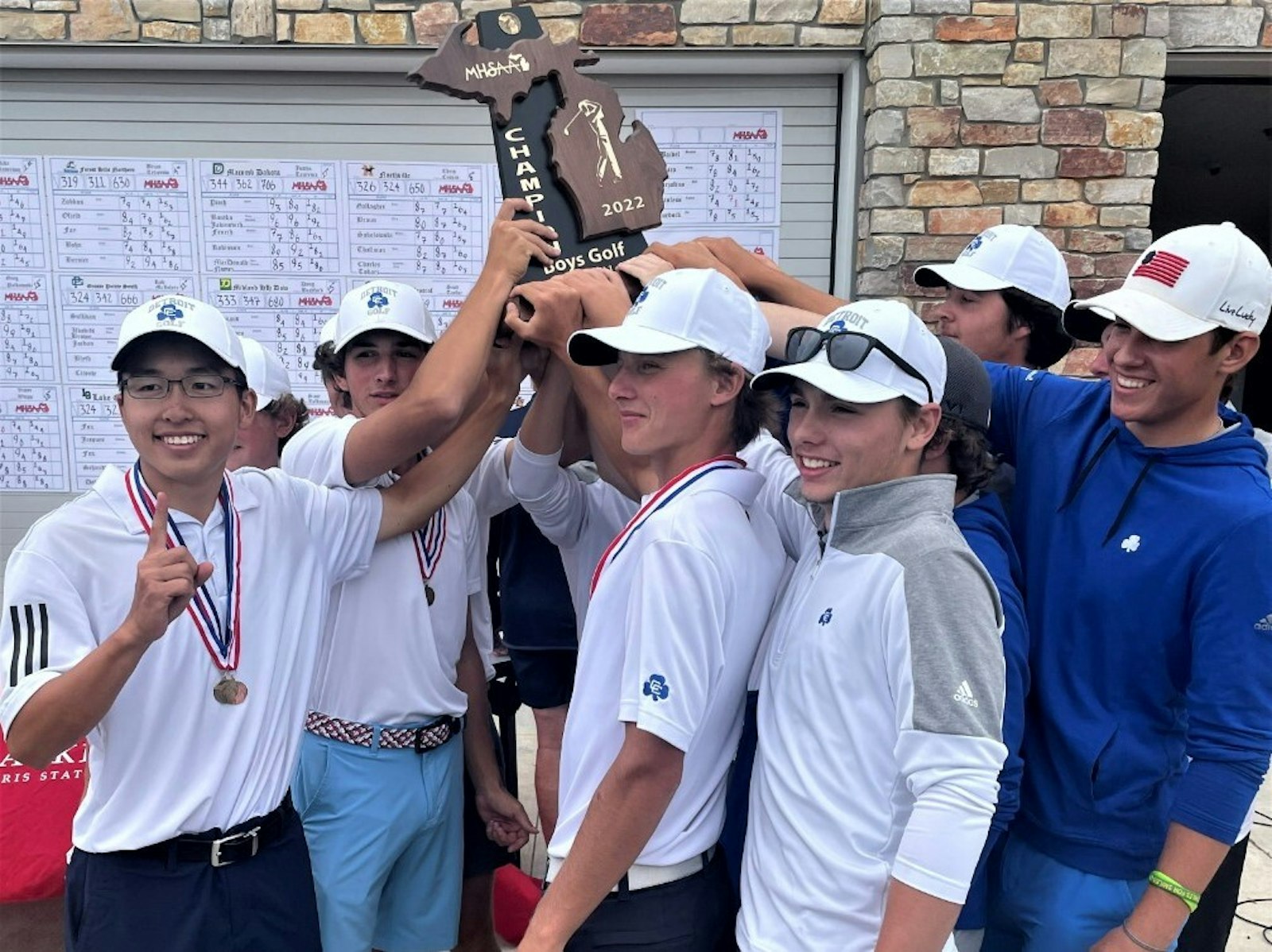 After the torrid comeback, the Shamrocks finished with a low total of 587 in the 18-school tournament, two strokes ahead of Ann Arbor Skyline. Catholic Central's four scoring golfers each placed among the field's top ten: Neil Zhu tied for fourth with a 36-hole total of 145, Peter Stassinopoulos (146) tied for sixth, Julian Menser (147) was eighth, and Liam Casey (149) tied for ninth. Each of the four shot lower in Saturday's second round than on Friday, when the Shamrocks trailed Skyline by five strokes.
Anderson credits the gallery of Shamrock fans that were following the team.
"We were playing well, but so was Skyline, so we had actually lost another five strokes," Anderson said. "We had a gallery watching stroke-by-stroke on their phones, and it had to do with their excitement. They were supportive throughout the tournament, but they were getting very vocal and instilling confidence. It all happened at the same time, and it happened very quickly."
Catholic Central wasn't the favorite going in, but Anderson believed his team had a shot.
"We were playing the best golf we had played all year; we had some great practice rounds and we had the best team dinner that week," he said. "After the first round when we were down by five shots, I still felt the guys were in a great state of mind. At that level, they're such good preparers. Their consistency was unbelievable."
The Shamrocks' three seniors will continue their golfing careers in college: Casey at Hope College, Stassinopoulos at Robert Morris (Pa.), and Zhu — the Catholic League's Tom Connell scholar-athlete award winner — at Swarthmore (Pa.).
University of Detroit Jesuit (ninth, 655) and Warren De La Salle (16th, 683) also were among the Division 1 contenders.
Brother Rice was solidly ahead of the field in Division 2 play at The Meadows in Allendale. The Warriors shot 609, ahead of runner-up Richland Gull Lake (626) and Flint Powers Catholic (628). Brother Rice ended the first round with a five-stroke advantage and distanced itself from the pack with a comparable final round.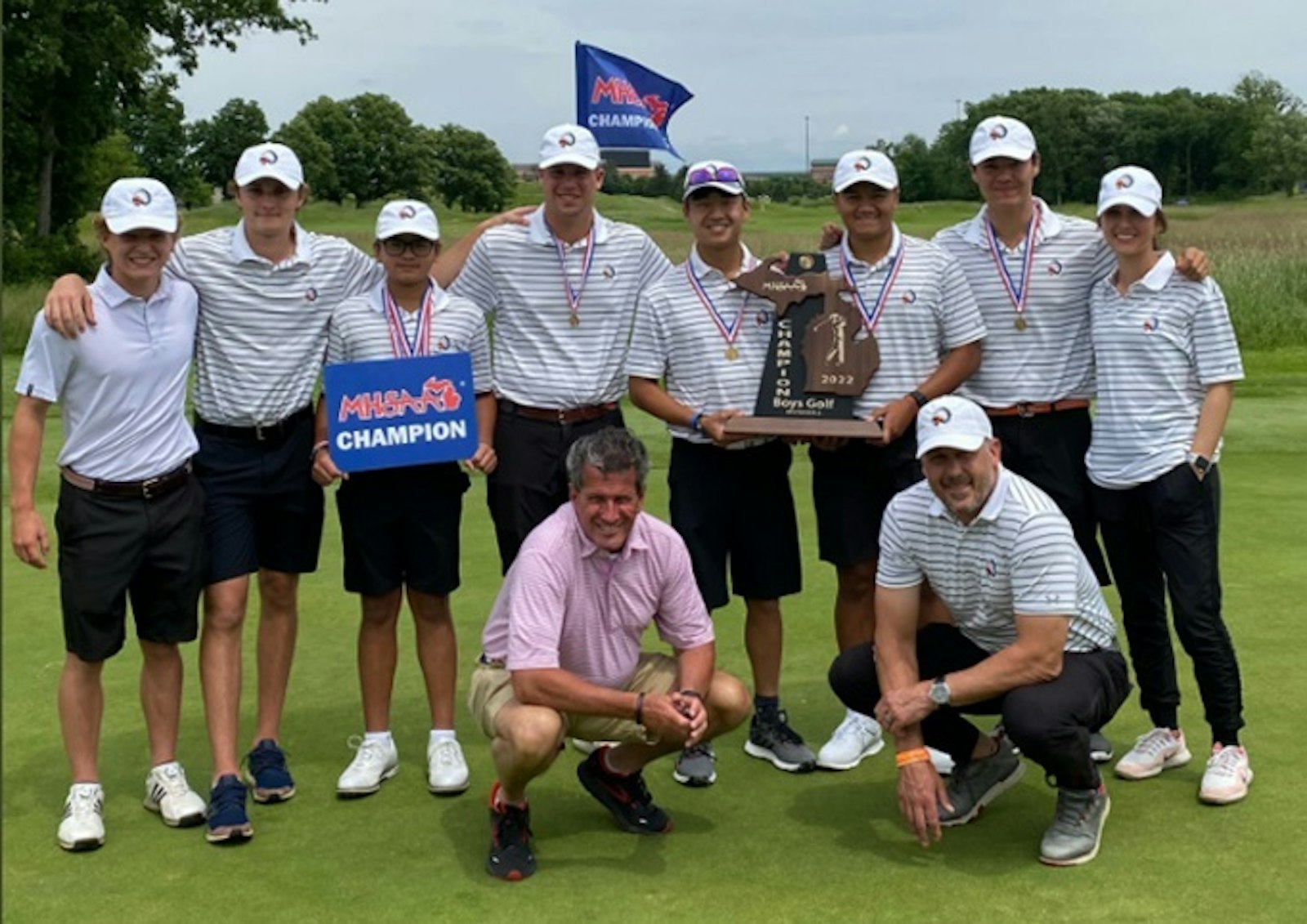 Lorenzo Pinilli shot an even-par 144 to place second behind medalist Bryce Wheeler of Gull Lake (138). Also scoring for the Warriors were Lorenzo's brother, Leandro (151, tied for ninth), Marcus Lee (152, 12th) and Kyle Gruley (162, 36th).
Fellow Catholic League schools Orchard Lake St. Mary's (650, 9th), Bloomfield Hills Cranbrook (347, 16th) and Dearborn Divine Child (734, 18th) also took part in the Division 2 tournament.
In Division 3 at the Fortress in Frankenmuth, Greenhills topped the competition by 20 strokes to win its first state title since 1994. The Gryphons shot a team total of 612, ahead of runner-up Grand Rapids Catholic Central (632) and Catholic League affiliate Grosse Pointe Woods University-Liggett (635).
Since Greenhills had a commanding lead throughout the weekend, the only drama was for medalist honors. Piedmonte-Lang trailed Grand Rapids Catholic Central's Will Preston going into the final hole and was merely hoping to pull into a tie and go to a playoff. However, Piedmonte-Lang sank a 25-foot putt, which left him ahead of Preston by one stroke.
Greenhills used up-front strength to win, as Beau Brewer (150, fifth) and Max Shulman (152, tied for sixth) joined Piedmonte-Lang on the Division 3 All-State squad. Liggett's Charlie Cooksey (152, tied for sixth) and Sean Sullivan (153, tied for eighth) reaped similar honors.
Catholic League Cardinal Division champion and defending state champion Everest was the runner-up in the Division 4 tournament at Forest Akers West in East Lansing. The Mountaineers carded 646, behind Lansing Christian's 622. Everest began the final day three strokes back of the lead, but Lansing Christian blitzed the field, shooting a final round of 304 — 19 strokes better than any other team over the final 18 holes.
Shrine's Andrus — who is receiving a scholarship to play golf at Central Michigan University — shot an even-par 72 on both days. His 144 total was six strokes ahead of Maple City Glen Lake's Blake O'Connor.
"I knew where I stood after the first day, and on the second day I was more focused on what I could do," Andrus said. "At the last hole I found out I had a five-shot lead. I was kind of shocked. I knew that I was right in it. I knew I was right in it, but didn't know I had a five-shot lead. Two, maybe, but not five."
Andrus had played the Forest Akers West course in the past, and he said that gave him an advantage since he knew how to approach each hole.
"I was really solid off the tee, and I could always trust my drives throughout the two days," he said. "I was solid with the irons and solid putting, too. Whenever I missed greens, my chip-ins were solid."
Team-wise, Shrine finished 11th (698) while Riverview Gabriel Richard was 12th (703). Everest's Remy Stalcup (tied for third, 151) and Gabriel Richard's Blake Wagner (tied for eighth, 156) joined Andrus with Division 4 all-state honors.
Copy Permalink