DETROIT — A 29th consecutive Catholic League title. A team state title. Seven individual weight-class state champions.
That sounds like the ultimate checklist of accomplishments for any wrestling team, but for Novi Detroit Catholic Central, it's merely a matter of living up to expectations.
And it was a great season, even by the Shamrocks' standards.
"Oh my goodness — I'm more than pleased, I'm really proud. A beaming smile. I'm very proud of the way these guys finished and the effort they displayed. Actually, proud is an understatement," said head coach Mitch Hancock, as the MHSAA individual state championship tournament wrapped up last weekend at Detroit's Ford Field.
Catholic Central had a dominant performance, as half of the 14 state champions wore the Valiant Blue and Peerless White. Winning seven weight classes ties the Division 1 all-time best mark, which Catholic Central set in 2019. And the team was just one point away from setting a new standard, as another championship match ended with a 2-1 loss.
That wasn't the season's top highlight, though. The prior weekend at Kalamazoo's Wings Stadium, the Shamrocks outdueled Hartland, 41-21, to earn their first team title since 2020.
"Yeah, it was a lot sweeter, especially coming off two runner-up performances," Hancock said. "For it to be our 16th overall title at Catholic Central wrestling — which now leads the state of Michigan for the most titles in the sport — is pretty awesome and pretty prestigious."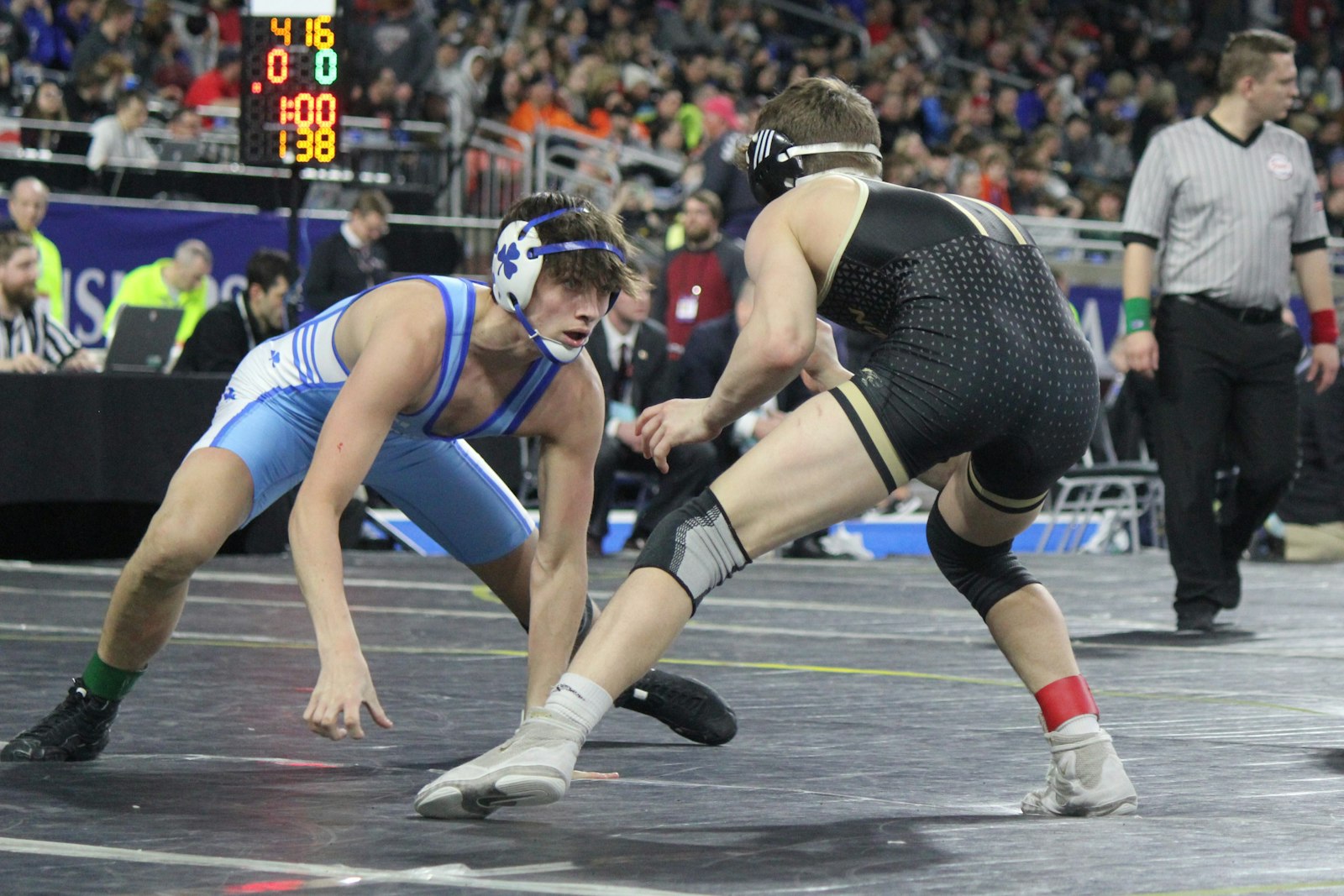 Hancock's athletes were just as enthused to take the top trophy back to Novi.
"It felt awesome. The last two previous years we finished second, so that stung and it just motivated us to finish on top this year," senior Drew Heethuis said. "Hopefully it motivates them to keep this ride going. Whenever we win the state title at CC, it's usually in a run, so we want them to keep this run going."
Classmate Dylan Gilcher said the achievement was like having a big weight lifted off the team's shoulders.
"Winning my freshman year was a great feeling, but it wasn't great to not experience that feeling again as a sophomore and a junior and share it with my teammates," said senior Dylan Gilcher. "Our coach posted up pictures around the locker room of us holding the second-place trophy, and it wasn't a good memory. It was really nice and refreshing to end (my prep career) with one, because it set our legacy. Everyone was a lot happier, no one was crying. You could just see the joy in the new photo, and see our bland faces the year before."
Hancock said the guys "had a chance to enjoy it for about 24 hours before they had to re-focus for the individual tournament," but they showed the same intensity once they reached Ford Field. All 14 Shamrock qualifiers reached the quarterfinals, eight wrestled into the finals, and seven took home gold medals.
University of Michigan-bound Gilcher, at 150 pounds, was the first. His match ended early when he registered a 20-4 technical fall over Brighton's Travis Richardson.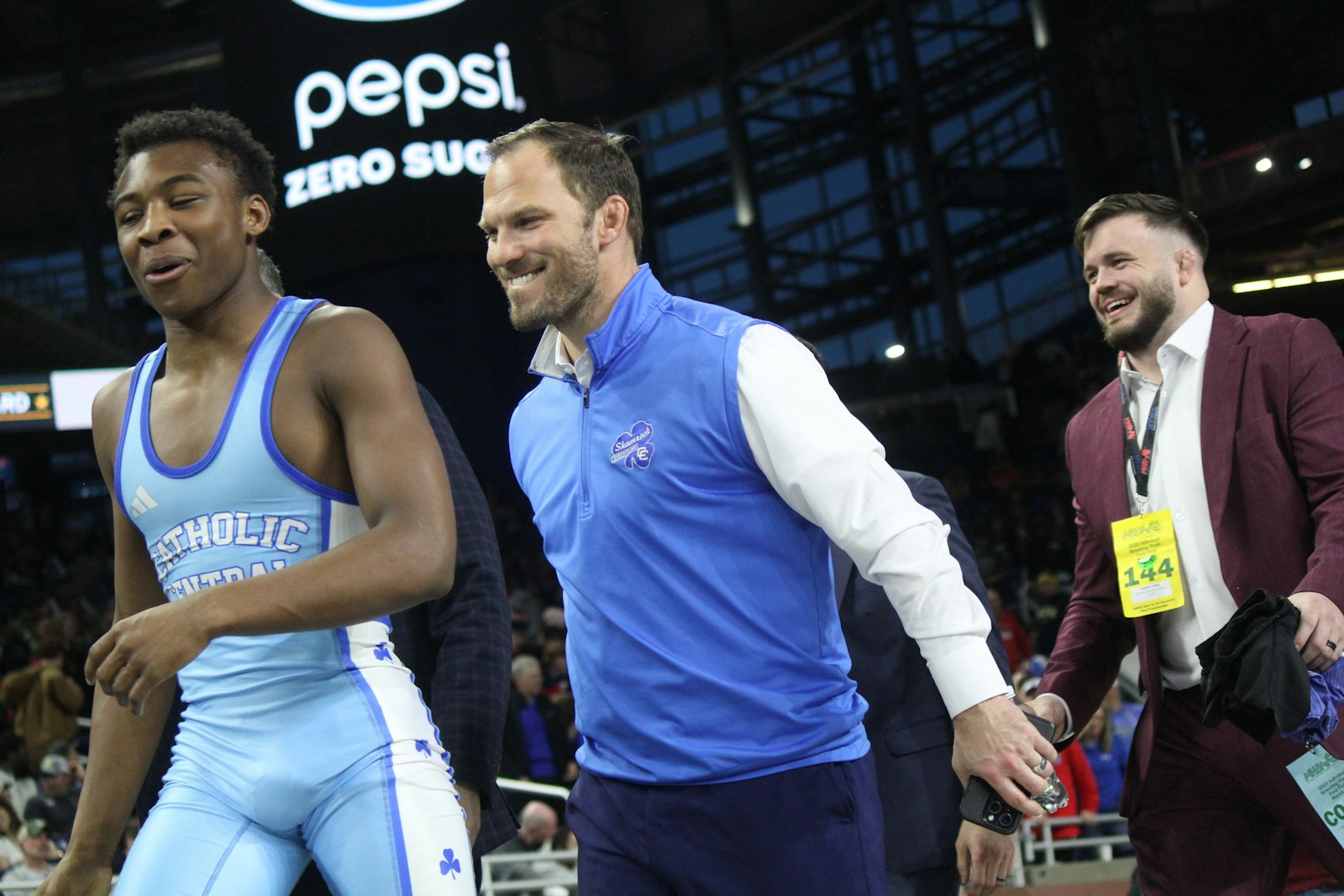 "That was the plan. I wanted to pin or tech my way through the tournament. I ended up with one pin and three techs, so I'm pretty happy," said Gilcher, who completed his second straight undefeated season (36-0) and became the 32nd wrestler in state history to win four state titles.
"I started thinking about that in my freshman year, I guess. That wasn't even on my mind before that," he said. "After I got the first one, it was like, why can't I get the next three?"
Junior Darius Marines has a chance to join that exclusive club next year. He won his third title with an 11-2 major decision over Hartland's Vinnie Abbey at 157 pounds.
"I wouldn't say they get easier," he said. "It's more of a challenge because people are coming for you. You're No. 1 and you need to protect yourself at all time. Everybody's looking to dethrone you. But I wasn't too nervous. It's the standard. It's business. I've been here before. Nothing new."
Heethuis, who will wrestle for Princeton University next year, also won his third title, with a narrow 4-3 decision over Rockford's Elijah Bunn at 132 pounds.
"I got my first one sophomore year. That one was kind of a different environment because it was the COVID year and the tournament was smaller. Last year was the one I got real pumped for and real excited — that one was a big deal to me," Heethuis said. "This year, it was a little less exciting. It's exciting because I get to finish out on a win, but it didn't have the same feel."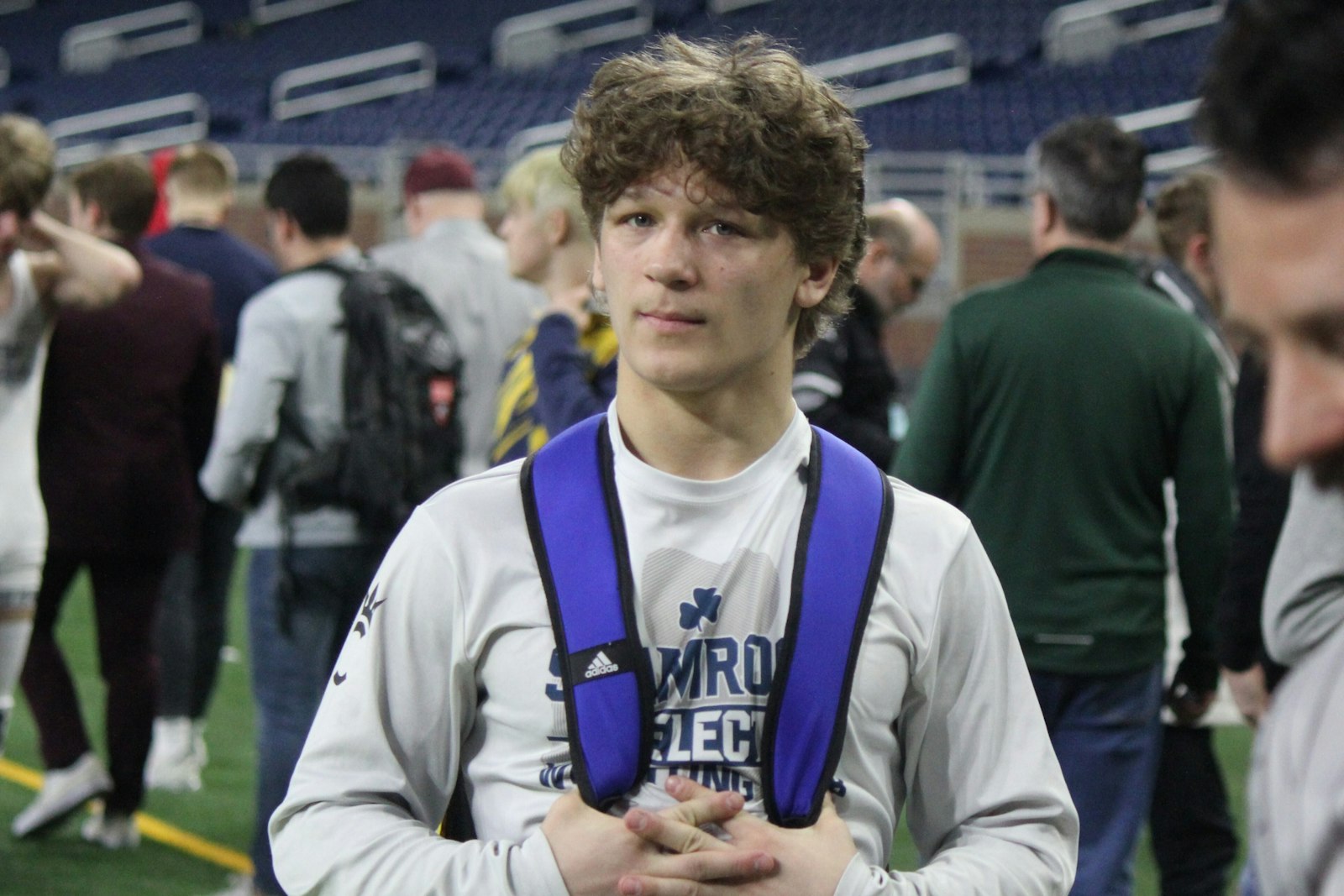 Hancock was just as excited for his other state champions, three of whom reached the top rung for the first time: freshman Wyatt Lees (106 pounds), sophomore Connor Bercume (215) and senior Cameron Adams (165).
"Cameron Adams was really neat, especially him being a senior — that was his last opportunity, and he went out and got it done and got the pin. I'm really excited for him and happy for him," Hancock said.
Senior Clayton Jones won the Shamrocks' final title — and his second — at 144 pounds, with a 17-2 technical fall over Roseville's Jay'Den Williams.
Hancock called this team "a special group" that is spiritually grounded.
"From the get-go we always preach going into practice and going into matches to glorify God and give Him the glory," he said. "These guys did that today and did that all year. Whether it's praying before practice, praying after practice and diving into the Scripture, that's Who we perform for, and we use these gifts and talents that He's given to us, and let it fly out there for the Shamrocks."
"I want to say this exceeds the expectations, this is the standard that we set. We had a really tough schedule this season and it was all in preparation for this day and last week," Marines said. "We all have a standard in our mind for what we want to accomplish. We all want to be state champs; we all have that in our heads, so we all work towards that together, like a family. We all are together, we grow together. We have lows, we have highs, but we get there."
Copy Permalink