Nonprofit has managed $7.5 million in grants to Catholic parishes, schools and community nonprofits since its inception in 2017
DETROIT — The Catholic community in southeast Michigan remains generous, even amidst a turbulent economy still ringing from the effects of COVID-19.
The Catholic Foundation of Michigan, an organization that began in 2017 to serve as a conduit of giving to Catholic parishes, schools and organizations in the area, managed approximately $3 million given to Catholic groups in 2021 through various funds to support local Catholic parishes, schools and charitable causes.
On Dec. 7, the foundation awarded $138,500 in competitive grants given to 34 community partners during its fourth annual grant awards ceremony, with recipients and donors in attendance at the Detroit Athletic Club.
"It has been a very difficult period these last 18 months, but from what I've seen, Catholics have stepped up to a greater degree to fund these organizations," Patrick Fehring, chairman of the Catholic Foundation of Michigan's board of directors, told Detroit Catholic. "I'm just proud of our Church, as well as our donors who have done a lot of good work."
The foundation has granted $7.5 million to Catholic parishes, schools and organizations since its founding, both through its competitive granting process and various grants awarded throughout the year to support causes specified by donors, including scholarships, charitable funds, donor-advised funds and endowments.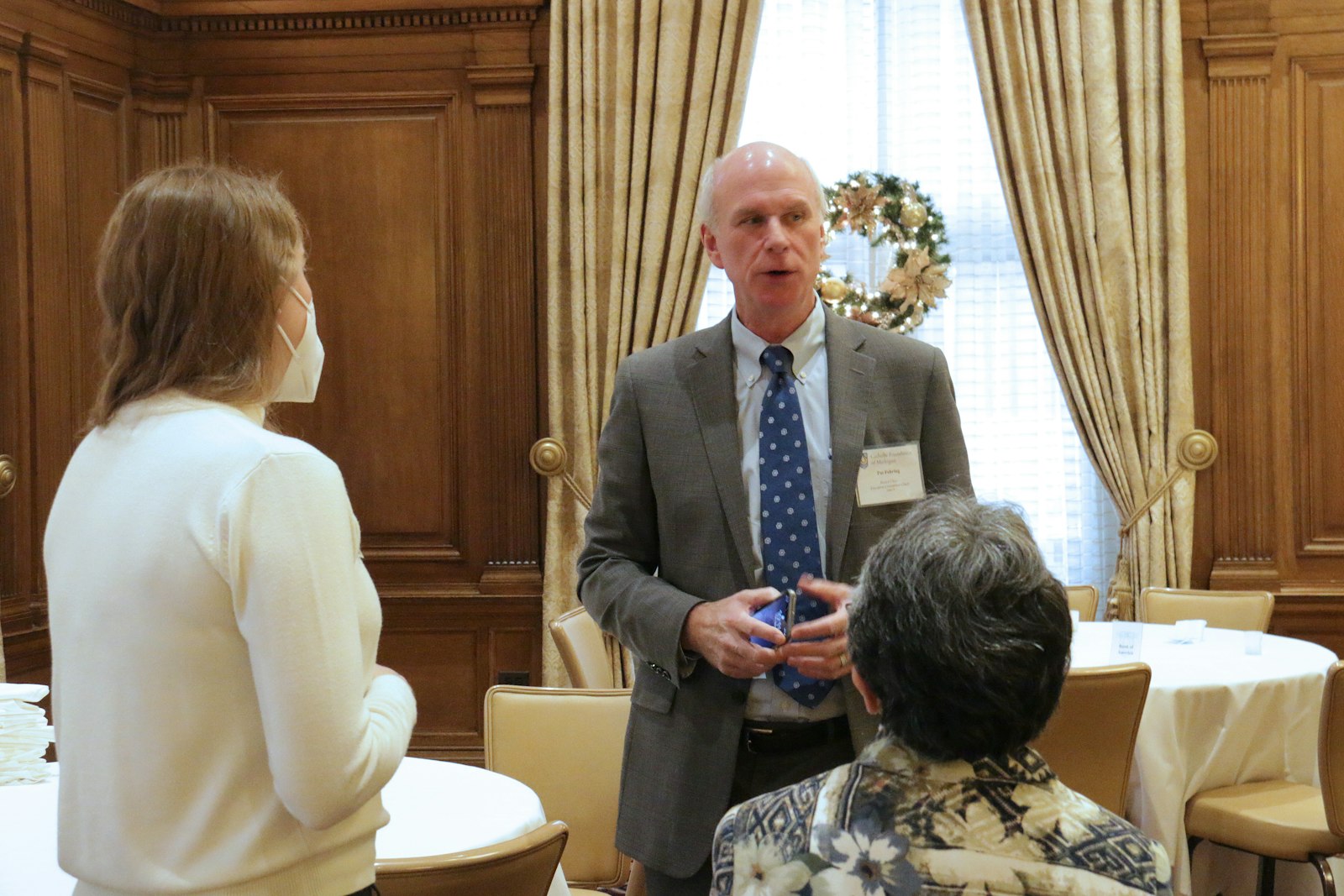 The competitive grant recipients are selected by the Catholic Foundation of Michigan's Grant and Impact Committee, which evaluated each of this year's grant applications through one of three categories: empowering social outreach, building vibrant parish life and fostering Catholic education and formation.
In addition to the impact grants, awards are also given through the foundation's Church in the City Fund, St. Oscar Romeo Fund, and Spirit of Innovation Fund.
"There are a wide range of ministries that are supported by Catholics who really put their souls into the work," Fehring said. "What's really resonated with people this past year is social service. Because so many families have been struck by the pandemic, that has resonated with generous Catholic families via support for a wide range of social service organizations."
Helping pregnant women in Monroe County
The Selah Center of Hope, a maternity home in Monroe for homeless pregnant women founded in April 2020, received a $5,000 grant from the Catholic Foundation of Michigan through its "empowering social outreach" category.
The maternity home is a residence for women who intend to carry their pregnancies through parenting or adoption while facing financial obstacles, homelessness or abuse.
"We've had seven women in the house since we started, normally referred to us by Child Protective Services, the Department and Health and Human Services or a local pregnancy center," Kara Dowler, CEO for the Selah Center of Hope, told Detroit Catholic. "We set up case plans for each individual woman; some might need a driver's license, some might need a college education or a GED or a job; it depends on the case. But we do the whole, broad spectrum for them."
Strengthening support systems for immigrants
Most Holy Trinity Parish in Detroit received $1,000 through the St. Oscar Romero Grant for Hispanic ministries for its Strangers No Longer Outreach Project, which assists in forming and expanding a "Circle of Services" through the Agape Center in northern Macomb County, which serves as a hub for Hispanic ministry in the area.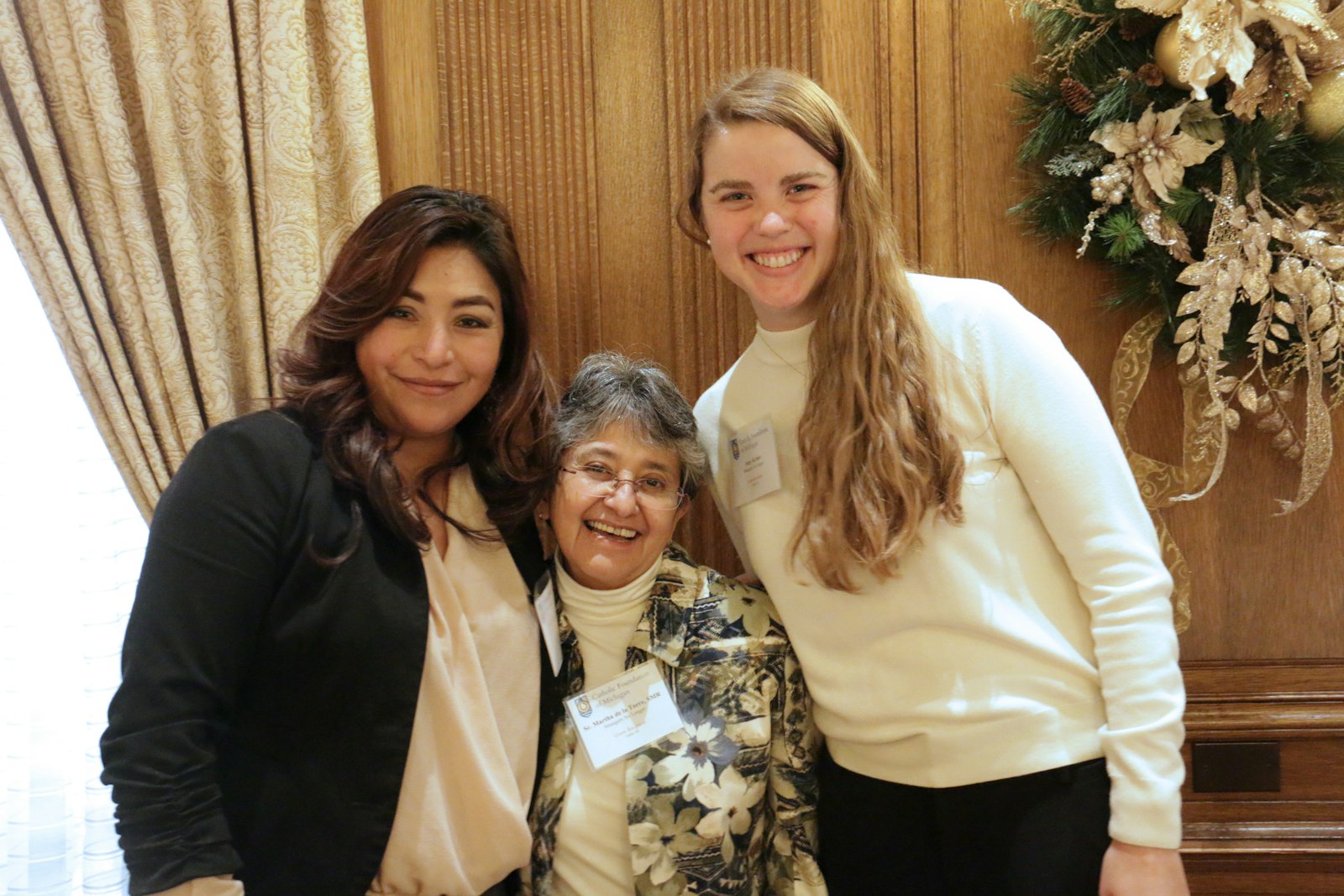 Strangers No Longer started in 2017 as a way for parishioners from various churches to assist immigrants moving into the Detroit area and advocate for an immigration policy in line with Catholic social teaching. The group has about 20 "Circles of Friends" at various parishes throughout the archdiocese.

Amy Ketner's role in Strangers No Longer is to support the various circles, primarily working with non-immigrant participants and advocates, while her colleague, Sr. Martha de la Torre, SMR, primarily works with immigrant women.
"This grant is a true gift. We are slowly building our circles of support for immigrant women, and this grant will help to support Sr. Martha with her work," Ketner said. "We are looking to form spaces to build partnerships of encounter, to help women to work with our circle leaders in sharing, despite language and cultural barriers, to have that sense of encounter with the Gospel."
Integrating volunteers in the Detroit community
Every year, a cohort of young men and women come to Detroit to serve what Pope Francis calls the "peripheries of society" with the Jesuit Volunteer Corps.
The group lives together, working in classrooms, campus ministry at the University of Detroit Mercy, and through street outreach with the Pope Francis Center and other warming centers. To educate the volunteers on the community they are serving, the Jesuit Volunteer Corps brings in speakers to teach corps members about Detroit, its culture, community and needs, so they can better serve the area.
This year, the Jesuit Volunteer Corps received a $4,500 grant for its "Building an Anti-Racist Community" program, a partnership with Christ the King Service Corps and Mercy Volunteers in creating a robust and collaborative diversity, equity and inclusion program for volunteers working in Detroit, especially in southwest Detroit and the Bagley neighborhood on the northwest side.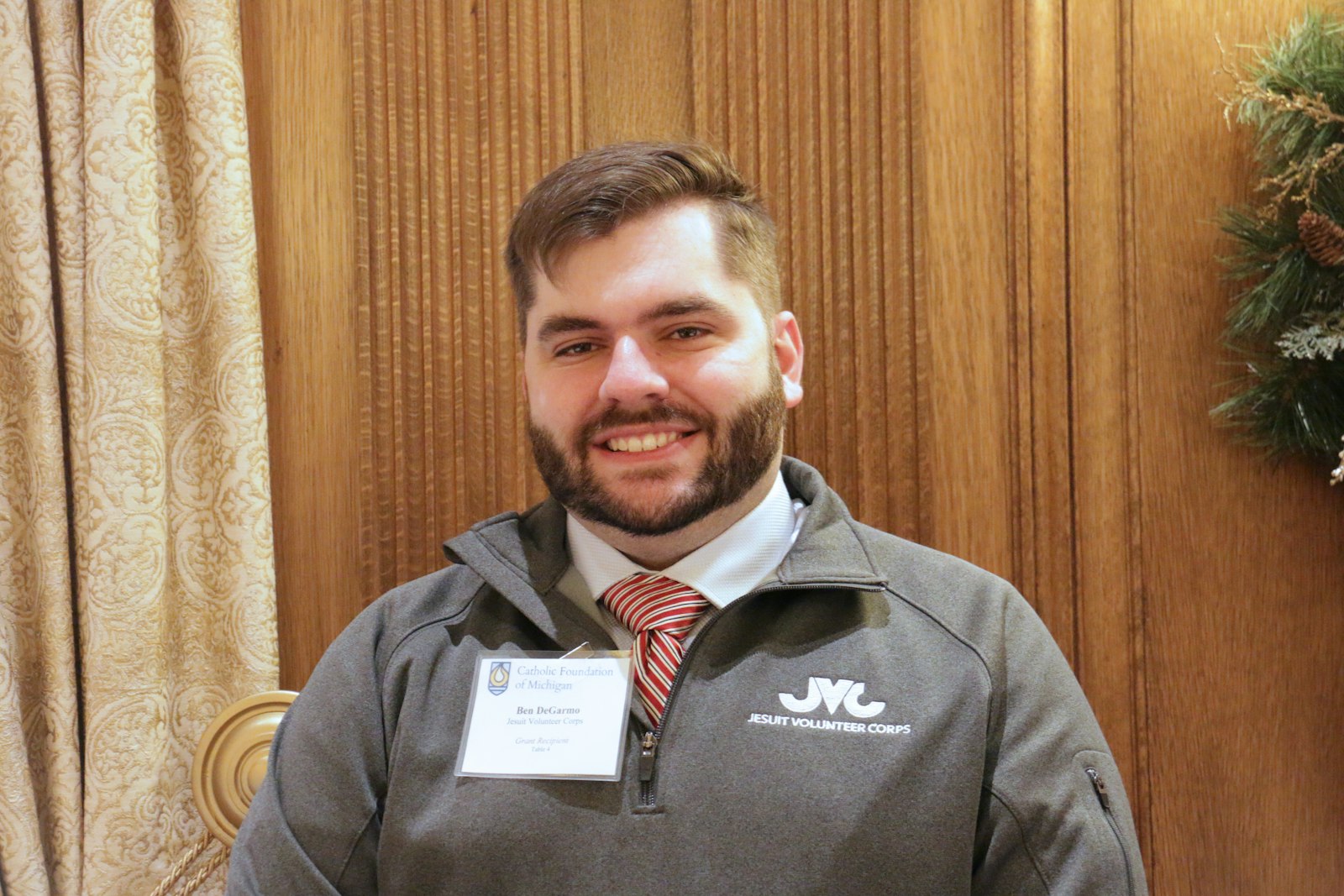 "We are doing more racial history, racial bias training within the city, getting volunteers to integrate more with their local neighborhoods," said Ben DeGarmo, area manager for the central region of the Jesuit Volunteer Corps.
Jesuit volunteers are new to Detroit, so the grant will allow the organization to familiarize volunteers with Detroit and the specific challenges and needs the city has, DeGarmo said.
"This grant will help us locate and identify speakers, bring them in and pay them an equitable and fair rate," DeGarmo said. "We're looking specifically for people who are Detroit natives, Michigan residents who've been here for a long time. We're hoping to get volunteers to stick around after the program ends, hoping they are so engrained in the city they want to stay."
2021 Catholic Foundation of Michigan grant award recipients
Empowering Social Outreach
All Saints Literacy Center, English as a Second Language (ESL) Tutoring, $5,000
Catholic Community Response Team, CCRT Diversity & Enrichment Program, $5,000
Christ the King Service Corps (Church in the City Grant), Fruits of Service, $5,000
Crossroads of Michigan, Providing Help/Hope to Parents and their Children, $5,000
Genesee County Habitat for Humanity, Outreach and Inclusivity Video-Conference System, $5,000
International Samaritan, A Walk in the Dump Immersion Experience, $1,500
La Casa Guadalupana (Church in the City Grant), Summer Program for Youth, $5,000
Ladies of Charity of St. Vincent de Paul, Oakland County Association, Clothes Closet and Food Pantry, $5,000
Lighthouse MI, Emergency Food Response, $2,500
Mercy Education Project, Mercy Education Project Girls' Program, $5,000
Most Holy Trinity (St. Oscar Romero Grant for Hispanic ministries), Strangers No Longer Outreach Project, $5,000
Our Lady Star of the Sea, Seeding in the Light of Day, $1,000
Pearls of Great Price Coalition, Hidden in the Shadows, $5,000
Pope Francis Center, Nutrition Program, $5,000
Province of St. Joseph of the Capuchin Order (Church in the City Grant), Capuchin Soup Kitchen, $5,000
Selah's Center for Hope, Hope House Maternity Home, $5,000
St. Luke N.E.W. Life Center, Removing Barriers for Families in Poverty, $5,000
Saint Vincent de Paul Detroit, Journey to Housing Program Resident Services Program, $2,500
Wayne County Jail Outreach Ministry, Wayne County Jail Outreach Ministry, $2,500
Building Vibrant Parish Life
St. Aloysius (Spirit of Innovation Grant), Outreach and Mission Hub at Our Lady of the Rosary, $7,500
St. Augustine-St. Monica Catholic Church (Church in the City Grant), 2021 From the Streets to the Church Evangelization, $5,000
St. Augustine-St. Monica Catholic Church (Church in the City Grant), Jazz on the Lawn/Saturdays on St. Francoise St., $5,000
St. Lucy Catholic Church, Encountering Jesus Through Art, $1,000
St. Peter Claver Catholic Church (Church in the City Grant), Organizing to Sustain Mission, $5,000
Trinity Vicariate – Detroit (Church in the City Grant), Trinity Vicariate Family of Parishes Collaboration, $5,000
Fostering Catholic Education and Formation
Cathedral Choir Academy of Detroit (Church in the City Grant), Cathedral Choir Academy, $5,000
Detroit Cristo Rey High School (Church in the City Grant), Freshman Academy Recovery, $5,000
De La Salle Collegiate, Making Kairos Possible for Everyone, $500
Holy Redeemer Grade School, New Religious Education Program for Grades K-8, $5,000
Jesuit Volunteer Corps (Church in the City Grant), Building an Anti-Racist Community, $4,500
Loyola High School (Church in the City Grant), Student and Adult Faith Formation, $2,500
Regina High School, Regina High School Kairos Retreat Program, $500
Ss. Peter and Paul Jesuit Church (Church in the City Grant), Contemplative Leaders in Action-Detroit (CLA), $5,000
University of Detroit Jesuit High School & Academy (Church in the City Grant), Jesuit and Catholic Identity Formation Program, $2,500
Copy Permalink
Stewardship