DETROIT — How strong is the Catholic League shaping up to be in boys basketball this winter?
If the results from the Calihan Challenge at the University of Detroit Mercy are any indication, the Central Division should be highly skilled from top to bottom. Five games pitting Catholic League Central Division schools against foes from the Macomb Area Conference ended with five victories for the Catholic League, each by lopsided scores.
"The Catholic League is absolutely loaded, and it's going to be a challenge every game," University of Detroit-Jesuit coach Pat Donnelly said. "There's nothing on the (league) schedule where you could walk in and say, 'All right, we're comfortable' — because every team is loaded with talent and well-coached."
"I think the Catholic League is as strong as I've ever seen it. I was an assistant with George (Porritt) for a number of years and have been around the Catholic League," Orchard Lake St. Mary's coach Todd Covert said. "It's going to be a battle every single night. It's a tough schedule, but it is what it is."
Catholic League play won't begin until Jan. 11, yet teams have been sharpening their skills against non-league opponents, including these Calihan Challenge games from Dec. 12:
Orchard Lake St. Mary's 72, Grosse Pointe South 48
Grosse Pointe South hit its early three-point shots, but went cold after that as St. Mary's adjusted the pace. Facing an early deficit, the Eaglets closed the first quarter on an 11-0 run and never trailed after that. Kareem Rozier's buzzer-beating three-pointer swung the momentum in St. Mary's direction.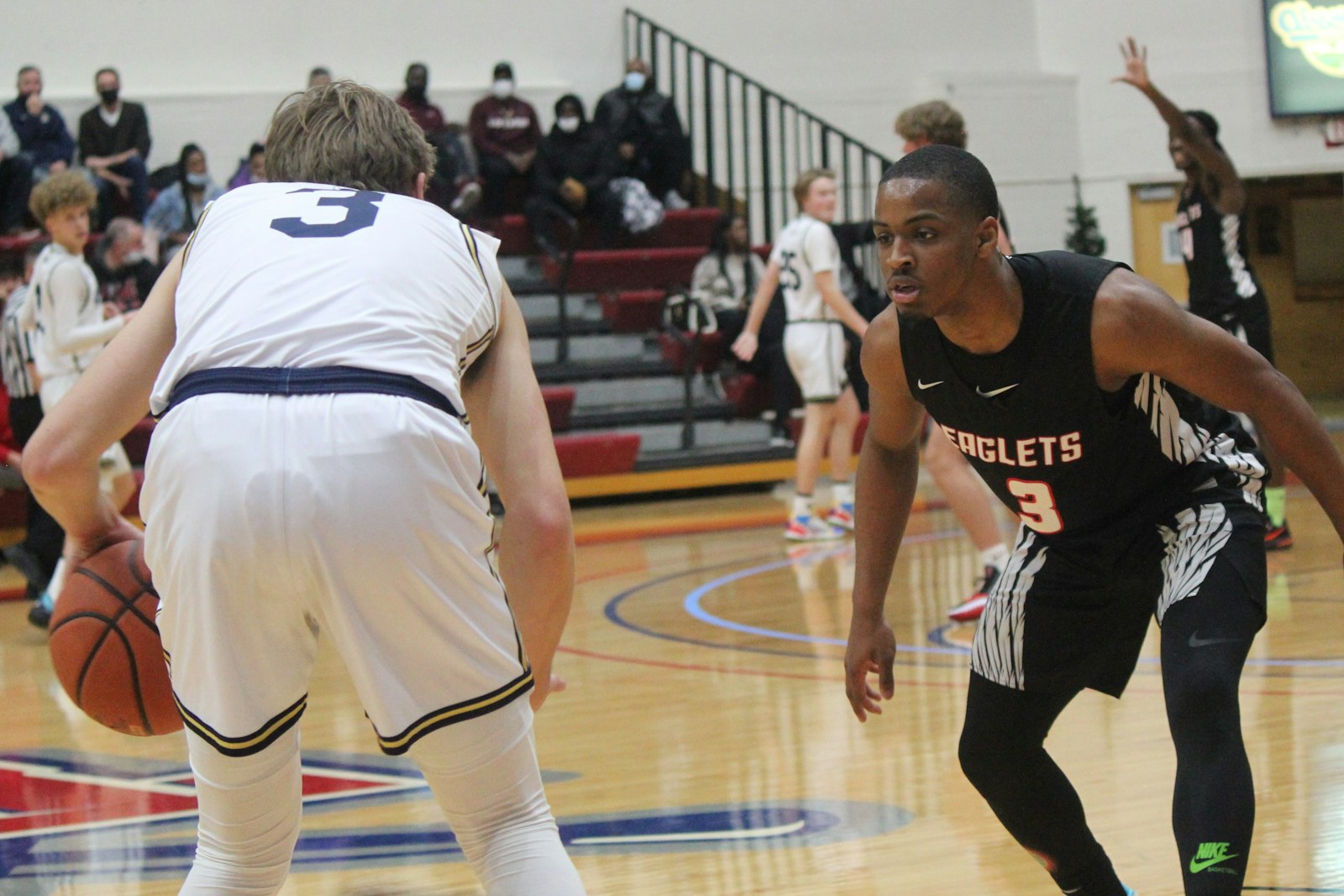 "I just think we were able to speed them up a little bit, we were able to get out and run in transition after we rebounded," Covert said. "We put a lot of emphasis on (stopping) No. 3 (shooting guard Anthony Benard); he's a great player. Part of our game plan was to try to wear him down the best we could, try to trap him and double (-team) him. Sometimes we did good, sometimes we did bad."
JaVaughn Hannah had a game-high 27 points for the Eaglets, while freshman Trey McKenney added 22.
University of Detroit-Jesuit 77, Macomb Dakota 47
Dakota scored its first points 10 seconds into the contest, but when U of D Jesuit responded immediately with a slam dunk from Chris Mutebi, the Cougars began to think defeating the Cubs might be a tall task. The contest was tied 12-12 with a minute to go in the first quarter, but U of D Jesuit scored 12 points in the next 2:45 to break the game open. Ryan Hatcher's buzzer-beating three-pointer gave the Cubs a 39-24 lead at the half. U of D Jesuit went on a roll in the third quarter, outscoring the Cougars 27-10 to increase the lead to 66-34. The Cubs' half-court trap defense was effective.
"Dakota's going to have a nice team; we just got the better of them today. I know coach (Paul) Tocco does a great job with them," coach Pat Donnelly said. "We're happy with the win, but there's still a lot of things we can do to clean things up. We need to execute better, play against ourselves — to challenge ourselves in everything we do individually and collectively.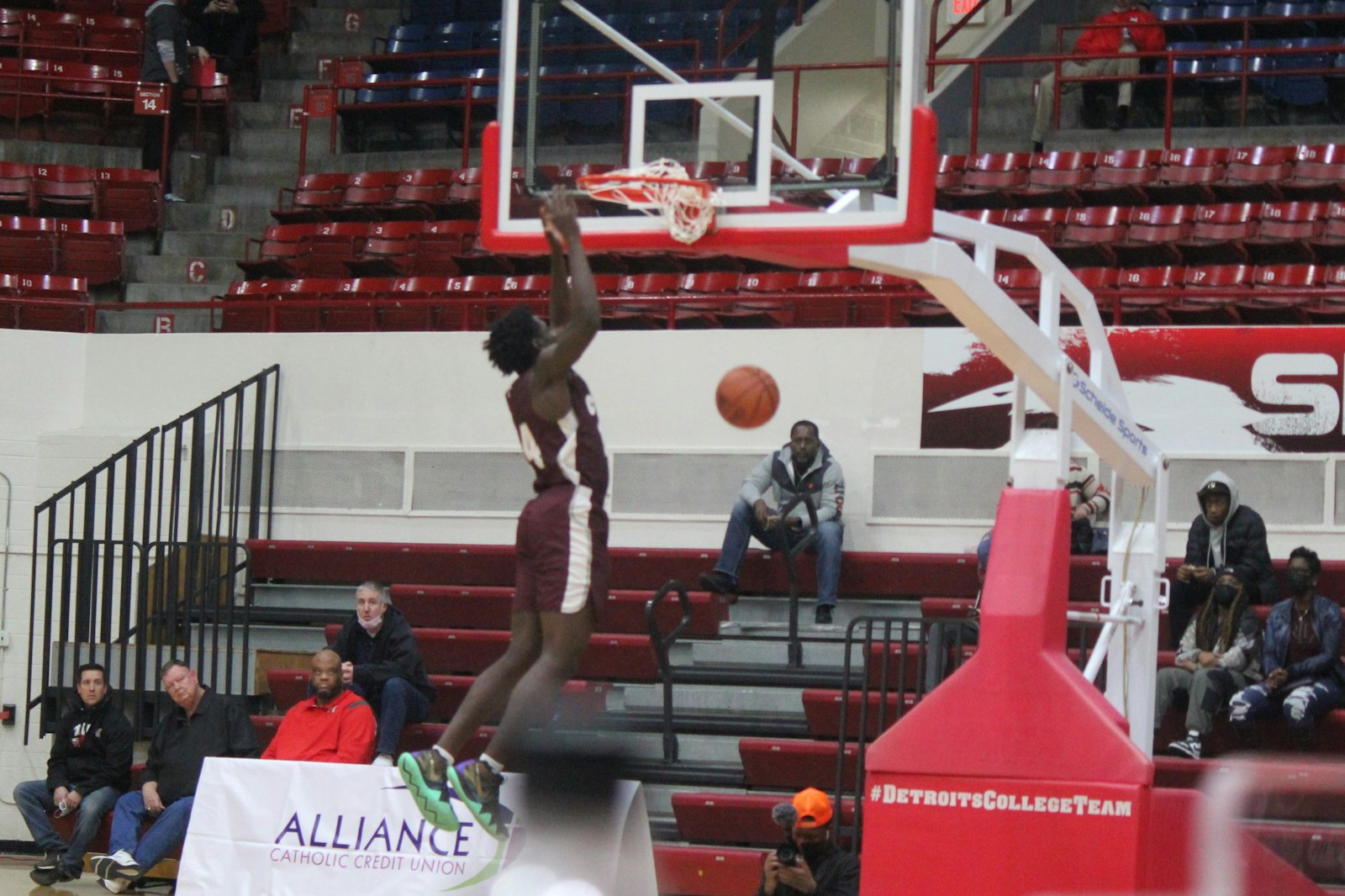 "I didn't think that our defensive effort in the first quarter was very good. I thought we picked it up in the second, got some steals, got some deflections, got out in transition, and that opens up the lead a little bit and it also puts some mental pressure on the opponent," Donnelly added. "That's going to be a key for us all year; we've got to play great defense for us to score."
Sonny Wilson led the Cubs with 20 points and Charles Turner added 18. Hatcher (12 points) and Mutebi (10) were also in double figures.
Detroit Catholic Central 76, Port Huron Northern 37
Behind a 14-point run in the first quarter, Catholic Central raced out to a 20-4 lead, and their foes never recovered. Although Catholic Central had trouble containing Northern's Tyler Jamison, who scored all but one of the Huskies' 19 first-half points, the Shamrocks' 6-foot-8 Cooper Craggs gave Northern fits by dominating in the lane. The game went into running-clock mode with 2 minutes remaining in the third quarter, when Catholic Central led 64-24.
"We do a lot of inside-out stuff," coach Brandon Sinawi said. "We've got guys that can shoot from the outside, but we also understand we're going to have mismatches with Cooper inside; we've got to take advantage when we see it. We hadn't seen Northern yet, so we didn't know what size they had, but once we realized what we could do with it, we definitely wanted to make sure we got it in to Coop. He's somebody we're going to go to, and crunch inside when we need it."
Craggs had 25 points, tying with Jamison for game-high honors.
Bloomfield Hills Brother Rice 63, St. Clair Shores Lake Shore 46
Brother Rice led the entire way, except for the first four seconds — exactly how long it took the Warriors to control the opening tip and feed Warren Marshall for a wide-open lay-up. Brother Rice scored in each of its first five trips up the floor, taking a 10-2 lead and forcing Lake Shore to play catch-up all day. The Shorians got within 18-16 but were never able to take the lead. Back-to-back three-pointers from Henry Garrity and Curtis Williams early in the second half were the back-breakers, creating a double-digit lead, 44-33 — the Warriors weren't tested after that.
"They've got five senior starters, so I thought the game seemed more important to them early than it did to us," Brother Rice coach Rick Palmer said. "I challenged our guys at halftime, I didn't think we looked like us. We weren't sharing the ball; we weren't defending like we wanted to. I thought in the second half we did a better job. We shared the ball, we scored, we boarded, and when we do that, we're good. When we don't, we're just OK."
Xavier Thomas was the Warriors' high scorer, with 17 points.
Warren De La Salle 85, Eastpointe 36
Right from the opening tip, De La Salle's defense was too quick for Eastpointe, creating numerous takeaways and jumping out to a 16-0 lead before the Shamrocks made their first shot five minutes into the game. The Pilots led 23-3 after the first quarter and 45-22 at halftime, and the game shifted into running-clock mode late in the third when the score was 67-27.
"We try to play a fast pace," coach Gjon Djokaj said. "We've got a lot of bodies, a lot of really good athletes who can pick up the pace. Offensively, we try to get out and run as much as possible, and not let (opposing) defenses get set. We use our speed and athleticism to our advantage."
Ten Pilots had 6 points or more. Mike Sulaka (12 points) led the attack, with Nino Smith netting 11 and Triston Nichols scoring 10.
Copy Permalink