BROOKLYN — After slogging through rainstorms, wind and grounds with standing water during the prior weekend's regional cross-country meets, participants in the Michigan High School Athletic Association's cross-country state championship races at Michigan International Speedway on Nov. 6 found the calm, sunny conditions more to their liking.
As a result, several runners representing Catholic League (and Archdiocese of Detroit) schools finished their seasons on a high note, with personal-record times, all-state honors and team top 10 finishes.
"We think this is the best our team has ever done in the history of our school," said Alex Meszaros of Riverview Gabriel Richard. "We had one PR (personal record). I was about five seconds off my PR, we had another kid three seconds off his PR, and another kid 10 seconds off his, so we were right where we were supposed to be at, and ran some fast times."
The Pioneers were fifth among 28 schools in the Division 4 boys race, with Meszaros leading the way in 16:59. That placed him 14th individually among 250 runners — good enough to earn a medal and all-state honors, which were given to the top 30 finishers in each of the eight races.
Even so, Meszaros was most pleased by the lofty finish that he and his Pioneer teammates achieved.
"We weren't really expecting to finish that high. We were saying we could, but we were going to hope we could do that," said the junior, who won the Cardinal Division individual championship two weeks earlier. "We were just doing what we were doing the whole season and sticking together. We had our two and our three run together, we had our four and our five stay together as well, not too far behind."
Royal Oak Shrine senior Jonah Cerone finished three seconds behind Meszaros, and was also all-state after crossing the line in 18th at 17:02. He said prior experience at state helped him prepare for this year's race.
"It helped moving down a division, and being able to come here a day early and run on the course as a pre-meet (workout) also helped a lot," he said. "The (final) straightaway was hard, but the crowd helped carry everyone through it. It's rare in cross-country to get a big crowd, so it was awesome to run the last race with everyone cheering us on. It was a nice finish, for sure, being all flat."
Allen Park Cabrini's Christopher Russelburg was the Catholic League's third all-state runner in that race. He finished 27th, with 17:09.
Besides Gabriel Richard's fifth-place finish, the Shrine boys placed 18th.
In the girls' Division 4 race, Shrine placed eighth despite not having any all-state runners. Cabrini's girls were 13th, as sophomore Ava Teed led the team with an 11th-place individual finish in 19:45.
"Last time I got 15th, so I was glad I was able to move up a little bit," she said. "I was proud I got under 20 (minutes) because I didn't do that last meet. I was surprised with the time I was able to run; it was good for me."
Teed, who was the Catholic League's Cardinal Division individual champion in the regular season, attained all-state honors for the second time.
Division 3
Saturday was a good day for the Ann Arbor Fr. Gabriel Richard program, as both its girls and boys squads had top 10 team finishes. The Fighting Irish girls were 8th and the boys were 10th.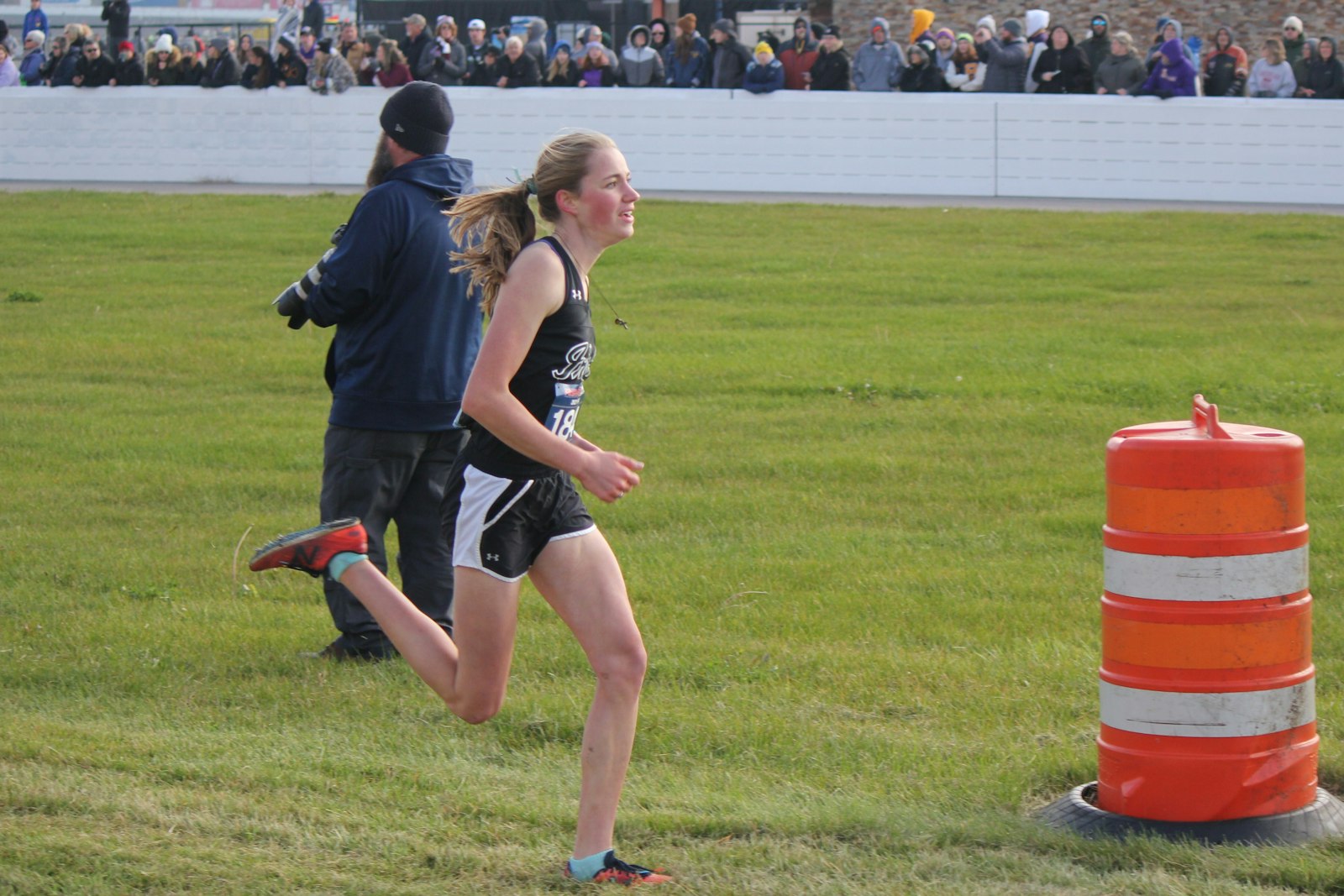 Gianna Hoving, who was the Catholic League's Bishop Division champion this fall, was the only local all-stater in the girls' Division 3 race. She finished 13th with a personal-record time of 18:52.
"I wasn't envisioning (placing) that high, so I'm excited," she said. "I think my expected place would have been somewhere in the 20s according to my PR, but I PR'd here — I broke 19, so that was very exciting. My teammates did very well also, I'm really proud of them. We do it all for the glory of God."
In the same race, the girls' team from Grosse Pointe Woods University-Liggett was 23rd, Monroe St. Mary Catholic Central was 25th and Madison Heights Bishop Foley was 27th.
For the boys, Fr. Gabriel Richard's 10th-place finish was led by sophomore Sunishthh Singh, who was two places shy of an all-state berth. Only one local Catholic runner was able to crack the top 30 in the race — St. Mary Catholic Central sophomore Simon Vandervlucht, who ran 27th in 16:43.
Beyond the Fighting Irish, Bishop Foley's boys team placed 24th and University-Liggett was 27th.
Division 2
Dearborn Divine Child's Michael Hegarty was the Catholic League runner closest to the front of the pack throughout the day's eight contests. He contended throughout the Division 2 race but ultimately placed fourth at 15:39, close behind Pinckney's Caleb Jarema, Parchment's Garrett Winter and Fremont's Connor Summers.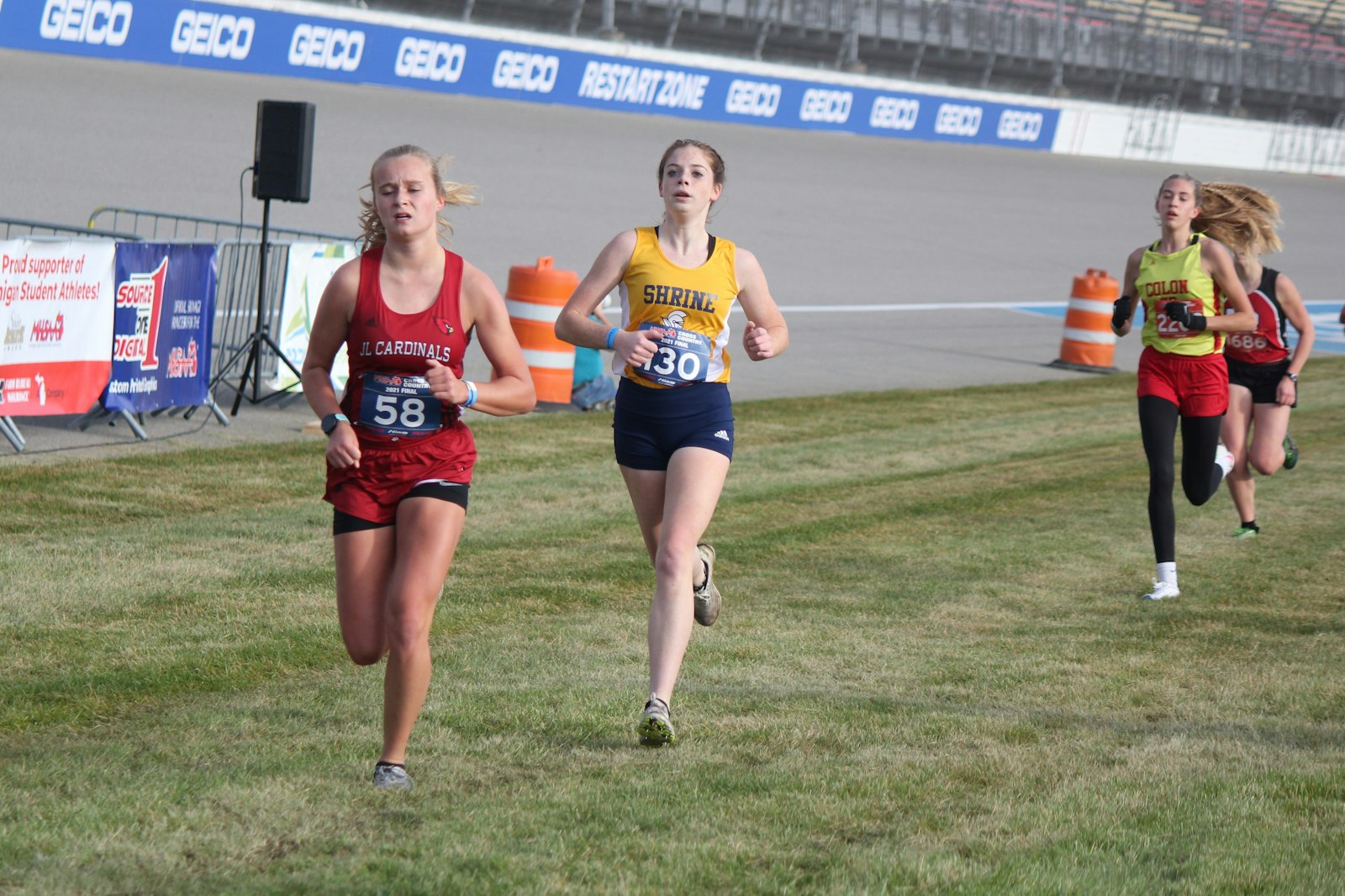 "Obviously, I wanted to do the best I can when I came out here," said Hegarty, who was 10th overall in 2020. "Caleb kind of took off at the mile mark, I tried to stay with him, and didn't really have it — he's really good — he took off, and Connor went by me, too. Right before the track, Garrett went by me, and I just tried to stick with Connor to the end. Once we got on the dirt (home stretch), I just tried to give it everything I had."
Hegarty, the Catholic League's individual Bishop Division champion, earned all-state honors for the third time. Being a junior, he has a chance at achieving the rare four-time distinction next season.
With Hegarty's high finish, Divine Child finished 17th among boys' teams. Bloomfield Hills Cranbrook was 28th.
On the girls' side, Warren Regina senior Grace Zdankiewicz closed her prep career with an all-state performance, running 13th in 18:58.
"This is the best time that I've had (here). It was definitely the best conditions that I've had when I've run on this course," she said. "The last few races I was kind of struggling. My legs were not feeling as sharp as they usually are. I was just glad I was able to finish the season with such a big race."
Zdankiewicz was equally energized with the Saddlelites' top 10 team finish.
"We came year my freshman year and we got last place," she said. "Today we finished ninth, which is a great accomplishment for us. Just being able to do it with my best friends really has motivated me to just get better."
In the same race, Divine Child's girls finished 21st while Birmingham Marian's team was 27th.
Division 1
There were no complete teams from the Catholic League competing in the largest division, and no all-state runners. Novi Detroit Catholic Central's Matthew Atkinson (51st place) and Brett Leidal (53rd) came the closest.
Copy Permalink