DETROIT — If you didn't recognize many of the basketball players suiting up for Novi Detroit Catholic Central last weekend, you weren't alone. The Catholic League finalists lost the heart of last season's starting lineup because of graduation or transfer.
While that's usually a sure recipe for some rebuilding-year struggles, this year's group of Shamrocks aren't seeing it that way.
"We lost a lot, but we also gained a lot," coach Brandon Sinawi said, "Especially with the three starters — Uchenna (Amene), D.J. (Lee) and Devin (Lee). They are really coming in and really fitting in really, really well. We're extremely happy."
The new-look Shamrocks had every reason to make their coach happy after dominating Detroit Country Day, 64-15, in the Calihan Challenge at University of Detroit Mercy last Saturday.
Catholic Central raced out to a 17-point lead before Country Day got on the scoreboard with a pair of free throws five minutes into the contest. The Shamrocks hiked the advantage up to 30-3 by the end of the first quarter, shut out the Yellowjackets in the third quarter, and limited them to four points in the fourth.
"Even though losing that senior-led group last year, we've got some guys that just play a little bit differently — they fit in what we're going to be able to do," Sinawi said. "They can shoot the basketball, they can knock down threes, they're great teammates and they play extremely, extremely hard defensively. We're built on speed, I know that."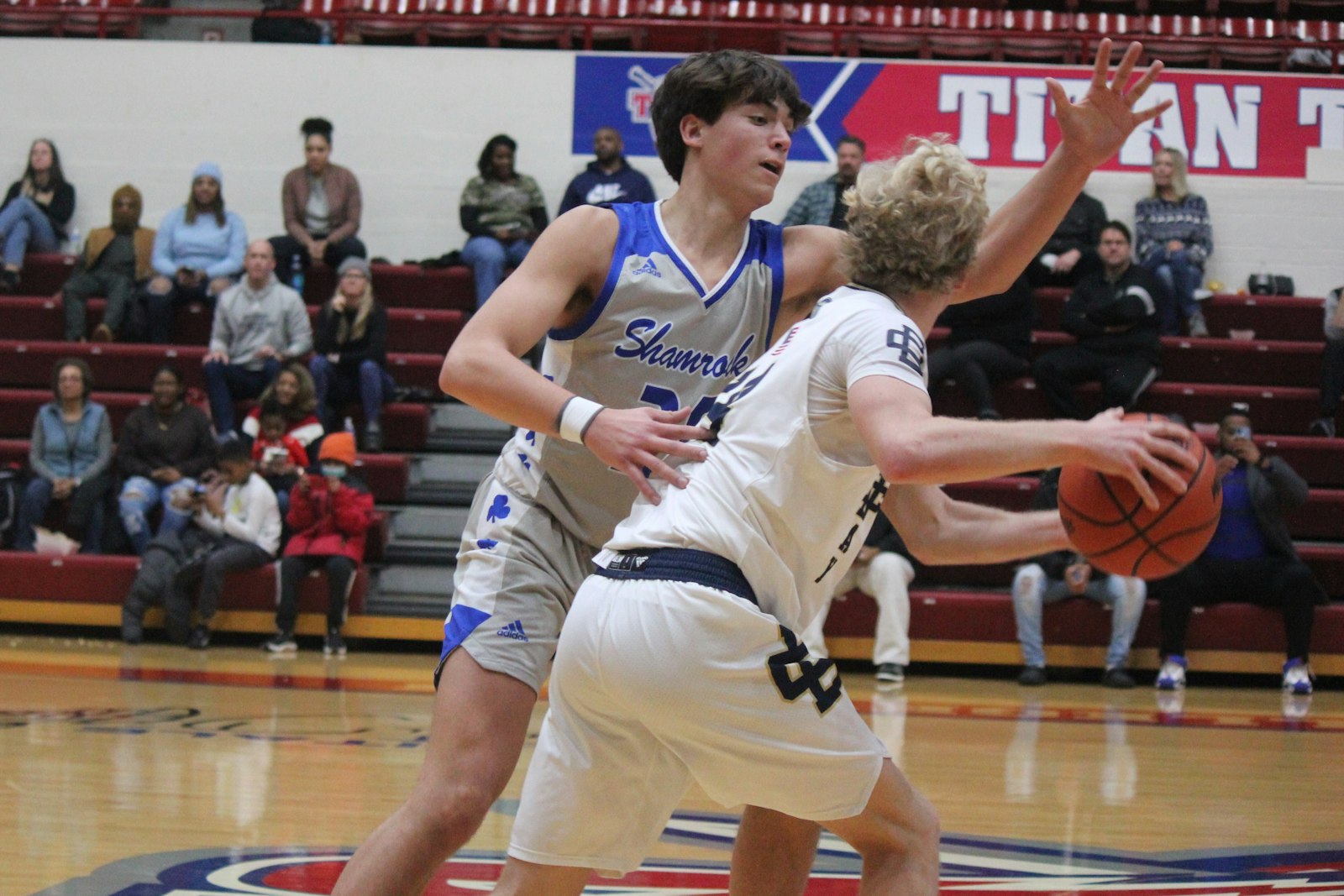 "We have great guards, and I think that we played well today," Derrick Lee said. "We got a couple of steals along the way and we just turned it up on them — on defense, especially. Even though we blew them out, I think we should use this game to get ready for later rivals."
It appears that the four Central Division squads that took part in the Calihan Challenge are already firing on all cylinders, as each of them put up one-sided victories against non-league foes. Central Division league play starts on Jan. 6, and Sinawi predicts some entertaining basketball night in, night out.
"Every team's got a next-level player or multiple players, and every team's going to be well-coached, well-prepared, so it's going to be a dogfight like usual," he said. "It should be a lot of fun, competitive, and hopefully everyone's healthy and it helps us get ready for March."
Nine different players scored for Catholic Central, paced by Devin Lee's 15 points and Amene's 10, as the Shamrocks handed Country Day one of its worst defeats in program history.
Sinawi said the effort was spurred after Catholic Central suffered a tough loss in its previous game, to Hamtramck.
"We had a good conversation after the game, talking about how we wanted to come out and just turn the page, and be ready to play CC basketball," he said. "We felt good this morning in our shoot-around, there were a lot of good vibes on the bus, so we knew we were ready to play. I didn't expect that big of a lead, to be honest, but I knew we were going to play well."
Bloomfield Hills Brother Rice 78, Detroit Voyageur 52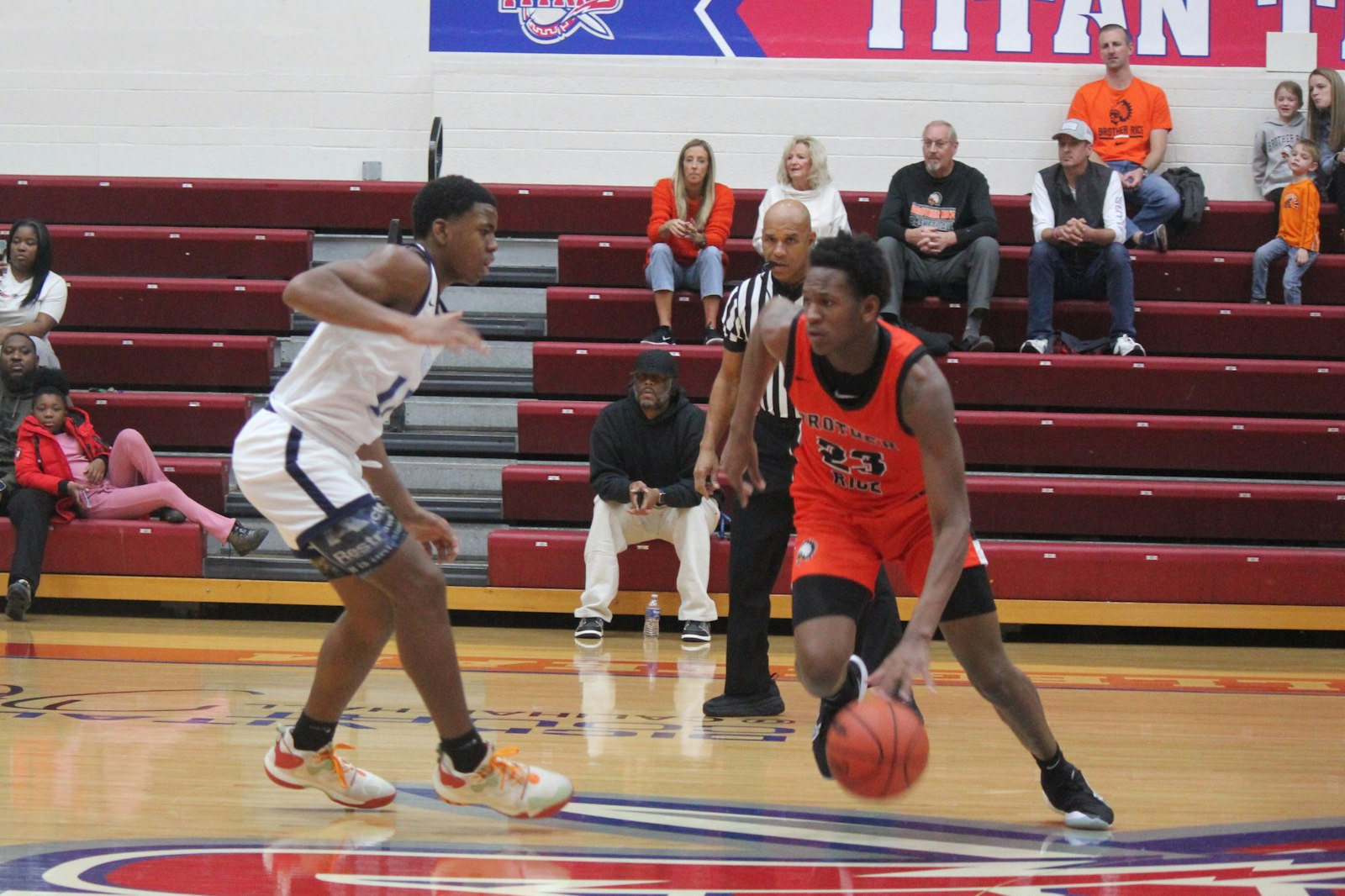 When the Warriors' Curtis Williams and Warren Marshall quickly drained three-pointers on Brother Rice's first two trips up the floor, Voyageur recognized it was going to be in for a tall task.
Although the Cougars clawed their way back to a 14-12 deficit, Marshall ignited a 22-1 Brother Rice run with another triple. The six-minute spurt included three-pointers from Williams and Evan Kopf (two), and turnovers forced by Johnathan Blackwell and Jeremiah Caffey, to open a 36-13 lead two minutes before halftime.
"We work on defense every day. A good defense leads to offense. The main thing we've got to focus on is our defense," Blackwell said. "And we've got plenty of guys who can hit the long-range shots."
Ryan Frohock had added two more treys in the second half as the Warriors kept their foot on the pedal.
"We've got a lot of depth," Blackwell said. "Evan Kopf had a good game. Logan Hamama played good; just everybody played a good game overall. I love our bench; those guys buy in every single day at practice, just sharing the ball, playing with each other, trusting each other. We don't even really have a set team. We have a set five, but guys on the bench were getting their minutes today — playing good, honestly."
Brother Rice got a balanced effort; Williams led the charge with 13 points, while Blackwell and Max Jansenvanvuren had 10 each, and Caffey and Kopf added 9 apiece.
Warren De La Salle 64, Ypsilanti Lincoln 23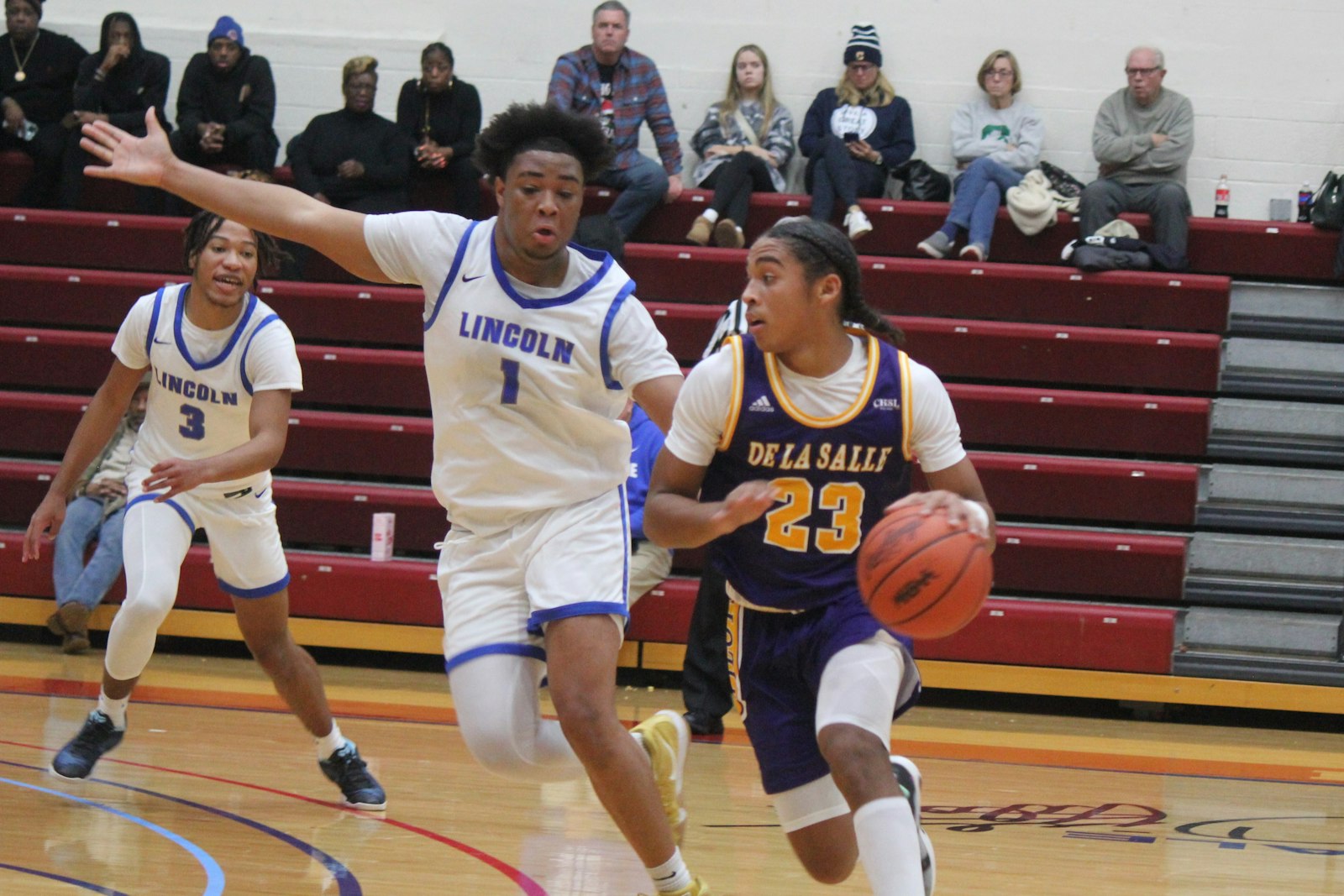 De La Salle showed it was ready to defend its 2022 state championship by shutting down Lincoln, the school that won the 2019 state championship over University of Detroit Jesuit.
The Pilots led 11-7 after the first quarter but really turned on the jets from that point on, opening a 32-15 halftime advantage and only allowing eight points over the final two quarters.
Phoenix Glassnor drained two triples during the second quarter, when De La Salle had a 21-8 advantage, and went on to post a game-high 15 points. Nnaemeka Ikechi had 12 points and Michael Sulaka added 10 for the Pilots.
University of Detroit Jesuit 71, Clarkston 47
The Cubs made it a clean sweep for the Catholic League by defeating its highly regarded opponent from the Oakland Activities Association. U of D Jesuit rang up a 31-19 halftime lead, and sealed the deal with a pair of 20-point quarters following the break.
Zavier Banks hit 11 field goals en route to finishing with a tournament-high 26 points. He had 14 points in the first half, and when Clarkston tried to slow him down, Leroy Blyden took over. Blyden scored 19 points — 13 of those in the second half — and made a trio of three-point shots.
And even more talent awaits in the Central Division. Last season's Bishop Division champion, Orchard Lake St. Mary's Prep, didn't take part in the Calihan Challenge this year.
Copy Permalink