PLYMOUTH TOWNSHIP — Two periods of the MHSAA Division 2 state championship hockey game had gone by, and Brother Rice was frustrated. The Warriors had 23 shots on net and several more scoring chances as they had the man advantage for four power plays. Yet nothing was going into the net and they trailed top-ranked Byron Center by two goals.
"We knew that they had a couple of top guys and they were well-coached, and they had good structure," captain Peter Rosa said. "The first two periods — I wouldn't say they didn't go our way, but we had our opportunities and couldn't cash in on them."
As the Warriors gathered in the USA Hockey Arena locker room during the intermission, head coach Kenny Chaput had a message for his players.
"I told them to keep with it, keep with it," he said. "We were getting opportunities, but they were playing really, really well defensively. I said something good's going to happen and it's going to change the face of the game."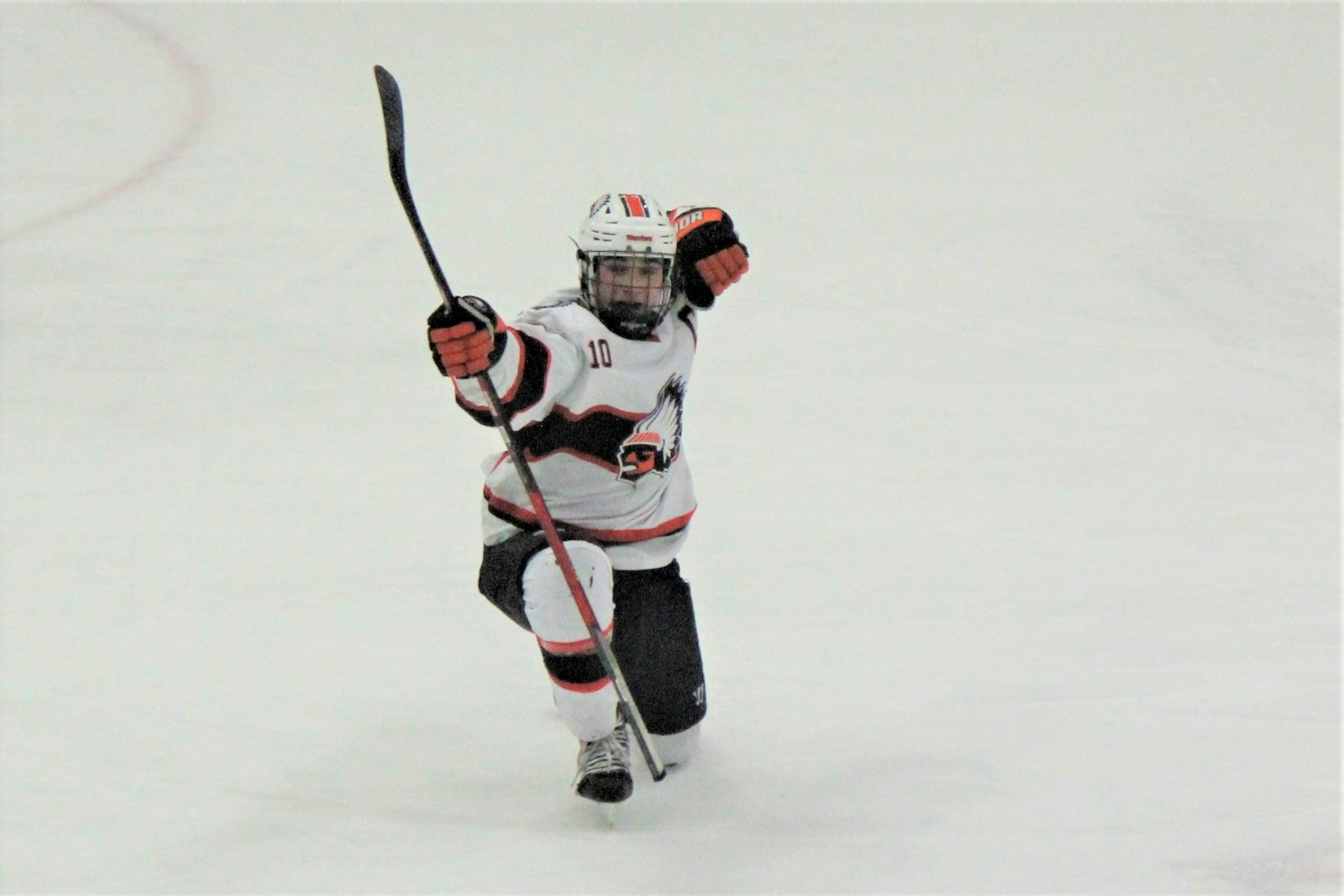 It took less than two minutes for the coach's prophecy to come to fruition.
Although Brother Rice drew a penalty for tripping 1:29 into the final period, the Warriors won the ensuing faceoff and Andrew Marone passed the puck to Peter Rosa, who fired it into the net for a short-handed goal just eight seconds later, making the score 2-1.
"It gave us momentum," Rosa said. "When you play with guys like Marone, it's not really hard to find seams and go, and that's all we do. We made the play and it was awesome."
From that point, something in the air just felt different.
With 6:18 to play in the contest, Brother Rice tied the game as Jack Cassidy passed the puck to Rosa, who slapped it into the net from 10 feet past the blue line.
That set the stage for Roman Villaire's game-winning goal a minute and a half later. Villaire carried the puck toward the net from the left side, faked out a Byron Center defenseman, and hit the upper-right corner of the net with 4:42 showing on the clock.
Rosa got his hat-trick — for the second game in a row — on an empty-net goal with 20.7 seconds to play, finalizing the score at 4-2.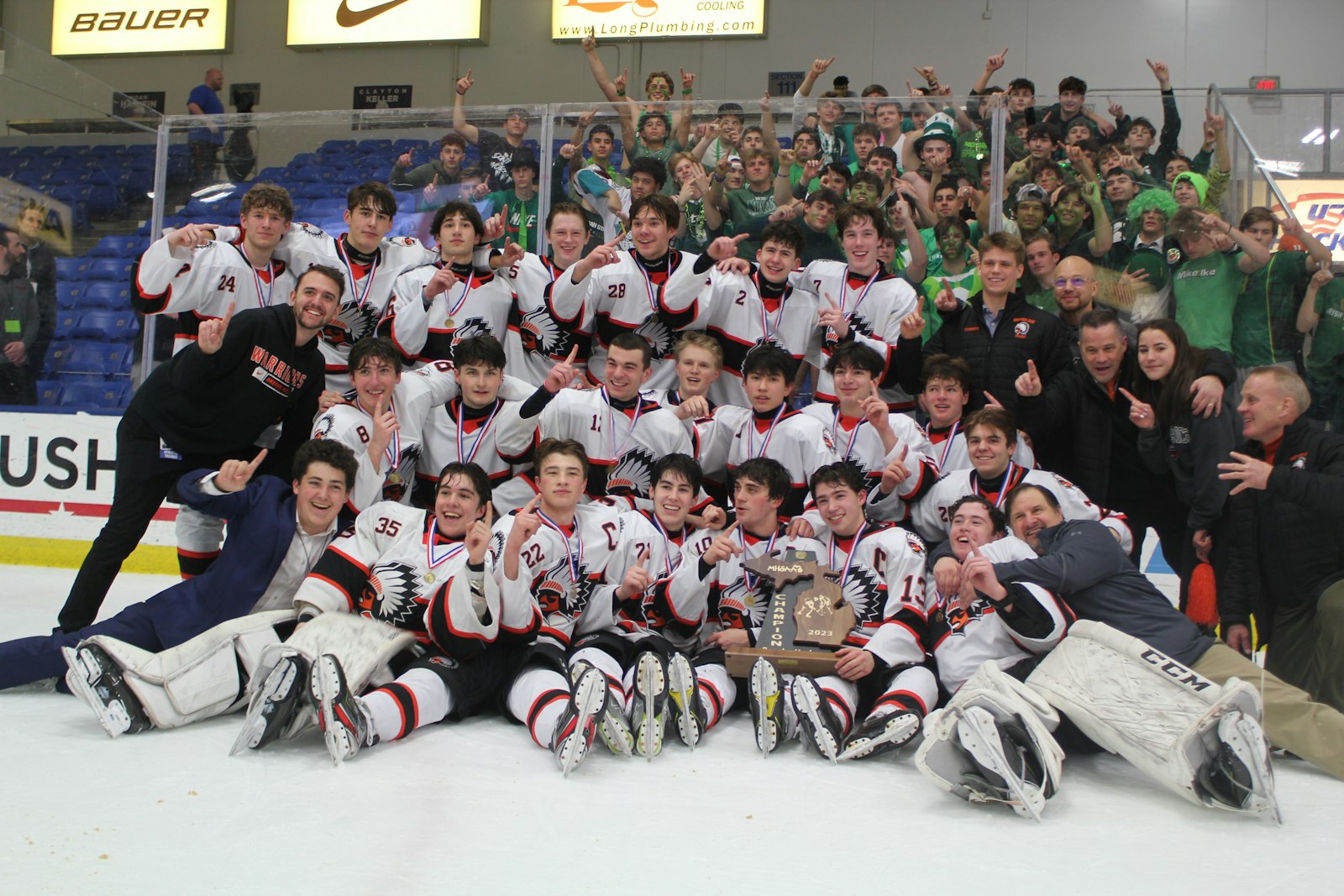 "It took plenty of time — it took 40-plus minutes to get there, but yes, they got there quick. Once you get that energy level back up there, it helps," said Chaput, who has now led the Warriors to three state titles since 2017. "We were ready for it, but we had to work hard, and we had to work hard for 51 minutes. I said that from the get-go."
Brother Rice finished the season at 21-9, while Byron Center was 28-2. The last time the two teams had met was in the 2021 state championship, and the Warriors also got a come-from-behind victory then, scoring the winning goal with 8 seconds left to prevail, 2-1.
Catholic Central beats rival to win fourth title in a row
There wasn't a lot of flash in Novi Detroit Catholic Central's 3-0 victory over Brighton for the Division 1 state championship, the Shamrocks' fourth in a row. Then again, there didn't need to be.
"We turned over a lot of pucks. We gave them a lot of chances, and you don't want to do that too much. We kind of fed into that and then we took penalties. At that point we were kind of on our heels in the middle of the second (period), just because of all the penalty-killing," coach Brandon Kaleniecki said. "In a situation like that, we just needed to grind it out and find a way, and that's what these guys did."
Perhaps the most notable aspect of the outcome was that Catholic Central didn't allow a goal to any of its five post-season opponents — the first time any team had ever done that. Senior goalie Luca Naurato earned the shutout in the final game by turning away 20 Bulldog shots.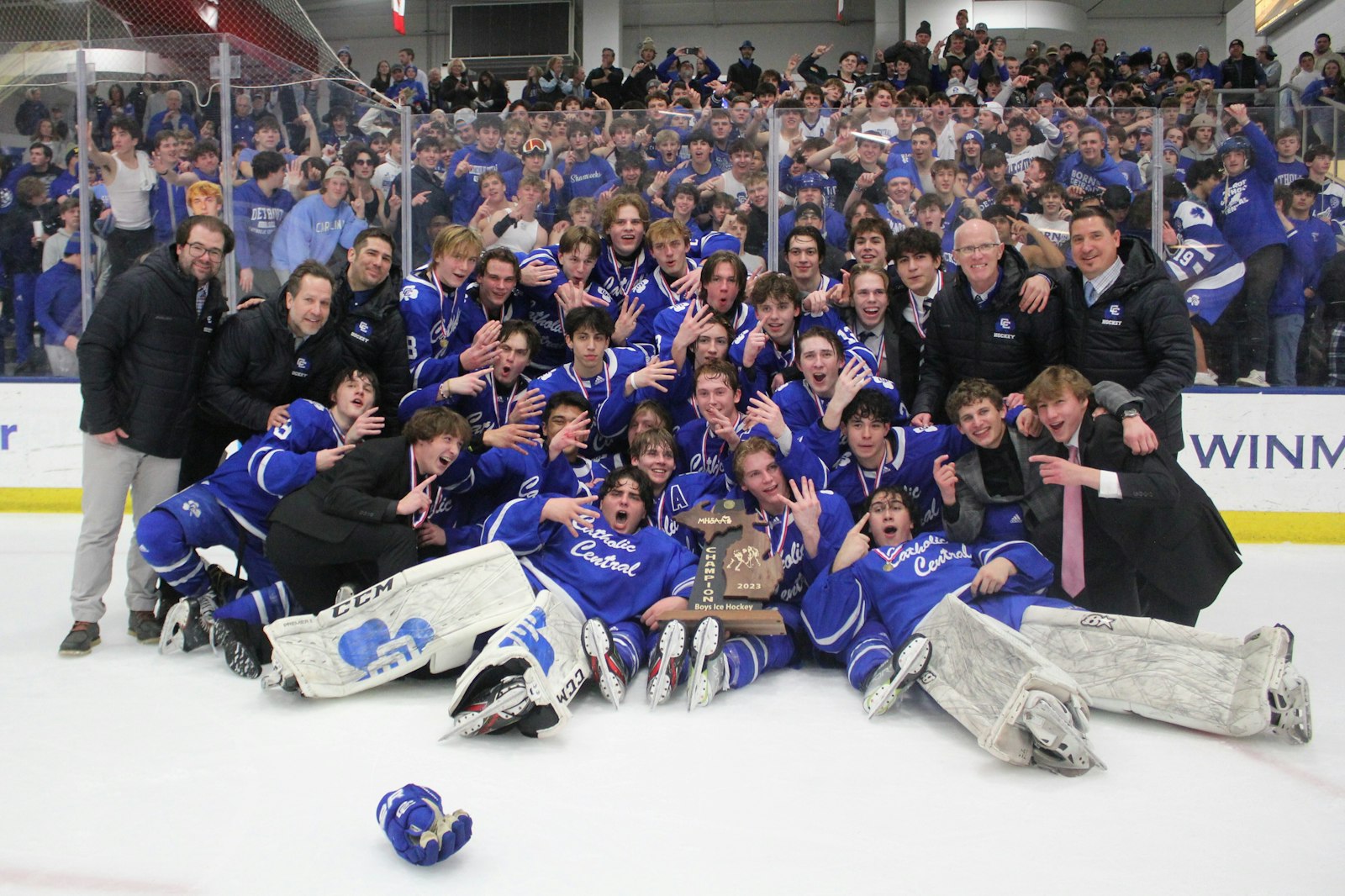 "It's just another game at the end of the day, right? You can't let the crowd and everything get in your head," he said. "It's a team effort. We played a defensive game, and it translated into offense. I can't be prouder of the guys, just battling every game, day in, day out."
Catholic Central (29-1) got all the offense it needed with a pair of goals from Jackson Walsh and another from Nolan Galda. Walsh got the scoring started with 4:27 gone in the first period on a power play, and ended it with an empty-netter with 1:54 to play.
"First one, No. 7 (Griffin Crampton) shot and it just popped out right to me, and I had an open net to shoot at," Walsh said. "The second one, I wouldn't have shot it without my bench screaming at me that there was an open net, so that saved me a little bit. It was huge."
The Shamrocks earned their 17th state championship and are now tied with Bloomfield Hills Cranbrook-Kingswood for the most in the tournament's 49-year history.
"It's a great experience to be a part of it. We're super-proud of the job that these guys have done," Kaleniecki said. "The expectations coming in every year, obviously, are high, and you've got that target on your back year after year. To come through and find a way to win it, that's great. These kids deserve it; they work so hard. Tonight wasn't pretty, but they had to gut it out, and that's all that matters."
It was the fifth time in the past 10 seasons that Catholic Central and Brighton had squared off in the finals. The Shamrocks have won all but one of those games.

Other Catholic League teams come close
Two other Catholic League squads reached the Frozen Four but were eliminated in the semi-final game. University of Detroit Jesuit fell to Byron Center, 8-4. The Cubs (14-14-0) got four goals in the third period from Aidan Charron, Thomas Angell, Michael Schubeck and Damian Ladosenszky, but the Bulldogs matched that output over the final 17 minutes.
In Division 3, Riverview Gabriel Richard fell to Flint Powers Catholic, 6-0, as Powers scored twice in each period in Friday afternoon's semi-final. Gabriel Richard (19-6-0) had reached the semi-finals in 2018, 2019, and was poised to play in the Frozen Four in 2020 before the tournament was suddenly canceled because of the COVID-19 pandemic.
Ann Arbor Fr. Gabriel Richard (25-3-0) and Warren De La Salle (12-14-0) also won regional championships this winter before getting eliminated in quarterfinals by Catholic League opponents. Gabriel Richard beat Ann Arbor, 6-1, while De La Salle fell to Rice, 6-3.
Copy Permalink