WATERFORD TOWNSHIP — There were a few unfamiliar team tents and out-of-state license plates at the inaugural Catholic League Central Division girls cross-country jamboree at Hess-Hathaway Park on Sept. 13, so that made it anyone's guess how the league's season-opening race would turn out.
In past seasons, the event would have been a quad meet between all-girls schools Bloomfield Hills Marian, Farmington Hills Mercy, Warren Regina and Wixom St. Catherine of Siena — and the outcome was sometimes fairly predictable. But with Orchard Lake St. Mary's joining the fray along with a pair of notable Toledo schools — Notre Dame Academy and St. Ursula — the meet nearly doubled in size and got a bit more exciting.
"It's still kind of early in the year, and with the new teams and being on such a different course for us, we weren't really sure what to expect, but I thought the kids handled it well," said coach Gregg Golden, whose Regina runners won the meet with a low score of 32 points. "We're just trying to keep building week to week, until we get toward the county meet and the Catholic League championship and the regional. If we keep improving, and we really have thus far, I think we'll be in good shape."
Senior Kennedy Roskopp (third, 21:02), junior Elizabeth Ambroggio (fourth, 21:04), senior Gabby Fernandez (seventh, 22:17), junior Natalie Lentine (eighth, 22:17) and junior Loralei Mahan (10th, 22:28) each finished in the top 10 to help the Saddlelites finish comfortably ahead of runner-up Mercy (55 points).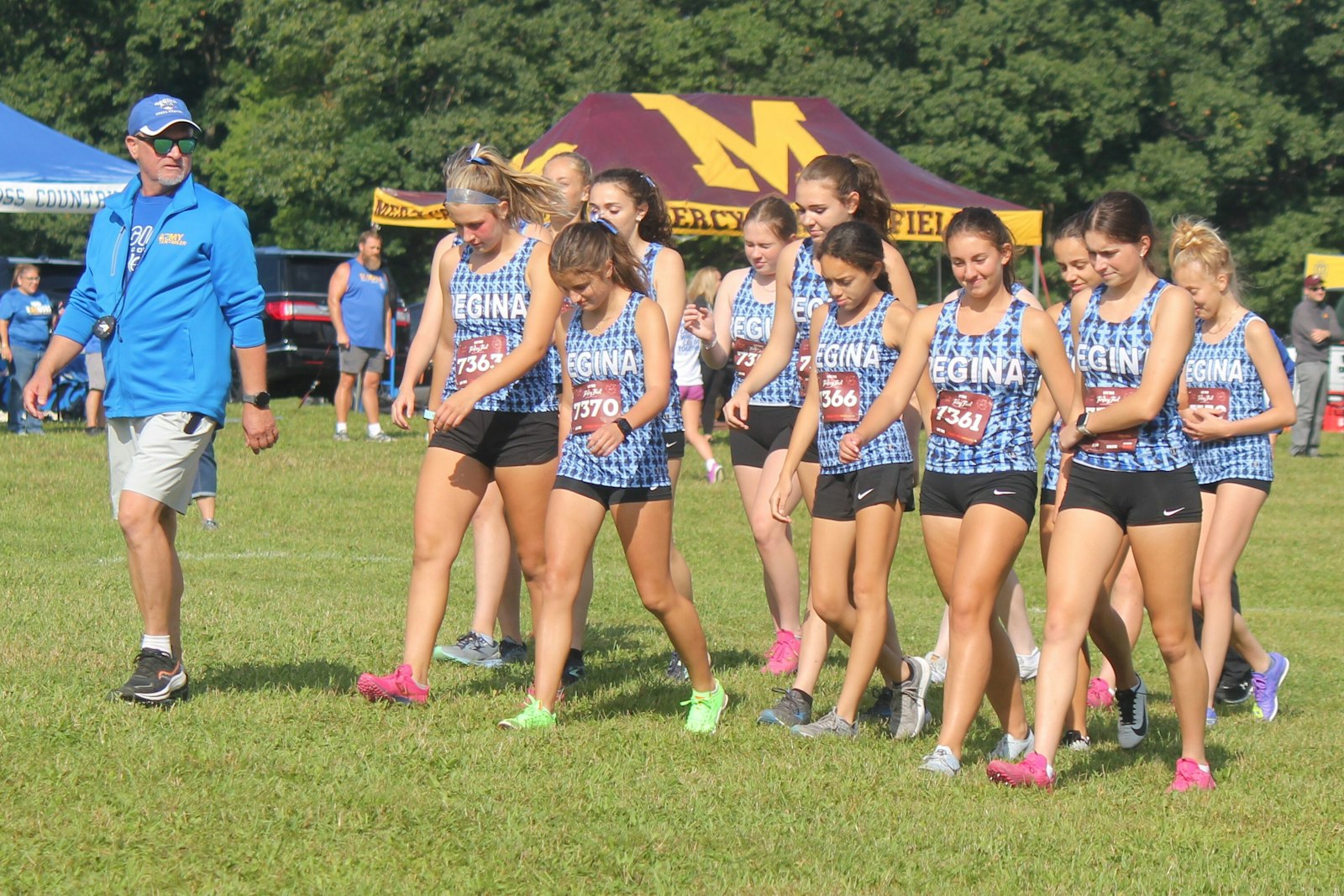 "We don't get to run really hilly courses all that often, especially on the east side," Golden said. "It was a bit of a challenge for us, for sure. It's got everything — different terrain, different footing, the sun, shade — but it's really a great course. We ran the Michigan Catholic at the beginning of the year and I think this might be a little hillier than that."
"It's our first time ever racing this course, and it was a hard one, but we got through it, and it was good," Roskopp said. "We're a very close team, which helps us all run together. We all run together at practice, and it's good when you have a good group of girls, it makes the sport more enjoyable."
Even though Regina was coming off a first-place finish in the Algonac Classic on Sept. 9 and has won the Catholic League title six times since 2010 — most recently two seasons ago — Golden doesn't expect this season to be business as usual.
Newcomers St. Ursula and Notre Dame Academy finished third and fourth, despite each resting their varsity lineup in preparation for an invitational at Michigan State University on Friday.
"We haven't seen the Ohio schools all that much, and they're both very good, so I expect at the end of the year they're going to be right there with everybody," he said. "We've got Jackson Lumen Christi in this year, who is outstanding, they're tremendous. Ann Arbor (Fr. Gabriel Richard) won it last year, Divine Child's very good, Mercy and Marian have improved this year. I think the whole league is on the upswing. We'll have our work cut out for us, for sure, but it's a great, competitive league, and what more could you ask for than that?"
Both Toledo coaches were happy for the opportunity to join the Catholic League after their old Ohio-based conference disbanded this year.
"It was a great experience for the girls," St. Ursula coach Joe Shootz said. "We're excited to be a part of his new league — the coaches are fantastic. We ran in a meet last year to kind of get to know them, and the experience has been nothing but wonderful."
St. Ursula also tuned up for the Michigan competition by running in (and winning) the South Lyon Invitational on Aug. 26. Notre Dame Academy finished sixth out of 27 schools — two spots ahead of St. Ursula — at the Tiffin (Ohio) Cross-Country Carnival on Sept. 9, and coach Stephanie Egan echoed Shootz' sentiments about Wednesday's Catholic League jamboree.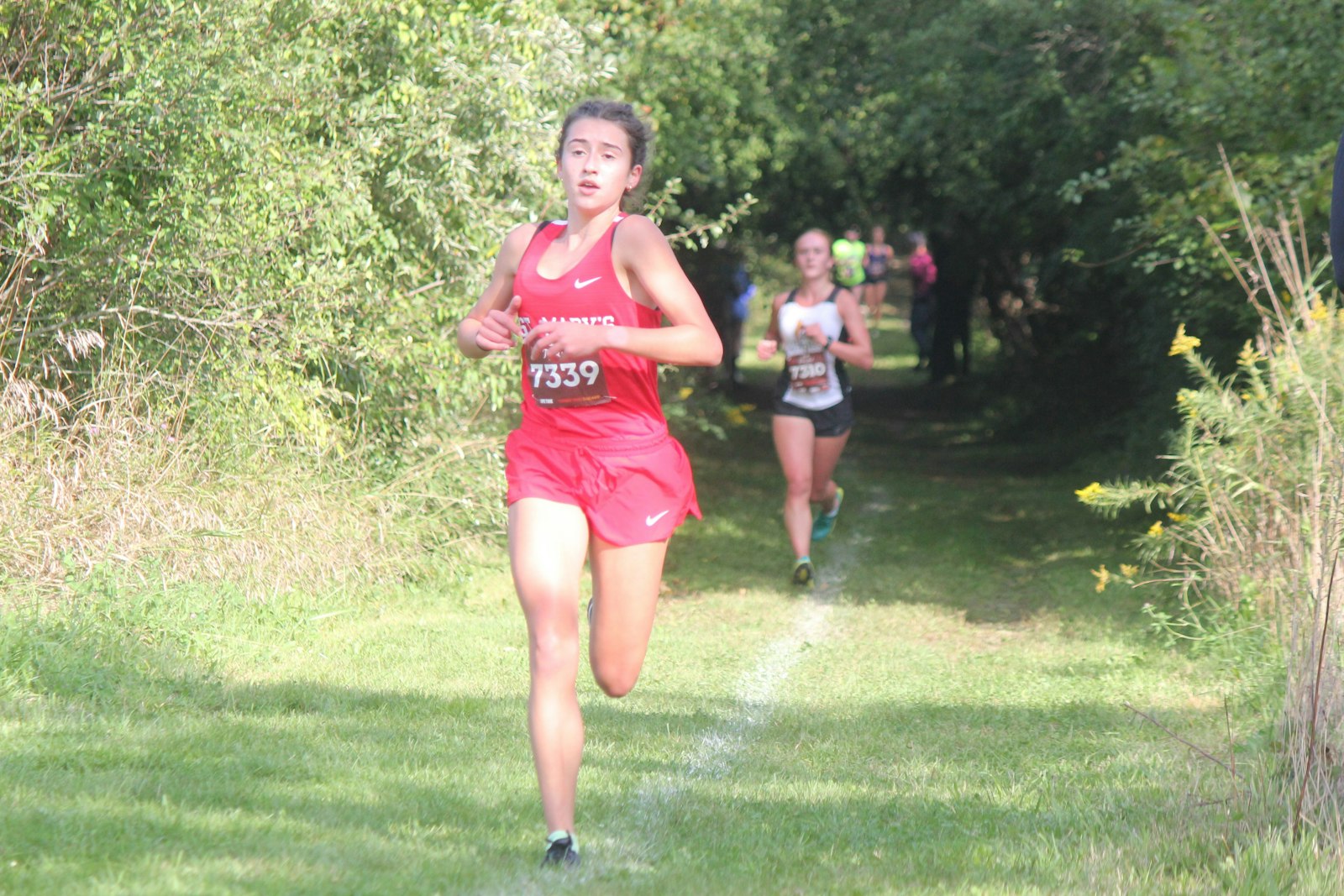 "We're excited for the new league. It is a drive, but we're excited for the new challenges against the new schools," said Egan, who added the bus ride to Hess-Hathaway lasted an hour and 40 minutes. "We have very flat terrain back there, so we have about two hills we can train on, but nothing like this. We're kind of jealous — if we could practice here, that would be beautiful. Coach Chris (Vanneste) from Marian said this is one of the hardest courses that their team runs on in the season."
St. Mary's junior Mea D'Agostino was able to handle it well — she won the 5-kilometer race in 20 minutes flat, 31 seconds ahead of Mercy sophomore Nora Gerzema.
"I'm happy with my time for this course," she said. "My goal for the season is 19:30-ish, and two weeks ago I ran 19:45 (at the Michigan Catholic Invitational), so this was a little bit slower."
D'Agostino is also looking forward to testing herself against the league's enhanced level of talent.
"I don't think we've competed in this division before," she said. "I've run against Mercy and Marian and Regina before, last year, and I knew how I compared with some of those girls, so I was excited for some good competition. For the first loop it really kind of helped to have them there, and I could see who's in that front pack and keep the pace with that."
Other division jamboree results
Just a few miles away at Kensington Metropark near Milford, the boys Central Division held its first jamboree that same day. That's a change of pace from past seasons, when the five returning all-boys schools (Bloomfield Hills Brother Rice, Novi Detroit Catholic Central, Orchard Lake St. Mary's, University of Detroit Jesuit and Warren De La Salle) would have competed head-to-head in pairs under the dual meet format.
With junior Logan Mullan finishing first (17:58), U of D Jesuit won the team competition with 19 points, taking five out of the first six spots.
St. Mary's (42 points) finished second, De La Salle (80) was third, Catholic Central (100) was fourth, and newcomer Toledo St. John's Jesuit (126) placed fifth. Brother Rice did not field a complete team.
The meet format hasn't changed for the Catholic League's Intersectional Division, which held its first jamboree on Tuesday, Sept. 12, at Columbus County Park near Richmond. Ann Arbor Greenhills swept both the girls and boys races, with Royal Oak Shrine finishing as the runner-up school in each.
Allen Park Cabrini senior Ava Teed won the girls race in 19:39, nearly two minutes ahead of Greenhills freshman Libby Schuster. Shrine sophomore Abenezer Cerone won the boys race in 16:47, outdueling Marine City Cardinal Mooney senior Tyler Lenn by three seconds.
Copy Permalink