BLOOMFIELD HILLS — Are you ready for some basketball?
You won't have to look very far to find it. And what you will discover is that five of the state's top 10 teams are in the tri-county area, and that they will be knocking each other around in the same league — the Catholic League's Central Division.
"I've never seen it as tough from top to bottom," says Orchard Lake St. Mary's Prep coach Todd Covert.
That's because the distance between top and bottom has rarely been this slim.
Consider this week's MLive.com rankings: St. Mary's is No. 1; Warren De La Salle No. 3; Bloomfield Hills Brother Rice No. 4; University of Detroit Jesuit No. 6; and Novi Detroit Catholic Central No. 10.
"The talent level on every team is phenomenal. It's ridiculous," says Pat Donnelly, entering his 13th season as head coach at U of D Jesuit, where he mentored one of the Catholic League's all-time greats, Cassius Winston, won the 2016 Class A title and eight of the last nine CHSL championships.
He and his fellow head coaches, who have a combined 12 years on the Central Division varsity level, all face the same challenge preparing their teams for battle.
"Every team has a different style, speed, offense, defense," Donnelly says. "I don't see one team blowing through."
"Everyone knows we have the impossible league schedule, the gauntlet of all gauntlets to go through," says Catholic Central coach Brandon Sinawi, "but the way we look at it, we're just going to go out there and have as much fun as we can and control what we can control."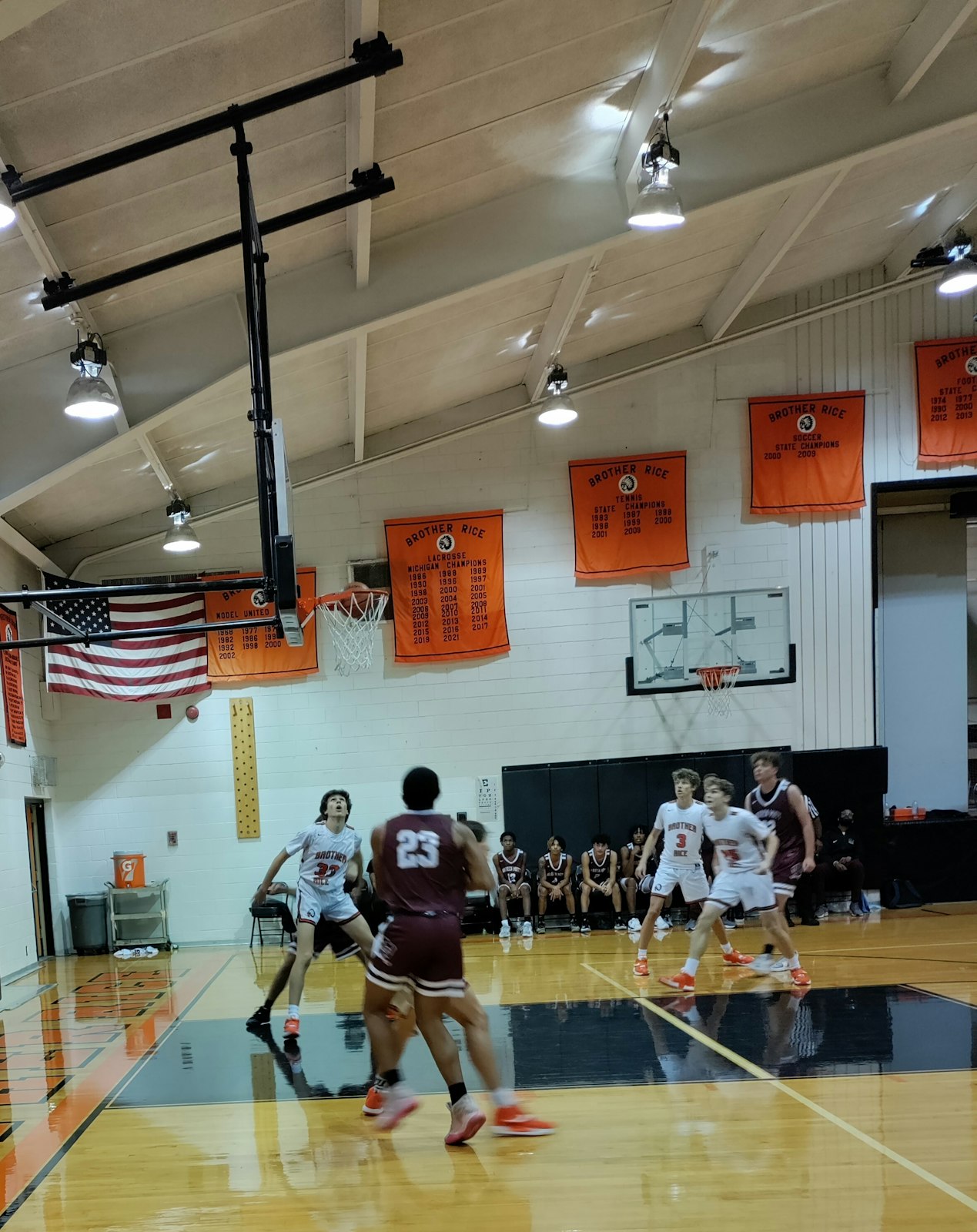 Rice coach Rick Palmer says, "The race for the league championship is going to be an absolute dog fight."
That race begins next week, the first of eight weeks in a row where the teams will be going at each other on a home-and-home basis. On Tuesday, Jan. 11, U of D Jesuit, the defending CHSL champ, will be at Brother Rice, and St. Mary's travels to De La Salle. Three days later, on Friday, Jan. 14, Rice is at St. Mary's and De La Salle goes to Catholic Central.
The games tip off at 7 p.m. You'd be well-advised to get there early for a seat.
Here's a look at how the teams fared in their pre-Central Division encounters since early December:
St. Mary's (5-0): Noteworthy wins were against No. 14 Clarkston (60-51) and against No. 5 Ferndale (70-51). Senior Kareem Rozier (Duquesne), at 5-foot-9, is the only player under 6 feet, but is a giant as the team's playmaker on both offense and defense. "He's a winner. He just wants to win," says Covert, sixth-year head coach.
Senior Javaughn Hannah, a 6-foot-4 guard who transferred to St. Mary's when his school, Ypsilanti Prep, closed, has committed to Western Michigan.
Freshman Trey McKinney, a 6-foot-2, 205-pound wing guard, is ranked No. 9 among freshmen nationwide and has averaged 17 points and eight rebounds in contests so far. He has drawn attention from Illinois, Michigan, DePaul, Texas, TCU, Temple and Eastern Michigan.
De La Salle (7-0): The Pilots opened the season with a thrilling two-overtime, 76-69, victory against No. 5 Ferndale, and since then won six in a row by an average score of 73-44.
Coach Gjon Djokaj, second-year head coach, has the bulk of his team back from last year's final four state team including guards Caleb Reese, Triston Nichols, Nino Smith and Mike Salaka. Tamario Adley, a 6-foot-2 guard, transferred from Harper Woods Chandler Park, where he averaged 17 points a game.
De La Salle, too, has a talented freshman in Phoenix Glassnor. "He's our microwave off the bench," Djokaj says. "He's more comfortable in that role." He scored 22 points, including four 3-pointers, in a 51-39 win over Holland West Ottawa.
"I think the main strength of our team will depth," Djokaj says.
Brother Rice (5-0): The Warriors opened the season with an 86-68 conquest of 15th-ranked Grand Blanc, the defending Division 1 champion. They outlasted 20th-ranked Detroit Renaissance, 78-73, for another notable pre-season win.
Coach Palmer (third-year head coach) has a powerful trio of juniors, all of whom have caught the eye of college recruiters: 6-foot-5 forward Curtis Williams from Alabama, Maryland and VCU; 6-foot-4 guard Johnathan Blackwell from Wisconsin, Rhode Island, Loyola and VCU; and 6-foot-5 forward Xavier Thomas from Central Michigan and Toledo.
"I wouldn't trade rosters with anyone in the state," Palmer says, "and I say that with great confidence."
U of D Jesuit (3-2): The Cubs have played the toughest early season schedule. They opened with a 51-42 victory over No. 7 Detroit Martin Luther King but lost 66-59 to No. 5 Ferndale and 80-66 to No. 2 Grand Rapids Catholic Central. "We committed 39 turnovers in the losses," Donnelly said, "and most of them were self-inflicted."
Donnelly has been blessed with another outstanding point guard in junior Sonny Wilson, who has gained a reputation for his clutch game-winning shots. He scored 23 points and had nine steals in the game against Martin Luther King. Wilson scored 12 of his 20 points in the home stretch of a 52-43 win over Warren Fitzgerald.
The team's second-leading scorer Charles Turner, a 6-foot-5 guard/forward, is one of five returning starters.
"We are very versatile both offensively and defensively," says Donnelly.
Catholic Central (3-1): The Shamrocks rebounded from a season-opening 51-45 loss to Martin Luther King with three decisive victories. The last one, 74-36 against Bloomfield Hills, was a coming-out party of sorts for 6-foot-5 senior Kam Mayes, who had never seen varsity minutes before because of injuries and the pandemic. His performance — a game-high 21 points, five rebounds and three steals — has invigorated CC's starting five.
Six-foot-8 center Cooper Craggs (Oakland University), who last year averaged 20 points and 10 rebounds, is an inside-outside threat supported in the backcourt by sophomores Chaz Lewless and T.J. Nadeau.
"At heart, this is a blue-collar team. Our defense is going to carry us," Sinawi says. "There's no secret. We're not playing possum or looking to fool people. We go out and punch you in the mouth. We play really hard-nosed defense and make you respond."
Here's the full schedule of games. Games start at 7 p.m. Go early to get a seat.
Jan. 11: U of D Jesuit at Brother Rice; Orchard Lake St. Mary's at De La Salle
Jan. 14: Brother Rice at Orchard Lake St. Mary's; De La Salle at Catholic Central
Jan. 18: U of D Jesuit at De La Salle; Catholic Central at Orchard Lake St. Mary's
Jan. 21: Catholic Central at Brother Rice; Orchard Lake St. Mary's at U of D Jesuit
Jan. 25: Brother Rice at De La Salle; U of D Jesuit at Catholic Central
Jan. 28: Brother Rice at U of D Jesuit; De La Salle at Orchard Lake St. Mary's
Feb. 1: Orchard Lake St. Mary's at Brother Rice; Catholic Central at De La Salle
Feb. 4: De La Salle at U of D Jesuit; Orchard Lake St. Mary's at Catholic Central
Feb. 8: Brother Rice at Catholic Central; U of D Jesuit at Orchard Lake St. Mary's
Feb. 11: De La Salle at Brother Rice; Catholic Central at U of D Jesuit
Contact Don Horkey at [email protected]
Copy Permalink