NOVI — The Catholic High School League boys soccer championship contests were a test of endurance for all parties concerned.
Grosse Pointe University Liggett and Clarkston Everest fought to a scoreless tie for 100 minutes before Liggett won its second Cardinal Division trophy in a row, 1-0, in a shootout.
Detroit Catholic Central and Bloomfield Hills Cranbrook Kingswood each scored two goals in 90 minutes before the Shamrocks won, 3-2, two minutes and 12 seconds into the second overtime to capture its ninth CHSL Bishop trophy, its fifth in the last seven years.
Shamrocks riding a wave
Before the game, coach Gene Pulice, in his 12th year at the helm, praised the "fantastic leadership" the team's captains are providing: seniors and twins Drew and Kyle Pierson and Frank Swanson and junior Simon Sawyer.
"As we move through this whole process," Pulice said, "it's always been high energy early in the season, then you have mid-season doldrums and a kind of peak toward the close of the season. I'm really happy where our leadership has kept the team going. It's really been a wave that we've ridden all season."
Kyle Pierson (31 goals, 25 assists) converted a free kick to give the Shamrocks a 1-0 lead. Cranbrook responded with goals by Ismail Asfour and Evan Evans before Tom Ongena tied the game at 2-2 to send it into overtime.
In the second OT, Ali Jaffer scored during a mad scramble at the goal for the winner, raising CC's record to 16-1-3.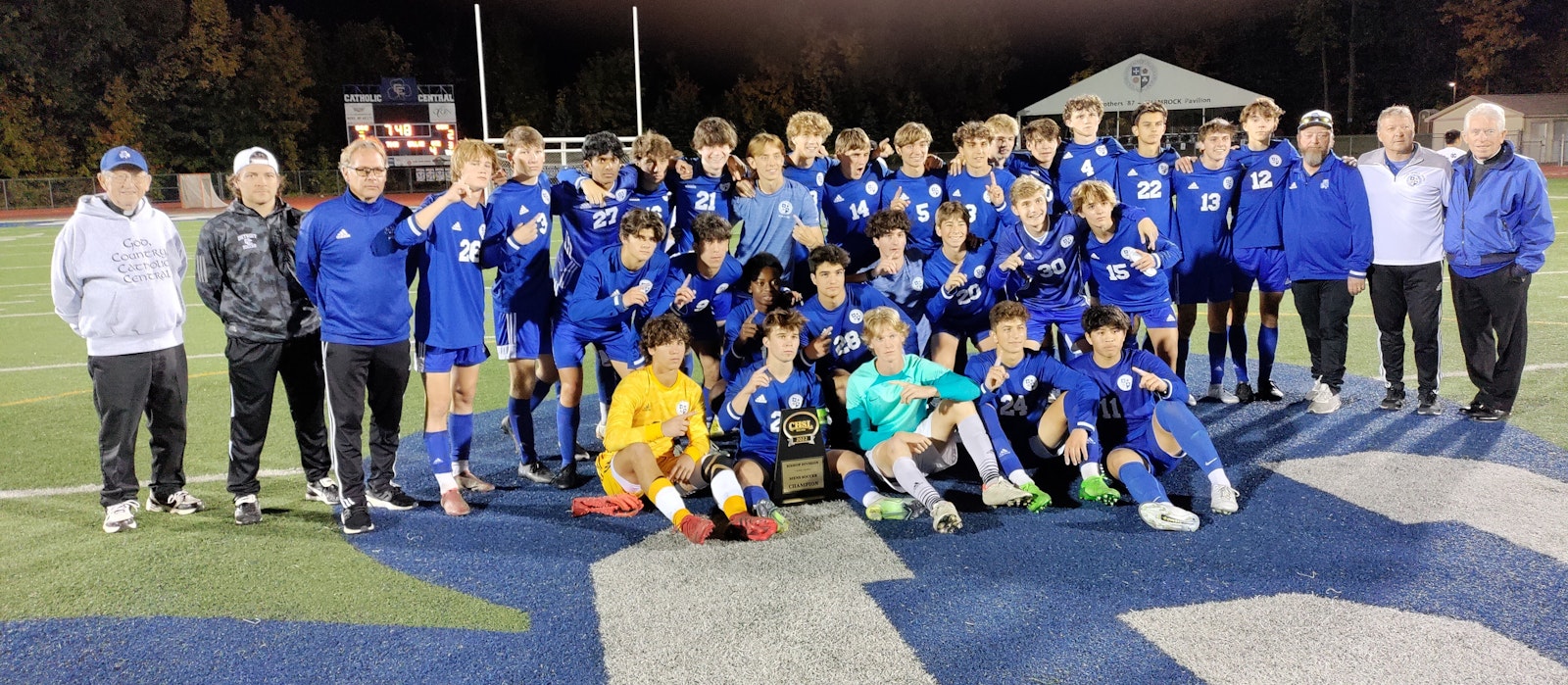 "We were a bit disorganized early on," Pulice said later. "It took us a little while to get back on track."
Catholic Central, Michigan High School Athletic Association Division 1 champs in 2017 and 2020, will begin the 2022 playoffs Oct. 18 against either White Lake (5-6) or Milford Lakeland (6-8). The finals will be held Nov. 5.
In the latest rankings by the Michigan High School Soccer Coaches Association, Troy is No. 1 and Catholic Central No. 2.
"Speculation has it that it will be either Troy or us," Pulice said. "But I wouldn't put anything past (No. 5-rated) Okemos. We played them to a 1-1 tie last week. It was as good a game as we've had all year. It was electrifying."
"We went toe to toe," said Cranbrook coach Chad O'Kulich. "We played our hearts out. It was a classy, well-played game. I'm proud the way we played."
The Cranes, ranked No. 5 in Division 2, open state tournament action Oct. 12 against Orchard Lake St. Mary's. Cranbrook last won a state championship in 1999.
'It was a tight, nervy game'
The coaches were in agreement about the match between University Liggett and Everest.
"It was about as even a game as you could have," said Knights coach David Dwaihy. "We both had strengths that offset each other. It was a tight, nervy game."
Everest coach John Haezebrouck said, "We settled down in the last 20 minutes of the first half, then it was a dog fight. Both teams laid it all out on the field. It was good competition."
Kudos were in order for the goaltenders, Liggett's Langston Evans and Everest's Tom Williams. Both played spectacularly.
After two 40-minute halves and two 10-minute overtimes, it came down to a shootout.
The win was Liggett's second straight CHSL title. The Knights, ranked No. 2 in Division 4, will face either Bloomfield Hills Roeper or Southfield Manoogian on Oct. 17.
Everest, rated No. 10 and a state finalist a year ago, will meet either Auburn Hills Oakland Christian or Novi Christian Academy on Oct. 18.
This is Haezebrouck's last season coaching soccer after 12 years. He said, "It's late at night and my kids are sleeping at home. I'm missing that." He will stay on teaching history at Everest's middle school.
Contact Don Horkey at [email protected]
Copy Permalink