DETROIT — "It's awesome that we played so well and we got off to a quick start," Warren De La Salle football coach Dan Rohn said following the Pilots' 41-14 victory over Traverse City Central on Friday at Ford Field in Detroit.
That was putting it mildly, though. Top-ranked De La Salle was dominant from the opening kick in winning its fourth state title since 2014. The Pilots jumped out to a 41-point advantage by scoring on all five of their first-half possessions, and added another score midway through the third quarter, coasting to the win.
Sophomore Rhett Roeser got the first touchdown on a 1-yard run five minutes into the game, but that was merely a preview of what was coming next.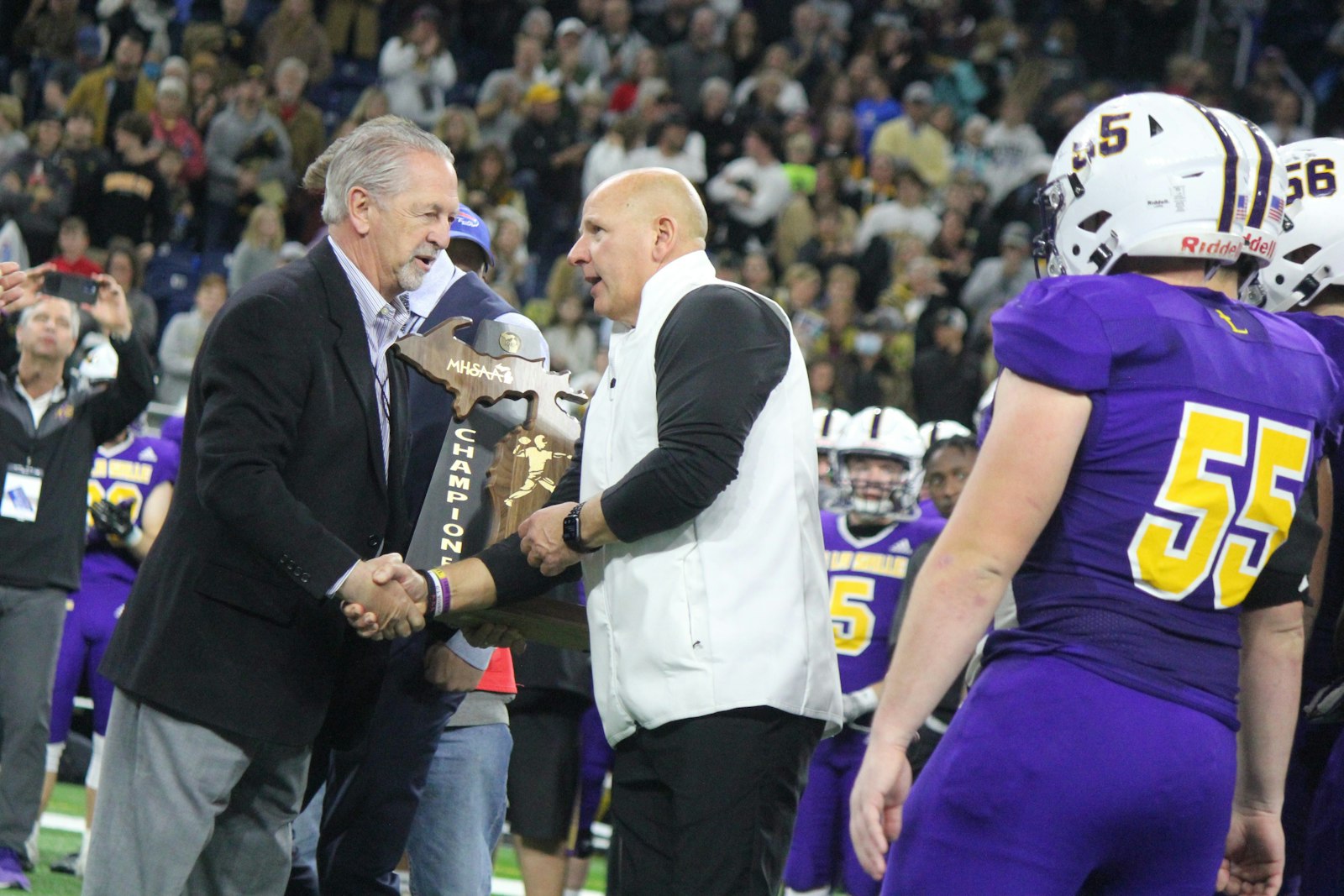 The Pilots ignited for 27 points in the second quarter. First, Triston Nichols caught a 20-yard scoring pass on the first play of the period. Next, De La Salle took over after a stalled Traverse City Central drive at midfield, and quarterback Brady Drogosh burst loose for a 45-yard touchdown run.
In the waning seconds before halftime, De La Salle added two more scores to really blow the game open. The Drogosh-to-Nichols combination hooked up again for a 24-yard touchdown pass with 14 seconds to play. Devin Schmelter later intercepted a Trojans pass and returned it to the 24-yard line, giving De La Salle an opportunity to tack on six more points with Drogosh's third touchdown pass, this time to Alton McCullum.
DeNiro Johnson added the Pilots' final touchdown midway through the third quarter on a 2-yard run, sending the game into running-clock mode. Traverse City Central's two late scores were inconsequential, as far as Pilot fans were concerned.
In winning the state title Friday, De La Salle also did something no previous Pilot squad had done — complete a season undefeated. The team was 13-0 this fall.
"It's really nice, you know, first time in history. Like Coach Rohn said, it's a goal every year. No matter how we get here, we want to win," said captain Will Beesley, who led the Pilots defensively with eight tackles, despite playing with a large cast on his wrist.
"You kind of look at things and measure yourself always and keep evaluating, and we want to set the bar really high," Rohn said. "The numbers are incredible in our program, the coaches do a great job, and the administration's supporting us. We expect to build on this today and use it to make our program better."
Rohn said Friday's victory was the culmination of "an incredible week" for the program.
"The message all day was the same — we talked a lot about representing our school and our community," he said. "I told these guys that they're playing for each other — they've earned this. They're not going to play with each other ever again. For some of the seniors, this will be the last time they will step on the field. It's really important to enjoy this. Do it for yourselves, do it for each other, and do it for your brothers."
Rohn had previously coached Grand Rapids West Catholic to state titles in 2010 and 2013-15, and later coached at Ferris State University. He was hired by De La Salle in early 2020 to restore the program following a hazing scandal that resulted in the Pilots forfeiting their first-round playoff game in 2019. The results under Rohn were immediate: De La Salle reached the state finals last year, although it lost to Muskegon Mona Shores.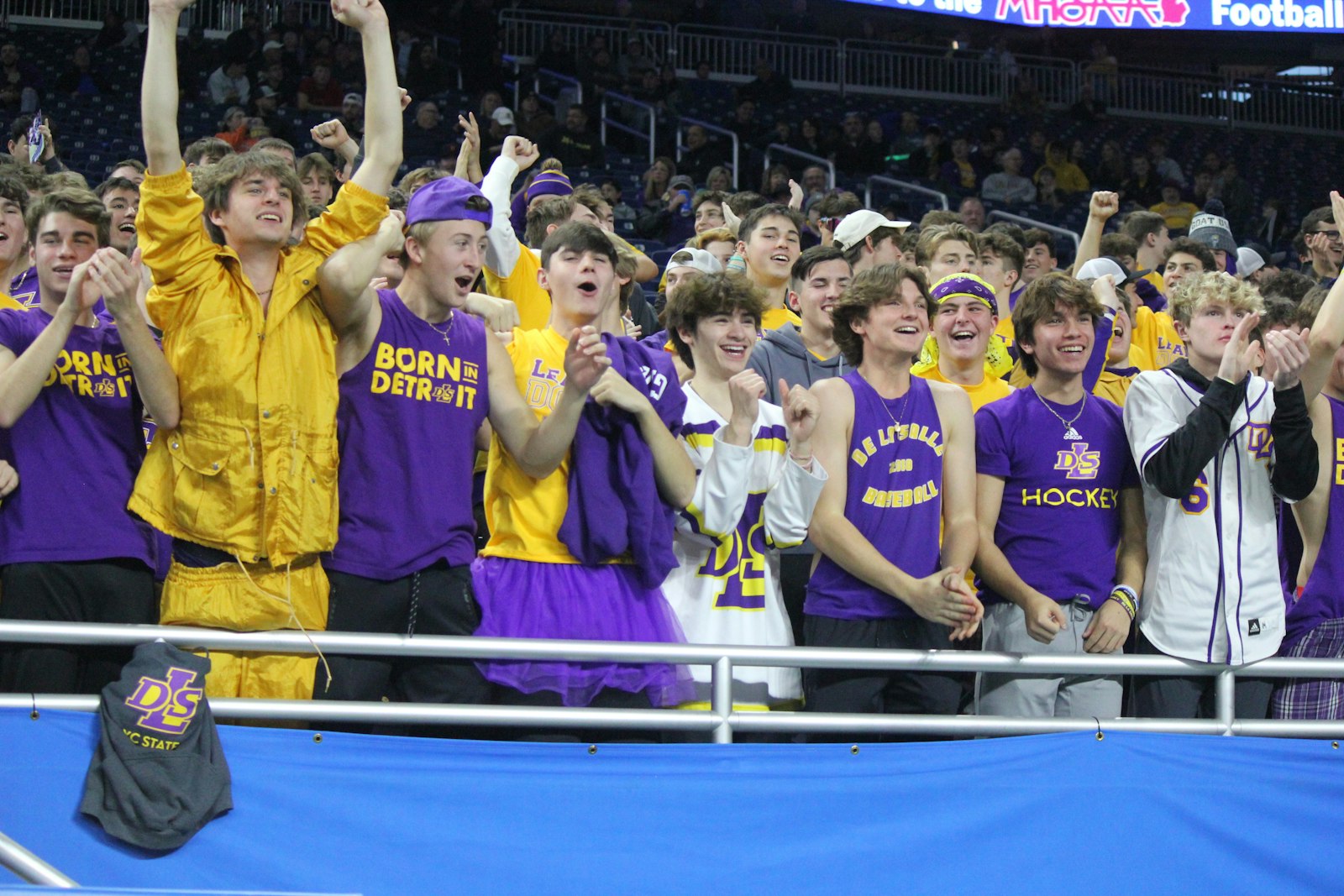 Understandably, Rohn was a little bit emotional after accepting the championship trophy.
"To take a little time off and reflect on things, and then being embraced by a community like De La Salle, it means a lot," he said. "Some people don't get a chance to do this, and I've been fortunate enough to be here seven times and win a number of them. It's not just about me, but the guys I surround myself with — the coaches, these players. We've got some tremendous kids, good support, and we hope to build something that's really special."
"This is a great feeling," added Roeser. "This is what we've been working for, what we've been striving for. After we lost last year, we knew we were going to be in the same place, and we were going to be on the other side of the ball."
This was the fourth time De La Salle has won the state title — the Pilots previously won in 2018 and 2017 under Giannone, and in 2014 under Paul Verska. De La Salle squads were finalists in 2020, 2008 and 2006.
"Obviously, there's been great coaches and great players around this program for a long time," Rohn said. "But you know, there was a little lull in there. It was tough for us, and we wanted to get back to where we wanted to be.
"Since I took the job at De La Salle, I've always told the guys we want to bring this program back. We're going to do this together, and we're going to use the word 'love' a lot, and they know it — they know our coaches love them. My coaches coach hard, and my parents let them coach hard, and that's one of the big differences. If you can coach hard and tell a kid you love them, they're going to do anything for you."
Copy Permalink