NOVI — Although the Catholic High School League football championship games won't be played for another two weeks, the qualifiers are already set for Prep Bowl 50. Warren De La Salle, University of Detroit Jesuit, Madison Heights Bishop Foley and Marine City Cardinal Mooney all won last weekend to lock up spots in the annual gala held at Ford Field in Detroit.
Bishop Foley will play Cardinal Mooney for the Cardinal Division championship at 1:30 p.m. on Oct. 22, while De La Salle will play U of D Jesuit for the Bishop Division championship at 4:30 p.m.
De La Salle, the reigning state champion (5-1, 2-1 CHSL), overcame a prior league loss to Bloomfield Hills Brother Rice and captured the Central Division crown by shutting out Novi Detroit Catholic Central in its annual Boys' Bowl homecoming game, 28-0, on Oct. 2.
Rhett Roeser and Brady Drogosh each rushed for a pair of touchdowns, and the Pilot defense held Catholic Central (4-2, 1-1) to just 66 yards of total offense, in dealing the Shamrocks their first Boys' Bowl loss since 2014 — and their first shutout in that game in 41 years.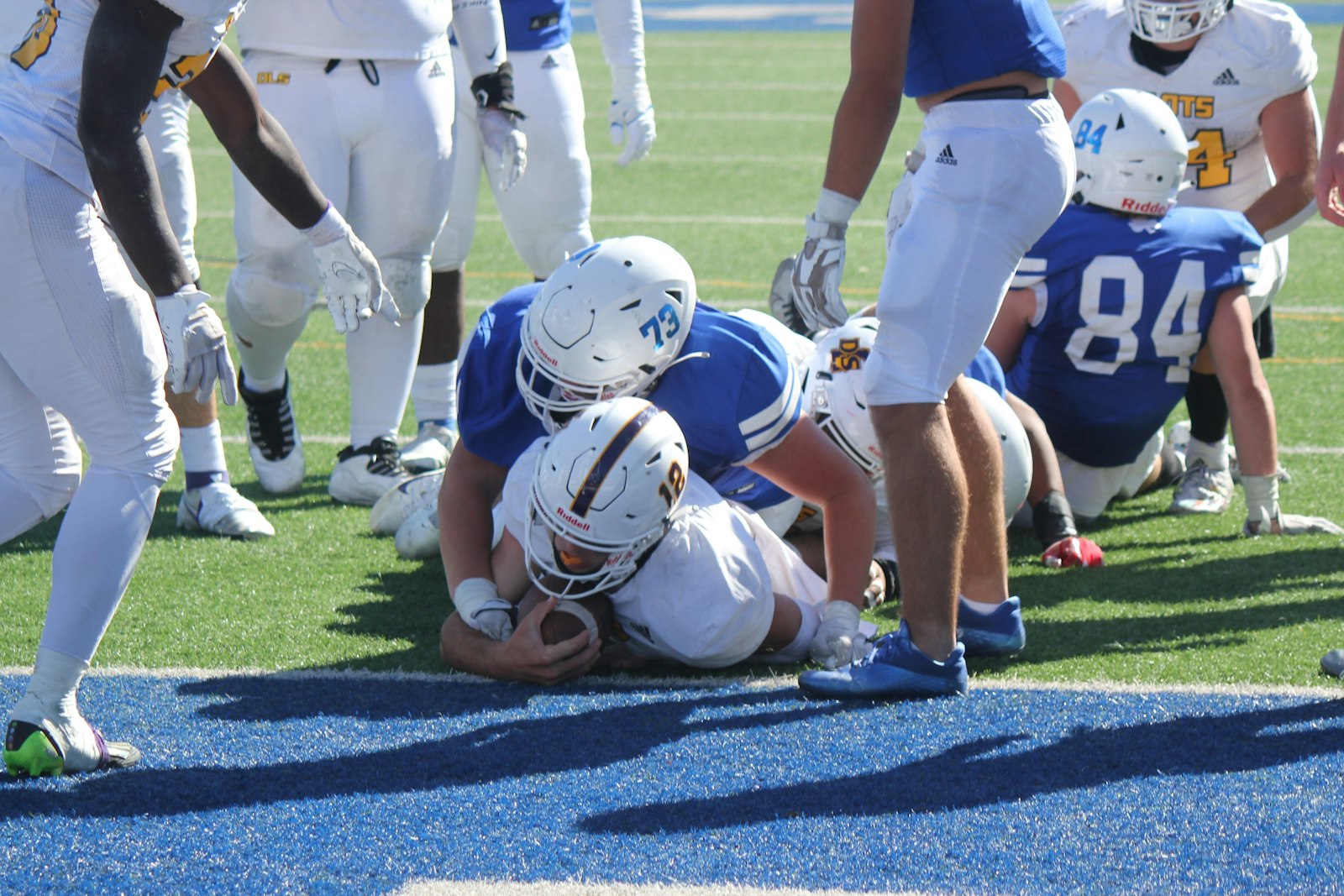 "Hats off to our defense to come in and play that well and shut this team out. They have some weapons," Pilots coach Dan Rohn said. "I don't know if we were playing with a chip on (our) shoulder, or if now we understand the importance of 'every day, every situation.' We played a much better game today. We have to take another step forward as a football team, and we have to dwell on the here and now — not about November and what's going to happen in the playoffs."
De La Salle scored twice in the first quarter, and tacked on two more touchdowns in the fourth quarter.
AA Division: University of Detroit Jesuit returns
There are only three schools in the AA Division, but by beating both of them, University of Detroit Jesuit has earned another Prep Bowl game against De La Salle. To set up the rematch, the Cubs (3-3, 2-0 CHSL AA) downed Dearborn Divine Child, 30-22, on Sept. 30.
U of D Jesuit jumped out to an early 14-0 lead with first-half touchdowns by Austin Enoex (an 80-yard pass reception) and Anwaar Carter (a quarterback sneak), and added second-half scores on a pair of interception returns by Caleb Knuth and Eyan Konal.
Divine Child (4-2, 0-1) closed to within a touchdown with 10 minutes left, but the Cubs were able to hold on to the ball for the remainder of play.
"We were able to jaw it out, trying to get first downs and just keep the clock moving," Cubs coach Matt Lewis said.
The Cubs have already played De La Salle this season — the Pilots took a 55-13 win Sept. 9 — and the two schools met in the 2021 Prep Bowl (a 49-14 De La Salle victory). Despite the recent history between the two schools, Lewis is glad to get another game against them on a big stage.
"We talked about the Prep Bowl," he said. "We wanted to be the league champs and get the opportunity to play at Ford Field — not too many players in the state of Michigan can say they get that opportunity. It's something our program is proud of."
Intersectional I: Bishop Foley squeaks it out
Reigning Cardinal Division champion Madison Heights Bishop Foley will get a chance to defend its crown, even though the Ventures got there by the narrowest of margins: a 29-28 come-from-behind victory against Riverview Gabriel Richard on Sept. 30.
Gabriel Richard (3-3, 1-1) had a 28-21 lead midway through the fourth quarter before Bishop Foley (6-0, 3-0) scored on an Angelo Costanza-to-Adam Kidder pass with 2:51 to play, making the score 28-27.
The Ventures attempted a two-point conversion and bobbled the snap. Running back Gus Toppi picked up the ball and ran it into the end zone for the winning margin.
"After they scored to take the lead, we were planning on scoring again, and we were talking about what's our favorite two-point play," Bishop Foley coach Brian Barnes said. "When the ball hits the ground or does something goofy, everyone freezes for a second, you lose your technique. We reacted and it worked out. We definitely didn't draw it up that way."
Jack Hopkins squelched Gabriel Richard's last chance by sacking the Pioneers' quarterback with 1:38 to play, forcing a fumble, which the Ventures recovered.
Barnes said his athletes knew a Prep Bowl berth was on the line, as the Ventures had to win their homecoming contest.
"I think we focused on it a little too much during the week," he said. "When you do that, you tighten up and don't play for the right reasons. At the end of the day, you're blocking and tackling and running and catching — it's still football."
Intersectional II: Cardinal Mooney 'beats the king'
Bishop Foley will play Marine City Cardinal Mooney, which captured the Intersectional II title with a home-field victory over Clarkston Everest Collegiate, 15-8, on Oct. 1. Prior to that game, Cardinal Mooney (5-1, 4-0) had never beaten Everest (3-3, 2-1), which appeared in the Prep Bowl in each of the past five seasons.
"We felt we could compete with these guys, but Everest has a way of pulling it out at the end. They have that mystique," Cardinal Mooney coach Joe Quesnelle said. "You have to beat the king, we told our guys."
In a back-and-forth battle, Cardinal Mooney took a 7-0 lead early in the second quarter on the first of two rushing touchdowns by Brendan Haisenleider. That lead lasted until late in the third, when Everest scored was successful on the two-point conversion to go up 8-7.
Haisenleider scored again with 2:26 to play, and added the two-point conversion, to account for the final margin. He rushed 147 yards Saturday, going over 1,500 yards this season, one of the top totals statewide. He has also scored 20 touchdowns.
"It was a well-played game; we pulled it out," Quesnelle said. "It was our biggest win in about 10 or 20 years."
The last time the Cardinals appeared in the Prep Bowl was 2001.
Copy Permalink