Educators say investments will help students by providing new opportunities, space for expanded programming and extracurriculars
DETROIT — As the calendar turns to 2022, several Detroit-area Catholic high schools are turning to the future in hope with campus enhancements, expanded educational opportunities and investments educators say will bolster students' learning opportunities for years to come.
Below are some of the projects that were announced last semester, with schools planning to continue investing in students' success in the coming months and years.
Brother Rice transforms campus with $52M expansion
In June 2021, Brother Rice High School in Bloomfield Hills announced a $52 million transformation to its Lahser Road campus, which was built more than 60 years ago. The total project includes $42 million in campus upgrades and $10 million in endowments for technology, service learning, scholarships and other opportunities.
The first phase of the project was completed this fall, including the addition of a new Center for Learning & Achievement. The new center, which recently opened, includes the four distinct "institutes" providing a college-level atmosphere and elevated student programming geared toward academic success, leadership, innovation and entrepreneurship, and character and citizenship, school officials said.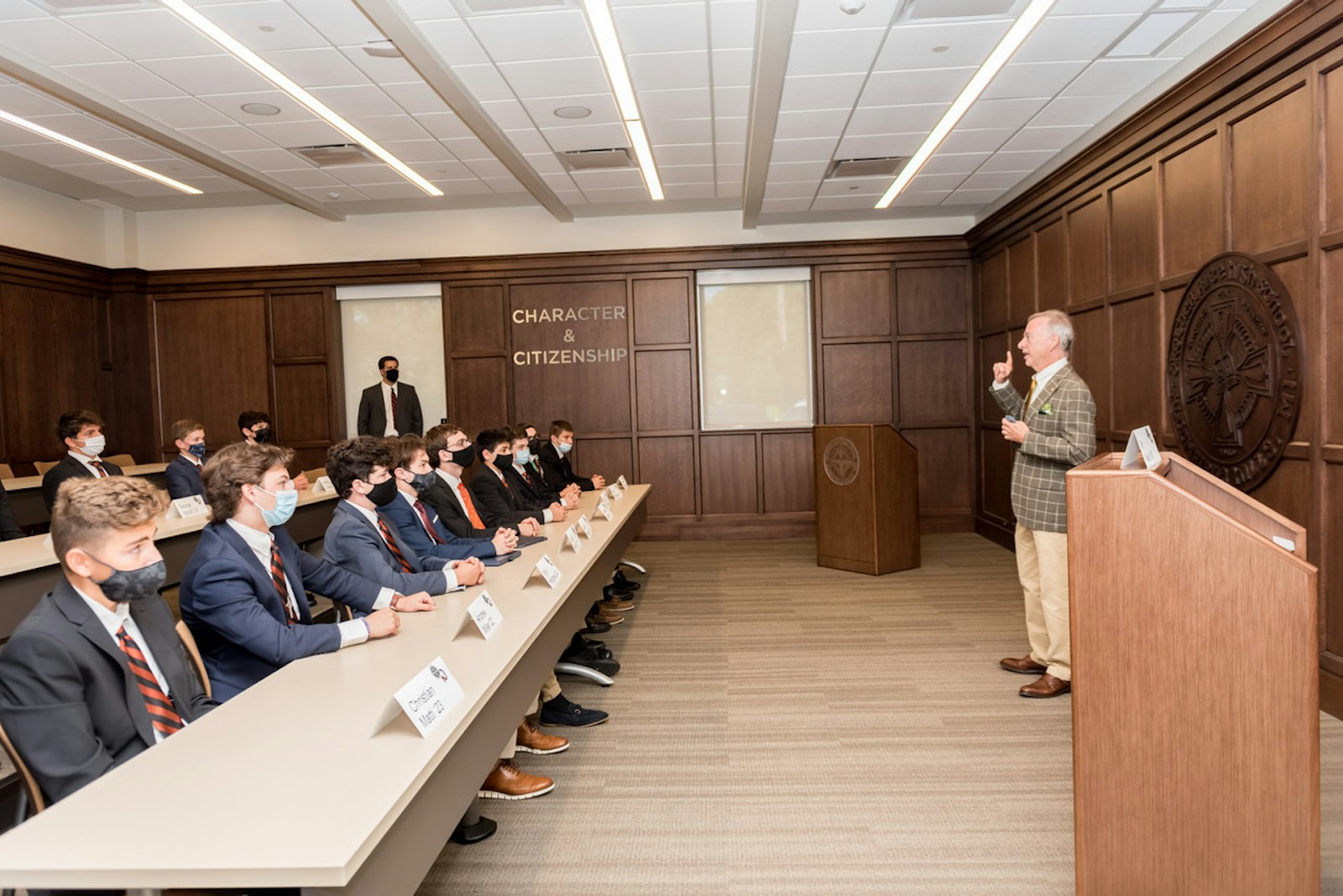 "We also completed the Brother David McIntyre Faculty and Staff Commons, new varsity and physical education locker rooms, and we had structural enhancements to our engineering lab," said Tom Reidy, president of the all-boys Brother Rice. The $7 million first phase also included a new Legacy Family Courtyard, Reidy said.

The Mike Neus Institute for Character & Citizenship, which will be used for debates, meetings and special presentations, has intrigued students with its wood paneling, much like an executive board room.

Senior Brandon Willis said he's looking forward to seeing classrooms and clubs use the meeting space "that I'm sure not many high schools can match."
"I'm personally excited to get in and make use of the brand new broadcast studio space with the new equipment, soundproof room, and lights, which is a massive upgrade from the classroom that we filmed in previously," Willis said.
The project's second phase is already in the words, which will include a new space for students to gather, dine, celebrate and pray, thanks to a $2.5 million gift from Detroit's Fisher family.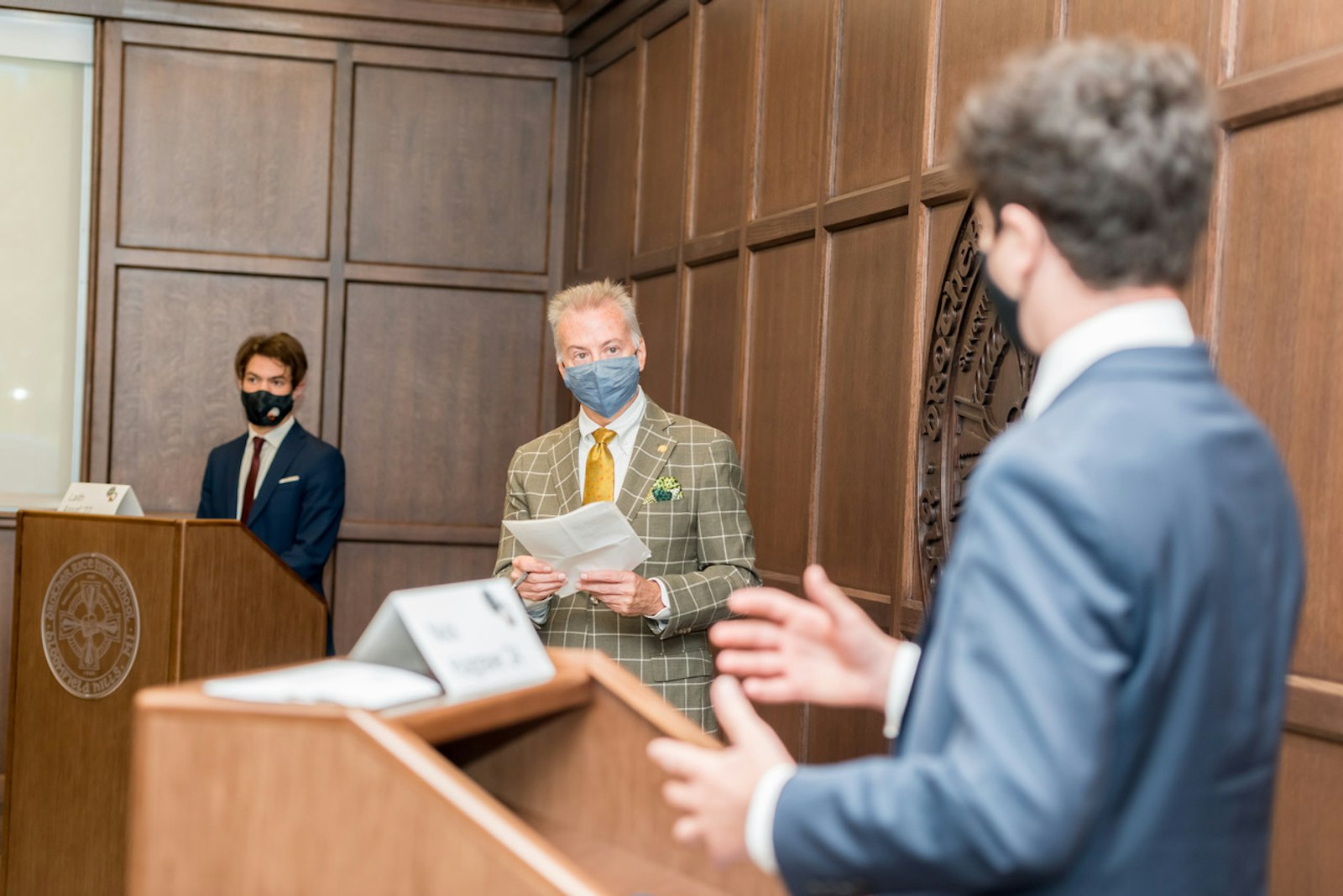 "The Fisher Family Commons, which will be a state-of-the-art gathering space, will be at the heart of the school. It will include our campus ministry suite, dining services area and integrated music and performing arts hall, and will host alumni, parent gatherings and special events," Reidy said. The space will be much like a student union in a college setting; "It drives for us the experience of brotherhood here at Brother Rice," he added.
The second phase, which is expected to be completed in the next two to four years, will also include a newly renovated gym, and a refurbished chapel, upgrades to the school's athletic fields and grounds beautification will also take place over the next decade.
Catholic Central announces $35M STEM facility
In December, Detroit Catholic Central High School announced a $35 million STEM (Science, Technology, Engineering and Mathematics) facility expansion funded by private donations. A new building wing will add 57,000 square feet, with construction expected to begin in the summer of 2022 and a goal of opening in two years.
The building expansion will include eight new science labs, four lab prep rooms, an engineering lab, a robotics competition and building rooms, greenhouse, a lecture hall, observatory and other multi-use spaces including additional classrooms and a computer lab.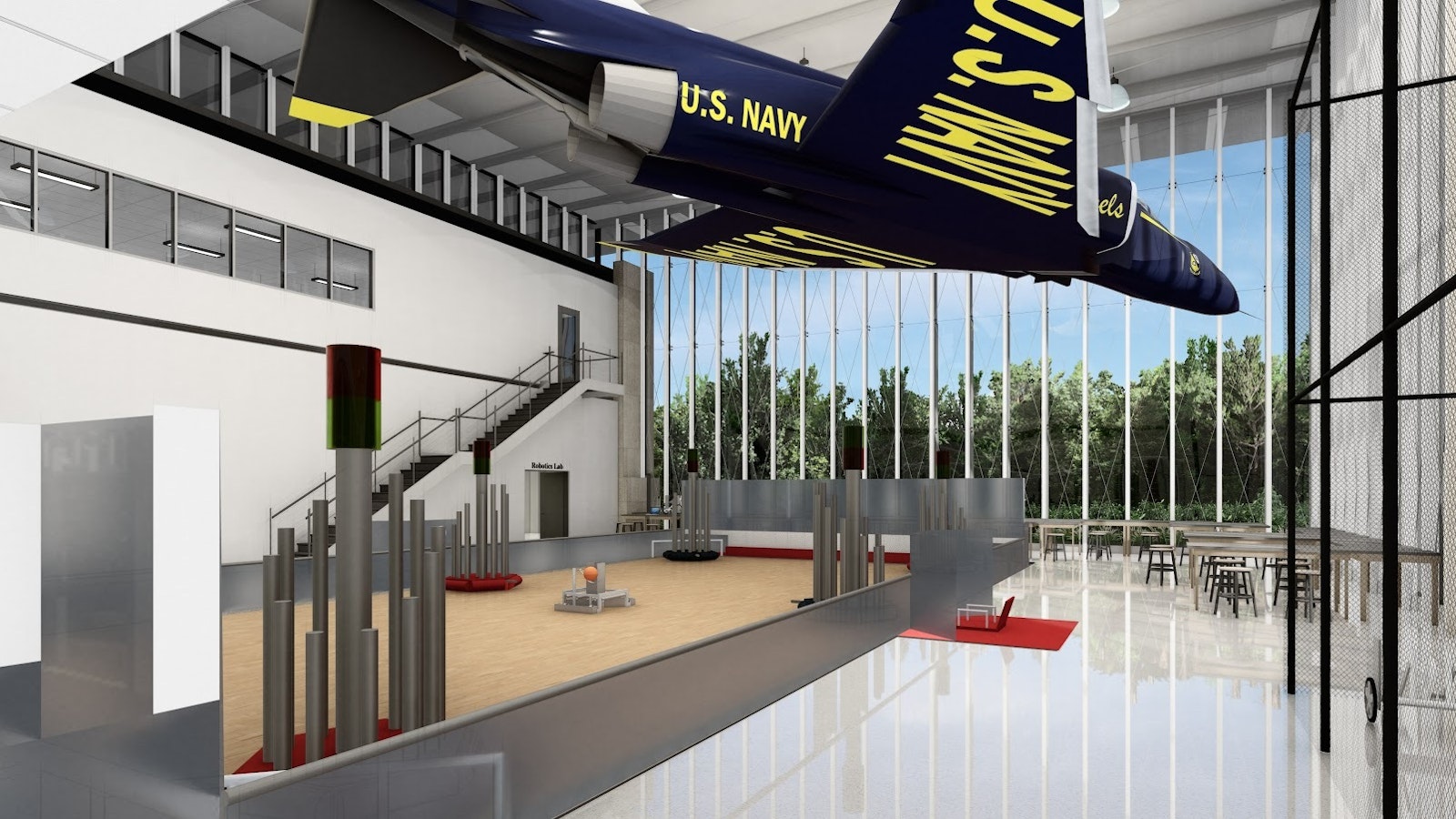 "Without a doubt, this will be a transformative project for our students and their access to state-of-the-art technology," principal Fr. Patrick Fulton, CSB, said in a news release. "While our students excel in our current facilities, this expansion will provide the additional space, technology, and equipment necessary for us to take our STEM offerings to an even higher level. The amount of hands-on experience our students are able to gain before graduation will prepare them well for college and beyond."
In 2020, the all-boys school completed an improved Wixom Road entrance, and last fall finished a renovation of the school's learning commons.
"The project did not come together overnight," Catholic Central's president, Ed Turek, said in the release. "We have been planning, designing, and fundraising for more than two years."
U of D Jesuit says $10M gift will fund scholarships
At University of Detroit Jesuit High School, director of planned giving Katie Sznewajs said a $10 million gift to the school's endowment fund will help fund the education of lower-income future students through scholarships and financial assistance.
"Both benefactors were very adamant that they were need-based scholarships" Sznewajs said. The number of students who receive the gifts vary according to financial need, she added.
"To make a commitment to a private Catholic high school is very expensive," Sznewajs continued. "We don't want anyone to (think they can't afford) going to U of D."
Sznewajs also said the mission of the Jesuits' founder, St. Ignatius of Loyola, envisions that anyone who can handle the rigors of a Jesuit education would never be denied.
"The more we can offer, the stronger our school and the stronger our community becomes," Sznewajs said.
Orchard Lake St. Mary's adds new classroom building
Orchard Lake St. Mary's Preparatory broke ground in May 2021 on a new, 29,000-square-foot classroom building to serve both its boys and newly established girls division, and later dedicated the Clarence & Lillian Constantakis Prep Classroom Building, which will house 20 state-of-the-art classrooms.
The new building is part of an ongoing capital improvement project at the Orchard Lake Schools, which also included a transformation of the school library's lower level into classrooms and renovation of the campus' historic prep building.
"The time is now for this investment," headmaster Bob Pyles said in a news release last spring. "There has been outstanding demand for a St. Mary's education, and I credit our faculty and staff for that. When you have outstanding professionals inspiring students in a small class atmosphere, great things happen. Our motto of 'God. Family. St. Mary's.' is meaningful and important to parents and students alike."
Orchard Lake St. Mary's, established in 1885, added a girls division in 2020. Previously, the school had been all boys. The renovations were funded by private donations through the schools' capital campaign, which has a goal of $14.6 million.
Gift bolsters tutoring, academics at De La Salle
De La Salle Collegiate High School principal Bro. Ken Kalinowski, FSC, said a $1 million gift from Dan Loepp, CEO of Blue Cross Blue Shield of Michigan, and his wife, Amy, will help develop a student enrichment program, which will include tutoring for students who need strengthening and support coming into De La Salle.
"It helps monitor progress and gives tutoring support," Bro. Kalinowski said of the gift, announced in September 2021. "We want to make sure we don't let kids slip through the cracks."
The program is run by Bro. Joe Reed, FSC, with the help of the school's psychologist and a staff coordinator.
Bro. Kalinowski added the program has been especially helpful as some students return to in-person instruction from online learning programs last year as the result of COVID-19.
St. Catherine of Siena modifies campus
Lia Johnston, president of St Catherine of Siena Academy in Wixom, said the all-girls school is in the midst of two projects: the expansion of the media center into a flexible learning center and presentation area, and the transformation of the school's weight room into a wellness center.
"We realized we needed an environment that had flexibility," Johnston said. "Especially with COVID, we needed a space where we could do different configurations."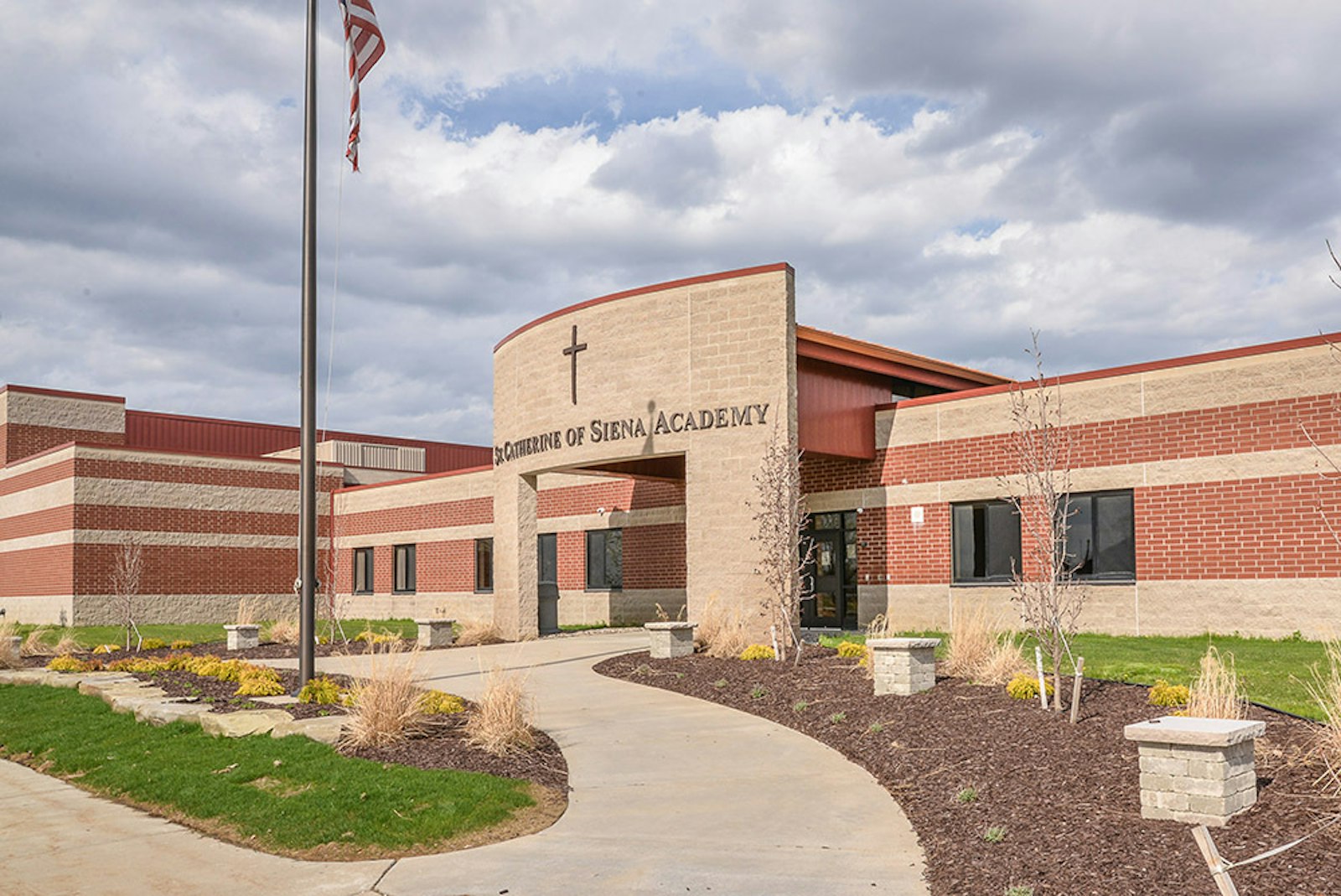 The weight room will double in size from 1,100 to 2,200 square feet. "We wanted to accommodate the needs of not only our athletes, but our students in general," Johnston added.
Both projects, which will cost approximately $500,000, are scheduled to be completed within the next nine months. The school's administration is also eyeing a new $4 million stadium with an eight-lane track and turf field, which would take place through the assistance of a capital campaign.
Shrine completes $2M athletic field upgrades
At Shrine Catholic High School, a $2 million project to improve the condition of the athletic field was completed before the 2021-2022 school year. The project consisted of the installation of a new turf field for football, lacrosse and soccer, and included permanent outdoor lights for evening games and a new sound system, according to Elizabeth Rademacher, director of school fundraising.
Rademacher said many alumni, especially those who were athletes, responded to the call to give back to Shrine's athletic program.
"Phase two is going to be concession stands, an admissions gate, a turf practice field and an outdoor bathroom facility," Rademacher said, adding the hopeful completion date will be in two years.
Copy Permalink