EAST LANSING — Immediately after Marine City Cardinal Mooney's season ended with a 55-44 loss to Munising in the boys basketball Division 4 semifinals Thursday night, there was a lot that coach Mike McAndrews needed to get off his chest.
It wasn't a comment on the quality of play, nor was it judgment of the officiating, as some coaches are prone to do following a season-ending defeat.
McAndrews' comments were more of a cleansing.
"The thing I'll probably take away most from the season is when you get a group of guys that love one another and you love them, and you can work through differences and you can work yourself through some adversity," he said. "These guys will never know, they'll never understand, what they did for me this season."
The Cardinals were noted for their deep playoff run this winter — a feat even more impressive given they had a final record of 16-12, missed the Catholic League playoffs and dealt with a lot of challenges throughout.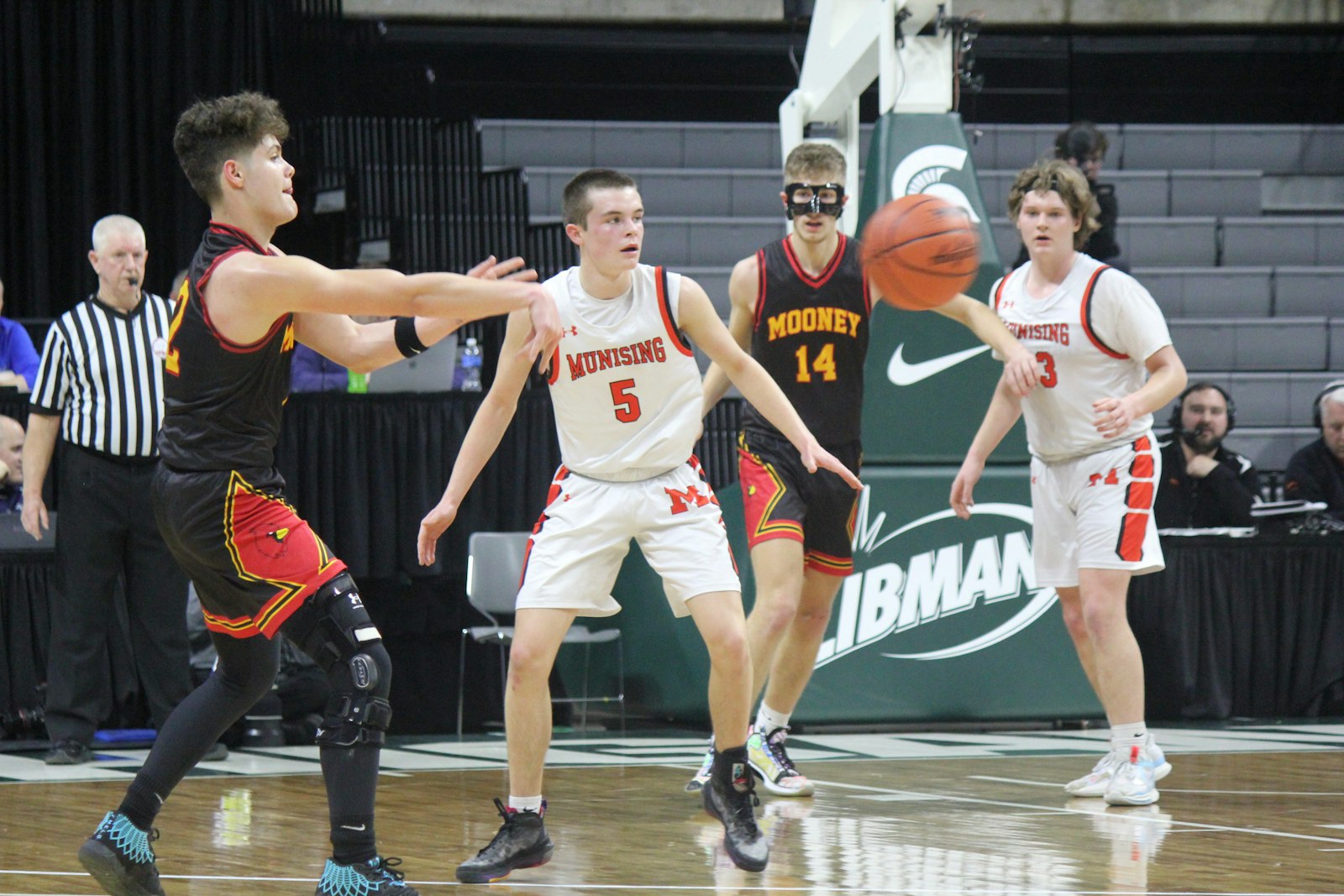 "I lost my father right before the season started, and for two hours a day, they motivated me to be better and helped me through my own grieving process," McAndrews said.
Jim McAndrews, 80, grew up a successful prep basketball player in Philadelphia, and that rubbed off on his children, as a member of the McAndrews family has coached a Cardinal Mooney basketball team since 1990. Mike has led the boys team since 1998, succeeding his older brother, also named Jim, who coached the Cardinals from 1990-97. Mike's sister, Susan Everhart, was a successful girls coach from 1991-2015, and now serves as an assistant on her brother's coaching staff.
Adding to the team's difficulties was that they had to play most of the year without one of their best players, junior point guard Brian Everhart (one of Susan's three sons).
"[He] had a pretty bad knee injury which was really close to being catastrophic. The doctor said had he torn all three (ligaments and tendons) completely he would have been done playing basketball forever. Luckily, he only partially tore them," McAndrews said. "So, him being out the lion's share of the season — we got him back two weeks before the start of the post-season — we found out a little bit about ourselves, with our schedule."
"It exposed us a little bit to adversity, which is when you find out about yourself, and about your team and each other when you hit tough times."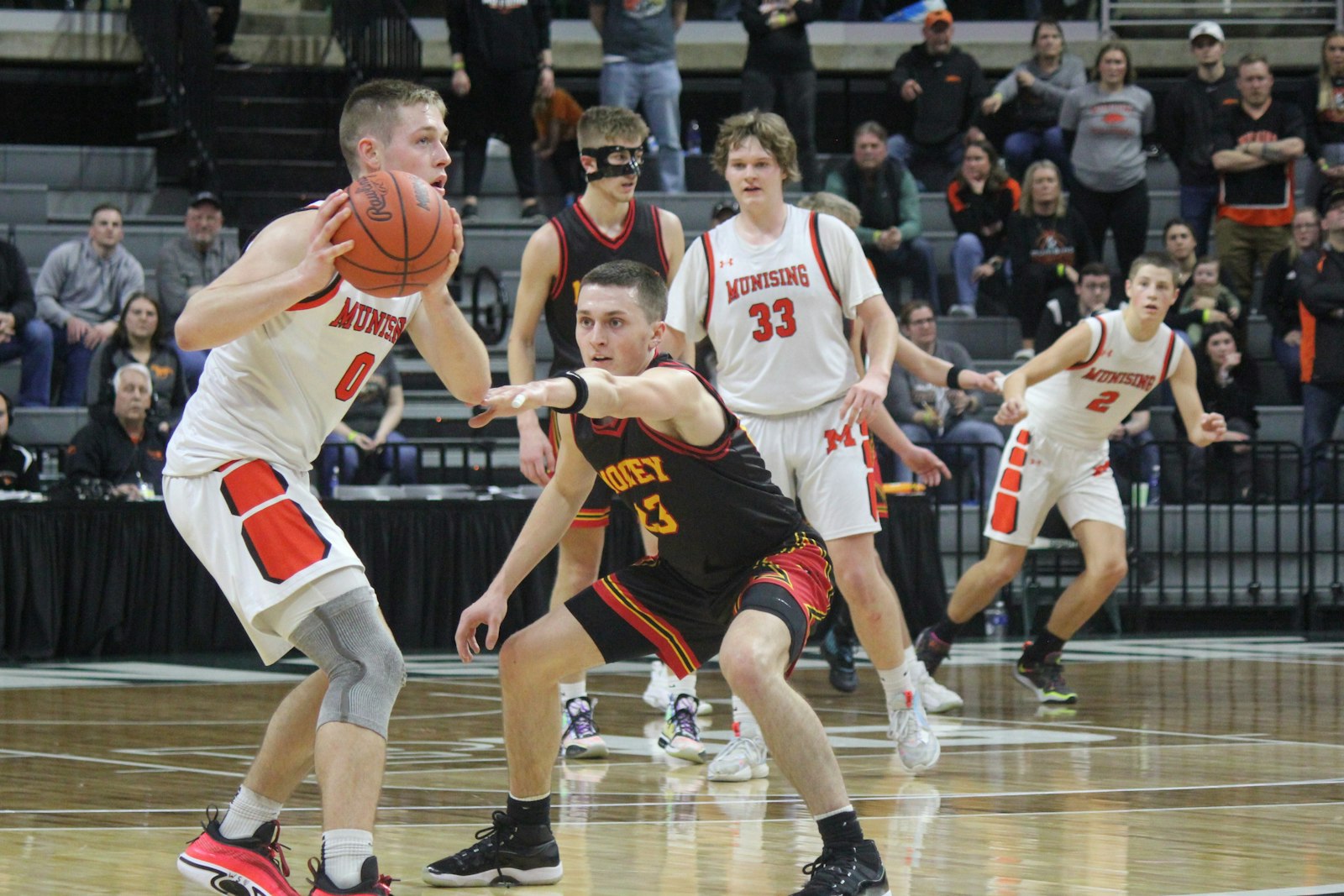 That's a lot to overcome, especially when facing the level of competition that Cardinal Mooney did.
"We're playing in a really tough division in the toughest, if not one of the toughest leagues, in the state, being the Catholic League. I'm biased, but I think it's the best league in the state top to bottom," said McAndrews, who also serves as president of the Catholic Men's Coaches Association.
In Thursday's game played at Michigan State University's Breslin Center, Cardinal Mooney had to play catch-up all evening. Munising (26-1) scored the game's first seven points, and although the Cardinals closed it to 7-6 before the end of the first quarter, they were never able to grab the lead.
In the second quarter, Cardinal Mooney only scored two points and trailed 27-13 at the half.
The team's two captains, senior guard Trent Rice and senior forward Quentin Hillaker, got hot in the third quarter and were able to creep back to within 33-31. However, Munising's Kane Nebel responded with 10 consecutive points and the Upper Peninsula school was able to pull away for good.
Although the two seniors were disappointed in the outcome, they were grateful for their opportunity to be part of the team.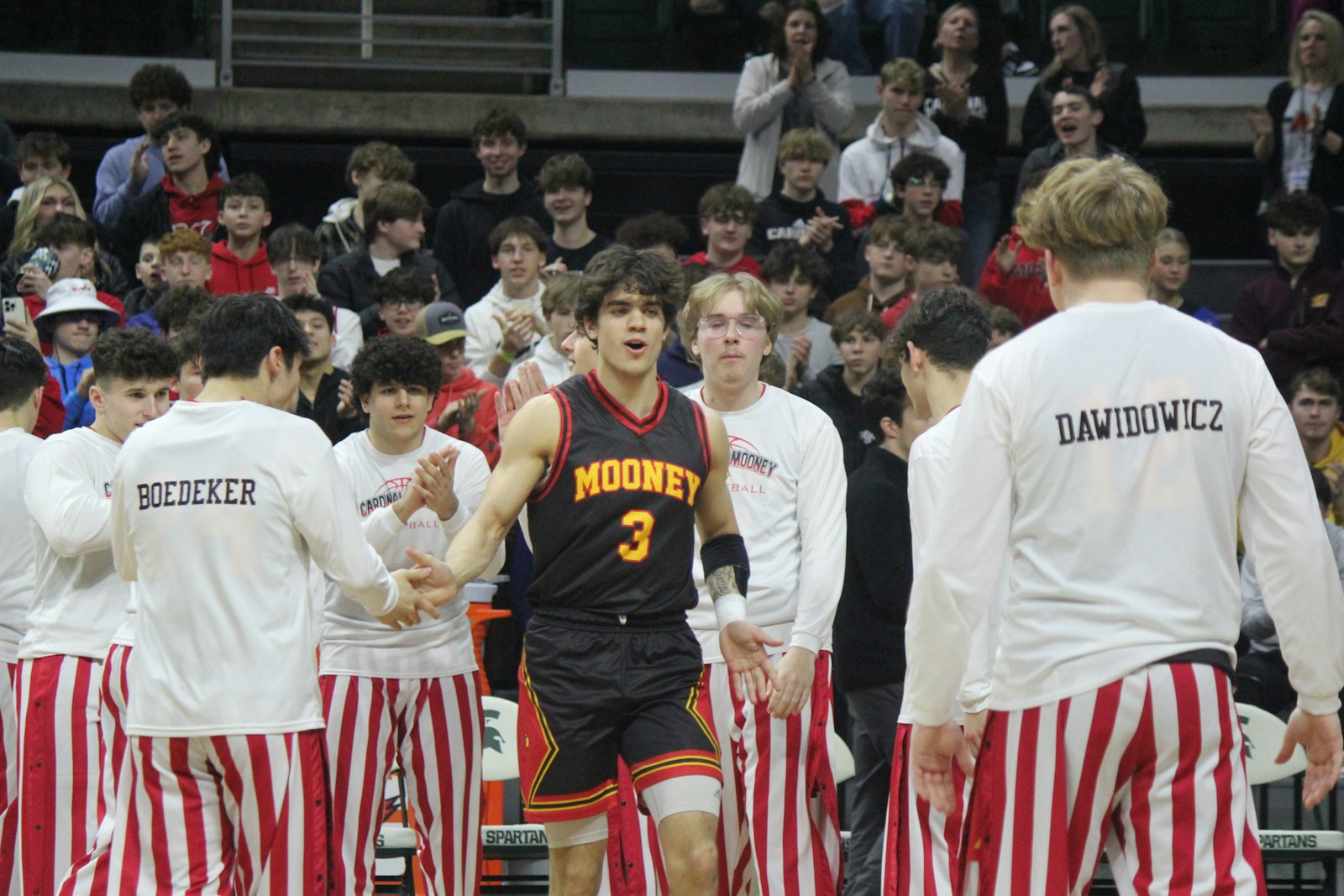 "I don't know if I would have accomplished half the things that I did at a different school than at this one here," said Rice, who finished with a team-high 19 points. "The community at our school is the greatest thing that I've been a part of, and I would not have questioned going anywhere else, especially before I figured out I was going to Mooney. When I got there, I've loved every second of it, and have for four years, and I would not take anything back."
Hillaker said, "I didn't know where I was going four years ago, and I came to a camp over at Mooney and that's how I decided that's where I wanted to go. The small community brings all the guys together. That's what I really enjoy about this program."
Their sentiments were not lost on their coach, who also is the school's director of admissions.
"I'm a lucky man that I get to deal with such quality young men, whether we get to this point or we don't, or what our regular season looks like," McAndrews said. "I'm just fortunate, for 25 years at my alma mater, I've been able to put my arm around young men and tell them how much I love them on a regular basis and know that they love me back. I know that after we leave here tonight, our relationship will change a little bit, but it will never stop."
Copy Permalink