Reaching pre-COVID attendance, Catholic Charities gala includes presentation of the 2023 'Time, Talent and Treasure' awards
TROY — Supporters and patrons gathered to celebrate Catholic Charities of Southeast Michigan's annual gala and the presentation of the "Time, Talent and Treasure Awards" on Sept. 7 at Petruzello's Banquet Center in Troy.
Nearly 400 guests joined to support the year's featured mission, "Walking With Moms in Need," a partnership between the Archdiocese of Detroit and Catholic Charities of Southeast Michigan, which equips and assists Catholic parishes and parishioners in raising awareness about resources that assist pregnant and parenting moms in need.
All funds raised during the gala will go toward furthering the Walking With Moms in Need mission. Patrons enjoyed dinner, an open bar, and a silent auction, which included cuff links and a tea set from Archbishop Allen H. Vigneron's personal collection, whiskey tasting with Fr. Stephen Pullis and a basket of art made by the Adrian Dominicans. The evening's master of ceremonies was former Detroit TV personality Chuck Gaidica.
Walking With Moms in Need is a critical ministry to help make parishes a refuge for expecting mothers, Paul Propson, Catholic Charities CEO, told those gathered.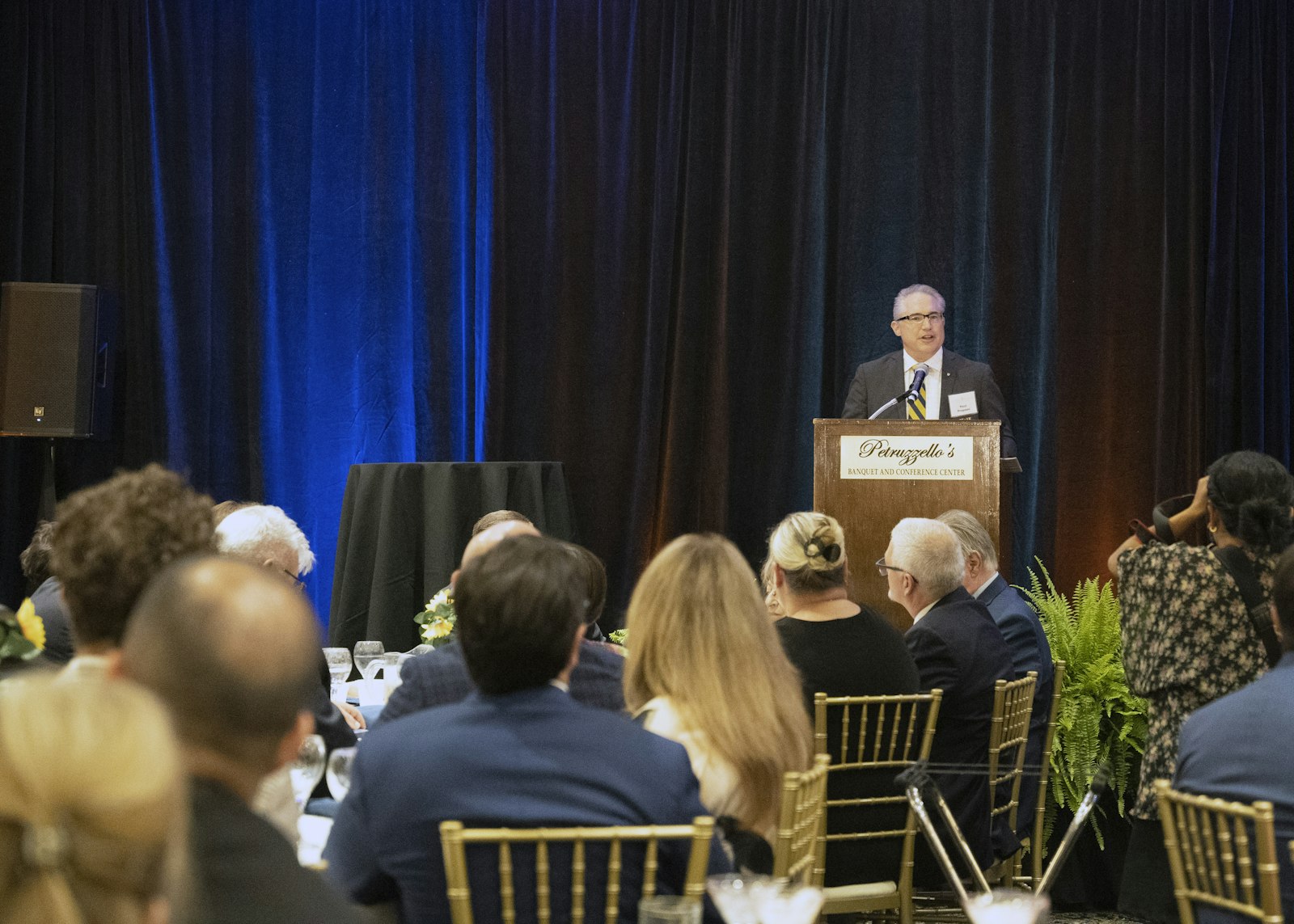 "Our bishops here in the United States call upon all Catholics and all Catholic parishes to be islands of mercy in a sea of indifference, walking with moms in need in our community, making our parishes a place of refuge and welcome, rich with resources and accompaniment," Propson said. "With the encouragement of Archbishop Vigneron, Catholic Charities of Southeast Michigan has joined the effort to help create these islands of mercy in our parishes, which become all the more essential with the passage of Proposal 3 in Michigan last year."
In addition, the event was an opportunity to honor the three winners of Catholic Charities' "Time, Talent and Treasure" awards.
Msgr. Chuck Kosanke, chairman of Catholic Charities' board of directors, presented the 2023 awards to Sr. Donna Markham, OP, former director of Catholic Charities USA, as well as St. Irenaeus Parish in Rochester Hills and Strangers No Longer, a nonprofit that supports immigrants in the local community.
Sr. Markham, a Detroit native, received the Leonard R. Jagels Award, which honors the memory of former Catholic Social Services director Leonard Jagels.
Sr. Markham, who retired in July after serving at the helm of Catholic Charities USA since 2015, said the award was a great honor because it was "like coming home."
"I have a soft spot in my heart for Detroit, and having been here for years, in my early eras in religious life, I knew the needs of Detroit were serious and significant and wanted to help our national office really take it seriously and do what we can to support Catholic Charities and the people of Detroit who have gone through so much, so many challenges." Sr. Markham told Detroit Catholic. "I'm thrilled to be here and feel very, very touched."
Sr. Markham said Catholic Charities of Southeast Michigan is a bit of a "Cinderella story" in the way it has grown and blossomed over the last decade.
"Catholic Charities has grown, the services have grown, and your support and your commitment to people who are really suffering is apparent to the entire network of Catholic charities across the United States," Sr. Markham explained as she accepted the award.
"You're part of a huge, huge community of generous, mission-driven, Gospel-focused people who are doing and who are actually putting Matthew 25 into practice," Sr. Markham continued. "You're living it. So it is my honor to be with you, and to say thank you to all of you for the work that you're doing."
St. Irenaeus Parish in Rochester Hills was awarded this year's Outstanding Parish recognition for its support of Catholic Charities' programs.

"We are so grateful, thankful and blessed, grateful to be able to partner with Catholic Charities," Cindy Monaghan, evangelical charity director at St. Irenaeus, said while accepting the award on behalf of the parish. "We're so thankful for our own parishioners and staff and families in our parish who support all the works of the Lord through time, talent, treasure, creativity, energy and love. And we are blessed. We are blessed to know the love of the Father and to have the privilege to serve our Lord Jesus Christ; all the glory and honor to him."
Strangers No Longer, an organization that supports immigrants through the creation of parish and local "Circles of Support," received this year's award for Outstanding Organization.
Receiving the award presents an opportunity to involve more people and raise awareness of Strangers No Longer's work in the immigrant community, board president Rosemary Insley told Detroit Catholic.
This year, Strangers No Longer has been instrumental in reaching out both to the immigrant community and also to lawmakers in Lansing, including a push to allow undocumented immigrants to receive driver's licenses in order to care for their families.

"(We are) following the bishops' lead," Insley said. "In terms of people coming to this country, they said we should be 'strangers no longer.' What we try to do is inform the community to educate our parishes in the community, to accompany people who come."

Copy Permalink
Christian service