Beloved priest was known for his uncanny ability to connect with people, and to see God's grace in every moment, friends say
FERNDALE — Fr. Edward J. Prus will be remembered by those who knew him as a man who radiated the unconditional love of Christ.

Fr. Prus, a long-serving priest of the Archdiocese of Detroit and a fixture in the local Catholic community, died March 11 at the age of 93.

"He always saw the good in everything," Marylynn G. Hewitt, who has known Fr. Prus since 1986, told Detroit Catholic. "He had this ability, wherever he was, to form community. He would often start a Mass even at a parish where he had never been before, asking if there were any visitors or anyone celebrating an anniversary or birthday. ... He just had that ability to draw people together, even those he had never even met before."
Born May 15, 1929, in River Rouge, Fr. Prus studied at the University of Detroit, Sacred Heart Seminary and St. John's Provincial Seminary before being ordained a priest for the Archdiocese of Detroit on June 3, 1961.

Fr. Prus served as associate pastor of St. Philip Neri Parish in Detroit from 1961-64, and was a spiritual director at Sacred Heart Seminary in Detroit from 1964-69, during which time he also served as a weekend support priest at St. Cyprian Parish in Riverview.
In 1969, he began 18 years of service as associate pastor of the Shrine of the Little Flower in Royal Oak. In 1987, he was assigned to the Detroit mission at Our Lady of Lourdes Parish in Pernambuco, Brazil, remaining at the mission until 1991, when he returned to become pastor of St. Raphael Parish in Garden City. He shepherded St. Raphael as pastor until his retirement in 1999, and later as administrator. He served two terms on the archdiocesan Presbyteral Council.

Fr. Prus was known and loved by countless parishioners, even those at parishes where he'd never served, Hewitt said.

"Even at a parish where Fr. Prus had never been before, there seemed to be people who knew him, and people would stand in line up until the next Mass had started because people would want to meet him, greet him, pray with him, tell him how much they enjoyed the Mass," said Hewitt, who would often drive Fr. Prus to his weekend assignments. "He had a gift. Sometimes it would be almost embarrassing because the pastor would be waiting there, ready to start a new Mass."
This ability to give his full attention to each and every person left an impact on Msgr. Tim Hogan, who first met Fr. Prus in 1982 when he was assigned to the Shrine of the Little Flower shortly before his ordination.
"Shrine at that time, as it is now, was a very busy parish, but one of the things I learned from him — not that he said this, just through his actions — was that while this might be my third Mass today, for the people (in the pews), it is their first. It is important to make it a prayerful event, so it becomes an encounter with Christ for them," said Msgr. Hogan, who today serves at St. Fabian Parish in Farmington Hills.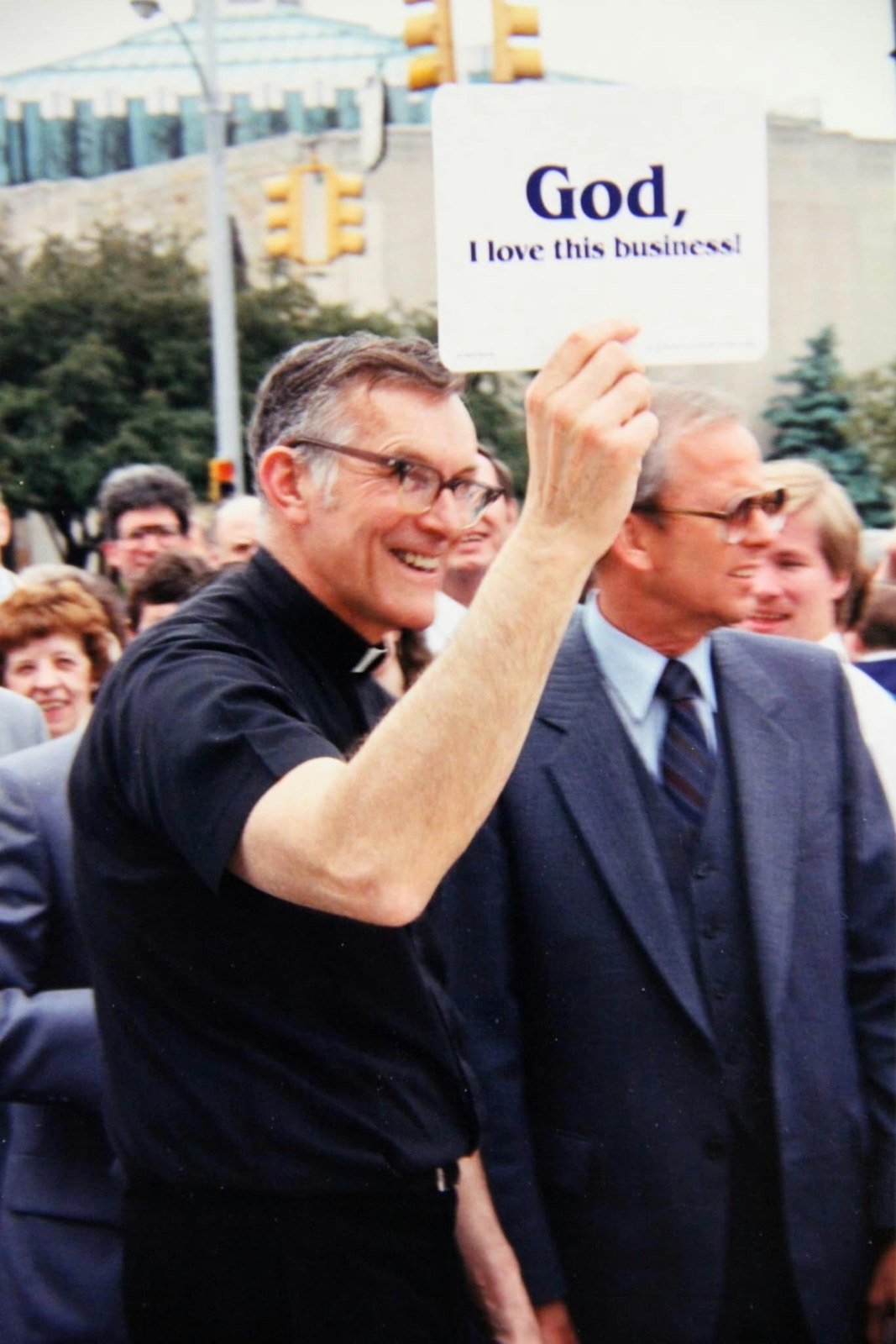 Fr. Prus's ability to connect with people continued even after his retirement, Hewitt said. In 2020, she created a Facebook page to share Fr. Prus' homilies, which today has more than 1,200 followers, including parishioners who knew him during his time in Brazil and family members from Poland and Toronto.

"He was a gift to so many people," Hewitt said. "There are reams of wonderful stories people have shared of what he meant to them or how he was there for them. His greatest charism was love — he just made you feel worthy of God's love."
Since his passing, tributes and stories of Fr. Prus' influence have flooded the page.

"Father Prus was such an amazing man. I will never forget him coming to our basketball practices at St. Raphael and running up and down the court with us in his sandals that he always wore," said Erin Hoard. "He came to dinner several times at my parents' house and raved about my dad's lasagna for years. He made such an impact on anyone he met, Heaven gained a new angel for sure! God Bless you Fr. Prus, thank you for all of the memories!"
Another commenter, Suzanne Provagna, put simply: "Best human on the planet. If we could all be like Fr. Father Ed Prus, what a wonderful world this would be."
Fr. Prus saw God's love in all things, Hewitt added.
"After he retired, every five years, he would go to one of the Marian shrines, such as Lourdes, and he would spend his days listening to confessions," Hewitt said. "He said that the people who confessed were his spiritual directors because he saw so much of how God loves people in their pain, in their sorrow, in everything, and that God was still there for them."
Fr. Prus had an uncanny grace to see the presence of God in every event, Msgr. Hogan said.
"He saw the grace of God in the midst of (difficulties)," Msgr. Hogan said. "And he saw the presence of God in each person that he encountered. And for him, it wasn't about him, it was about what God showed him through each person that he encountered."
Fr. Prus is predeceased by his parents, Stanley and Mary, as well as his older sister, Stasia.

Visitation will take place at Our Lady of Perpetual Help Parish, 241 Pearson St., Ferndale, on Wednesday, March 15, from 2 to 9 p.m., with a rosary at 5 p.m. and a vigil service at 7 p.m. Fr. Prus will lie in state at the National Shrine of the Little Flower Basilica, 2100 W. 12 Mile Road, Royal Oak, on Thursday, March 16, from 9 a.m. until the time of his funeral Mass at 11 a.m. Interment will take place at St. Patrick Cemetery, Carleton.

Copy Permalink