ANN ARBOR — As far as clear-cut favorites go, this spring has been pretty hard to track.
Three different boys teams won the Intersectional Division regular-season track and field jamboree meets — Madison Heights Bishop Foley, Allen Park Cabrini and Clarkston Everest Collegiate. However, two different teams emerged from the pack to share the Catholic High School League's Cardinal Division team championship — Riverview Gabriel Richard and Ann Arbor Greenhills.
The Pioneers and Gryphons each had 92 points in a back-and-forth battle. Grosse Pointe Woods University Liggett (82), Marine City Cardinal Mooney (80) and Allen Park Cabrini (76), were also among the top five squads.
Last Wednesday's championship meet hosted by Greenhills brought a lot of suspense, as several teams claimed the lead at different points in the meet, resulting in the first occurrence of two teams tying for the overall crown.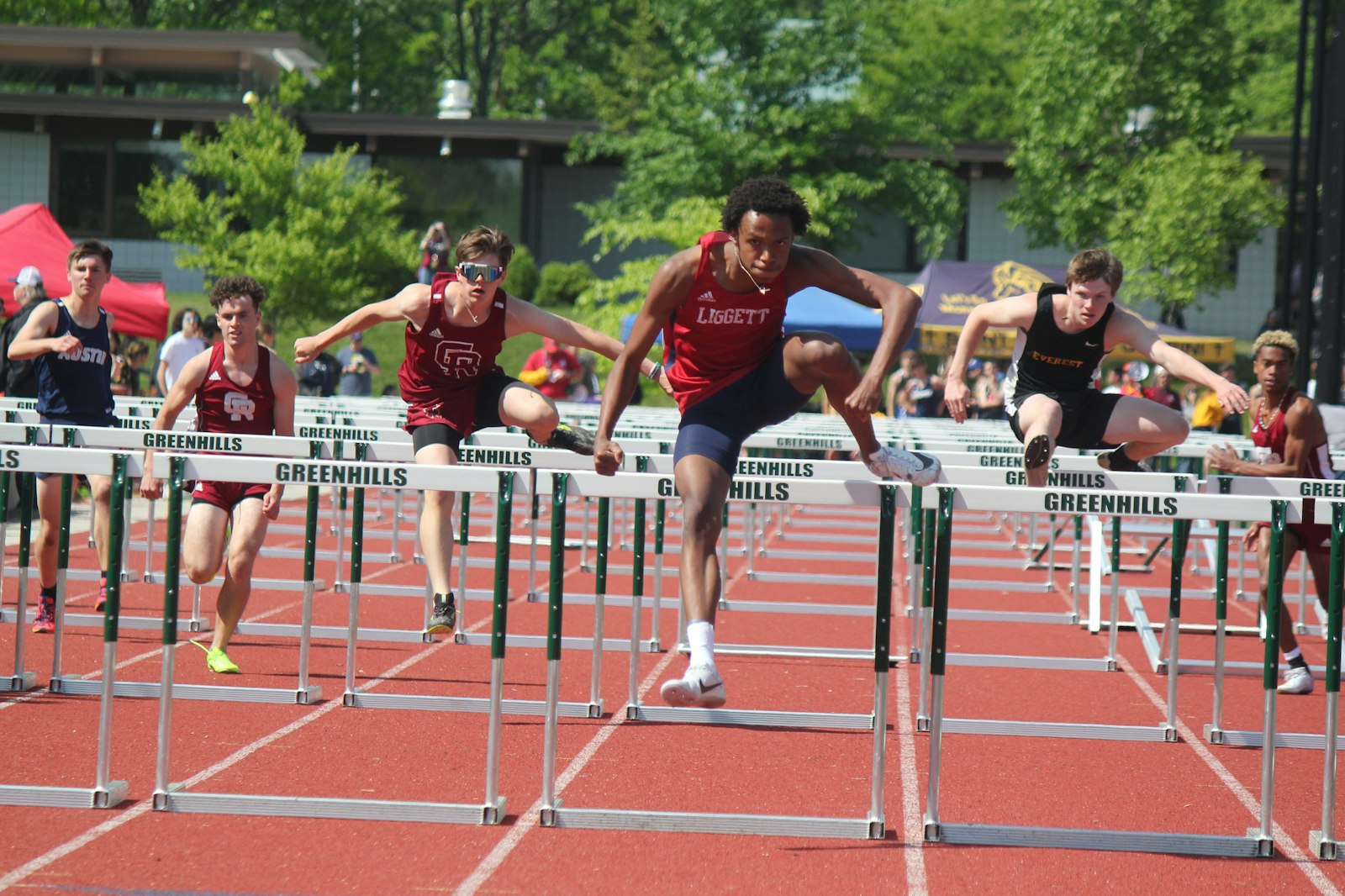 "Halfway through the meet, we were in sixth," said Greenhills captain Raj Tiller, who figured in four first-place finishes. "My long jump hadn't been counted yet, and neither was the high jump. So we knew we were going to climb up, we just didn't know how much. In the end, it turned out to be just enough."
Tiller won the high jump (5' 3") and long jump (18' 10½"); ran on the winning 4x400 relay with Henry Beck, Royal Seale and Drew Fletcher (3:41.05), and joined Liam Dutta, Matthew Prabhu and Fletcher on the winning 4x200 team (1:36.89).
"I'm so proud of them," Greenhills coach Mackenzie Hess said. "I knew it was going to be a tough fight, and we made all the moves that I thought we could — switching up the 4x4 a little bit, switching up the 4x8 a little bit, putting some of our athletes in four events that had not run four events this season — and it worked out."
But that's just half the story, as Gabriel Richard was also to equal the Gryphons' 92 points. The Pioneers only won one event, as Wisdom Nwadioha took the 200 dash (23.69), but piled on points in hurdle races, sprints and relays.
Kris Vigars, Justin Franklin and Austin Louzon placed 2-3-5 in the intermediate hurdles, and the same trio all finished among the top six in the high hurdles. Gabriel Richard finished in the top four in each of the four relay events.
"I feel very proud of the team — we all worked hard together, and there's nothing more I could have asked," Gabriel Richard captain Andrew Cabalang said. "Going into the season we knew we could do big things, we lost a lot of distance people (to graduation) but we gained a lot of sprinters, so we knew we could do good, and we're doing good right now."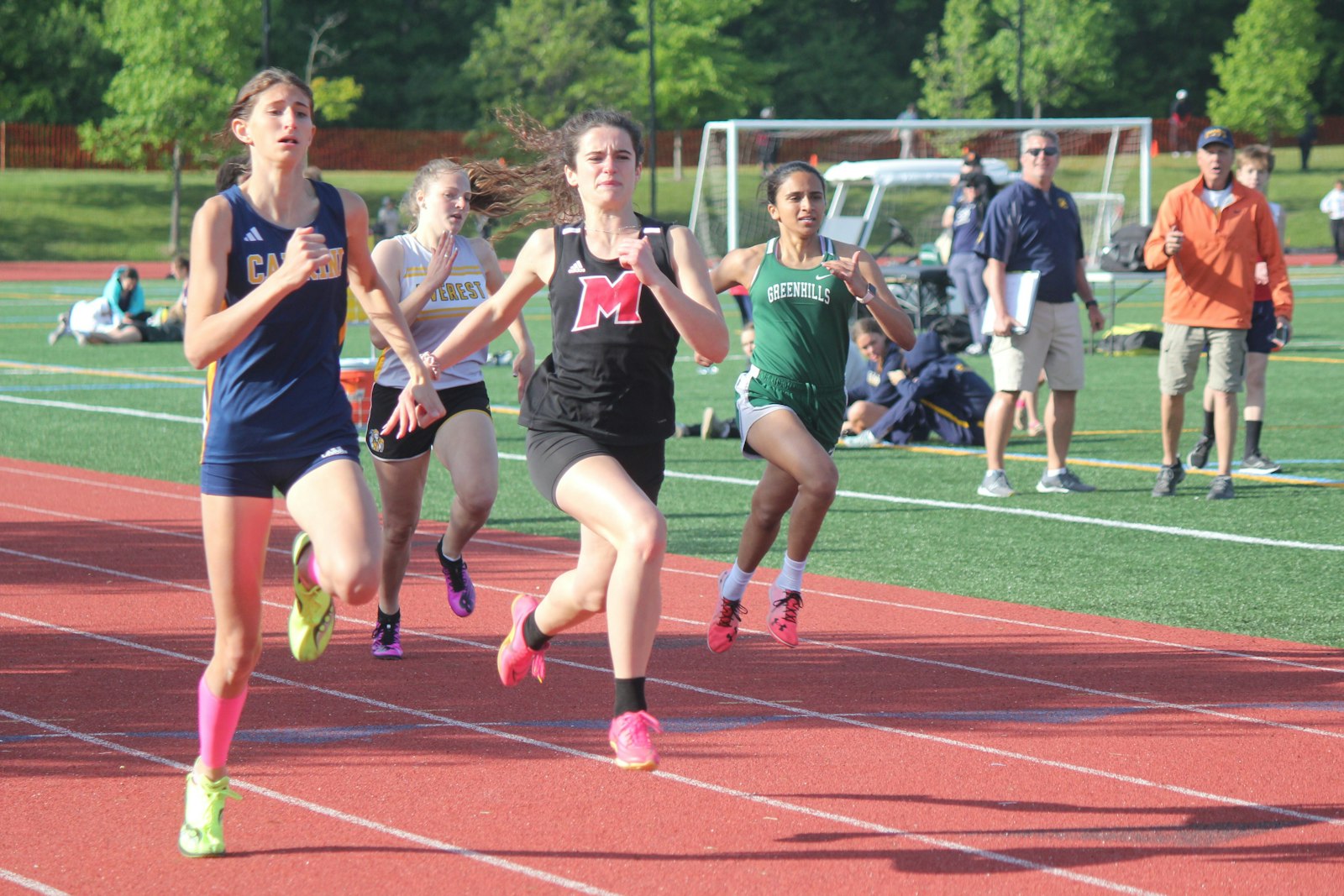 "We came in second at our regional meet, we were dejected not to be first, and we had an injury, so we had to pull our team together and work hard," Pioneers coach Tina Laskaris said. "We've been working hard all season, and they did it for their teammates; they did it for each other."
Cardinal Mooney's Tyler Lenn won the 1600 (4:36.29), 400 (52.48) and 3200 (9:46.06), and anchored the victorious 4x800 relay with Isaac Zammit, Jack Luczynski and Evan Jacobs (8:41.00). Zammit won the 800 (2:06.19), while the Cardinals' Drew Davidowicz took the shot put (41' 0").
Liggett's Taurian Dorty topped both hurdle races (15.75 and 42.58), and ran a leg on the Knights' first-place 4x100 relay (46.54).
Greenhills girls win title by large margin
Even though the Greenhills girls weren't the regular-season Intersectional champions (that honor went to Orchard Lake St. Mary's, competing in the Bishop Division finals), the Gryphons stepped up and claimed the spotlight in the Cardinal Division championship meet.
By scoring in every event but one, Greenhills totaled up 166½ points, twice the score of second-place Bishop Foley (83). Cabrini was third with 72, and Shrine, Everest and University Liggett shared fourth place with 51 points apiece.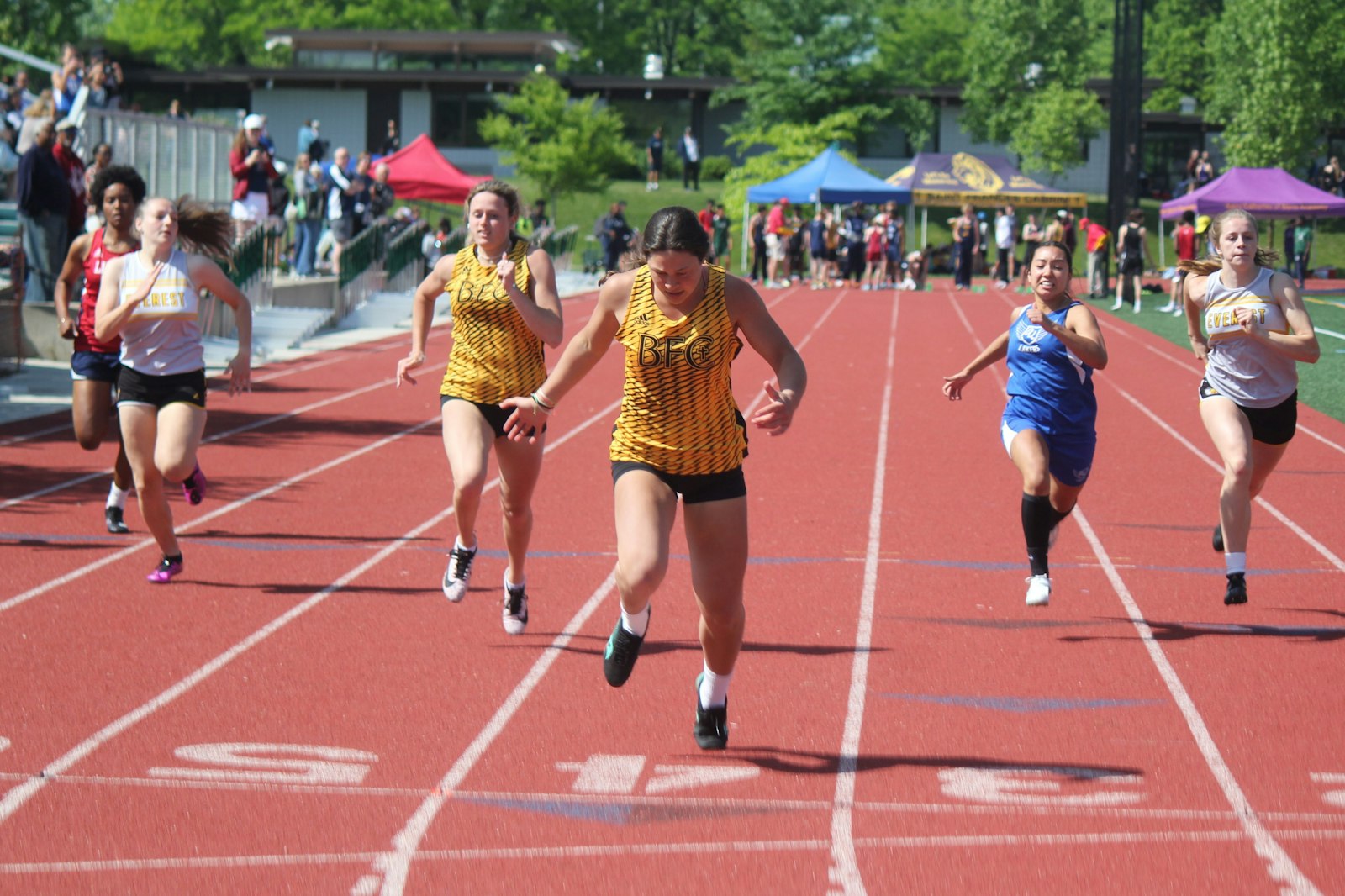 "We'd been hovering right around second (to St. Mary's) all season, and we didn't really expect that big of a point distribution from first to second, but we had a plan going into today, and we're really excited about the outcome," Hess said. "We were really excited about our girls' 4x2, our girls' 4x8 and our girls' 4x4."
The Gryphons won the 4x200 relay (1:53.93) with a team comprised of Vic Cunningham, Ella Song, Eleana Zhuang and Navya Ashok. Later, Greenhills took the 4x400 relay (4:32.93) with Cunningham, Zhuang, Ava Kittendorf and Ashok. The 4x800 team placed third.
Kittendorf led the field in the 800 (2:36.25) and Chisom Anwunah finished first in the shot put (32' 4½") and discus (92' 5").
Several other athletes were multiple-event winners. Bishop Foley's Alyssa Samartino won the high jump (4' 11"), the 100 dash (12.68), and ran on the first-place 4x100 relay (52.68). She also finished second in the 200 27.13). Marine City Cardinal Mooney's Gabriela Gashaj took the 300 hurdles (50.35) and the long jump (16' 0"). Allen Park Cabrini's Grace Kendziuk finished first in the 200 (26.98) and 400 dashes (1:02.11). Her teammate, Ava Teed, won the 1600 (5:21.81) and the 3200 (11:04.63), setting a new Catholic League record in that event.
Copy Permalink