Missionaries of Jesus sister challenges Detroit-area parishioners to ask, 'Where is Jesus?' when discussing immigration
DETROIT — A noted immigration and humanitarian advocate who runs a mission on the U.S.-Mexico border spoke to Catholics and community members June 25 at the Basilica of Ste. Anne de Detroit about the plight of migrants along the country's southern border.
Sr. Norma Pimentel, a Missionaries of Jesus religious sister, spoke at the Detroit church as the culmination of a four-stop tour in Michigan, speaking with Catholic communities about migrants fleeing countries in Central America racked with economic destruction and gang violence.

"Jesus says 'follow me,' but where do we find Him?" Sr. Pimentel said. "He is here, among you. He is there when you ask that person who made the perilous journey, 'Como estas? How are you?' And that's the first time the person see their humanity."
Sr. Pimentel is executive director of Catholic Charities of the Rio Grande Valley in Texas and operates a respite center for migrants out of Sacred Heart Parish in the border town of McAllen, Texas.
Migrants traverse thousands of miles of open wilderness, in tattered clothes, dirty, hungry, thirsty, carrying with them young children while leaving other family members behind, undertaking the high-risk journey in the hopes of entering the United States, Sr. Pimentel said.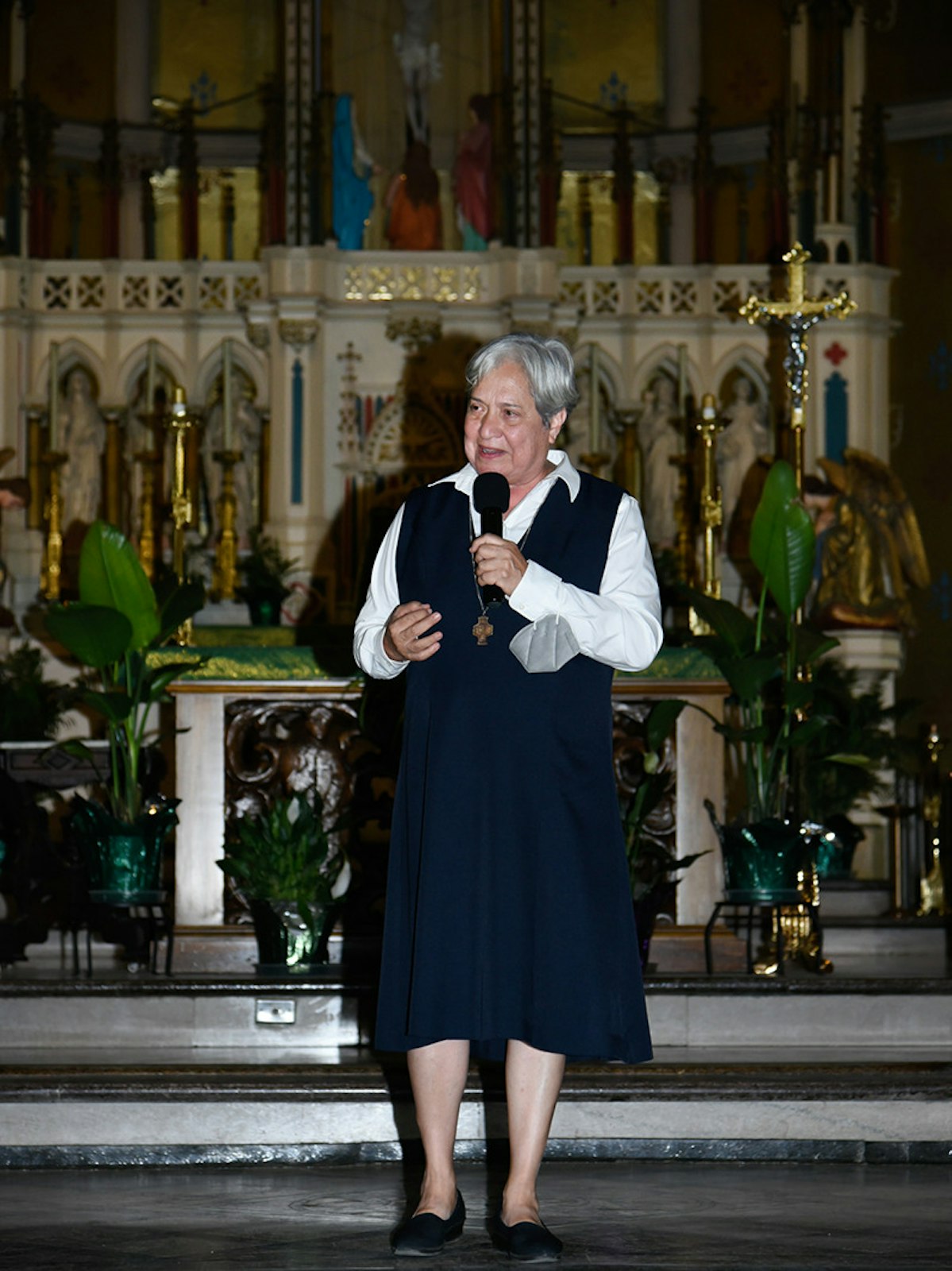 "They leave from far away, spending all of their means just to come on this journey," Sr. Pimentel said, "this difficult, painful journey to get to the border. Along the way, they encounter the bodies of exhausted people who have collapsed. So when I ask 'Como estas? How are you?' they usually break down in tears."
The talk was sponsored by Strangers No Longer, a grassroots lay organization in the Archdiocese of Detroit that forms "Circles of Support" for immigrants coming into the community to address whatever needs they might have.

"I get inspired by somebody like Sr. Norma, by Pope Francis — people who I find to be really living the Gospel in today's world in a deep, deep way," Bill O'Brien, executive director of Strangers No Longer, told Detroit Catholic. "Ste. Anne is one of our lead circles; they started Strangers No Longer, so to have this talk here at the basilica, with Msgr. (Chuck) Kosanke (pastor of Ste. Anne's), who has been supportive in helping start Strangers No Longer, it was important for Sr. Norma to be here tonight."
Strangers No Longer started in 2017 with a small group of immigrant advocates connected at parishes throughout the archdiocese. The group celebrated its first Mass together at Most Holy Trinity Parish in Detroit in 2018. Today, the group has 25 Circles of Support in parishes throughout southeast Michigan and two circles in Traverse City.
The organization is also reaching out to the Grand Rapids, Gaylord and Saginaw dioceses to work with migrants in more rural parts of the state, O'Brien said.
"We've discovered that most immigrants themselves don't have community; they have family, but they don't have a community to rely on for help," O'Brien said. "When (parishes) form a Circle of Support, they learn more about the needs of the individual, and the person can rely on a host of people for help, instead of relying on just one or two people and have them get discouraged."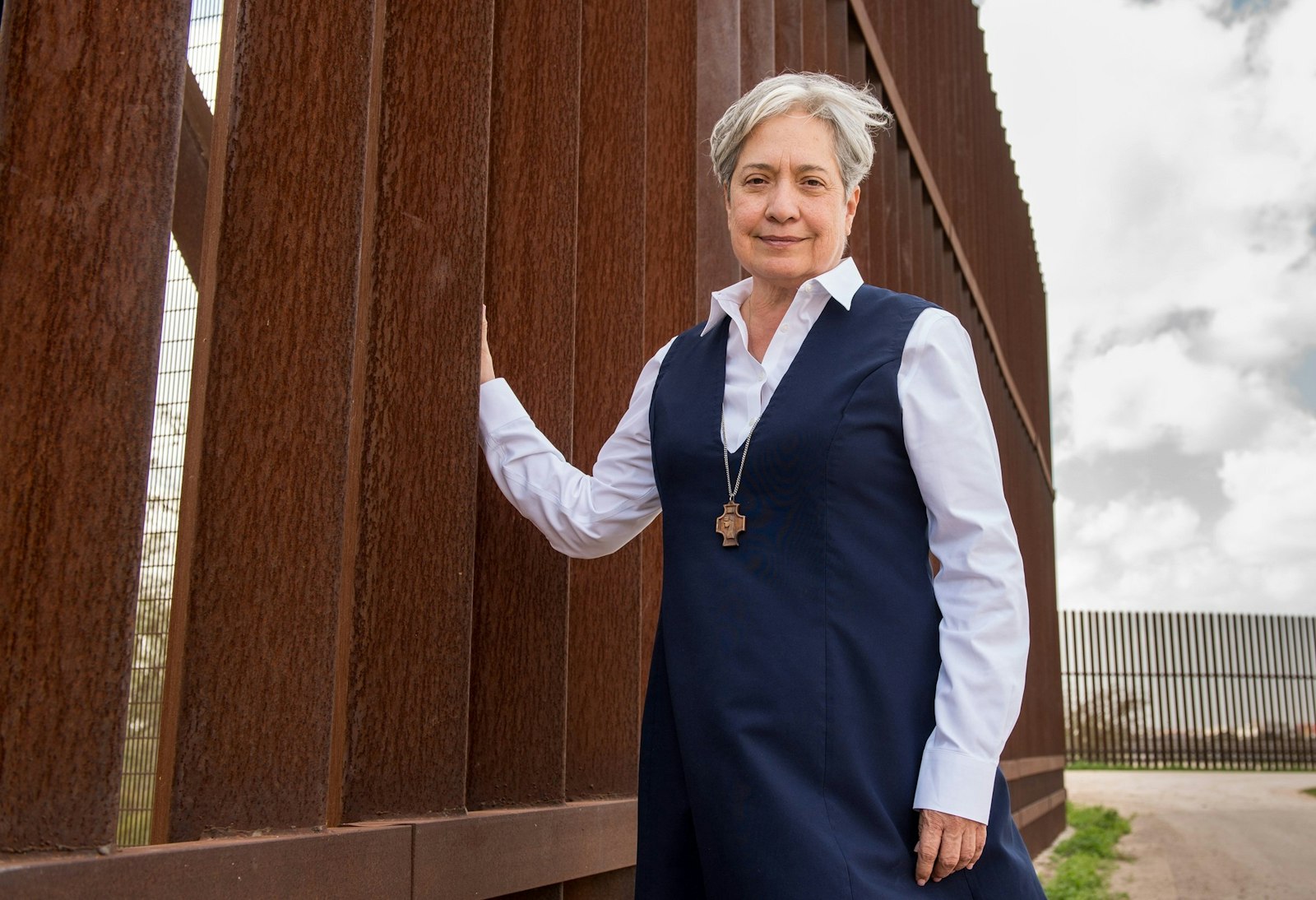 Sr. Pimentel's talk focused on the humanity of migrants crossing the border, and the struggle of addressing migrants' basic needs. Parents often flee their home countries because of high crime rates and corruption, making the journey to the United States to avoid having their children caught up in gang affiliations and trafficking, she said.
Following the talk, Sr. Pimentel took questions from the audience, particularly about the conditions migrants face when they attempt to enter the United States, given the country's current "Remain in Mexico" policy for all families who don't have a child under the age of 6 accompanying them.
"Four thousand people are detained for weeks in the United States, and the others are in Mexico, where the Mexican government wants them gone," Sr. Pimentel said. "How can we treat kids like that? ... We fail those children. We say, 'It's not my problem.' But it's our responsibility to care for the vulnerable. That is our job, our humanity."
The biggest concern at the border right now is a policy under the U.S. Code called Title 42, Sr. Pimentel said. Title 42 is a disease containment policy concerning immigration.
Families with children under the age of 6, and those coming from certain countries in Latin America, can come to the United States while their asylum claims are being processed, but other migrants must remain in Mexico, where Sr. Pimentel and her team minister to them in whatever way they can, providing water, food, clothing, medication and legal advice.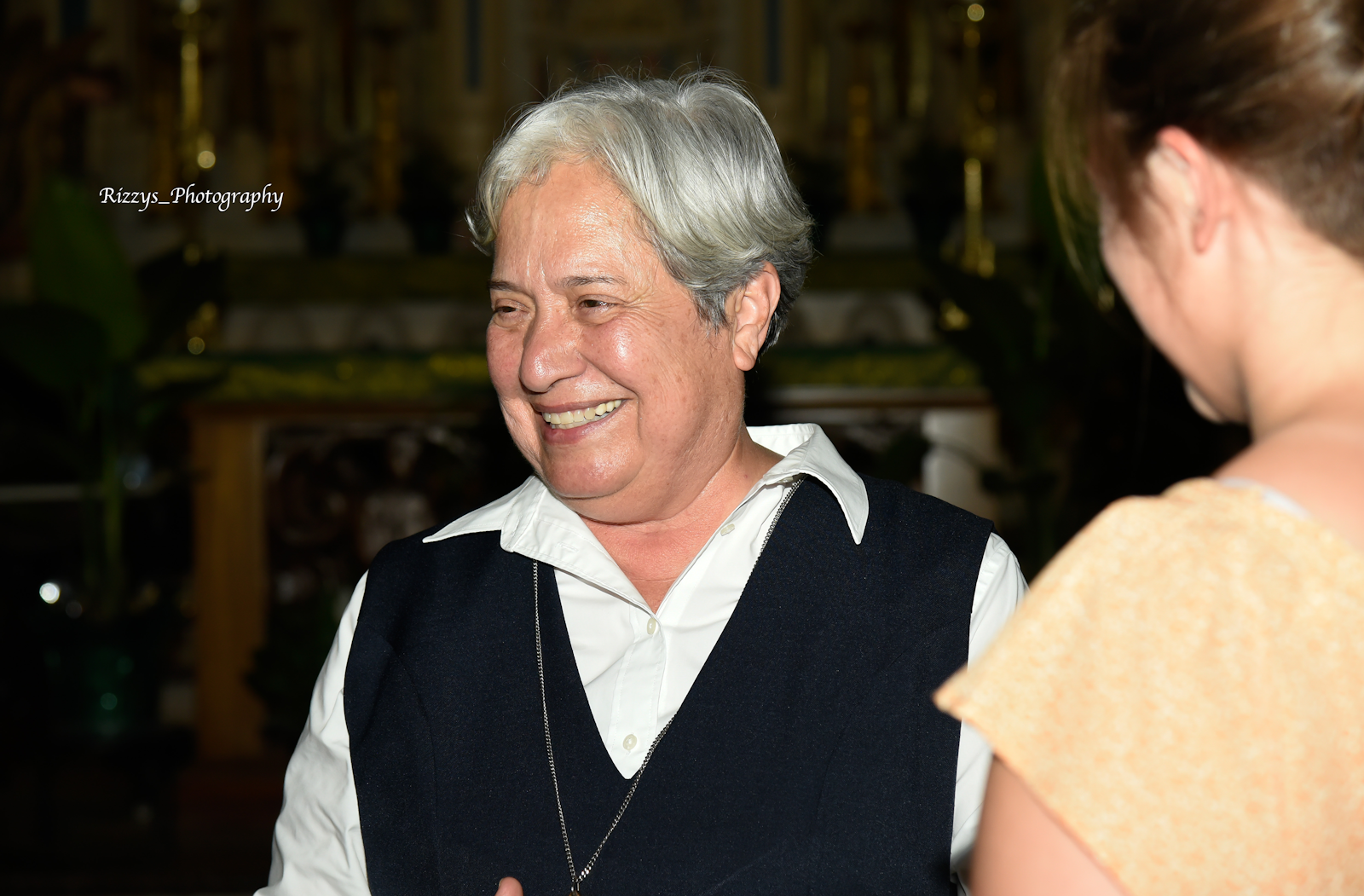 "The border is closed because of COVID," Sr. Pimentel said. "Families with a child under the age of 6 are the only ones allowed to stay. Everyone else remains in Mexico. Others from Venezuela, Cuba and Nicaragua, they can stay because of the governments they have, but the others they send back."
Students from 12 Catholic high schools in the Archdiocese of Detroit had dinner with Sr. Pimentel during her stay, including students who had formed their own Circle of Friends at their schools and attended the talk to learn more about how they could help.

The students presented Sr. Pimentel with t-shirts, underwear, socks, clothing and $1,000 in monetary support to take back to McAllen to aid in her ministry.
"We had a Zoom call with Fr. Tony O'Connor (pastor of Sacred Heart Parish in McAllen), and he was able to talk about what he does at the border and what he does at his parish, taking kids from the detention centers and bringing them to his parish so they can have fun," said Valentina Setano, a student at Notre Dame Preparatory in Pontiac. "The kids are not doing much at the detention center, so Fr. Tony takes them out of there to play games, drink Coke and pray."

The Notre Dame students hosted a "casual for a cause" day, during which students could donate $1 to wear casual clothing instead of their school uniform to raise money for Sr. Pimentel's ministry.
"It's the most stigmatizing issue we are facing right now," said Allison Voto, another Notre Dame Preparatory student. "People look at immigrants and think, 'They are other than us. They are different.' But we need to see the other side is human, too. We need to see that the people we are dealing with are people, just like us."
Copy Permalink
Immigration and refugees