DETROIT — Junior running back James Nedwick took it to heart when quarterback Patrick Cooper fired up his Clarkston Everest Collegiate teammates before they took the field for the Catholic League Prep Bowl LI Cardinal Division championship game last Sunday at Ford Field.
"He gave a great speech," Nedwick said, "about how we had to come out every play and pound it and pound it. I knew he was going to give the responsibility to me and it was up to me to help. It was a team effort. They all believed and we won it."
The score between the Mountaineers, champs of Intersectional Division 2, and Macomb Lutheran North, champs of Intersectional Division 1, changed leads three times and was tied three times before Everest claimed a 35-28 victory.
Nedwick raced 23 yards for the final go-ahead touchdown with 3:51 left. Nearly 90 seconds later, junior safety Oliver Neiman intercepted a Mustangs aerial to clinch the decision.
Nedwick's number was called 41 times — two-thirds of Everest's ball possessions — and he responded with nothing less than an all-out effort for 258 yards, more than half of the Mountaineers' offense.
There were moments in the fourth quarter when teammates helped him to his feet.
Everest opened the game with a nearly five-minute, 81-yard drive in eight plays, the final 54 on a pass play between Cooper and sophomore wide receiver Dominic Walker for a 7-0 lead.
It took only 15 seconds for Lutheran North's Dom Carroll to race 75 yards with the ensuing kickoff to tie the score.
The Mountaineers came right back with a 64-yard drive to retake the lead 14-7. Nedwick carried the ball six times in a row, once for 34 yards, the last two into the end zone.
On Lutheran North's first possession, senior Gabe King circled right end and sped along the sideline for 69 yards for a 14-14 deadlock.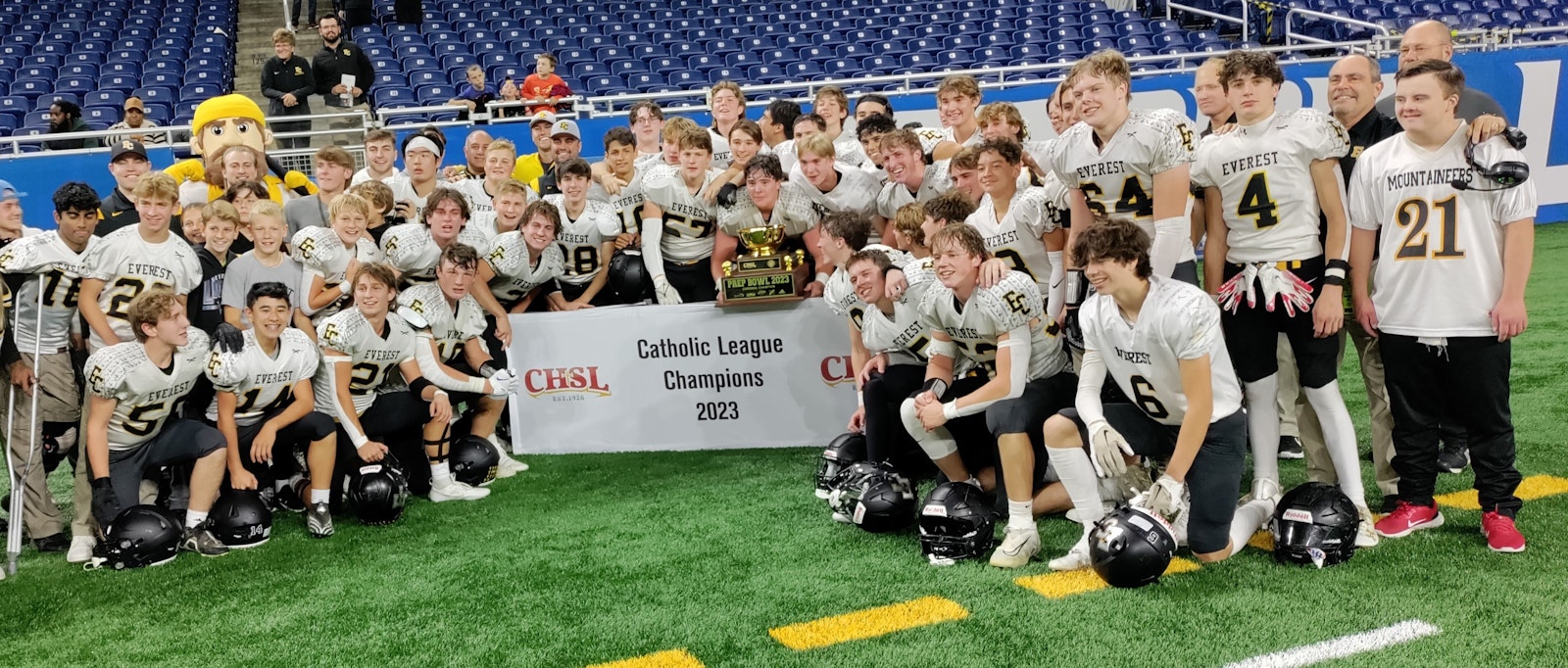 Everest assembled a 12-play, 71-yard drive that carried halfway into the second quarter to take back the lead, 21-14. The key play was a 38-yard pass to sophomore running back Garrett Iwanski, who followed up plowing through left tackle two yards for a touchdown.
The Mustangs bungled a scoring opportunity before the end of the first half. They reached Everest's 12-yard line with 38 seconds to play. An offensive pass interference penalty and a nine-yard loss by Nedwick crashing from his linebacker spot forced Lutheran North to attempt a 29-yard field goal that sailed wide left.
However, the intermission revived Lutheran North. They strung together back-to-back touchdowns for a 28-21 lead on the combination of senior quarterback Eddie Cesar (7 for 11, 99 yards, one interception) and junior wide receiver Hudson Macdonald: a 44-yard pass and an 85-yard pass and run.
Everest's Walker returned the ensuing kickoff 20 yards to the 47-yard line. A holding penalty pushed the line of scrimmage back to the 39. From there, Nedwick carried the ball eight times in a row to the five-yard line, where Cooper (3 for 5, 124 yards) connected with Walker in the end zone to make it a 28-28 game.
Again, the Mustangs self-destructed. Some 25 yards in penalties found them facing a fourth-and-27 dilemma from their own 41 with no option but to punt the ball back to Everest.
From their own 40, the Mountaineers once again called upon Nedwick. He lugged the ball nine consecutive times to the 23; from there he busted up the middle for the game's final score.
Nedwick revealed the motivation for his performance: "As coach was saying before the game, we do it all for Him, for Christ."
"It's a virtue he lives with," said coach Mike Pruchnicki, "and that when times are tough, you work through adversity carrying the ball that many times."
This was Everest's sixth appearance in the last seven years in the Prep Bowl and its fourth win. The others came in 2018, 2019 and 2020.
"There are a lot of saints in the Catholic League," Pruchnicki smiled, "and we pray to all those saints. We've been blessed. We've been fortunate."
The Michigan High School Athletic Association football playoffs kick off this weekend.
Everest (7-2), in Division 8, will host Rochester Hills Lutheran Northwest (5-4) at 7 p.m. Friday, Oct. 27.
Lutheran North (7-2), Division 5, will be at home versus Armada (5-4) at 7 p.m. also Friday.
Here are pairings for other CHSL teams.
In Division 1: Novi Detroit Catholic Central (7-2) at Novi, when TBD.
In Division 2: Two-time defending champion Warren De La Salle (7-2) hosts Warren Cousino (6-3) at 7 p.m. Friday; University of Detroit Jesuit (6-2) at Warren Mott (6-3), 7 p.m. Friday.
In Division 4: Dearborn Divine Child (5-4) at Redford Union (7-2), when TBD.
In Division 5: Ann Arbor Fr. Gabriel Richard (7-2) at Dearborn Heights Robichaud (6-3), when TBD.
In Division 7: Grosse Pointe Woods University Liggett (7-2) hosts Detroit Central (5-4), when TBD; Jackson Lumen Christi (8-1) hosts Grass Lake (6-3), 7 p.m., Friday; Detroit Loyola (4-5) at Monroe St. Mary Catholic Central (5-4), 7 p.m. Friday.
In Division 8: Arts & Technology Academy of Pontiac (6-3) at Marine City Cardinal Mooney (5-4), when TBD; Allen Park Cabrini (4-5) at Sterling Heights Parkway Christian (7-2), when TBD; Riverview Gabriel Richard (5-4) hosts Mount Clemens (5-4), when TBD.
Contact Don Horkey at [email protected].
Copy Permalink