ROCHESTER HILLS/HOLLAND — Look who's surfaced as a state champion swimming team — it's Bloomfield Hills Marian.
The Mustangs were only ranked third going into the state finals Nov. 18-19, but had a strong weekend to move up and lead the Division 3 field at the Holland Aquatic Center. Marian scored 245 points, winning a close battle with top-ranked Holland Christian (230.5) and second-ranked Milan (208).
"I don't know how they pulled it off, honestly," first-year head coach David Eichenhorn said. "This was our goal to win the title, and they bought in right from the get-go. I had complete faith that these girls were going to swim well enough to win meet. I just trusted the girls, more than I trusted myself."
Eichenhorn knew it was possible for Marian to win the title, and his hunch was reinforced after the first day's preliminary heats.
"As long as we put ourselves in position, we knew that there was a path to victory," he said. "Friday night, when we went back over the (preliminary) events, I said, 'OK, we're in the range that we talked about, but here's our vision.' I see that we can make points this way and that way.
"I tried not to make them stress. I never had to give them a long pep talk at all — I just had to tell them to go to bed. They were totally dialed in."
Marian knew it was in for a good day when Lily Low, Rachel Bello, Marianna Becharas and Axelle Ballarin won the first event, the 200-yard medley relay, with a time of 1:48.67 — a full second ahead of Holland Christian, which was competing in its home pool.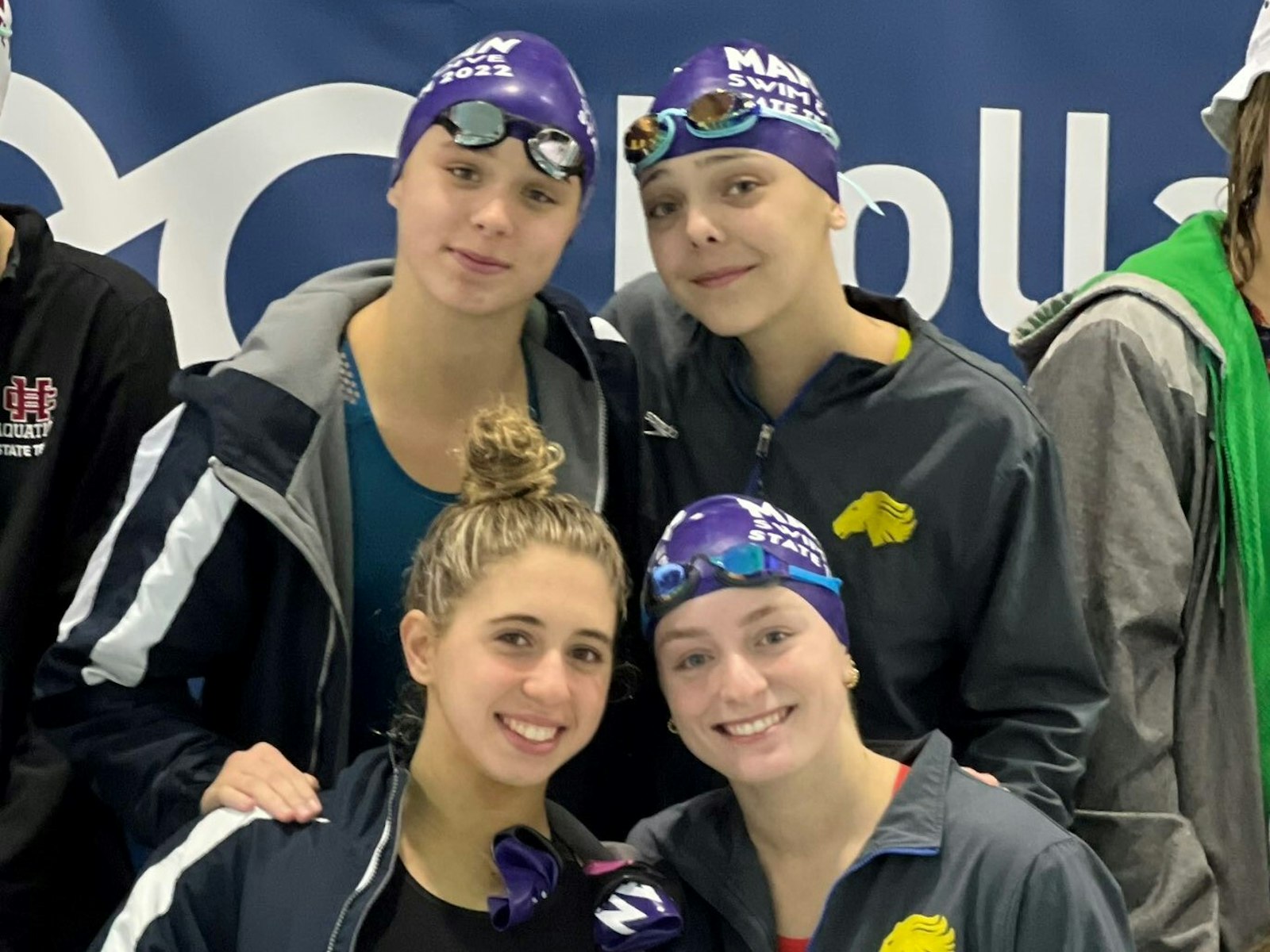 "We had the top seed in medley relay, and we knew we had to swim faster than we did (Friday)," Eichenhorn said. "The medley relay really sets the tone. From there we just kept rolling."
And did they ever, making repeated trips to the top rungs of the awards stand throughout the day.
Bello won the third event, the 200-yard individual medley, in 2:06.08, and came back with another individual first-place finish in the 100-yard breaststroke (1:04.55) — setting team records in each race.
"She swam really, really well," Eichenhorn said. "She's known what she's wanted to do for a long time; every single time she wanted to hit she hit. She's so motivated. She had a hip injury and she couldn't even swim breaststroke for the first half of the season, but she's just a natural breaststroker. It was an amazing swim."
Bello also anchored Marian's winning 200-yard freestyle relay, with Low, Ballarin and Lena McKenney, in 1:38.72. That was notable since the Mustangs were seeded second behind Holland Christian based on Friday's preliminary results.
"It was a little closer than it looked on Friday," Eichenhorn said. "If we had lost that relay, we had not won state. It came down to that," noting that just 2½ points separated Marian and Holland Christian going into the final few events.
Even though Marian's 400-yard freestyle relay squad of Ballarin, Alyssa Kaitner, Becharas and McKenney placed third in the final race of the day (3:41.85), they did finish in front of Holland Christian, preventing the Maroons from making up the deficit.
Nearly every one of Marian's swimmers exceeded expectations during Saturday's final, enabling the Mustangs to eke out the victory.
"Something you need is girls who swim better than they are expected to," Eichenhorn said. "We had to out-swim Holland Christian and Milan. We performed well enough on the first day, but we still needed to catch them. When they saw they could do it, they mindset was 'Why can't we outperform everyone on Saturday?'"
Eichenhorn credited his assistant coach, Abhi Reddy, and his predecessor, Bill Thompson, but said his girls rose to the occasion.
"It's one of those teams that's just special — the way they train, the way they get along. Their whole goal was to have positive vibes and see where that leads us, and we ended up in a good spot," he said.
Several other swimmers from Detroit-area Catholic schools excelled at the state finals. Dearborn Divine Child freshman Ella Dzobiak won the 500-yard freestyle (5:04.23) and was second in the 200-yard freestyle (1:54.45), accounting for all of her team's 37 points, which put the Falcons 18th in the team standings.
Bloomfield Hills Cranbrook's Julijana Jelic won the 100-yard backstroke (57.35) and was fourth in the individual medley (2:09.37), as the Cranes finished seventh overall.
Pontiac Notre Dame Prep's top finisher was Emma Ciesla, who was second in the 100-yard butterfly (58.29) and fifth in the individual medley (2:12.64). Collectively, the Fighting Irish finished eighth.
Mercy is a trophy-winning team in Division 1
Catholic League champion Farmington Hills Mercy tied for fourth at the Division 1 finals held at Oakland University in Rochester Hills. The Marlins had 167 points to share the podium with Grand Haven. Ann Arbor Pioneer was champion for the third consecutive season, scoring 322 points with a dominant performance.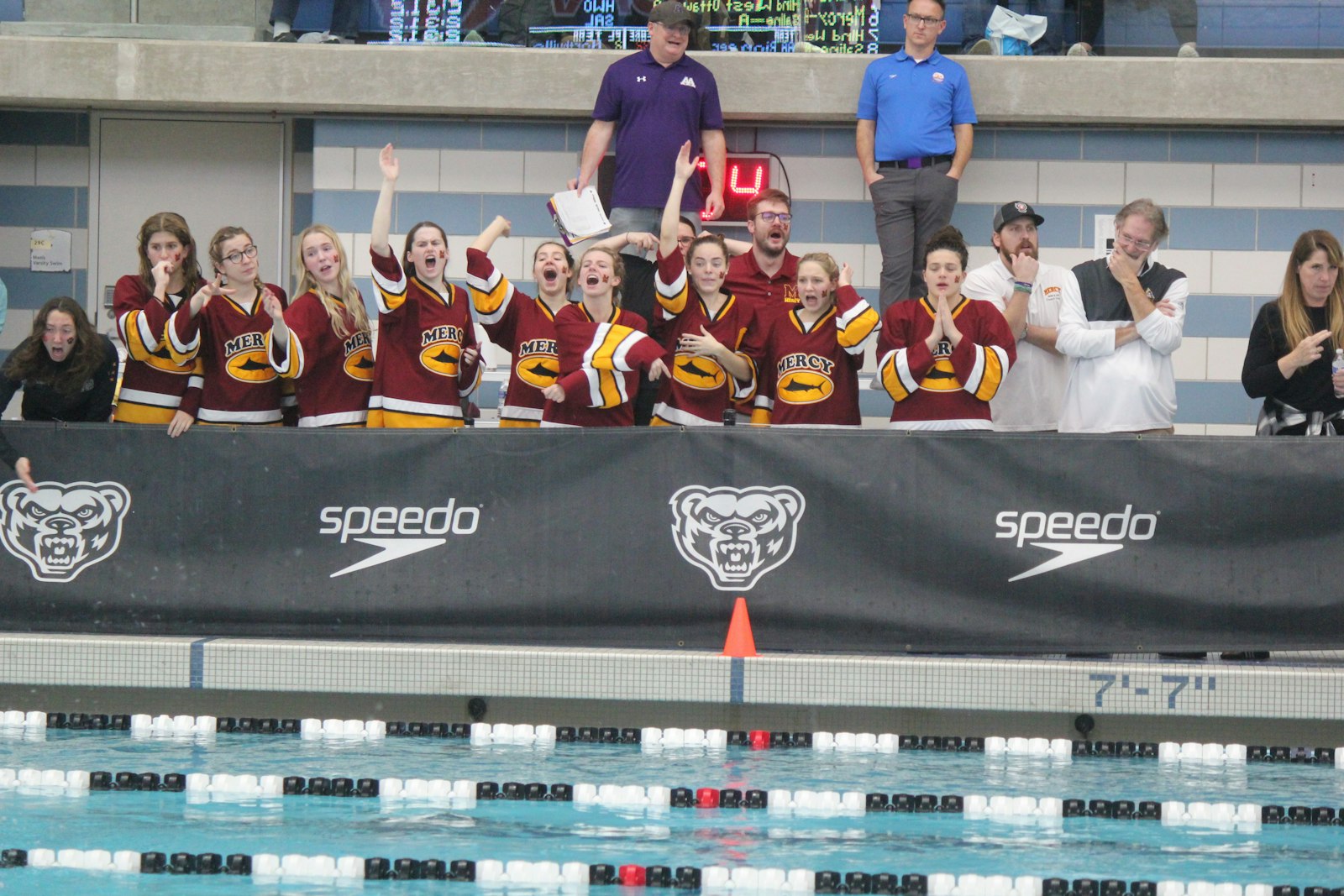 While Mercy didn't have any event champions, the Marlins remained competitive due to their depth, with seven placings among the top six of various events.
"We shouldn't have even been this close," head coach Mike Venos said. "We had a great day (in the preliminaries) and hung on (in the championship heats). When you're a champion and you're used to this and your back is in a corner, these girls know how to swim fast, and it was really exciting."
Mercy's 200-yard medley relay team of Mackenzie Conway, Olivia Engquist, Sydney Derkevorkian and Amilya Higgins was fourth in 1:48.84. Kathleen Schwab finished fourth in the 100-yard butterfly (57.14), while Higgins placed fourth in the 500-yard freestyle (5:00.01) and fifth in the 200-yard freestyle (1:51.95). Derkevorkian was fifth in the 100-yard backstroke (57.88) and sixth in the 200-yard freestyle (1:52.19). The Marlins closed the day by finishing fifth in the 400-yard freestyle relay (3:31.18).
Copy Permalink