WATERFORD — It might be hard to believe, but times, points, places and extending the team's championship streak aren't the primary motivators for the successful swimmers and divers at Farmington Hills Mercy.
"We never really worry about winning," senior captain Madeline Basa said. "It's more about going out there and trying our best, representing Mercy on our caps and on our suits. It's an equation — to swim fast, and have a good time for each other."
Still, it's worth noting that the Marlins won Saturday's Catholic League championship at Waterford Kettering High School comfortably, racking up 617.5 points to outrank Birmingham Marian (400), Bloomfield Hills Cranbrook Kingswood (360), Grosse Pointe Woods University-Liggett (207), Madison Heights Bishop Foley (181), and Dearborn Divine Child (132.5).
"The girls really go all out and try to have fun," said another Mercy captain, senior Katie Hermann. "For most of us, this is the meet we focus on the most, so it's important to go out and swim well."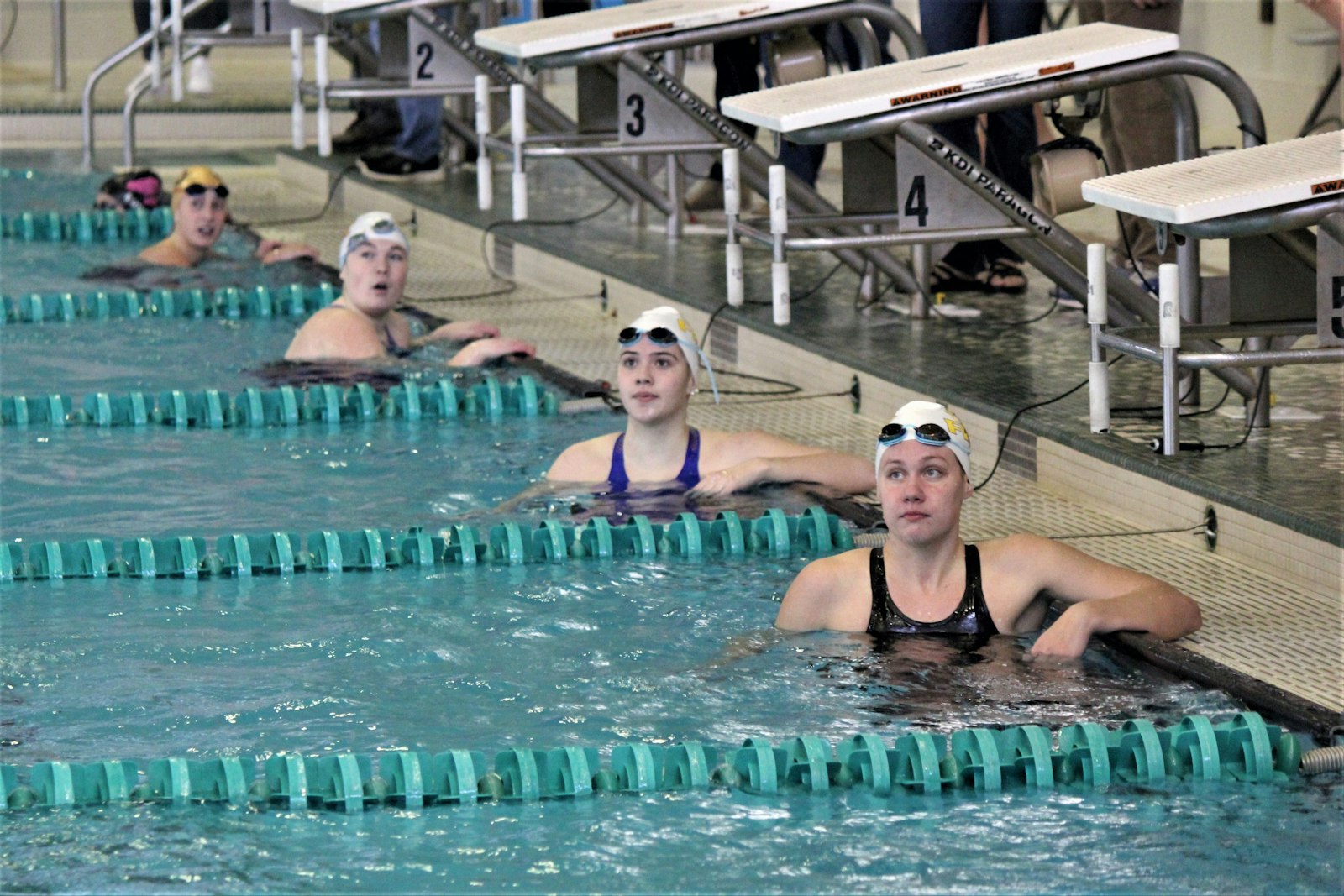 That they did — Mercy had several swimmers in the championship heats of all 12 events, and no other squad could match those numbers while all those points added up in the Marlins' column.
"That's why it's my favorite meet," coach Mike Venos said. "It's a full team effort. We've spent the last 15 or 16 weeks working as a team, watching them grow as a family. My guess is we had upwards of 40 girls make it back (to the final session)."
Mercy's depth was evident all day. In the backstroke, Sydney Derkevorkian, Basa, Lily Cochrane and Grace Roberts finished first, second, third and fifth. In the butterfly, Hermann, Grace Roberts, Kathleen Schwab and Sydney Meyer placed 1-2-3-7.
Hermann, Derkevorian, Basa and Amylia Higgins won the Saturday session's first event, the 200-yard medley relay, as well as the final event, the 400-yard freestyle relay.
And Hermann, who's committed to continue her swimming career at Hope College, also won the 200-yard freestyle, giving her four gold medals in as many events.
Marian, the runner-up squad, was paced by senior Julia Waechter. The Miami of Ohio commit was a two-time individual winner, taking the 50-yard and 100-yard freestyle events. Waechter teamed up with Lilly Masters, Lena McKenney, and Axelle Ballarin to win the 200-yard freestyle relay.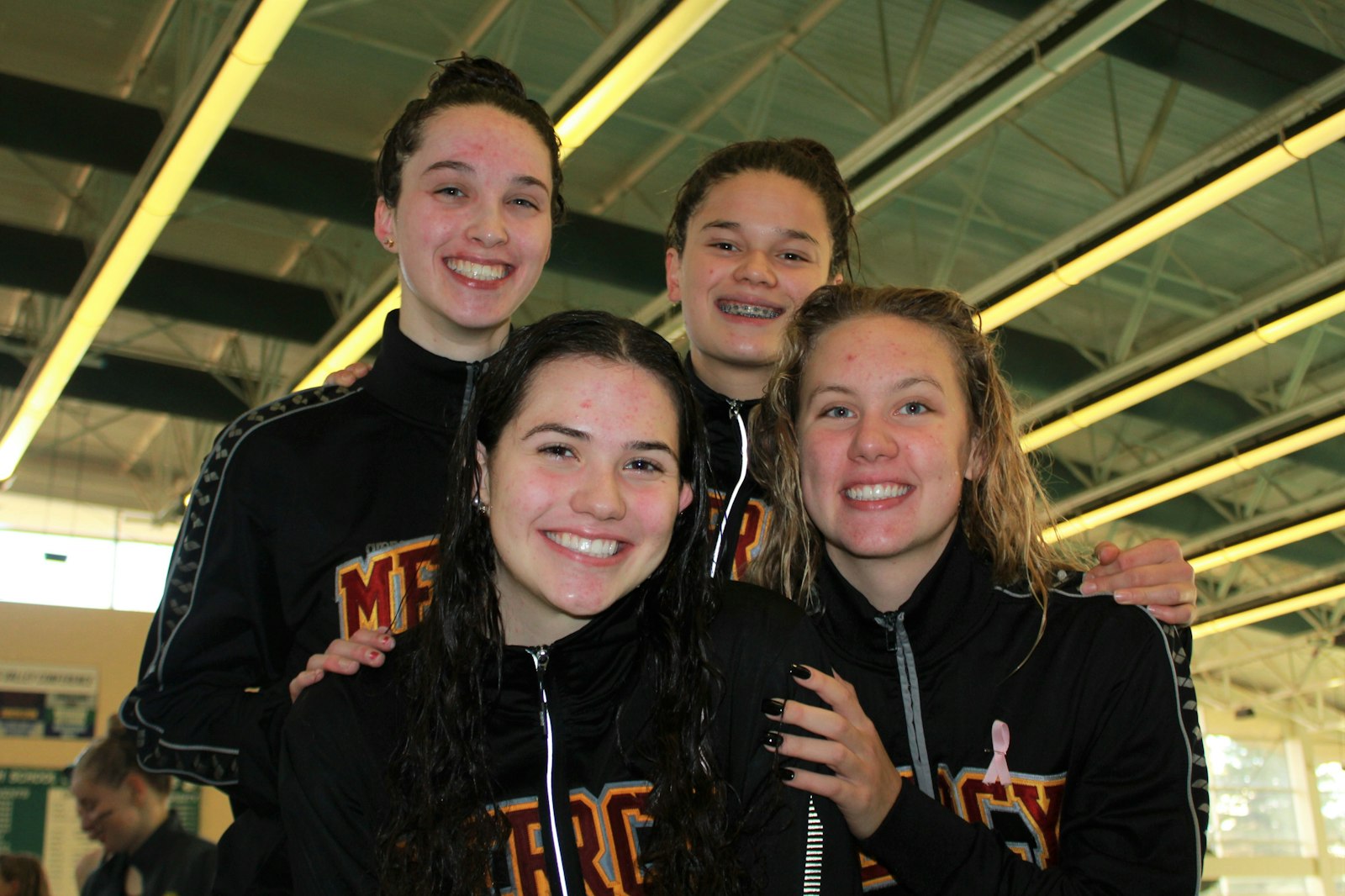 "It's bittersweet," Waechter said about her final Catholic League meet. "When I started as a freshman, I did not think I would come this far."
Rachel Bello won the individual medley, giving Marian first-place finishes in four of the 12 events (compared with Mercy's five), but in the end, the Mustangs' smaller roster could not accumulate points as frequently as the Marlins did.
"We tend to run with what we got, but we have the same goal — put our minds to it and get it done," Waechter said. "It was really exciting to see the way the girls swam today."
One Catholic League record was broken: University-Liggett's Ginger McMahon won the breaststroke in 1:04.86. Her preliminary heat time was even faster (1:04.24), good enough to lower the previous mark of 1:05.12 set by Mercy's Maddy Loniewski back in 2011.
McMahon said setting the record was a pleasant surprise, since she wasn't aware of the old standard coming into the meet.
With Saturday's victory, Mercy' earned its 31st consecutive Catholic League championship, and 54th overall — each year since 1967, except 1980, when Marian interrupted the title streak.
"They've built an incredible program here over time, and I was just fortunate to take it over and carry on the same Mercy traditions," Venos said. "The girls understand that they're a part of something bigger than themselves, and they do what the team needs them to do. That really is the true definition of a team."
Next, many of the league's top swimmers will compete in the upcoming Michigan High School Athletic Association's state championship meet Nov. 19-20. Mercy will swim in the Division 1 final at Holland, while qualifiers from the other Catholic League schools will participate in the Division 3 finals at Calvin University in Grand Rapids.
Even though the Marlins squad competing at state will be smaller than it was at the Catholic League meet, the approach remains the same.
"You just hope to touch the wall and be happy with your experience," said Basa, who will continue her career at Grand Valley State University. "This is a sport we all love, and it's important to remember why we started and who we represent."
Catholic League event champions:
200-yard medley relay: Farmington Hills Mercy (Madeline Basa, Katie Hermann, Sydney Derkevorkian, Amylia Higgins), 1:49.56
200-yard freestyle: Hermann, Mercy, 1:55.22
200-yard individual medley: Rachel Bello, Birmingham Marian 2:11.41
50-yard freestyle: Julia Waechter, Marian, 23.64
One-meter diving: Sarah Weissman, Bloomfield Hills Cranbrook Kingswood, 343.55 points
100-yard butterfly: Hermann, Mercy, 58.80
100-yard freestyle: Waechter, Marian, 51.40
500-yard freestyle: Julijana Jelic, Cranbrook, 5:19.73
200-yard freestyle relay: Marian (Lilly Masters, Waechter, Lena McKenney, Axelle Ballarin), 1:39.03
100-yard backstroke: Derkevorkian, Mercy, 58.91
100-yard breaststroke: Ginger McMahon, Grosse Pte. Woods University-Liggett, 1:04.86
400-yard freestyle relay: Mercy (Hermann, Derkevorkian, Basa, Higgins) 3:33.38
Copy Permalink