DETROIT — The softball game — and the Catholic League championship — was on the line, so Gage Lambert will freely admit she had more than a few jitters.
"When I stepped into the box, my whole body was shaking," the senior shortstop from Farmington Hills Mercy said. "I've never been that nervous in a game before, and I knew this game was one of the most important games we've played this year so far. So, yeah, I was pretty nervous, but my eyes got so big when I saw that pitch come down the middle and I was able to smack it."
Lambert sent the ball to deep center field, driving home pinch-runner Sophia Paluk with the game's only run, registering a walk-off win for the undefeated Marlins in an eight-inning thriller.
Lambert has been part of three Catholic League championships that Mercy has won (it might have been four, had not the 2020 season been cancelled because of the COVID-19 pandemic), but she said Tuesday's game was like nothing she's ever experienced.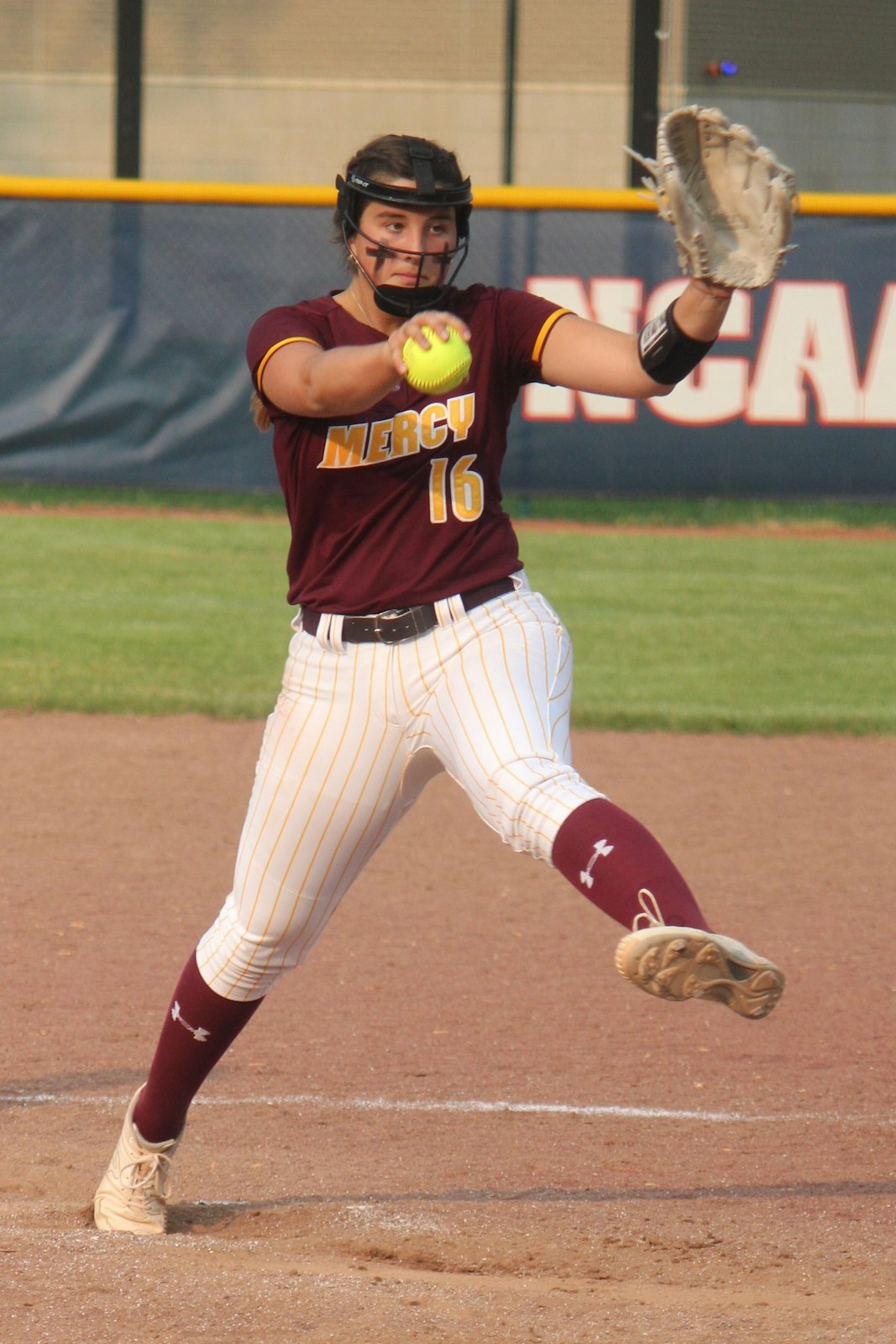 "I just had to get the runner in from third. I just wanted to get that hit for my team," she said. "Honestly, it was already extra innings, so I figured I've just got to get one — it takes only one to win a game. I was just focusing on getting the ball in play and getting one for the team."
Mercy and Dearborn Divine Child went into extra innings in a scoreless tie, behind strong pitching from Mercy's Kaitlyn Pallozzi (allowing two hits, 22 strikeouts, one walk) and Divine Child's Jessica Nelson (five hits, nine strikeouts, no walks).
The Mercy batters started to assert themselves in the bottom of the eighth, when they collected three of their five hits. Evelyn Miller led off with a double to deep left field, and Paluk moved to third on an infield single by Izzy Chaput, setting the table for Lambert's heroics.
"It didn't matter what had happened before," Miller said. "I was looking forward to the next step and the next pitch, the next available hit I could get. I just wanted to make sure that my team could move on. I wanted it for my team rather than myself. I didn't care, even if I struck out or lined out, all that matters is that I put my all onto the field. I'm just happy that it helped us win the game."
Divine Child nearly won the game in the sixth inning. Allison Surrella led off with a single — breaking up Pallozzi's no-hitter — advancing to third on a passed ball and a wild pitch. But Surrella was stranded there as a bunt attempt didn't bring her home, and Pallozzi struck out the next two batters.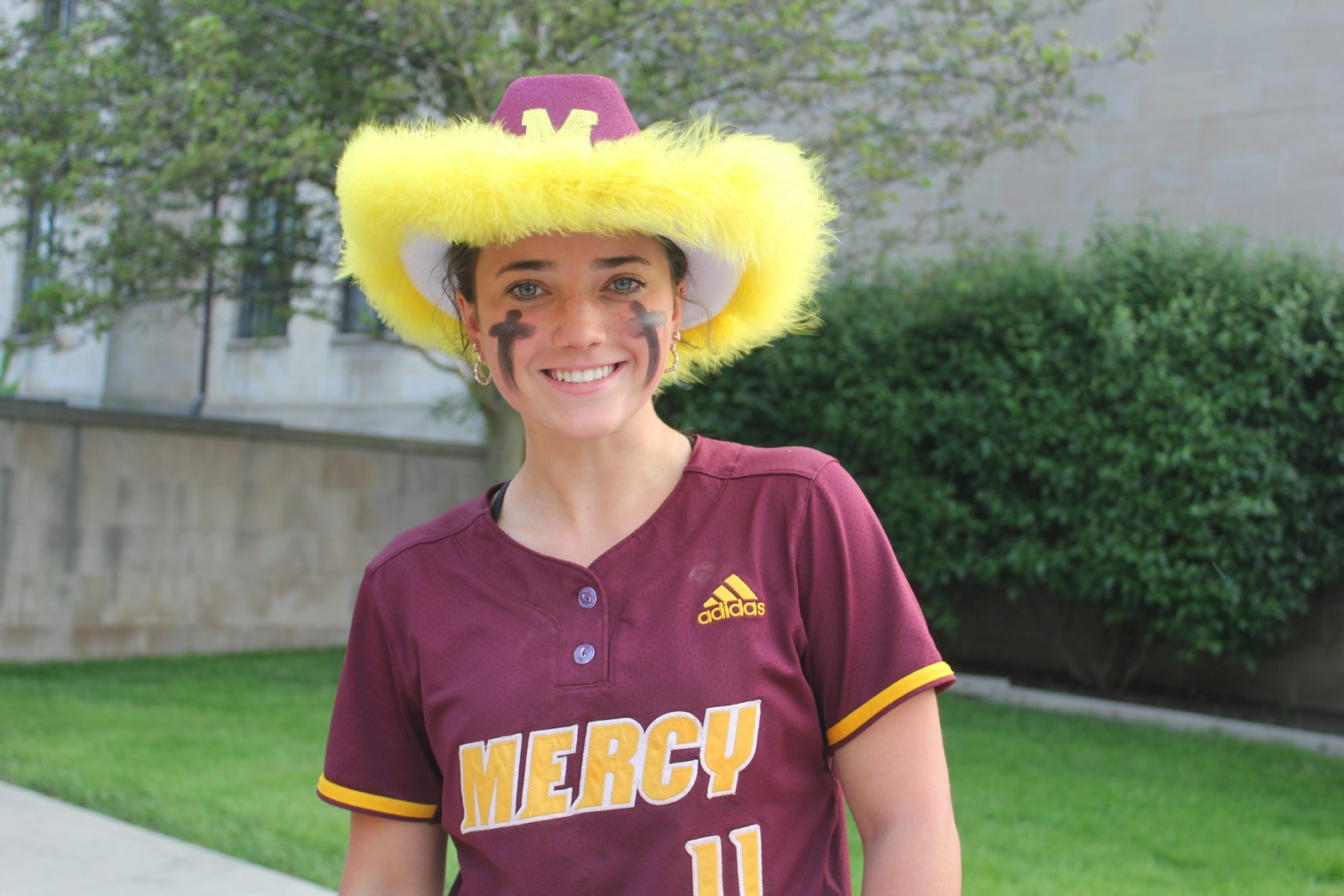 "I like pitching under pressure because it pushes me to become a better pitcher, and to pound the zone even more, to be better," Pallozzi said. "We've probably rarely played seven innings, so this was really good. Going into the game, we knew it was going to be a tough game, so we knew we had to come out and compete, so we did that."
Pallozzi also was the winning pitcher in last year's Bishop Division championship game, throwing a no-hitter and striking out 18 in Mercy's 7-0 shutout of Riverview Gabriel Richard.
The Marlins are now 25-0, ranked fourth statewide among Division 1 teams, and are grateful to have survived such a pressure-packed game.
"Playing them was, honestly, the best competition we've had so far," Lambert said. "It's good that we played them because it takes us into a different mindset for state playoffs. It kind of humbled us a little bit, which I think is good. Most of our season has been (mercy-rule victories), so it kind of got us in a state of being too comfortable, which would be our downfall if we were to lose."
"It's exactly what we need," Miller said. "We need the pressure, we need to be comfortable being uncomfortable. It's a part of our sport, because you never know what's going to happen — anyone can beat anyone on any day. It's just great to be put in these high-pressure situations, so that when we do go to the state playoffs, we're ready for the competition."
Mercy has now won six of the past 10 Catholic League upper division championships; Warren Regina won the other four.
University-Liggett claims Cardinal championship, 9-1
Make it two softball titles in three seasons for Grosse Pointe Woods University-Liggett. The Knights broke the game open late and went on to beat Waterford Our Lady of the Lakes, 9-1, at University of Detroit Mercy on May 23.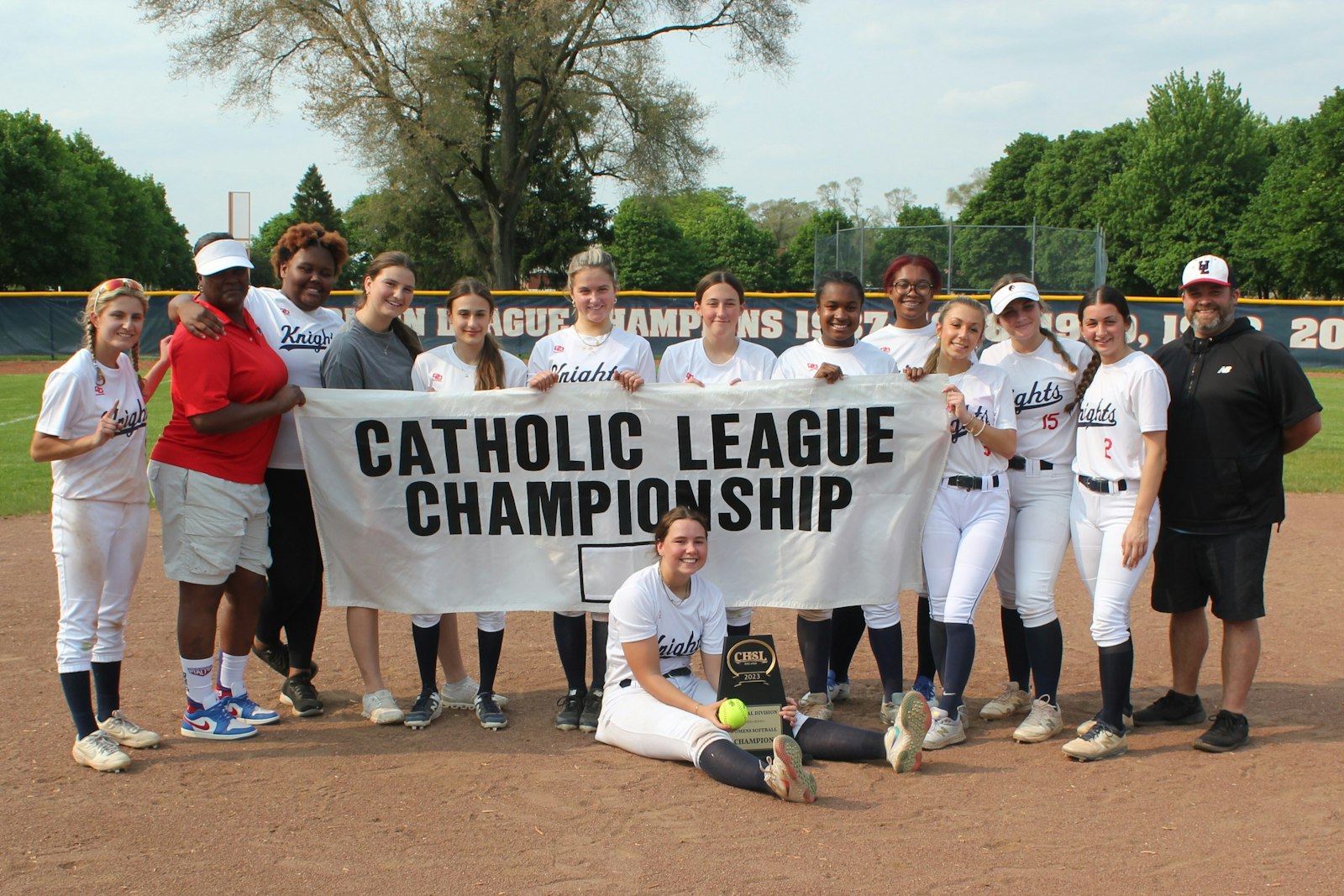 Liggett, which never trailed in the contest, scored once in the first inning, twice in the second and fourth innings, and tacked on four more runs in the sixth, when the Knights (20-4) collected five of their eight hits.
"I kind of thought we would jump on them toward the end," first-year coach Psauntia Andrews said. "We came through in the sixth inning. That's what I called it — finally waking up and becoming aggressive with the bat."
Six different Liggett players scored runs — Giuliana Lufty, Jasmin Maxwell and Isabel Standish each crossed home plate twice, while Margaret Weiss, Constantina Bournias and Isabel Jenkins also had single runs.
"I think we just really learned how to work as a team and move things forward," Standish said. "We just got better at knowing what we should expect from each other."
Victoria Nugent was the winning pitcher, holding the Lakers to a pair of singles and two walks in a complete-game outing. She struck out 11 batters.
Copy Permalink