FARMINGTON HILLS — For the same team to win a Catholic League swimming championship 54 out of the last 55 years, there must be something in the water.
But to hear Farmington Hills Mercy senior captain Sydney Derkevorkian sum it up, it comes down to camaraderie and tradition.
"It's never about winning for us," she said. "You just all have fun, and we really represent that the 'M' on our chest and on our cap, and we all know what that means. The spirit we all bring is shown in the water."
"We swim for the girls who swam before us and for the girls who will come after us," fellow captain Alexis Conway said. "That's what we need to focus on: not ourselves, but the team, and representing that 'M' on our caps.
"It makes me feel a level of honor and respect for this team. I don't attribute it to one thing besides Mercy."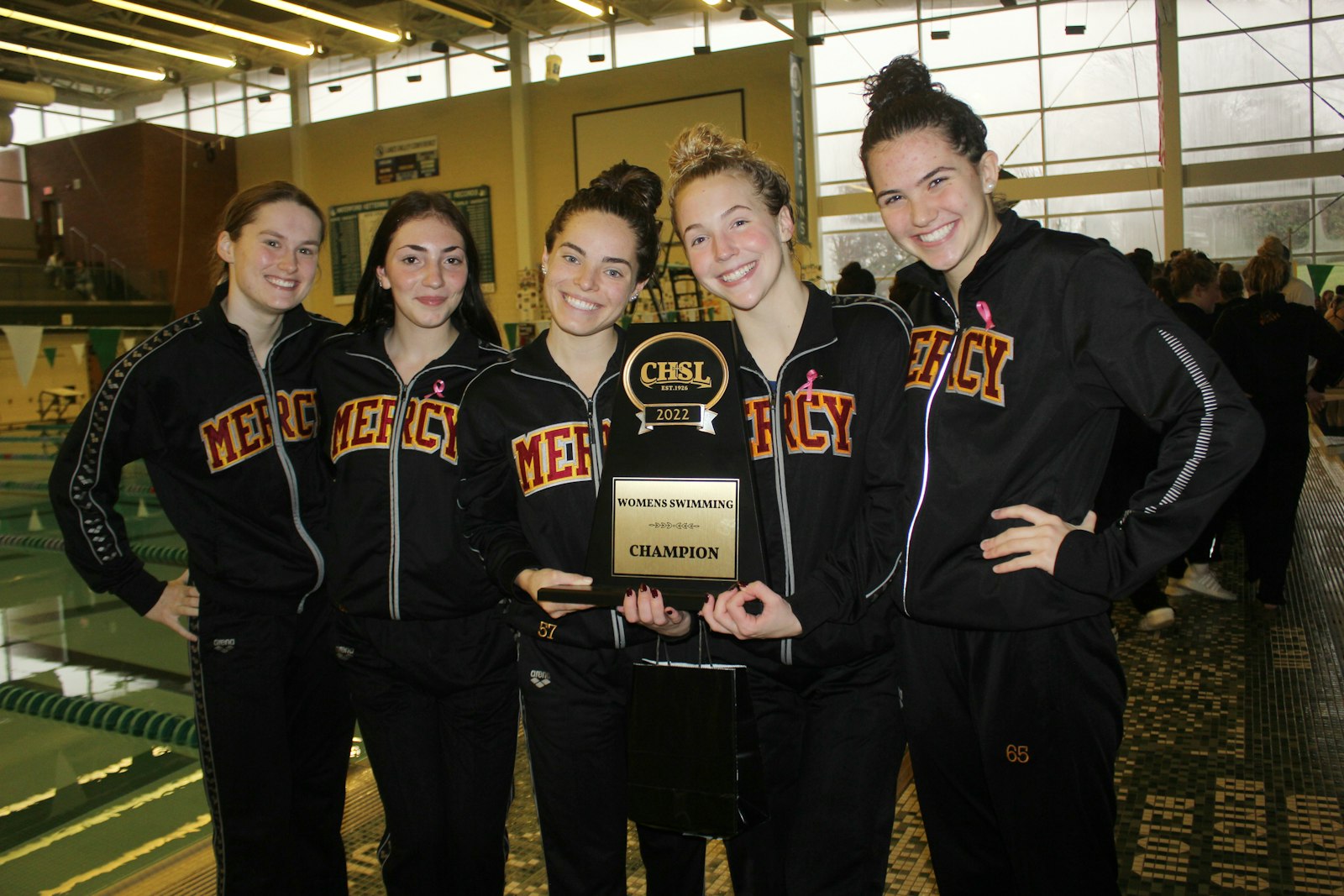 The Marlins successfully upheld that tradition this season with another Catholic League championship — as they've done each year (but one) since 1967. Mercy outdistanced the seven-team field in the league finals held Saturday at Waterford Kettering High School.
Mercy won all three relays and more than half of the individual races to rack up 654 points, comfortably ahead of Birmingham Marian (404), Bloomfield Hills Cranbrook Kingswood (372), Ann Arbor Greenhills (191), Warren Regina/Grosse Pte. Woods University-Liggett (159), Dearborn Divine Child (124) and Madison Heights Bishop Foley (118).
Head coach Mike Venos has been connected to 14 of Mercy's titles — six as a coach, four as a parent, and his wife won four as a student. But Venos said this one is special, on the 50th anniversary of the enactment of Title IX, which enhanced opportunities for female student-athletes.
"We've talked a lot about the history of Mercy, the passage of Title IX in 1972 — that year was the very first girls state championship, and Mercy won it at Rochester High School," Venos said. "We talk a lot about the tradition; we talk about what it means to swim with the Mercy on your cap, and I really think that's something that sets them apart, and I hope it's something that helps us go fast."
Once again, the Marlins were faster than the rest of the field. Derkevorkian figured in four first places, with victories in the 200-yard individual medley (2:10.36), the 100-yard freestyle (53.13), and playing a role in the 200-yard medley relay (1:49.35) and 200-yard freestyle relay (3:39.36).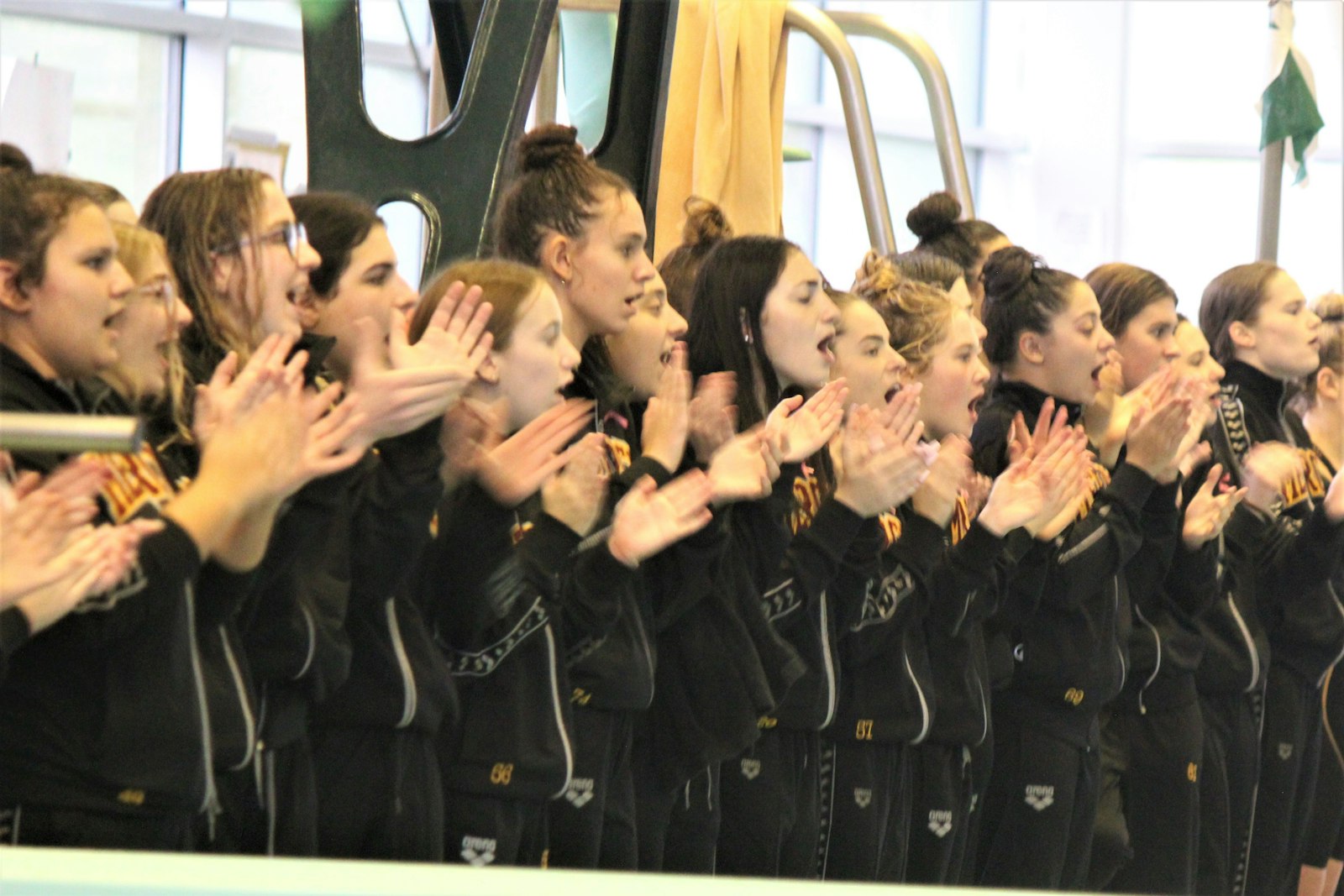 But Dekervorkian didn't claim any more credit than her other 50 teammates.
"It's really fun because the whole team gets to participate in this meet," she said. "When we're at the state meet not everyone gets to swim, so it's always really, really fun to see everyone's hard work pay off."
Conway — who won the 100-yard backstroke (1:00.17), swam a leg of the 400-yard freestyle relay (3:39.36) and joined Derkevorkian on the 200-yard freestyle relay — agreed with her teammate.
"It's a total team responsibility," she said. "We all add to the team in our own way, whether that's times or personalities or effort or morale. I'd say the most important factor is love, loving one another. I have a lot of love for every single girl on this team and it means a lot to me."
For Venos, those remarks mean more than any single victory, place or time.
"I guess our goal as coaches is to get them to understand that they're part of something that's bigger than themselves, and that there's more power in a group than there is individually," he said. "It's a tough thing to understand in kind of an individual sport like swimming, but I think this is something that they've bought into."
Also for Mercy, Amylia Higgins won the 50-yard freestyle (24.33) and Olivia Engquist claimed first in the 100-yard breaststroke (1:09.14).
Other event winners included Marian's Rachel Bello in the 200-yard freestyle (1:52.97), Marian's Grace Morgan in one-meter diving (349.05 points), Cranbrook's Eryn McLaughlin in the 100-yard butterfly (59.29) and Divine Child's Ella Dziobak in the 500-yard freestyle (5:06.77).
Next, qualifying swimmers turn their attention to the Michigan High School Athletic Association's state championship meets, Nov. 18-19.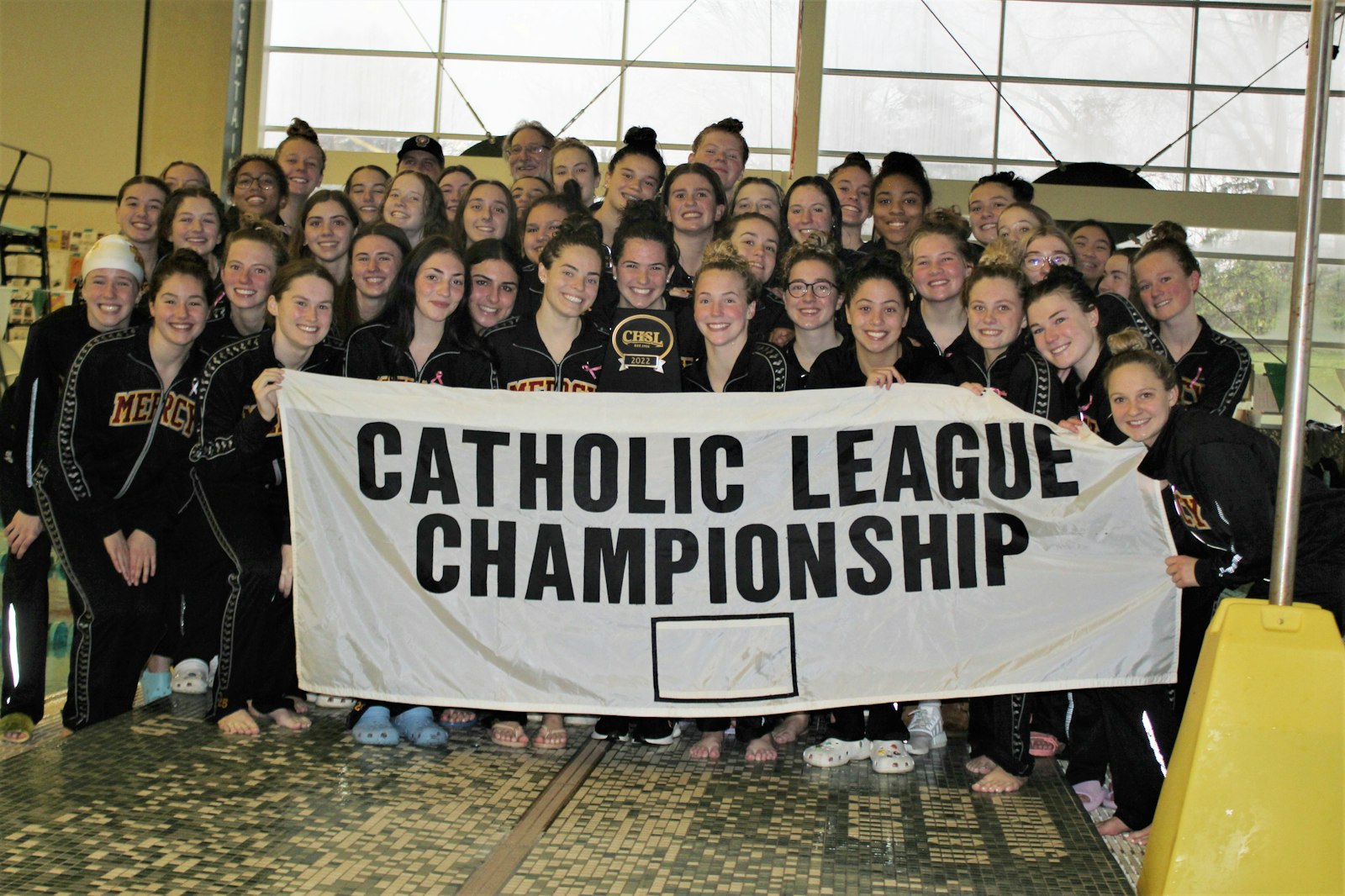 Mercy, rated fourth in the state, will bring 13 participants to the Division 1 championship meet at Oakland University in Rochester Hills. The Marlins have won 12 state championships in the past.
"Quite honestly, we just want to go there and do the best that we can," Venos said. "They understand that we can't control what place we get; we can only control what we do in our own lane. We let the chips fall where they do — we just go there to swim as fast as we can and whatever happens, happens.
"If we go out and we swim well, we're happy. If we swim well and we don't win, we're happy," he said. "And that's what this sport's about."
Marian and Cranbrook are ranked second and third among Division 3 teams. Their final meet will be at the Holland Aquatic Center. Cranbrook has won four state titles in the past, while Marian has claimed three.
Copy Permalink