WATERFORD — Let's be real: everyone knew how the Catholic League swimming and diving championship meet was going to turn out. And it wasn't a surprise to see Farmington Hills Mercy once again take home the championship trophy — as the Marlins have done the last 31 times — by overwhelming the opposition with strength and depth.
Mercy amassed 643 points on Nov. 10-11 at Waterford Kettering High School, finishing well ahead of Bloomfield Hills Cranbrook (452), Birmingham Marian (336), Ann Arbor Greenhills (196), Grosse Pointe Woods University-Liggett (127), Dearborn Divine Child (126), Madison Heights Bishop Foley (94) and Warren Regina (60). The Marlins won all three relays and five of the nine individual events, and didn't have less than three competitors in the championship heat of any event.
"Especially at this league meet, it's nice to continue our success, but we're swimming for something bigger — the girls who swam for Mercy before us and the girls who will swim for Mercy after us," said senior captain Amilya Higgins, who played a part in four event victories. "Everyone contributed to this success. The energy was amazing. The best part is just remembering what it means to be a part of this legacy."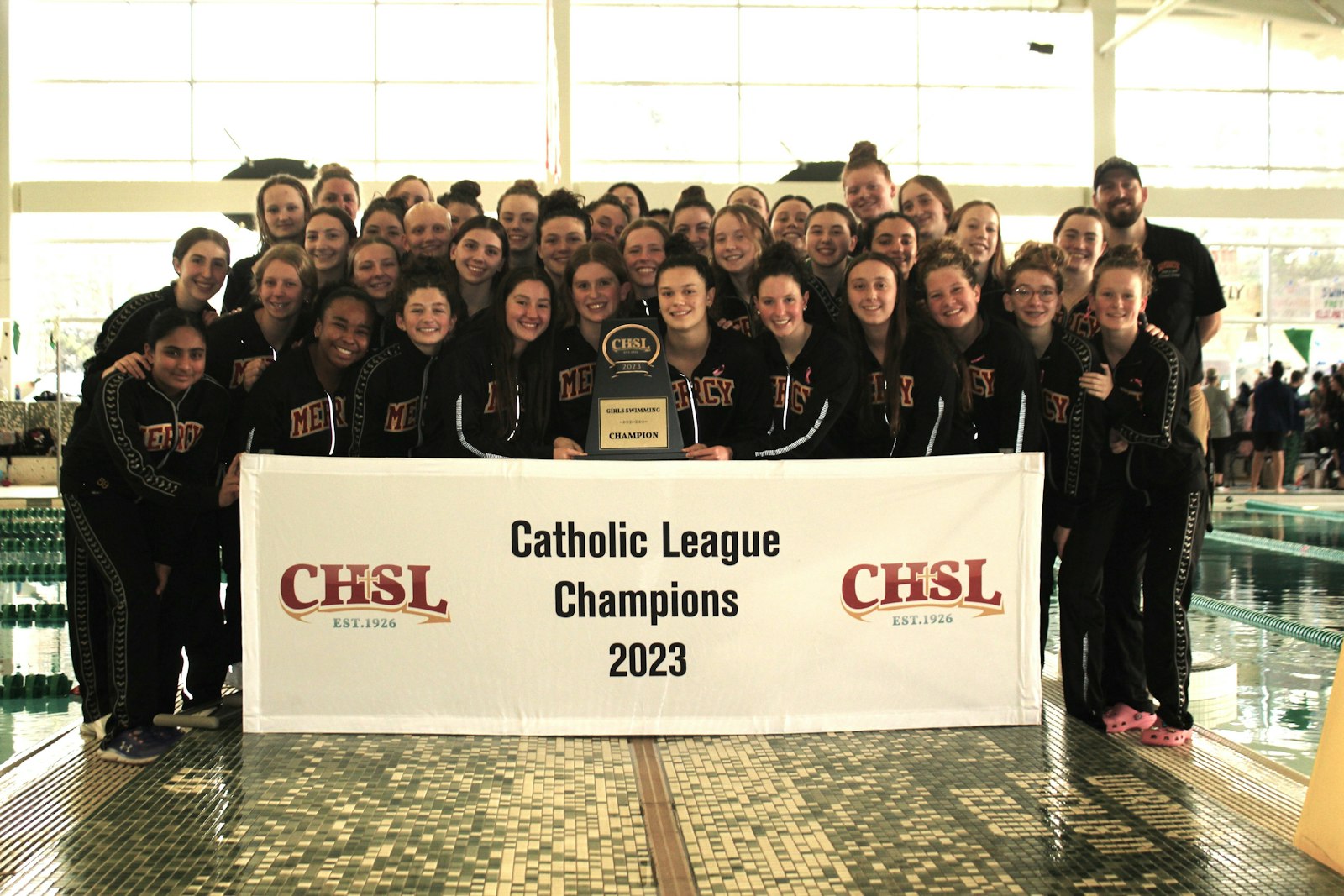 Higgins took first in the 50 freestyle (24.09 seconds), leading a 1-2-4-5 Mercy finish with Mackenzie Conway, Olivia Engquist and Anna Melton. Higgins also won the 100 butterfly (58.08), with teammates Leah Greaves, Sydney Meyer and Caroline Lee adding second-, fourth- and sixth-place finishes in that same race. The points Mercy earned in those two events alone exceeded what half of the teams in the field totaled all weekend.
While the outcomes of those races were indicative of the stamp Mercy left on the overall contest, the Marlins still found new ways to add excitement. For instance, the Mercy swimmers reserved their loudest, most enthusiastic cheers for a teammate who wasn't even the winner of her race.
As freshman Emilia Coccia raced to fourth in the 100 breaststroke, her fellow swimmers yelled and screamed when they saw her finish time of 1:11.75 qualified her to compete in the state finals next weekend at the Holland Aquatic Center.
"I dropped four-and-a-half seconds yesterday (during the preliminary round) and another second today," Coccia said. "I didn't think I'd get the cut, so it feels really good."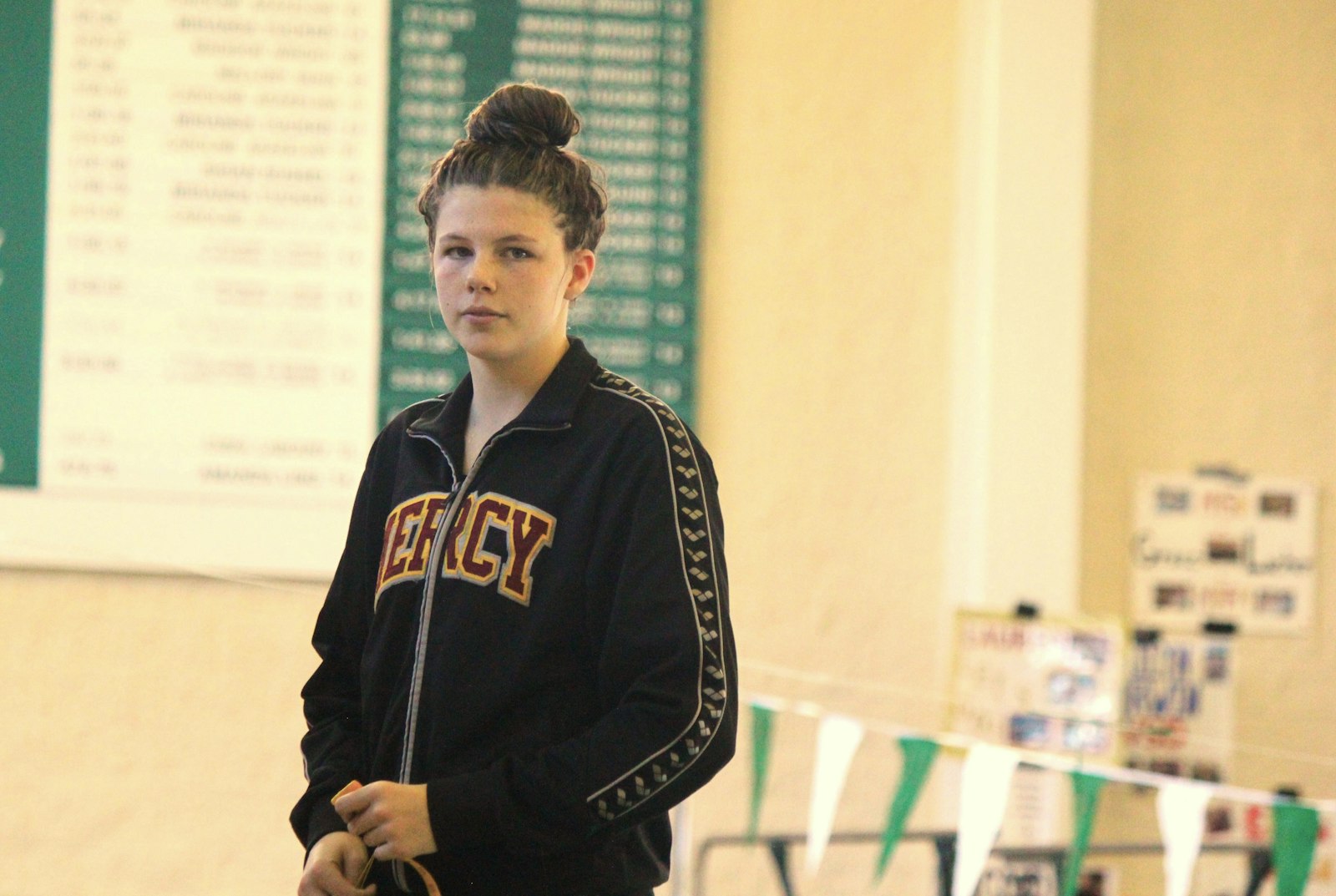 Because Mercy has a large squad (38 members) and a smallish pool, it's not possible for everyone on the team to get in some quality training at once. The Marlins' routine includes a practice for the more experienced swimmers, and a follow-up workout is designed for those developing their skills. Mercy teammates explained that Coccia became the first "second practice" swimmer in program history to hit a state cut.
"I think it's just really exciting, and I wouldn't have been able to do it without everybody else encouraging me," she said. "At states, I hope to drop even more time."
Going forward, Coccia will be part of the team's one common practice for state qualifiers — even though that's still a fairly big group. Out of Mercy's 38 team members, 19 have qualified for the state finals — one of the largest contingencies throughout the state. That's a prime reason why Mercy is ranked No. 1 among the teams competing in Division 2.
Mercy freshman Avery Tack was also Catholic League champion in two races: the individual medley (2:09.78) and the 100 free (52.78). Junior teammate Jenna Matigan was the champion diver (356.75 points).
Conway, Tack, Greaves and Higgins won the medley relay (1:48.79); Campbell Shore, Conway, Kathleen Schwab and Tack took the 200 free relay (1:39.94); and Shore, Higgins, Schwab and Greaves completed the sweep by winning the 400 free relay (3:36.42).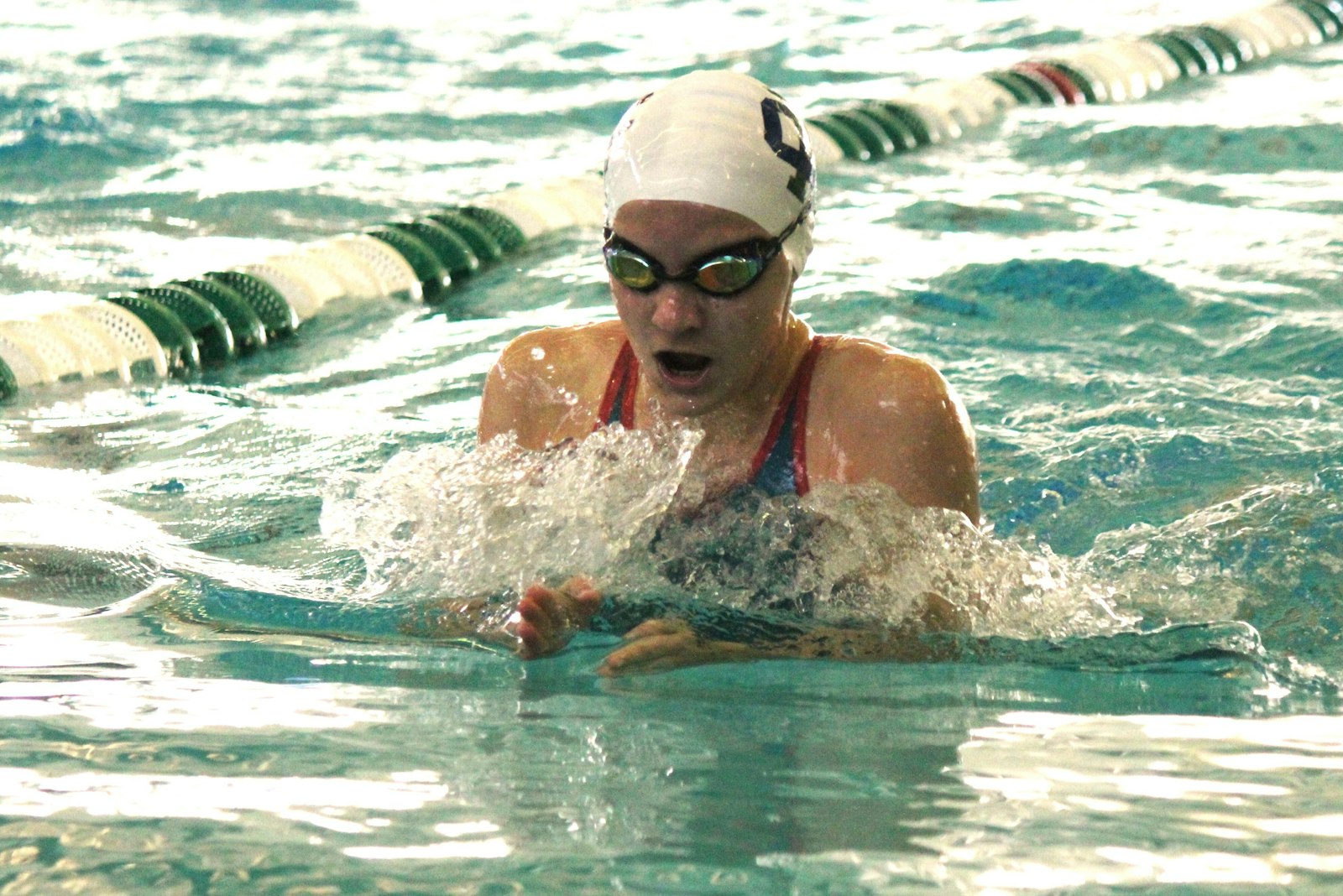 Of course, Mercy didn't win everything. Divine Child sophomore Ella Dzobiak finished first in the distance races, going 1:52.84 in the 200 freestyle and 5:06.29 in the 500 — both performances are personal bests and school records.

"It was nice to represent Divine Child well," she said. "I definitely did have pressure, but I dealt with it by thinking about my training, and reviewing my (preliminary) races this weekend and seeing what I did wrong and how I could improve."
The other individual winners included two freshmen: Marian's Meghan Bluethmann led the field in the backstroke (59.96), and Cranbrook's Elizabeth Kurz took the breaststroke (1:07.69).
Both of those teams should be well-represented at next weekend's Division 3 state championship meet hosted by Oakland University. Marian is the defending Division 3 state champion, while Cranbrook won the title three seasons ago. Cranbrook is ranked second among the division's teams, while Marian is right behind in third.
Copy Permalink