Albanese scores 45 points, Kennedy, 46, as Mercy bests Divine Child, 79-70, in overtime
FARMINGTON HILLS – Should Farmington Hills Mercy and Dearborn Divine Child meet for the Catholic League's Bishop Division girls' basketball championship on Feb. 18, it will be hard to top the "wow" factor the two rivals generated during their first meeting of the season.
Mercy eked out a 79-70 overtime victory against the Falcons on Jan. 24, in a contest that could shape the outcome of Central Division.
Perhaps the biggest "wow" was that Marlins sophomore Aizlyn Albanese scored 45 points, but was offset by 46 from Divine Child senior Kennedy Blair. Those performances could very well be single-game scoring records for each school.
"It was a huge win for us because this was a big game and we're still undefeated," Albanese said. "We came out and we played strong. Honestly, we all just worked as a team, we encouraged each other. I feel our energy was really great, and our coaches were very encouraging on the bench."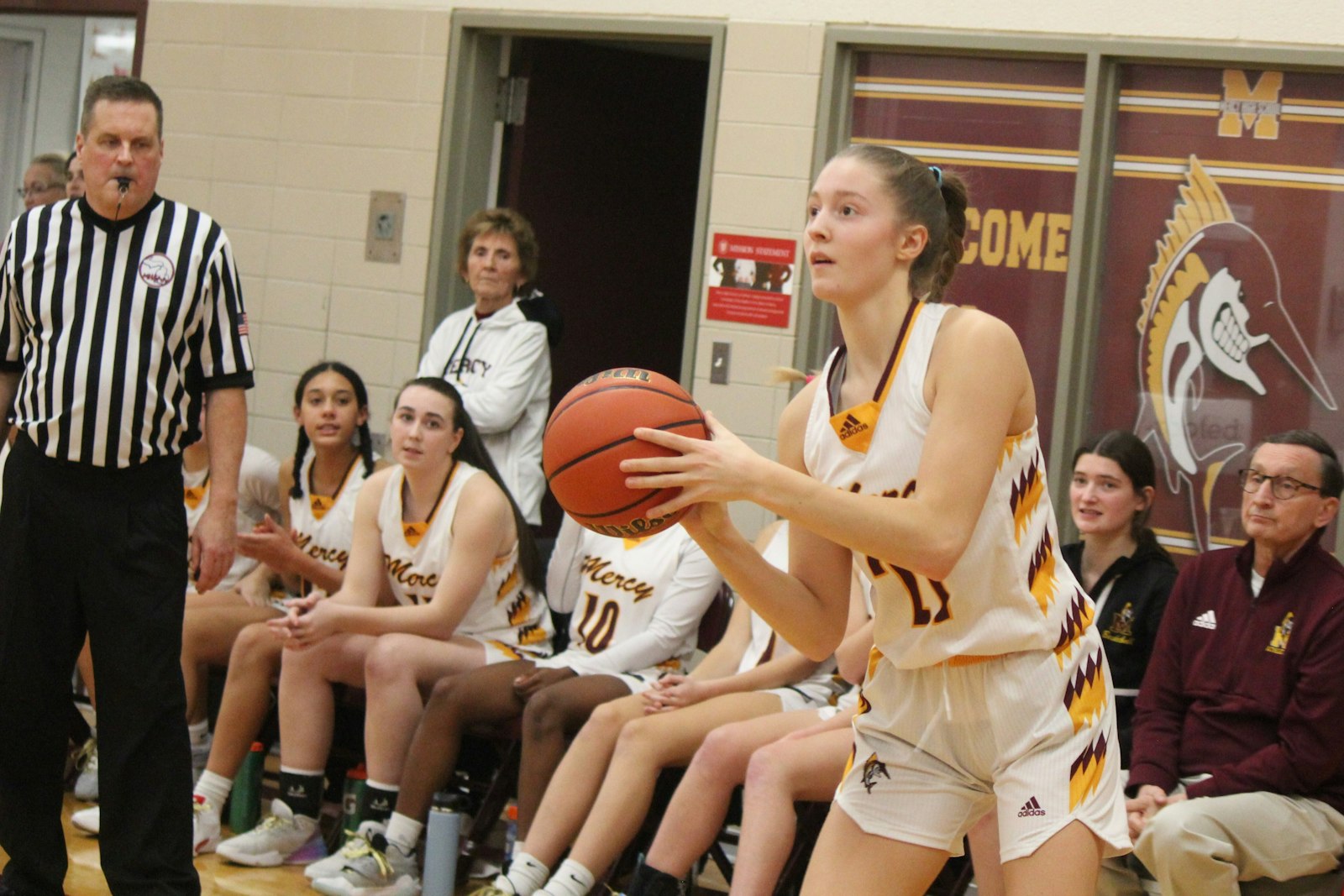 The game, played before a packed house in the Mercy gym, had a bit of everything. The nip-and-tuck first half – which ended with the Marlins up 33-32 – included nine ties and eight lead changes.
In the second half, an 11-0 run fueled by Albanese gave Mercy a seemingly comfortable 57-41 lead with six minutes to play. After Albanese hit back-to-back 3-pointers, Divine Child called a timeout to regroup.
"I challenged them to forget the score, except for the time (remaining), and just play 'til the final buzzer," coach Mary Laney said. "I told them if we pick up the energy that we had in that first half, and play to win, and things will happen. We made some shots, we got some steals, and Kennedy stepped up like Kennedy does."
Blair was up to the challenge. The Bowling Green commit scored 18 points down the stretch, including a mid-range bank shot with 12.3 seconds to play, to tie the game 63-63 and send the contest to overtime.
"We learned to just never give up," she said. "It's tough getting down 16 here. They were hitting their shots and we couldn't hit a shot, but it was 'Come on, play for each other. We have nothing to lose.' We were down 16 points at one point in the fourth, but we just kept fighting."
Mercy opened things up again in the four-minute overtime, with Albanese scoring six points in the first minute on a three-pointer and a dribble-drive lay-up with a bonus free throw. Mercy (14-0, 5-0 Central Division) didn't look back, as the Falcons (11-3, 1-3) couldn't get closer than four points despite Blair accounting for all of the overtime scoring.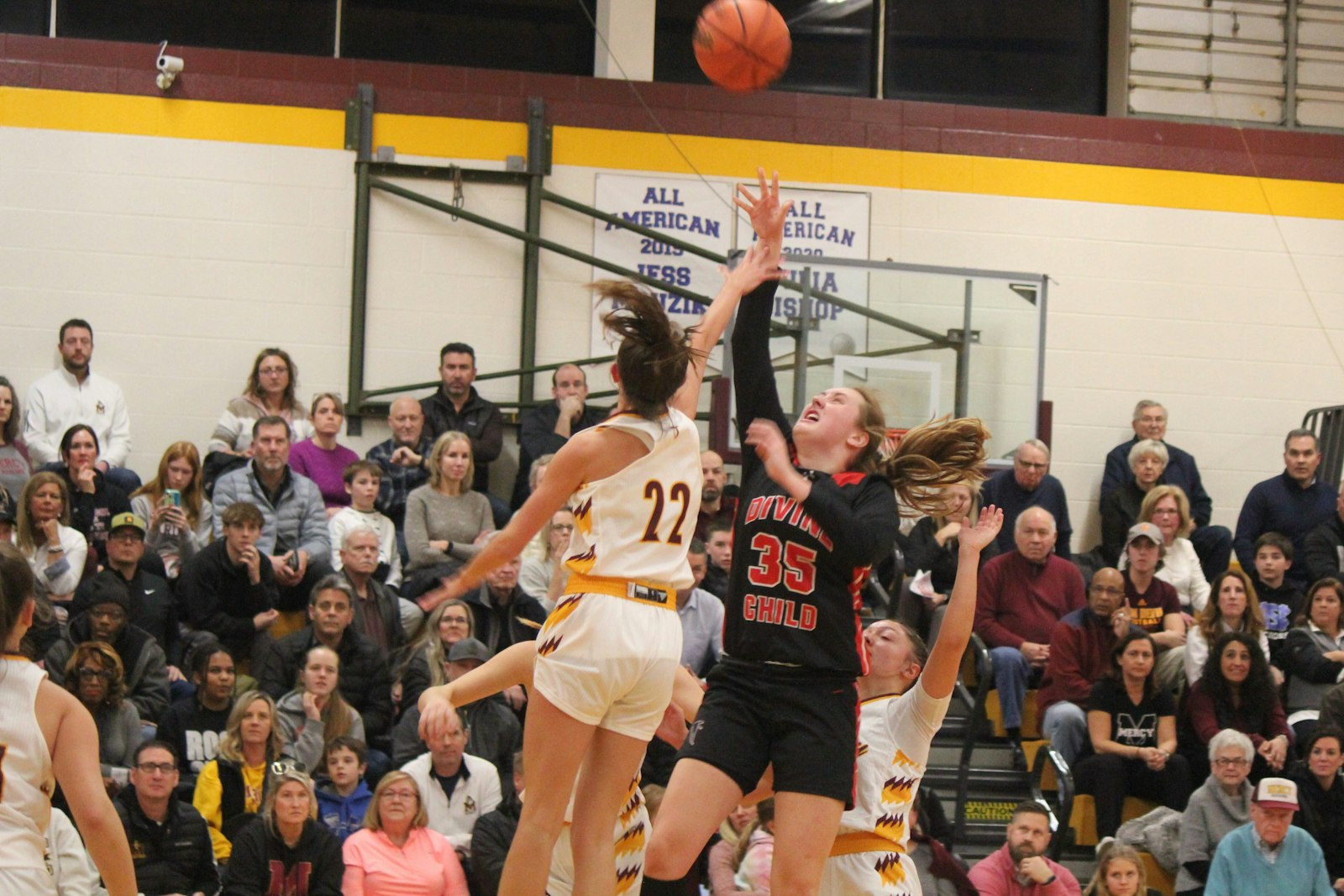 "The momentum was all in their favor going toward the overtime and they won the tap, but we scored right away, so you know, it was a learning experience," Mercy coach Gary Morris said. "We learned we need to obviously finish the game out, but you've got to give DC credit, they continued to play hard."
Albanese said keeping a positive attitude when things weren't going so well was a key to the win for Mercy.
"It was definitely discouraging (to lose the lead), but I didn't let it get to me," she said. "I felt like we were going to come back, we were going to win, this was our game. I felt like we had some people step up and really play well and take control, and that really helped us."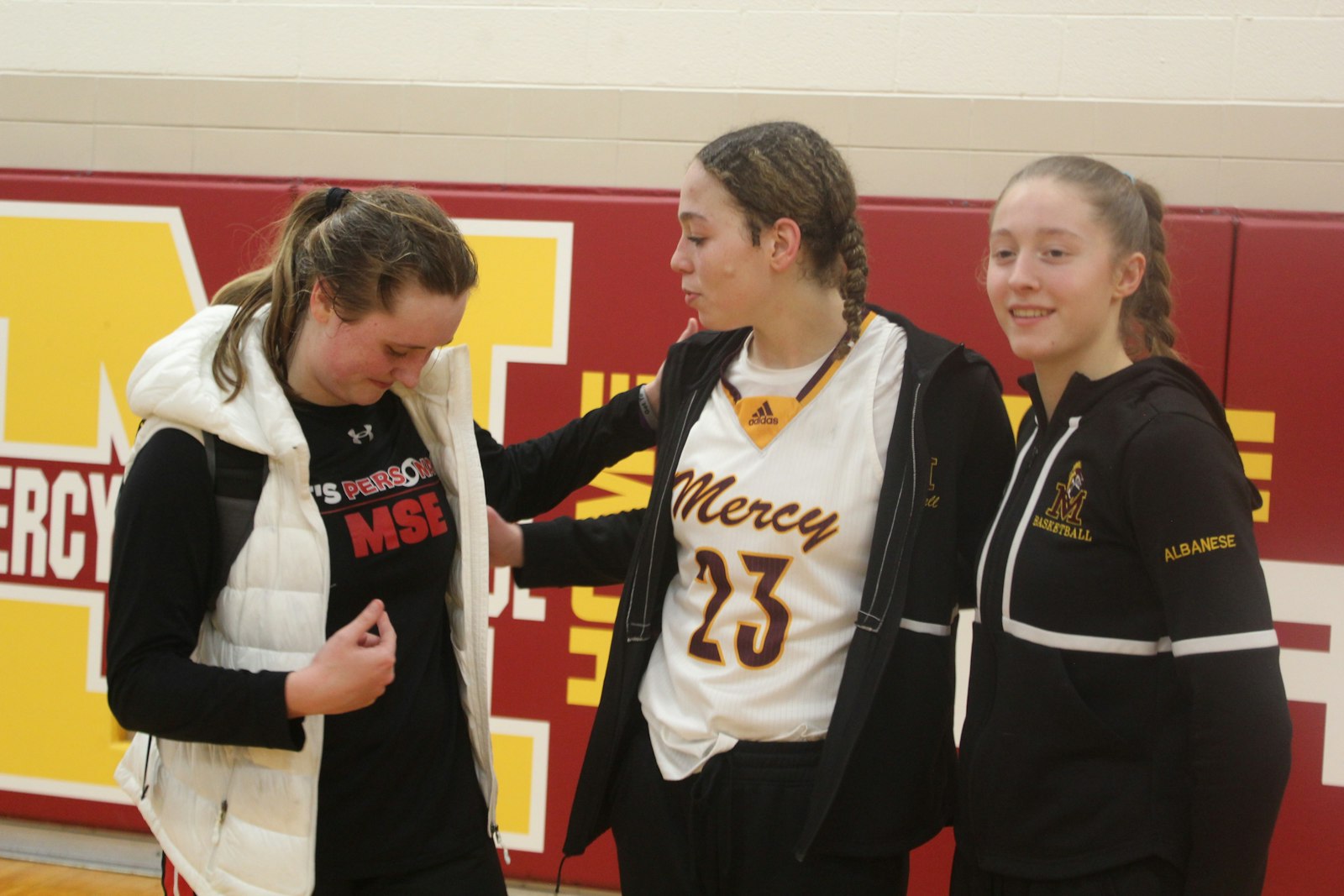 Maya White had 22 points; her overtime lay-up which set the lead at 76-68 was the only Mercy basket after halftime not scored by Albanese.
"Blair is obviously hard to guard, but Aizlyn was kind of counter-punching," Morris said. "It became, 'You do something and I'm going to do something'-- that kind of game. I thought Maya had a great game for us; 20-something points and strong inside. We're just happy to get the win, learn from it, and to get ready because we've got a tough game (against 11-3, 4-1 Ann Arbor Fr. Gabriel Richard) on Friday."
As the floor cleared, Laney was still wowed by the type of game she witnessed.
"You don't see that often – in fact, you see a lot of low-scoring battles in the Catholic League, like 35-32, because we usually stress defense," the Falcons coach said. "But when you have an elite player like Kennedy Blair, she's just next-level elite, she's off the charts, and she's going to do whatever she has to do, because she just wants to win. But she said she'd rather score 15 and win the game."
"I'm exhausted, but man, it's fun – this is why I love basketball. That's why I want to play at the next level, because of these games," Blair said. "I stared at the scoreboard before I walked out – I'm going to remember that."
Editor's note: A previous version of this story referred to Divine Child's coach by her maiden name.

Copy Permalink