Cardinal Mooney's Lenn takes individual championship; eight local Catholic runners are all-staters

BROOKLYN — When Madison Osterberg approached the finish line of the 5-kilometer cross-country course during the MHSAA Lower Peninsula Division 3 state final meet last Saturday, she didn't have that pained or exhausted look so prevalent on runners finishing a tough race. Instead, she was grinning from ear-to-ear.
"Last year I wasn't able to complete this race on both feet — I fell at the three-mile mark and took 50th, and I've been thinking about this meet almost every day since then. For the first few months I dreamed about it almost every night, so to come back here and run a race I'm really proud of means everything," the Jackson Lumen Christi senior said.
Osterberg comfortably placed second out of 249 athletes, covering the 5-kilometer course in 17:49.5 — the 11th fastest time ever run by a girl in the Division 3 race.
"I've been running about that time all season, but that's the fastest I've ever run here by over a minute," she enthusiastically said. "I'm very blessed, I'm very blessed."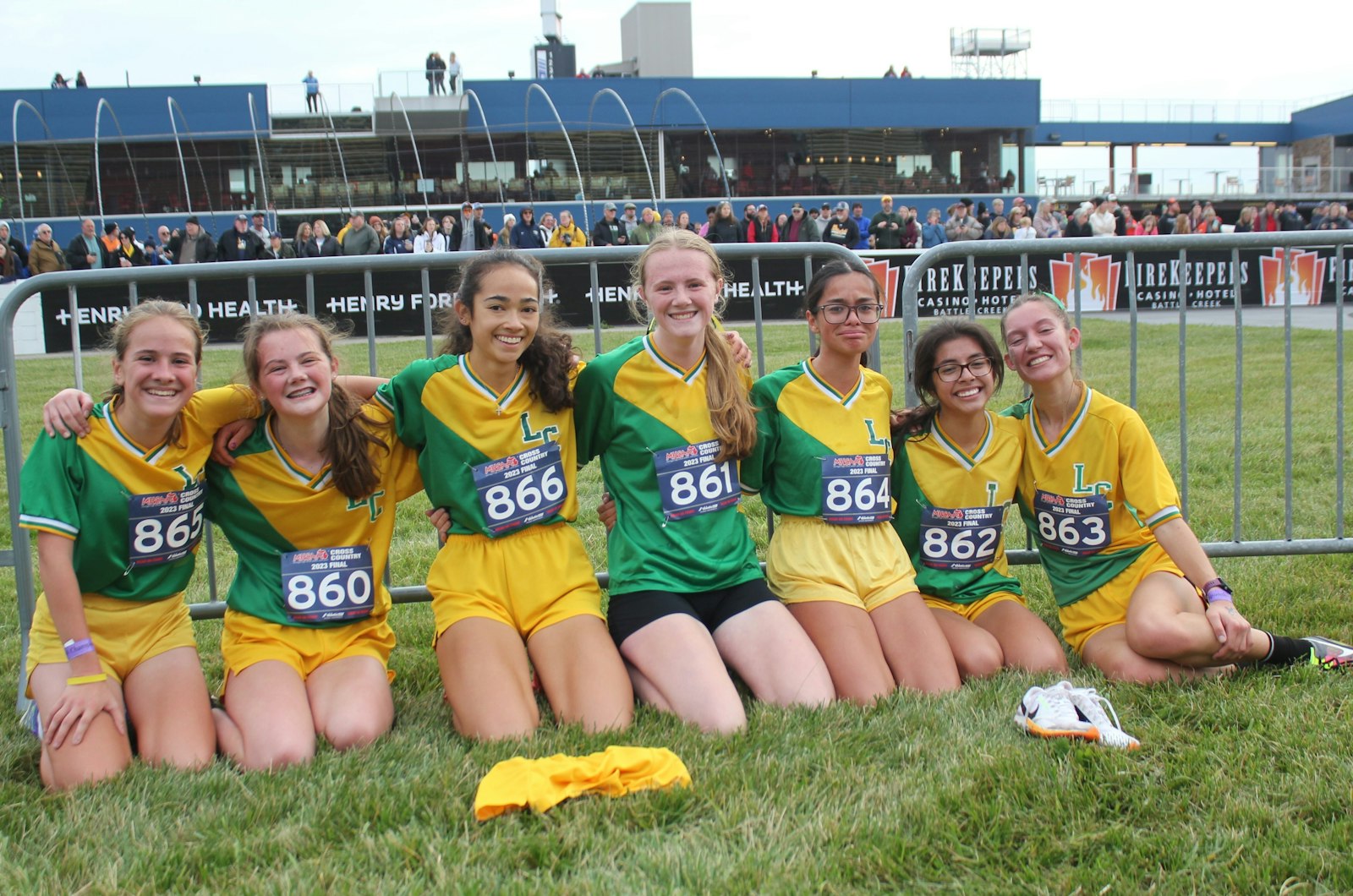 Osterberg wasn't the only one proud of her performance during the final race of her prep career.
"Madison is very competitive, very tough, she'll do whatever it takes, even though sometimes it may not work out the way she wants it to," coach Mike Woolsey said. "She's probably one of the toughest people I've ever coached, and she's very coachable, too."
Even with the silver medal, Osterberg knew she was running for something bigger.
"Whatever individual place I get, I don't care, as long as I can help my team," said the Michigan State University commit. "That's the goal. We love each other so much. I'm on a very close team, and we all just push each other to the limit, so I always want to give my best for them."
That's why there was an even better feeling when the Titans discovered they had won the Division 3 team championship with 140 points — 37 better than last year's champion, Traverse City St. Francis.
Following Osterberg, freshman Samantha Schroeder also claimed an all-state award by finishing 13th (11th in the team competition) with 18:56.5.
"I was really happy with it. I finally broke 19 — it's taken me a while," Schroeder said. "I think it's just the competition, and the motivation of not letting your team down and making other people happy."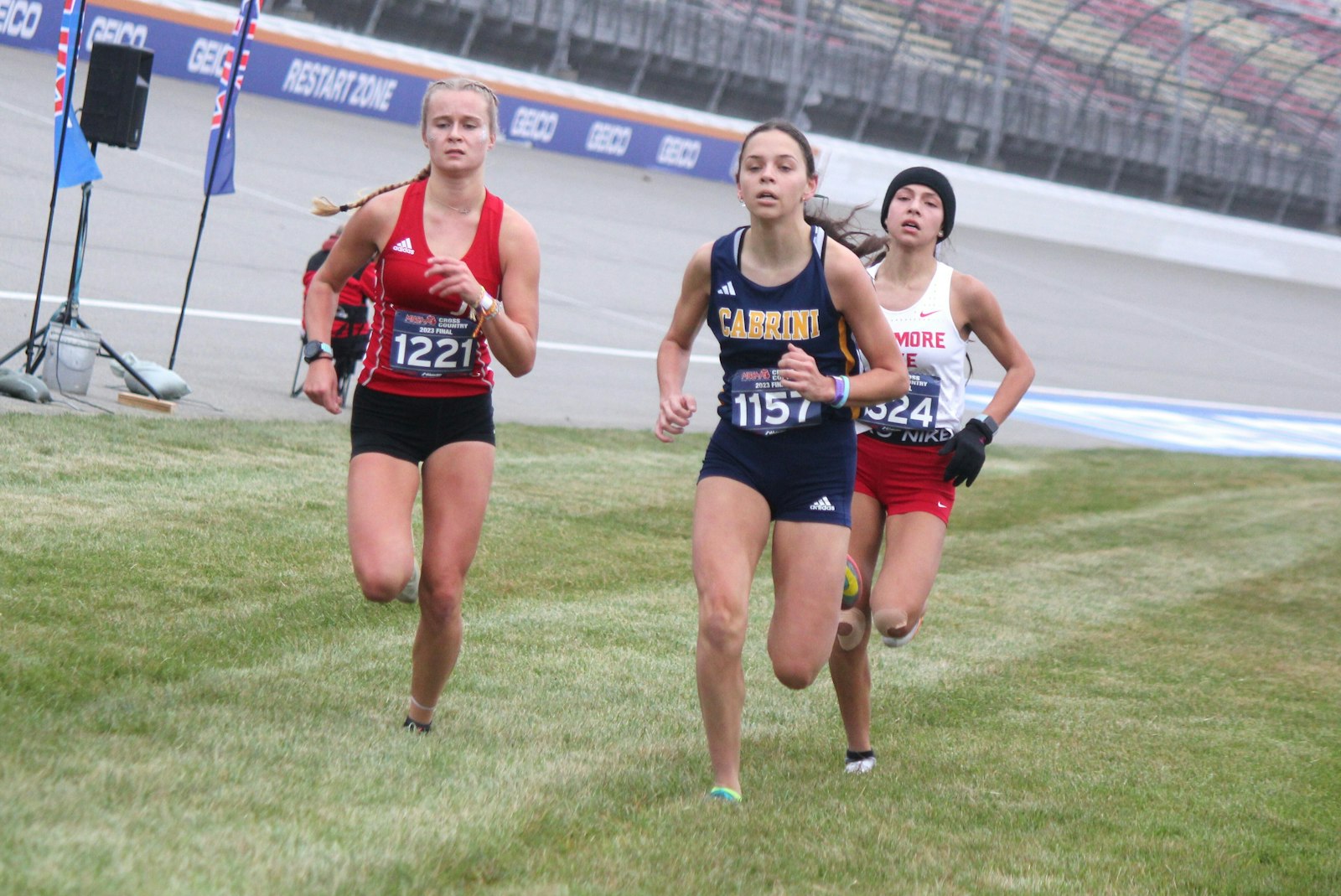 Sophomore Macy Fazekas (33rd, 19:47.1), senior Sydney Fazekas (37th, 20:00.7) and junior Layla Lopez (57th, 20:31.9) were also in the Titans' top five.
"What a group. They just came through; they ran outstanding races — everybody. It was a complete team effort," Woolsey said. "We had a lot of girls with PRs (personal best times), which is amazing. This is the time of year you want to do it."
It's the 10th team championship won by the Lumen Christi girls, and their first since 2012 — a year in which the Titan boys also claimed the crown. With the win, Woolsey becomes the first coach to win 10 times since cross-country was first established as an official sport 100 seasons ago.
"Every team is unique. Even though this is our 10th title, it's the first one for this team," Woolsey said. "It's amazing; it's fun."
Monroe St. Mary Catholic Central's girls finished 19th in the same race. The Kestrels were paced by all-state sophomore Bella LaFountain, who finished 20th in 19:06.3.
In the Division 4 girls' race, Allen Park Cabrini senior Ava Teed was all-state for the fourth year in a row, crossing the finish line fifth in 18:40.9, leading her team to a 21st place finish (503 points). Royal Oak Shrine's girls were a few notches up the ladder in 15th (416).
In Division 2, the girls from Dearborn Divine Child were 16th (433), Warren Regina placed 21st (479) and Pontiac Notre Dame Prep was 24th (583).
Boys: Lenn completes comeback by claiming individual title
In three prior state-meet appearances, the course at Michigan International Speedway course hadn't been kind to Catholic League champion Tyler Lenn. And while fighting back injuries throughout the season, the Cardinal Mooney senior had some doubts about competing for a state championship.
"I almost counted myself out early on in the season, but my confidence started to build the week of the (final) race," he said. "I had run a bad race the prior week at regionals, and I originally thought if I'm going to run poorly, I don't want to do this. But after talking with my coaches and my teammates and my family, I felt like I had one more in me — I could still have a good race. I made the decision to run, and if I didn't I wouldn't have to live down wondering what would have happened."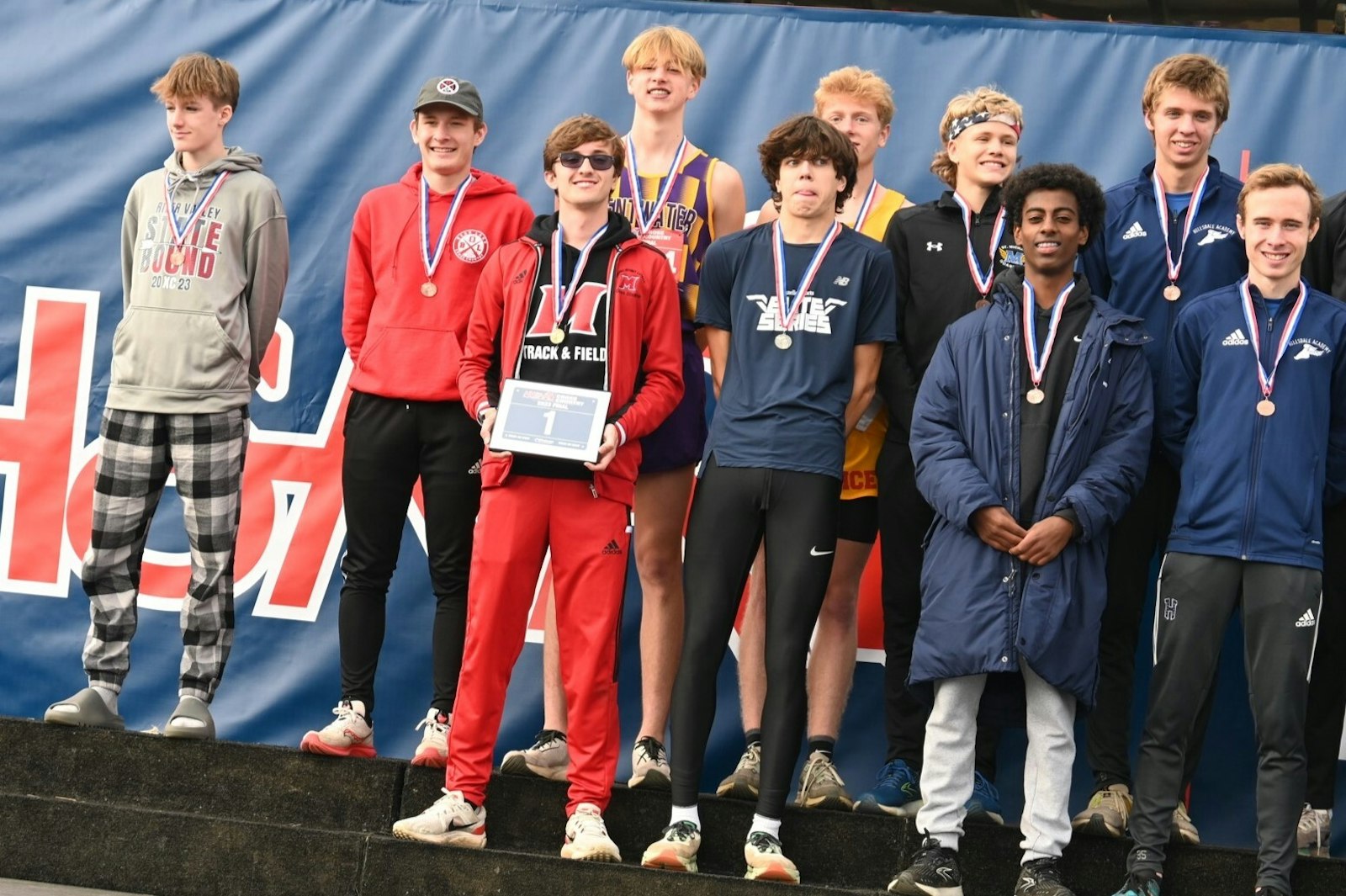 It turns out Lenn won't have to dwell on that. Instead, he ran the best race of his career, getting to the finish line first with a personal-record time of 15:49.0.
Buoyed by the weather, the crowd support and the competition, Lenn said the race unfolded "better than I could have imagined."
Two miles in, Lenn was bunched with Vestaburg's Owen Patton and Royal Oak Shrine's Abenezer Cerone at the front of the 252-runner pack, before Lenn made his move.
"I threw in a surge upon re-entering the track and I continued pouring it on in the last three-quarters of the mile," he said. "I wanted to do something that would be mentally challenging for my competitors. I probably was not the most fit out there that I could have been, but I felt if I could win mentally, I could win the race. My gosh, that actually worked."
Lenn was surprised he had the homestretch to himself — along with an impending state title.
"A lot of things were running through my head — keep moving, you can still get kicked out at the line, good form, good form," he said. "I had no clue I put 12 seconds on everyone else. I was shocked. My jaw just dropped and I'd never experienced that feeling before."
Patton was the runner-up, while Cerone finished in 16:06.4 to also claim all-state honors.
Last year, Lenn finished 50th on a bad ankle, which prompted of a series of follow-up injuries.
"I was never all-state, but never going all-state to state champion was more than a dream. I was kind of accepting of whatever would happen," he said. "With my injury and lack of summer running, I didn't even know if I could do this — I was so far behind. You have to trust your coaches, trust the process, work toward a goal and move forward those small steps you take forward."
Lenn helped his Cardinal Mooney team place 14th overall, with 377 points. Cerone's Shrine squad was right behind in 15th (386).
Two more Catholic League runners earned all-state honors in the Division 2 race, as Bloomfield Hills Cranbrook's Solomon Kwartowitz finished second (15:05.3) while Divine Child's Colin Murray was ninth (15:27.7). Team-wise in that race, Cranbrook was 23rd with 562 points, Divine Child was 24th (572), Ann Arbor Gabriel Richard was 25th (584) and Macomb Lutheran North was 27th (656).
In Division 3, Lumen Christi was 12th (336) while Ann Arbor Greenhills ranked 22nd (503).
Copy Permalink