BATTLE CREEK — The expected and the unexpected — and the still-to-be expected — made the headlines for the three Detroit archdiocesan Catholic schools in the MHSAA volleyball finals last Saturday at Kellogg Arena.
Among the expectations: Bloomfield Hills Marian repeated as Division 1 champs and powerful Pontiac Notre Dame Prep won its fourth Division 2 crown.
Marian and Notre Dame Prep, ranked season-long No. 1 in Division 1 and 2 respectively, were rated No. 2 and No. 6 respectively in the 2021 MaxPreps Top 25 national volleyball rankings published this week.
The unexpected was Monroe St. Mary Catholic Central failing in five sets to win its third consecutive Division 3 championship.
The still-to-be expected — as of this writing — is Marian coach Mayssa Cook's delivery of a son, her third child. The original due date was Nov. 13.
Marian: 'An unspoken confidence in each other'
When the Mustangs got off to a rousing start in the first set against Ann Arbor Skyline, then lost the second set, there was little concern.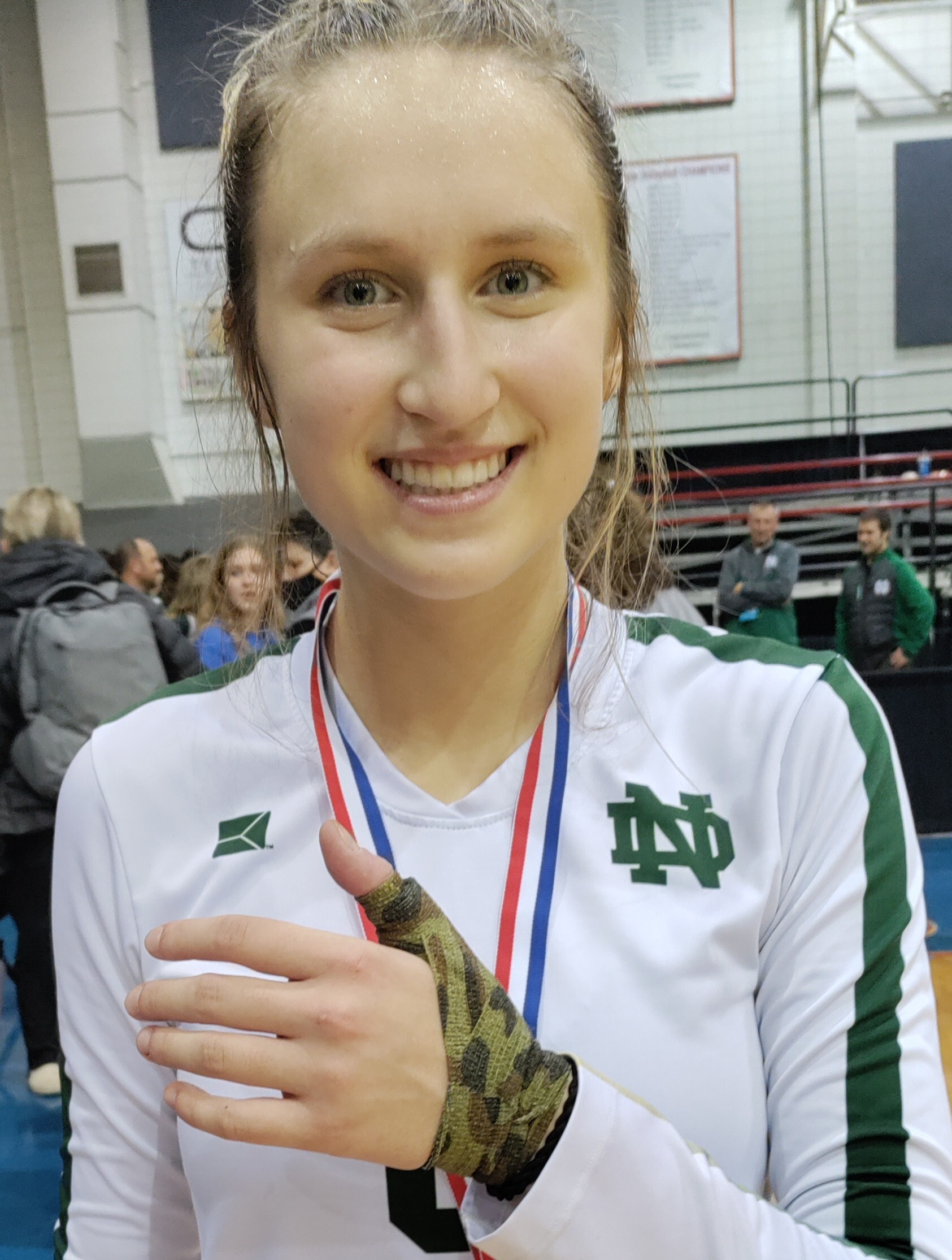 "We're the same group (that won it all last year)," explained Miss Volleyball Ava Brizard. "We know we can rely on each other. We have that unspoken confidence in each other. We just kicked it into another gear."
She set the tone, accounting for 25 kills, nearly half of the team's total of 52, along with 13 digs for some nitty-gritty defense, too. The final scores were 25-18, 22-25, 25-18, 25-19.
"Our goal all year was never to become complacent. We never got lazy. We worked our butts off in every practice," said Brizard, who will take her talents to North Carolina State University next fall.
"Marian has a tradition of winning in volleyball," Cook told this reporter in August in a pre-season chat. "It may not have as many state champions as other schools in the state, yet traditionally we are one of the top volleyball programs. That's something I talk to my kids about. We are a target."
Marian's record of 57-3 combined with 35-5 a year ago adds up to an astounding 92-8.
Notre Dame: The coach does some soul-searching
Betty Wroubel has been coaching volleyball for 27 years, the last 16 at Notre Dame. This year's 68-1 record makes her career record 1,640-330-132 and the second-winningest active coach in the state.
The Fighting Irish have won titles (the others in 2017, 2013, 2007) along with a runner-up finish in 2018. This was the fifth year in a row that Notre Dame was in the final four.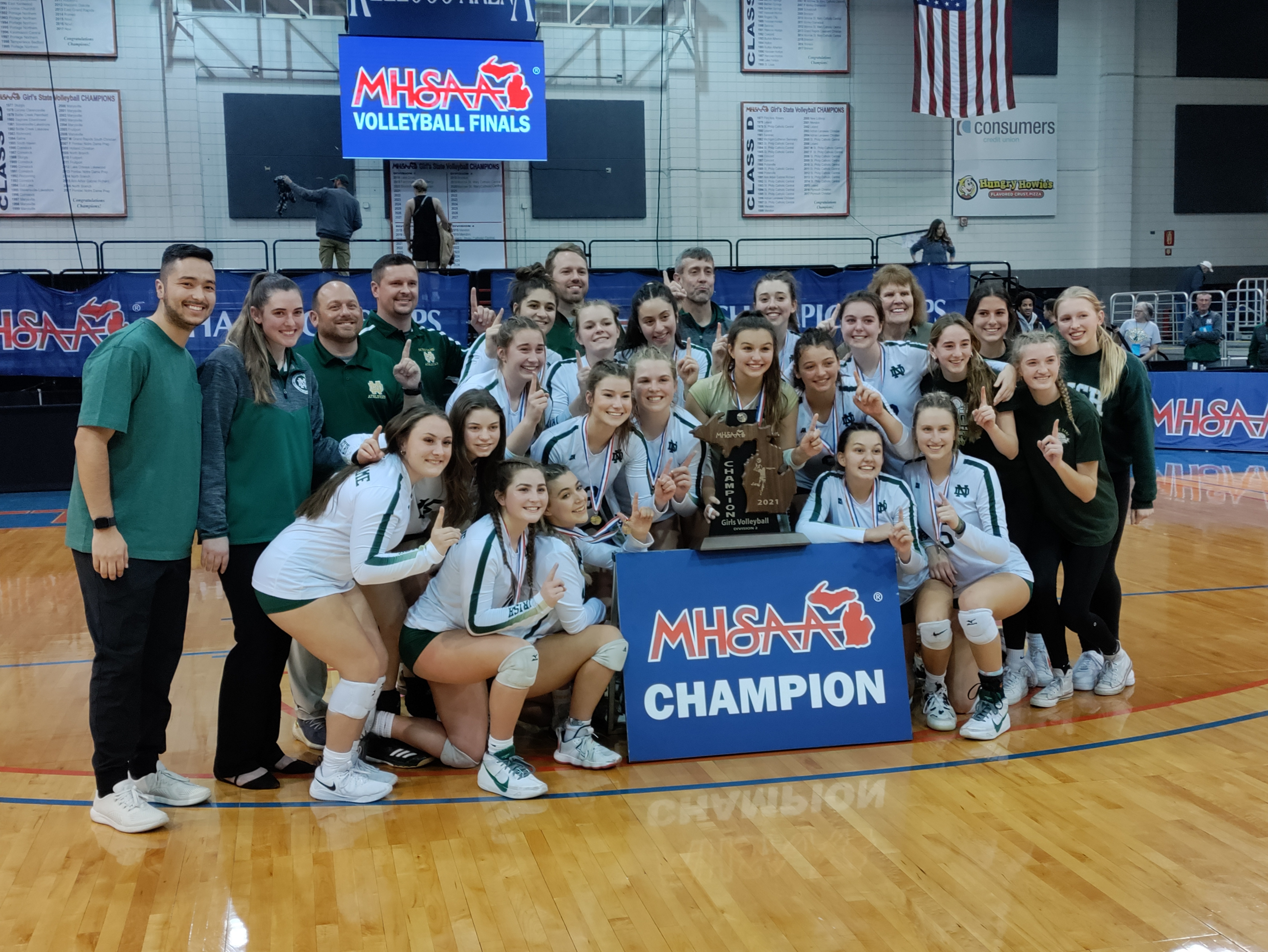 "Anytime you get here, you're excited," Wroubel said. "The kids all work so hard. We push them beyond their comfort zone so they realize they can do things they didn't think they could do. If they come away empty, I feel I let them down in my coaching. I did a lot of soul-searching over the summer about our shortcomings and what we need to do to get over the hump."
Notre Dame won the first two sets by identical 25-17 scores. "Going into the third set," Wroubel said, "I didn't think there was a way we were going to be denied." Senior Josie Bloom confirmed her coach's feeling with a nine-point service for an easy 25-12 win.
"You know, we had a Mass before we left Friday morning (for the semi-final against three-time reigning champ Grand Rapids Christian)," Wroubel said. "One of our players — we call her 'The Professor' — Abby Nellis got up and said, 'We worked hard for four years. We are going to win. I'm not being arrogant. We can do this. We have each other's back. We will go through this.'"
Miss Volleyball nominee Alyssa Borellis had 17 kills and Bianca Giglio 10. Josephine Bloom had 20 digs and Elyssa Wallace 17.
Monroe SMCC: 'We lost touch of our game'
The Kestrels were two-thirds of the way toward a third consecutive Division 3 championship and eighth in school history.
They won the first two sets in convincing style, 26-18 and 25-19, over a Reese squad making its first-ever appearance in a state final. The Rockets squared the match at two sets, 25-15 and 25-21, to set the stage for a decisive fifth set.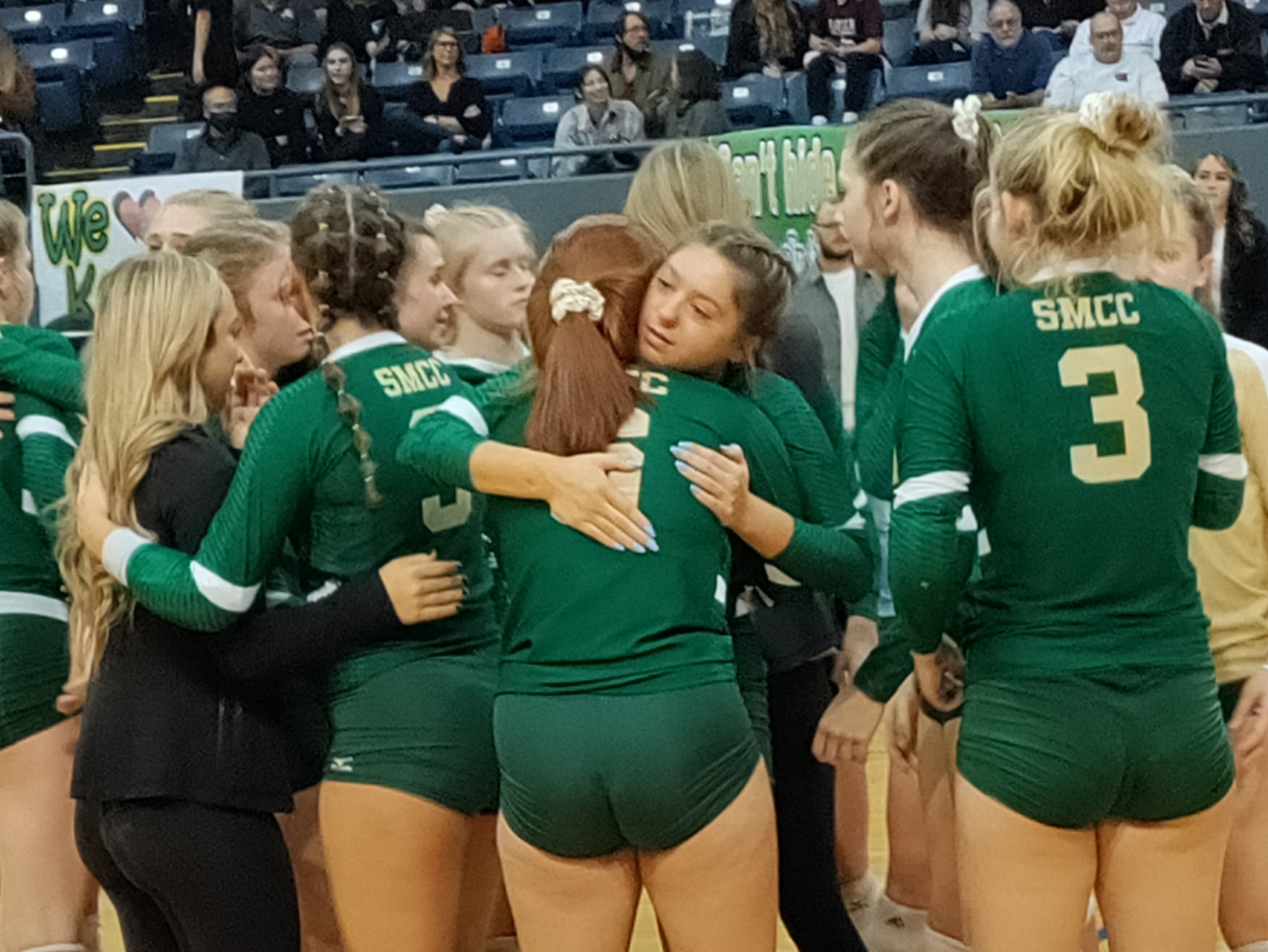 Reese shot out to a 5-0 lead. SMCC shot back for a 5-5 tie. It was nip-and-tuck from that point on with the score tied eight times before Reese won, 16-14.
"We lost touch of our game, the way we play." Kestrels co-coach Cassandra Haut said. "A big part of it is, I tell them, 'Take a deep breath, let's focus on the things that we know. Just kind of refocus on something else, not the nerves or anything else that you're feeling.'
"I am super, super proud of my team and everything they've accomplished this year," Haut said. "They persevered through a lot of different things, and we play a really tough schedule."
Senior Kate Collingsworth delivered 52 assists, Jessica Costlow had 22 kills, McKenna Payne had 21 and Audrey Cousino had 10. Payne also had 29 digs and four aces, while Costlow had 19 digs.
Contact Don Horkey at [email protected]
Copy Permalink