ORCHARD LAKE — Ten years ago, the Orchard Lake St. Mary's athletic department got some notoriety when it installed a red football field.
Now, the school has outdone itself — with a pink hockey rink.
This was no Valentine's Day stunt, however. The Eaglets hosted three games Saturday for cancer awareness, raising money for the Barbara Ann Karmanos Cancer Center, the University of Michigan Rogel Cancer Center for Brain Tumors, and the Beaumont Children's Skandalaris Family Center.
"It's just been a huge team effort," St. Mary's varsity coach Brian Klanow said. "My wife came in with the idea, and she was one of the chairs, and the parents jumped on board. We had a lot of help from our St. Mary's parents and the parents from our association, Orchard Lake United, and certainly a great partnership with Brother Rice."
"I actually stole the idea," said Klanow's wife, Lisa. "My nephew and my son (Carson Riddle and Max Klanow) played in the North American (Hockey) League, and they did Pink in the Rink, and I fell in love with it for the last four years. This year, I told Brian we needed to start it. We had a great group of parents who helped us with it."
From the first steps into the lobby of the St. Mary's Athletic Center, it was clear what the event's intent was. Under a splash of pink balloons, game attendees were able to purchase pink-themed baked goods, or bid on silent auction items that included team-signed hockey jerseys, Red Wings tickets and autographed memorabilia, a PGA golf package, food/wine baskets, gift cards and vacation packages to Chicago, Nashville and tropical resorts. A 50/50 raffle netted a jackpot of $1,810.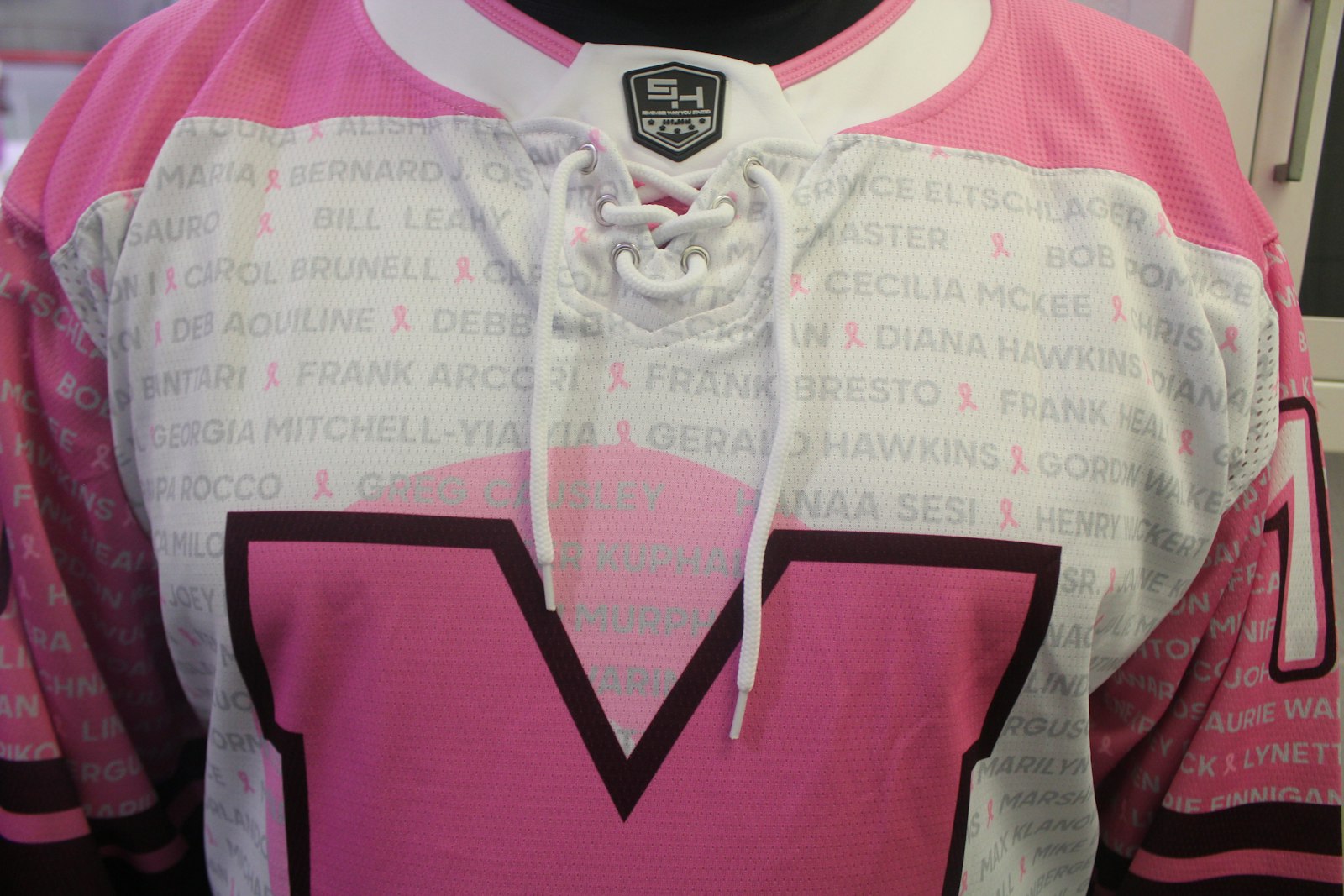 Fans could purchase pink hoodies, t-shirts and hats — most of which sold out early.
Players on both teams were outfitted in special jerseys. The visiting Warriors' orange accents on their road black sweaters were replaced with pink. The St. Mary's home whites were trimmed in pink rather than red, the numbers on the back included a looped ribbon, and the players' name plates were swapped out with the name of a loved one waging a battle against cancer.
"My husband and (general manager) Kurt Kormos put the jerseys together and worked with Brother Rice," Lisa Klanow said. "There's 220 names on these jerseys for St. Mary's — loved ones or survivors or warriors right now. It means a lot to all of us."
Both Klanows lost their fathers to cancer. Brian's dad, Max, died on his 81st birthday in 2019 of complications from prostrate cancer. Lisa's father, Mike Loftus, was 75 when kidney cancer claimed him about two years ago.
Prior to the start of the varsity game, the players from all varsity and junior varsity squads conducted a ceremonial skate-around, holding signs stating "I skate for ____" or "I wear pink for _____" as filled in by the athletes. There was also a ceremonial puck drop with St. Mary's Hall of Fame inductee Eric Roman and Brother Rice cancer survivor Glenda Herb.
Then there was the ice itself, showing a pink tint. It was made by applying a mist of pink paint through a spray wand and refreezing the surface with an upper layer of water.
"Yeah, we had to paint the ice on Thursday," coach Klanow said. "In a normal situation, we could have painted it in an hour, but then it's just building ice on top of it. This one took us about five hours — we had to do it by hand — but we got a big effort out of everybody."
Brother Rice (16-8-0) is ranked fourth statewide among Division 2 teams, and St. Mary's (13-8-1) is ranked third in Division 3. While a typical match-up between them is merely enough to draw people out to the rink, there was an overflow crowd witnessing what eventually became a 2-1 Warriors' victory Saturday night.
The Eaglets drew first blood on Marino Seman's goal just past the halfway point of the game. Seman was fed the puck in the goal mouth by Jakub Kurcab, and found some space to the stick side of Rice goalie Brayden Ingram.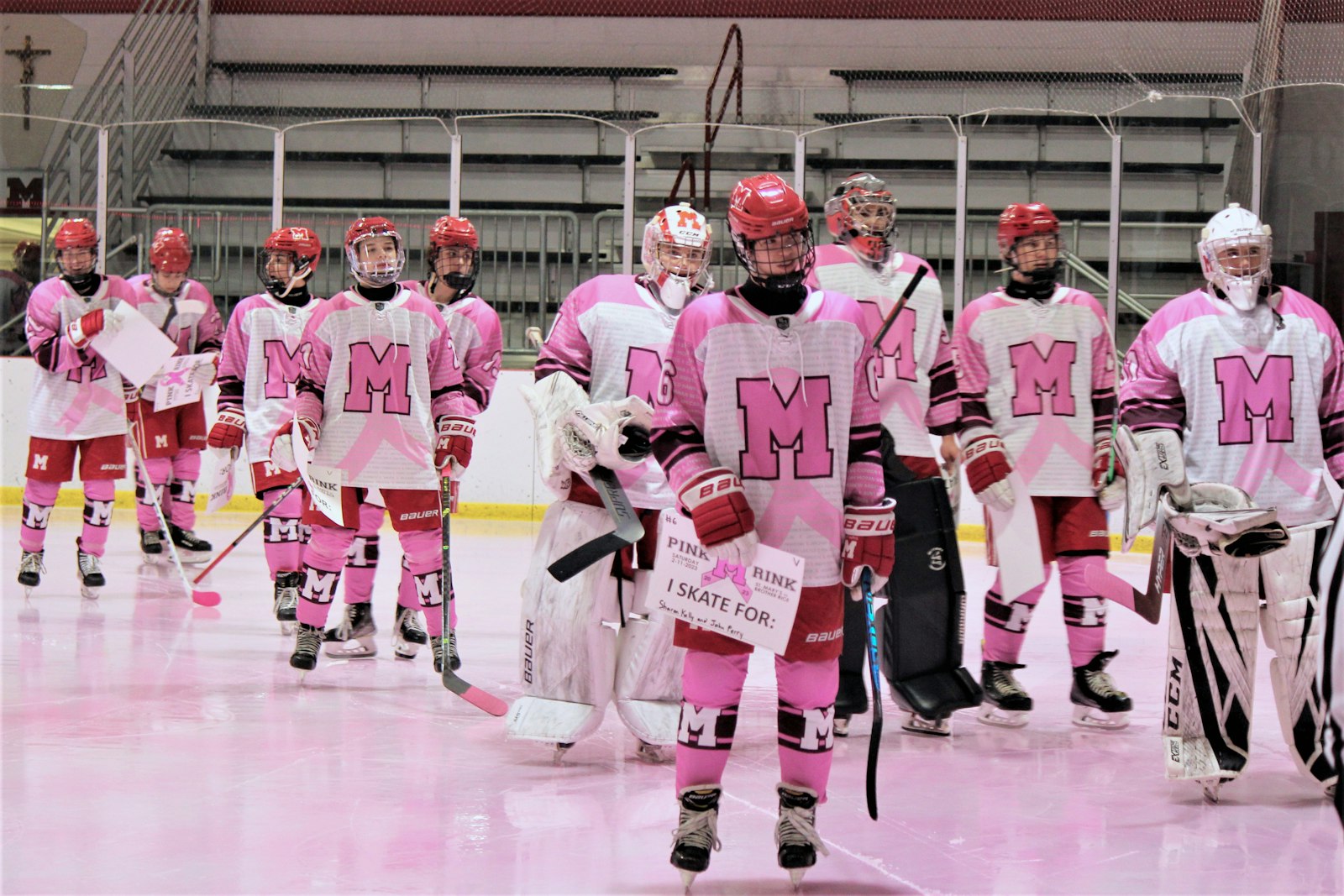 But the Warriors came up big with two third-period goals from Jack Cassidy. On the first, he took a feed from Andrew Marone, squeezed through a pair of Eaglet defenders, and aimed for the far side of the net, tying the game 3:24 into the final period.
Four minutes later, with Rice on a power play, Cassidy netted the game-winner from in front of the net after taking a pin-point centering pass.
"It was just a great pass in front of the net by Johnny Kunz, and they don't get much easier than that," Cassidy said. "I mean I had the whole thing (open to shoot at). If I had missed that, I don't know what I would have done. That's just how those ones go."
One of the Warriors' four captains, Cassidy played for his late grandparents, Bill Cassidy and Penelope Nichol, who each passed away from cancer. He scored "a goal for each of them" and couldn't be happier with the result.
"It was great," he said. "We said beforehand that there's going to be a lot of stuff before the game but not to get all distracted with it. We've got a game to play, we've got a game to win. It started out a little sluggish with all that stuff, but it started to come together in the second and third period, and we came out with the win."
And he was pretty pumped to see the temporary hues on his Brother Rice sweater.
"These jerseys are pretty sweet. I don't mind it not being orange," he said. "I don't know if we get to keep them, but it was an awesome night all together. The atmosphere was incredible. The parents were all here setting this up, and it was great just to see everybody come together for something like that. It's really special."
"It was a great event; all the people involved with putting the event together did a great job," added Brother Rice coach Kenny Chaput. "Brian and his wife Lisa spearheaded the whole thing, and parent groups on both sides did a tremendous job. It was an awesome event, and it was great to be a part of it, for sure."
"I am just overwhelmed by the support and everyone coming out," Lisa Klanow said. "This is something that we want to do with Brother Rice every year, make it an annual Pink in the Rink, and continue to raise money for a really great cause."
Copy Permalink