Caruso family cherishing every moment with 1-year-old Gianna as St. Clare of Montefalco community rallies to support
GROSSE POINTE FARMS — The Caruso family praised life, joy and faith as their daughter Gianna celebrated her first birthday in their Grosse Pointe Farms backyard on a brisk mid-October Saturday afternoon.
Nearly 19 months ago, doctors alerted Colleen Caruso that her pregnancy was in jeopardy. It was even suggested Gianna's life wouldn't have much value as she was diagnosed with a rare chromosomal abnormality called Edwards syndrome. Colleen and her husband, Dominic, were told the pregnancy was "incompatible with life."
"They said that sadly, this pregnancy would likely end with a miscarriage," Dominic Caruso said. "If she did make it to term, almost certainly she would be stillborn. If she wasn't stillborn, most children with this condition would only live for a matter of hours, a week at most."
He also noted that only 5 percent of children with Edwards syndrome will see their first birthday.
The Carusos were determined to allow God to lead his plan for Gianna.
"We continued the pregnancy because we are firmly pro-life," Colleen Caruso said. "Faith has always been a part of our life, but at times it would wane. With our faith being tested, we questioned why this would happen, and why us, but we did have our faith to lean back on."
Colleen said she and Dominic prayed constantly they would have an opportunity to meet Gianna face to face, as well as share her with their family, friends and the world.
"We prayed for wisdom," she said. "We prayed for guidance. The power of prayer is remarkable and is real."
And its effect on the community of St. Clare of Montefalco Parish was amazing.
This year, the couple joined the Grosse Pointe Park parish and asked Fr. Andrew Kowalczyk, CSMA, to baptize Gianna.
"They told me their story and how they love their little girl and how they accept the situation," Fr. Kowalczyk told Detroit Catholic.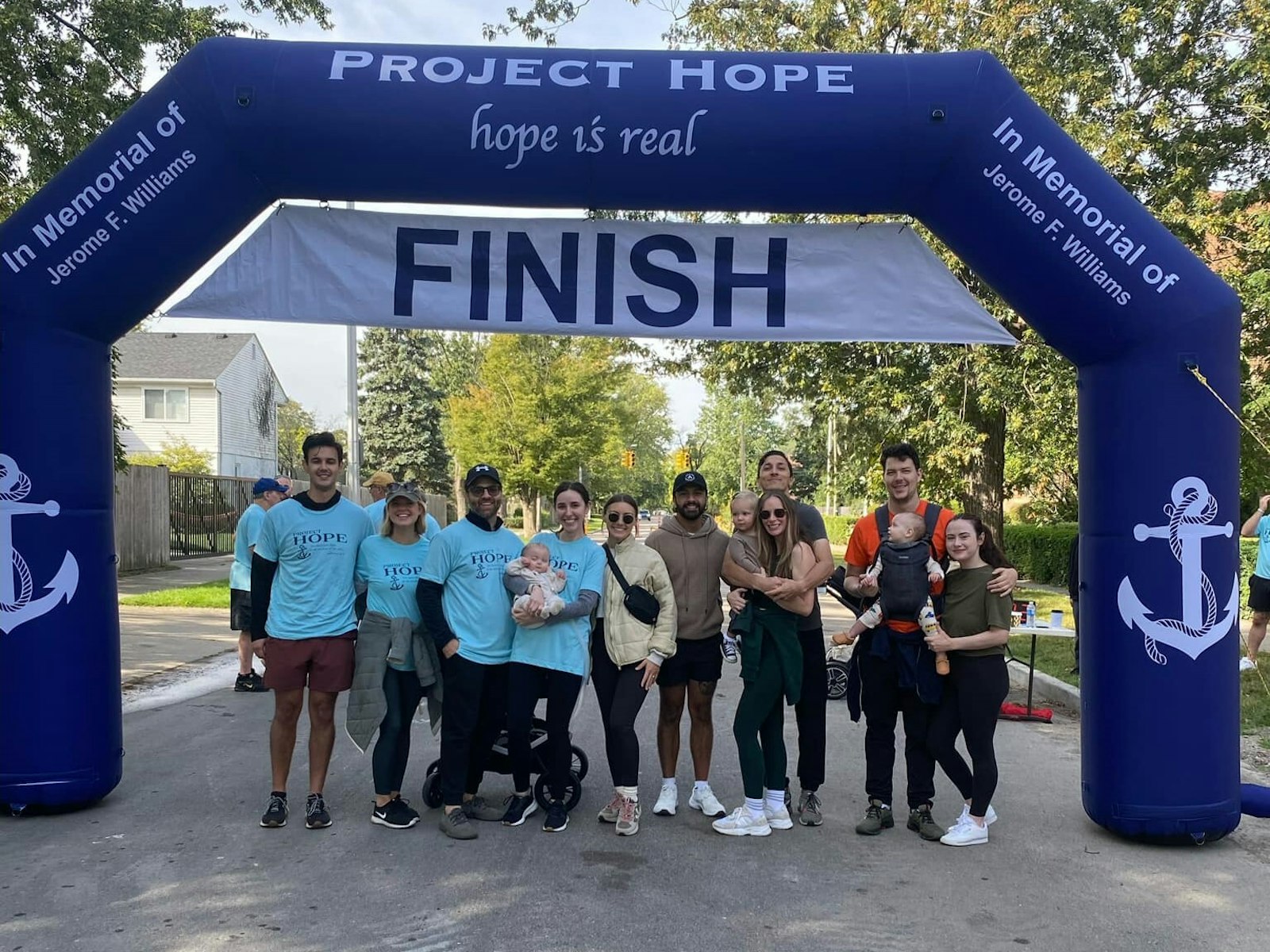 Fr. Kowalczyk completed Gianna's baptism, and he also proposed that the Caruso family be the recipient of the parish's annual Project Hope "5K and Pray" mission. The run/walk and Eucharistic adoration fundraiser each year raises support for someone in the community who is in need.

"This young couple chose life, knowing that it is not going to be easy, but respecting the gift that God had given them. Despite difficulties and challenges, God gives us the courage to move forward," Fr. Kowalczyk said.
The annual event, which took place Sept. 16, is also a reminder to the parish community of the importance to respect and cherish life in all its stages, especially ahead of Respect Life Month in October.

Lisa Vismara, a Project Hope "5K and Pray" team member, said after meeting the family, the Carusos were the right recipient for this year's fundraiser.
"When we first met them, we had the overwhelming feeling that they were at peace, and that was inspiring for my husband and myself," Vismara said. "They were just so joyful and at peace with an unknown path."
The event is about a community helping the recipients face those tough challenges.
The Caruso family lead the September event, which is a combination of a 5K run, walk, Eucharistic adoration and a dinner in the church social hall. The event raised nearly $20,000 to help with the family's medical bills and expenses.
Because Gianna requires full-time care, Colleen recently left her job. Gianna has a tracheostomy connected to a ventilator to help her muscles and keep her airway open. Gianna's life is an inspiration, she said.
"We are working on getting her stronger, and she is making so many incredible strides," Colleen said. "We want others to know how much value her life has. These kids are filled with love, and they deserve a fighting chance."
Copy Permalink
Pro-life
Parish life