WARREN — "As the nation emerges from the COVID-19 pandemic, the state of play for children and adolescents in sports has shifted, with greater appreciation by parents and policymakers for the physical and mental health benefits of staying active — and a fresh set of challenges and opportunities is tactically making that happen."
The opening paragraph of a "State of Play 2022" report issued last November by the Aspen Institute of Project Play forms the basis of a two-pronged $4.5 million campaign Regina High School is undertaking for an athletic complex for track, lacrosse, soccer and softball.
"We're doing this not for just Regina but for the community that has been underserved for women and children in sports," school president Mary Treder Lang said. "This complex is long overdue in this community."
About the other goal of the campaign, athletic director Emily Frikken said, "I'm focusing on the word 'pride,' pride in showcasing our athletes' talents on high-quality facilities."
The Diane Laffey Athletic Complex is named after Laffey, who served as athletic director and softball and basketball coach since joining the Regina staff in 1970 until her retirement last summer, an unprecedented total of 52 years.
It was softball where Laffey gained legendary status. She won 1,251 games, the most of any woman coach in the state's history, and seven state championships. She is the state's second-winningest coach in girls basketball with 668 victories.
During her tenure as athletic director, the Saddlelites won 39 CHSL titles in seven sports.
In addition to local, state and national laurels she received, 14 Regina athletes have been inducted into the Catholic League Hall of Fame.
"One of Diane's wishes the whole time she was here," said Patricia Martin, senior director of advancement, "was having a new field. She was all about sports and promoting women in sports. This will be her legacy."
"I want this to come to fruition as soon as possible," Laffey said.
Martin, who is in charge of the fundraising campaign, said the groundbreaking will take place in June 2024, but "we'll have a better idea by the end of this year."
Initial construction will concentrate on building an eight-lane, quarter-mile track around a synthetic-turf field for soccer, lacrosse and field hockey, a grandstand for 1,100 spectators, and a press box.
A new softball field, rest rooms and concessions will follow.
Students were informed of the campaign at a March 1 assembly coinciding with Women's History Month. Part of the program included the background of the 50-year history of Title IX, the federal anti-discrimination, civil rights law best known for its impact on high school and collegiate athletics.
Students heard the inspiring story of Kathrine Switzer, who in 1967, became the first woman to run the Boston Marathon as an officially registered competitor.
Switzer later revealed: "We checked the rule book and entry form; there was nothing about gender in the marathon. I filled in my AAU number, plunked down $3 cash as entry fee, signed as I always sign my name, 'K.V. Switzer.'"
It was not until 1972 that the Boston Marathon established an official women's race.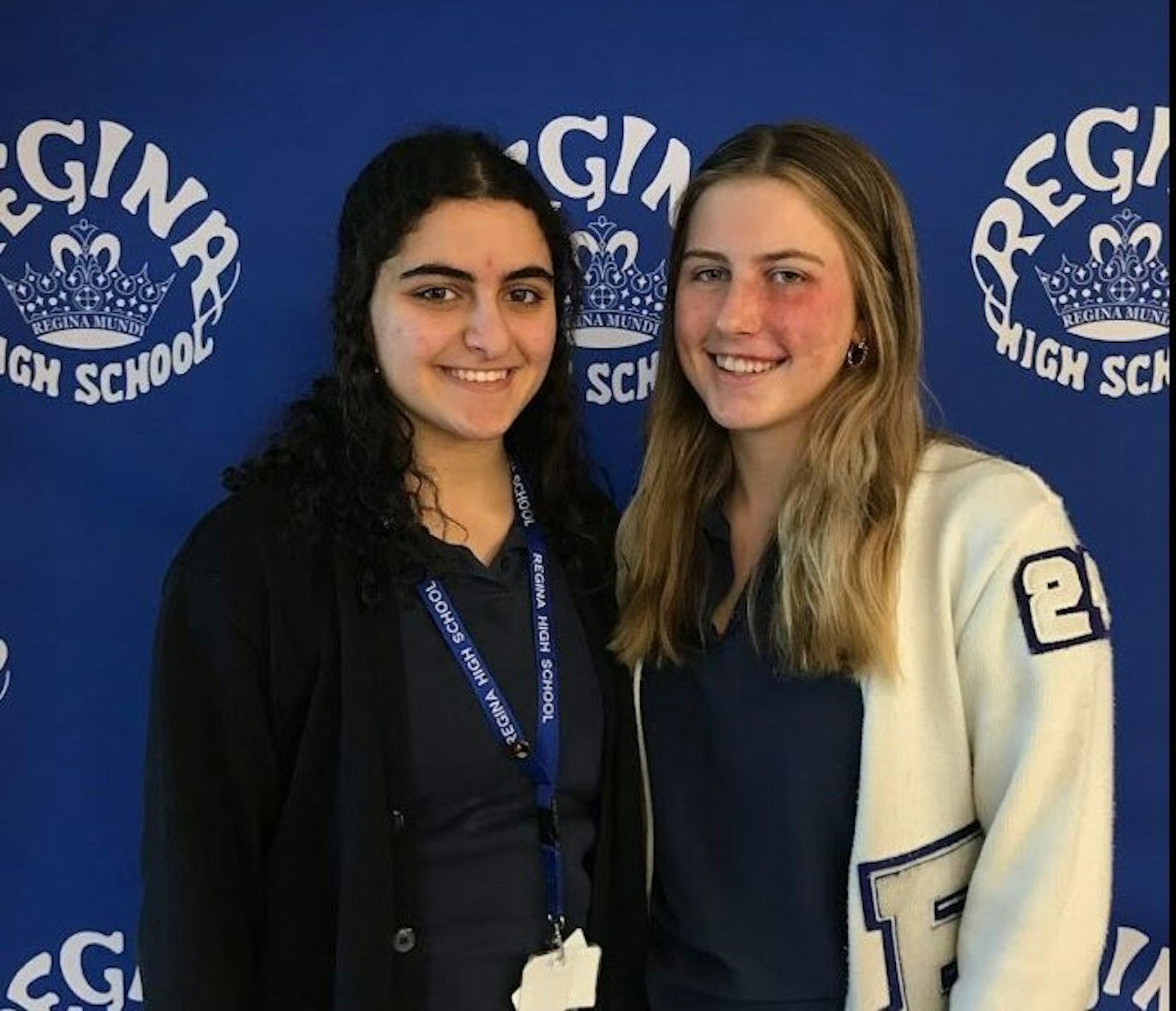 The complex won't be ready for juniors Sabrina Kiryakoza and Kennedy Roskopp before they graduate, but they have an appreciation for what it means for Regina's future.
Kiryakoza, who plays volleyball and soccer and runs cross country and track, said, "Having a home track to host events will give us a sense of belonging having a place we can call our own."
Roskopp, who runs cross country, track and plays basketball, said, "Traveling to away games and seeing other facilities, I wish we could have our own. I know our school works really hard but seeing it come together makes me feel so confident."
Frikken, who was in the first class that graduated in 2008 from Regina's current location in Warren after its move from its original site in Harper Woods and has succeeded Laffey as athletic director, said the proposed complex "will serve not only Regina but the community as well."
For a number of years, more than 200 fifth-through-ninth grade girls have participated in Regina's popular two-week summer camps in June and July.
"We offer quality instruction from our coaches and players and former athletes. On a quality facility, with better playing surfaces, we will attract more people. We will rent out the new complex to the community, to outside organizations," Frikken said.
She has already received an inquiry from a soccer club to use the facility for its games. A local youth sports organization that sponsors community-based programs for kids has expressed interest in renting possibilities.
"We will not strictly be limited to the Regina household," she added. "We will be open to the community."
Of course, for nine months of the year, Regina students will be the major beneficiary of the complex.
"About 70% of our students play at least one of the 14 sports Regina offers," Frikken said. "What a joy it will be when they can come out the back door and be ready to practice or play."
Cross country runners practice running through the neighborhood or at parks "because we don't have a trail on campus," Frikken said.
The track team practices at nearby Warren Woods Tower. "We don't have home meets," she said. "There are some girls who don't play certain sports because of the travel. For those underclassmen who don't have a ride to Tower or for tennis practices at Macomb Community College, this is a factor they have to think about before committing to a sport. It's a struggle for parents, too. They know they'll always be traveling to meets."
Frikken noted that the track team "doesn't have senior nights like other sports, but some of the schools in the league graciously allow us to celebrate ours on one of the last meets. But it's a different experience."
The soccer, lacrosse and field hockey teams play at the school, Frikken said. "But it's on grass, bumpy, uneven fields. We have a drainage issue at times."
An additional softball field will allow Regina to have practices and games at the same time for varsity and junior varsity teams, Frikken said.
"It will also offer the possibility that Regina could host high-caliber games such as the state finals," she added. "The state requires that a second field be available for warmups during the tournament."
Frikken described the campaign as an "investment in our student-athletes and the community in women sports."
Junior Kennedy Roskopp said, "I know I'll be a proud alum when this happens but it will be there for future Saddlelites, maybe even for my daughter someday."
Contact Don Horkey at [email protected].
Copy Permalink