All-girls Catholic high school's artwork chosen from among 54 applicants for annual exhibit honoring Dia de Muertos
DETROIT — Spanish and art students from Regina High School in Warren had an opportunity to see their creativity displayed at the Detroit Institute of Arts this month in rooms adjacent to some of art history's masters such as Van Gogh, Diego Rivera and Caravaggio.
Regina students, alongside three of their teachers, took part in the DIA's 11th annual installment of "Ofrendas: Celebrating el Día de Muertos," an exhibit that showcases ofrendas — altars created to honor the souls of the deceased — created by local artists and community members. The tradition is popular in Mexican and other cultures in the days leading up to All Souls Day, Nov. 2.

In the spring, Regina teachers submitted their concept, a four-sided woman, called the "Mexican Heritage of Inspiring, Resilient Women Across Time," and this fall, students in Regina's Art 2 and Spanish 2 classes brought the ofrenda to life.
Per the DIA's exhibit brochure, "Día de Muertos, or Day of the Dead, is celebrated from Oct. 31 to Nov. 2 in Mexico and other Latin American countries, as well as in some regions of the United States. As part of this tradition, many people create ofrendas (offerings) — altars to honor those who have passed away, as the dead are believed to return to visit their living relatives at this time of the year."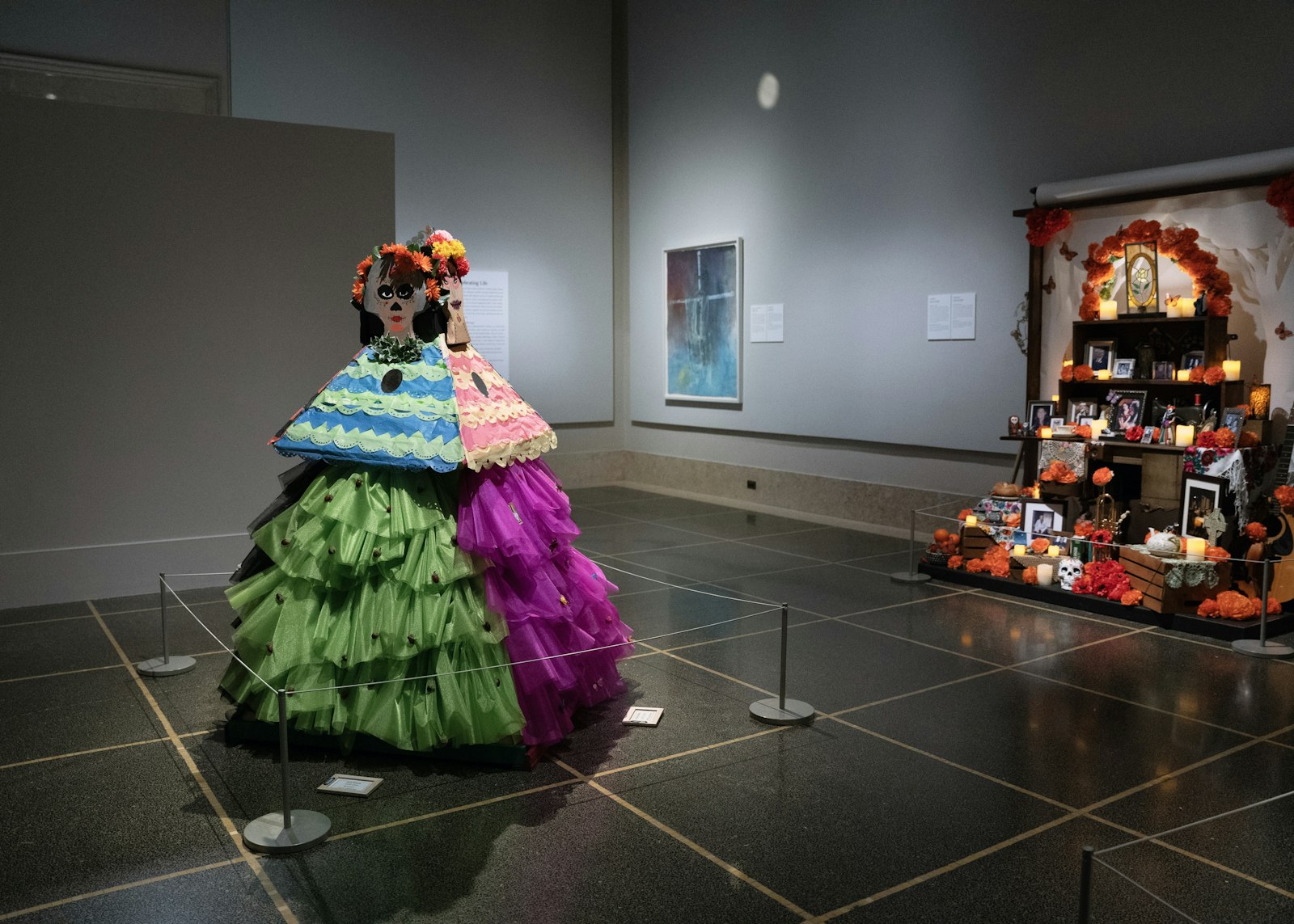 The Regina students created an ofrenda with four prominent Mexican women: feminist Sor Juana Inés de la Cruz (1648-1695); botanist Ynés Mexía (1870-1938); artist Frida Kahlo (1907-1954); and musician Selena Quintanilla Pérez (1971-1995).
The exhibit, which will be open until Nov. 5, features 13 different ofrendas — the Regina students were chosen out of 54 applications, art teacher Patricia Willoughby told Detroit Catholic. The exhibit has been open since Sept. 23.
"It is such an honor to have been chosen — it might not have looked like a professional artist's piece of work, but I thought our take on the ofrenda, to memorialize these important women in history, was just different," Willoughby said.
Because their application was accepted over the summer prior to the school year, Willoughby and the other teachers set to work on the ofrenda before their students returned. The DIA offers a $500 stipend to exhibit participants to use for materials, and Willoughby and her husband built the armature, the wooden base, in their home garage.
The students spent the beginning of the school year bringing the ofrenda to life, Willoughby said.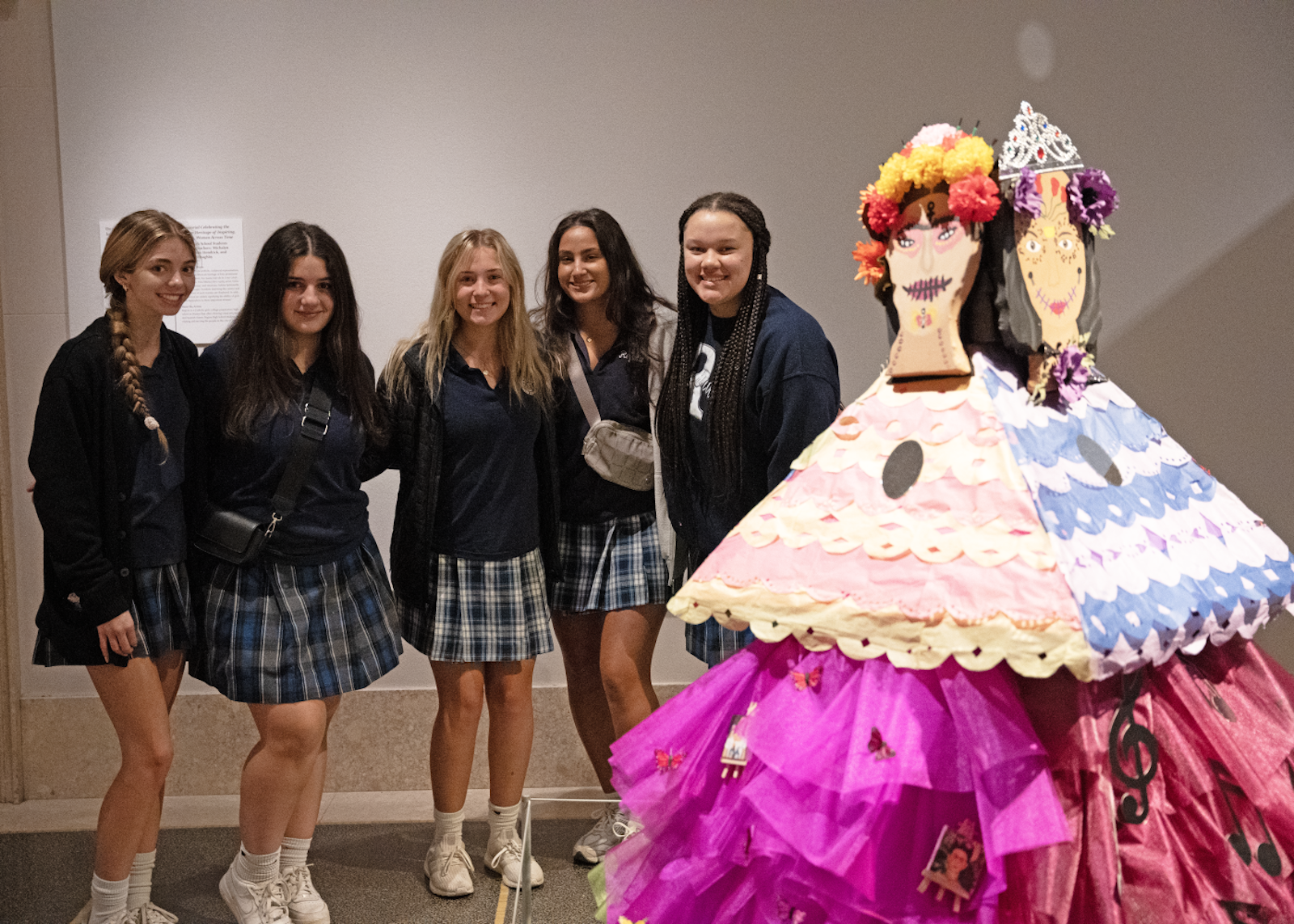 "The girls first did research on the woman they had chosen — which was random; they picked names out of a hat," Willoughby explained. "I developed some questions for them to answer: 'What was she known for? What was her contribution to society? What kind of symbols could you use to represent this woman and her career, and what colors?' So then we took all that research, and they tried to incorporate symbols into the facial painting, La Calavera, that they do for the Day of the Dead ceremony."
The students thoughtfully and carefully incorporated aspects of each woman's life into the makeup design, Willoughby added. For example, on the botanist, the art students incorporated vines, leaves and flowers into her makeup.
"I did Frida Kahlo, and she was just very strong and feminine," Regina senior Yasmeen Sokol told Detroit Catholic. "She really liked her unibrow, and that was pretty, just like a bold statement, so I made that very visible, and then I put butterflies to (represent) her fertility."
Furthermore, below each face, there was a small mirror meant to provide a reflection for the students of themselves in the iconic women.
"We wanted that to be a symbolic part of the ofrenda so young women, in a sense, could see themselves in pursuing a career that maybe broke gender stereotypes or some type of career that would be really important for women to explore," Willoughby added.

As an all-girls Catholic school, it's important to teach the students about significant women in history, Melanie Hendrick, one of the two Spanish teachers involved in the project, alongside Spanish teacher Michalyn Gret, told Detroit Catholic.
"We chose four different artists that are very significant and all women, and at an all-girls Catholic school, they had the opportunity to research each of those women and see how each of those women was very significant in a career," Hendrick said. "Our girls had an experience of a lifetime; they will always remember that they had an ofrenda at the DIA."

Copy Permalink
Catholic schools