In lieu of ordinations on vigil of Pentecost, Archbishop Vigneron inaugurates special Year of Prayer for Priestly Vocations
DETROIT — On the vigil of Pentecost, the Archdiocese of Detroit is usually joyously celebrating the ordination of men to the priesthood.
That's not the case this year.
Rather than despairing that fact, however, Archbishop Allen H. Vigneron led another solemn liturgy June 4 at the Cathedral of the Most Blessed Sacrament: a Holy Hour to inaugurate a Year of Prayer for Priestly Vocations in the archdiocese.

"This is one of the great challenges that we face — we know that God in His love for the Church will always call a sufficient number of priests for our service," Archbishop Vigneron told priests and lay faithful gathered at the cathedral Saturday morning. "We really don't have a calling shortage or a vocations shortage. We have a hearing shortage, an audition shortage. And so it's so important for us to pray that those who are called receive this opportunity."
The Holy Hour included readings from Sacred Scripture, a homily delivered by Archbishop Vigneron and exposition of the Blessed Sacrament.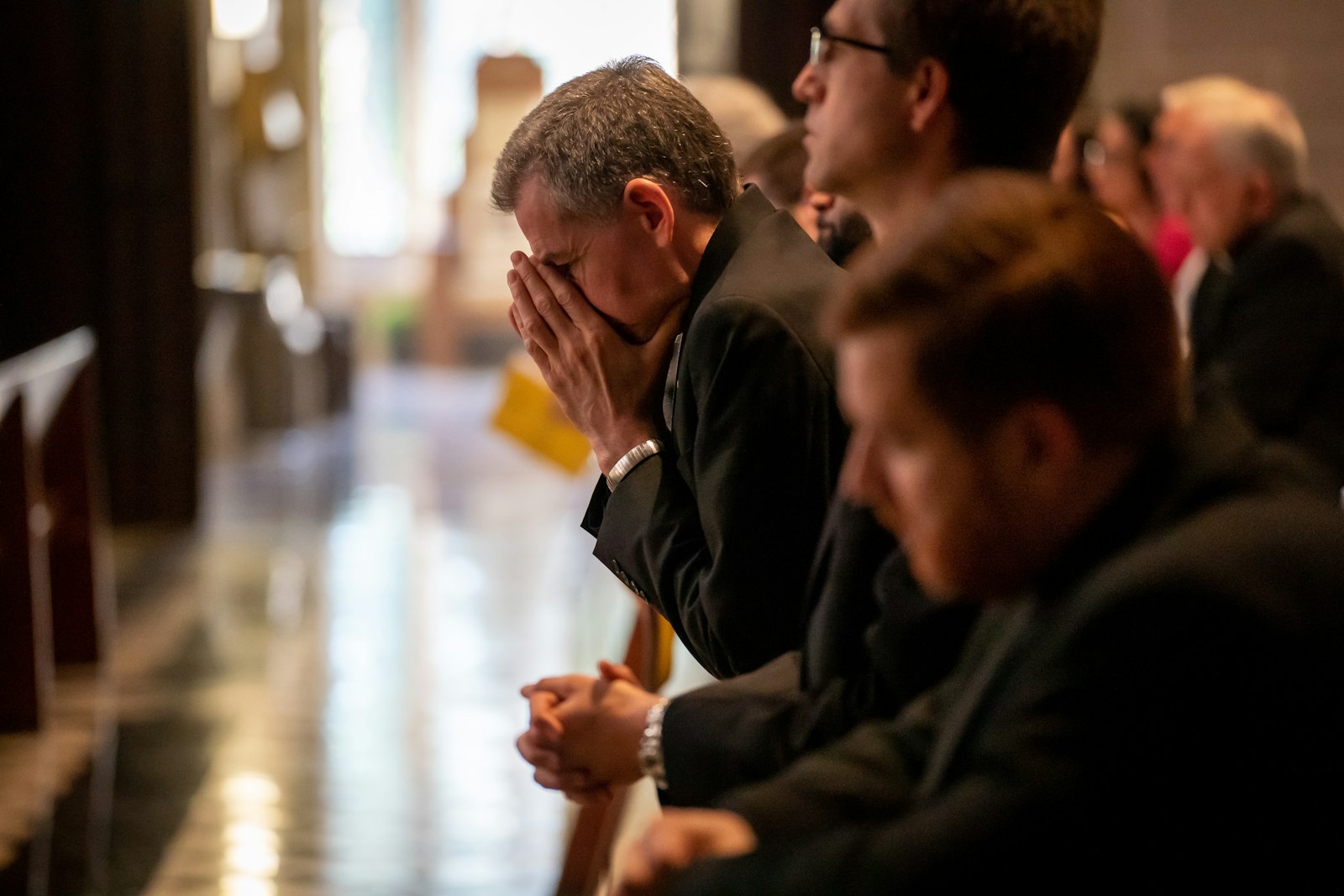 Praying alongside the archbishop were many of his fellow priests, including Fr. John Dudek, associate pastor at the Church of the Divine Child in Dearborn, one of the most recently ordained priests in the Archdiocese of Detroit, being ordained in 2021.
Fr. Dudek, 56, told Detroit Catholic it's never too late to respond to God's call to the priesthood. He would know.
Fr. Dudek first heard God's voice back in high school, and entered seminary after graduating. However, he left two years later, got married, had two daughters and enjoyed a career as a teacher. After Fr. Dudek's marriage was annulled, he said, his daughters encouraged him to reconsider whether God might still be calling him to the priesthood. He dismissed the thought, but began considering becoming a permanent deacon.
"(I went to) my spiritual director and asked him about becoming a permanent deacon, and he asked me about becoming a priest. I said, 'I'll tell you what I told my daughters: You're crazy. I'm too old. I'm divorced. And I've got two daughters,'" Fr. Dudek said. "Six and a half years later, here I am celebrating my first anniversary as a priest for the Archdiocese of Detroit."
On Friday, Archbishop Vigneron released a new pastoral note, titled "Forming Men of the Hearts: A Pastoral Note on the Year of Prayer for Priestly Vocations." The archbishop encouraged those present at the cathedral to read the note, which calls on clergy, laity and families to pray and foster a culture of vocations.

"Every prayer is a mystery because we pray under the impulse of the Holy Spirit, as St. Paul says. Prayer is something more than simply human," Archbishop Vigneron said.
Prayer is a command of Jesus Christ, the archbishop said, and it's the Church's responsibility to pray that the Lord sends laborers for the abundant harvest.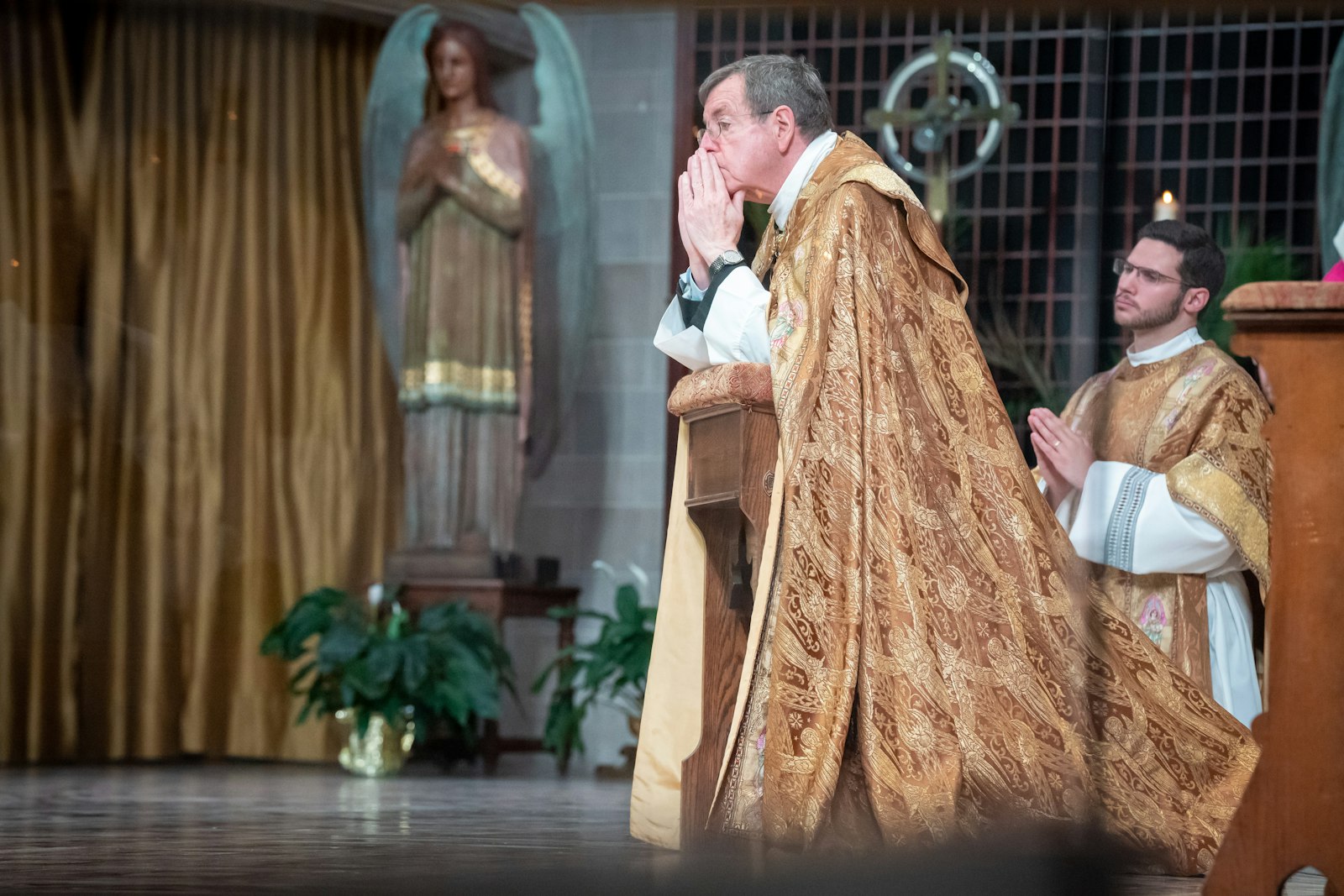 "(Our) prayer is an acknowledgment that we are looking for something that is of grace," Archbishop Vigneron said. "It's a recognition that we cannot do this principally by ourselves, but that what we look for is a gift from God, a gratuitous gift that we do not deserve."

The archbishop urged the faithful to pray particularly that the Holy Spirit will give men who are attentive to their calling the gift of courage.
"The need for a man who will become a priest to be courageous is made very clear in the Sacred Scripture," Archbishop Vigneron said.
Jesus has one of the strangest recruitment slogans, the Archbishop admitted: "I am sending you out like lambs in the midst of wolves," he said, quoting Luke 10:3. It's a calling that requires boldness, he added.
"At the end of his life, as he was preparing for his Passover, (Jesus) said this to the apostles: 'If you belong to the world, the world will love its own. But because you do not belong to the world, and I have chosen you out of the world, the world hates you.' It takes courage to be hated by the world," Archbishop Vigneron said.
"On one or another occasion, a man may be willing to endure contempt, but to be hated by the world, by the powers that be, by the elite culture, by media, takes great courage," he added, "a courage that no man by his own strength really could summon. (It's a) courage that only can live in the heart of Jesus, but can be in the hearts of those called by Jesus if it is enkindled in them by the Holy Spirit."
The courage needed to answer the call of priesthood comes from the power of the cross, Archbishop Vigneron said.
"It's the courage to say, 'Father, into your hands I commend my spirit. I commend my deepest longings, I commend my highest aspirations. I commend the fact that I am not competent to fulfill by myself the mission you have given me.' (It is) the courage to be with Christ in the garden of Gethsemane," the archbishop said.
Approaching Pentecost without any ordinations sharpens one's sense of the need to pray, the archbishop said.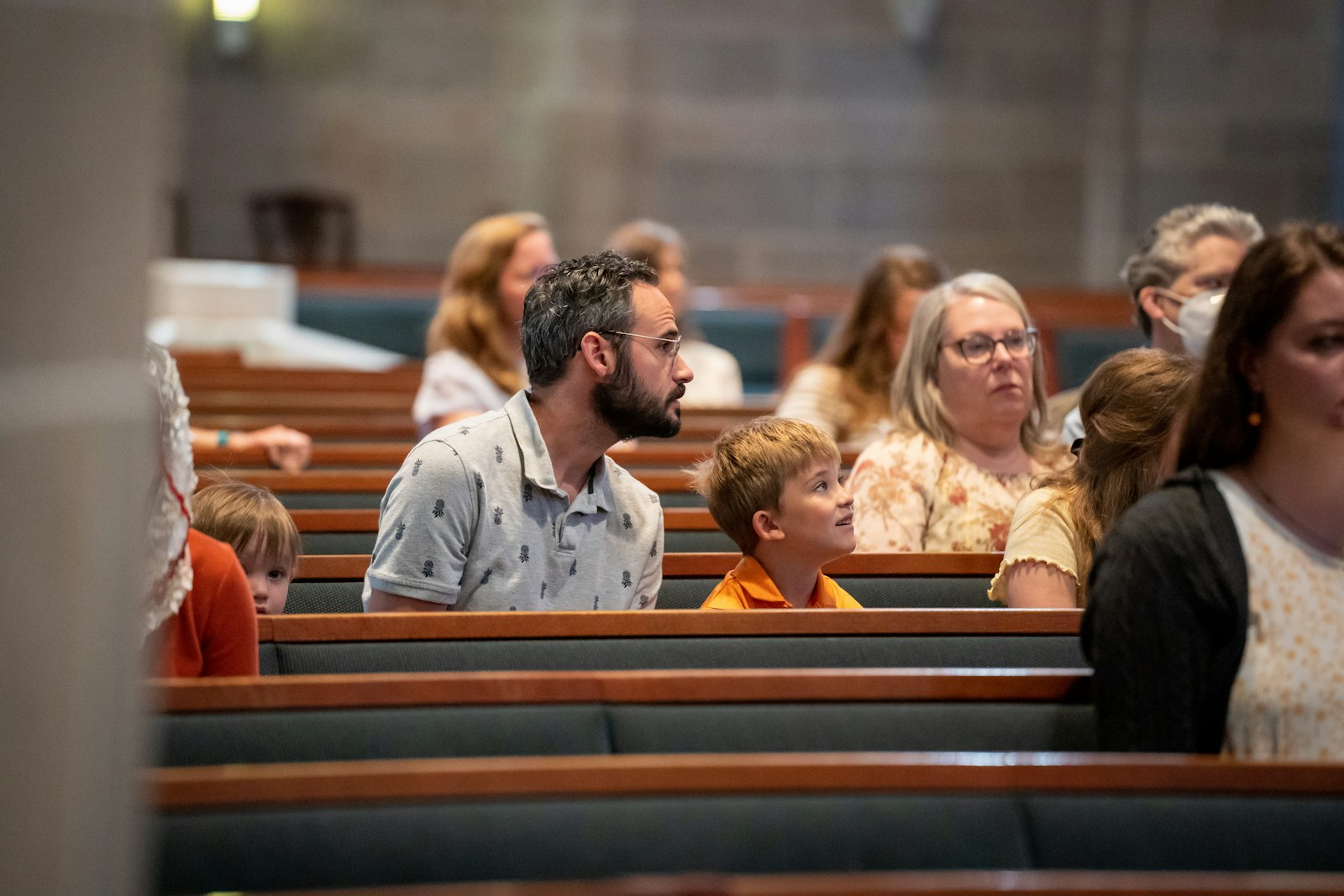 As he was praying before the Blessed Sacrament during the Holy Hour, Fr. David Pellican, associate pastor at Divine Child, said he was praying for specific young men from Divine Child High School whom he thinks may have a vocation to the priesthood.
"I think they may have a vocation and just praying that, again, they would have the courage to respond if that was what God was calling them to do," Fr. Pellican said. "I was struck by the archbishop's words about courage today; it really hit home."
Fr. Pellican, who was ordained in 2020, said he heard his own calling first when he was 10 years old, but that he didn't want to hear it, especially as he entered high school.
"I did all I could to kind of shove that idea out of my head, so I know what (the archbishop) means when he says men need time for reflection and recollection and quiet time," Fr. Pellican said. "It was on a silent retreat that finally I was able to say, 'I think this is from the Lord, and the Lord wants what's best for me.' So following this, it's ultimately going to be for my own life's fulfillment, as well as His glory.'"

Parishes and individuals can participate in the Year of Prayer for Priestly Vocations by hosting monthly holy hours, praying for an increase in vocations during the Prayers of the Faithful at Mass, fasting or abstaining from meat on First Fridays in honor of the Sacred Heart of Jesus, and praying the Luminous Mysteries of the rosary for priestly vocations.
Further resources for parishes, schools, religious education programs, families and individuals can be found at www.prayforvocations.com.
Year of Prayer for Priestly Vocations prayer
Heavenly Father, Lord of the Harvest,
call forth vocations to the priesthood
from our archdiocese and families.
Jesus, Eternal High Priest,
give us men willing to sacrifice and serve.
Make their hearts after your own Sacred Heart.
Holy Spirit, Everlasting Love between the Father and Son,
strengthen, inspire, and set men on fire with divine charity.
Grant them the courage to say yes to their vocation.
Holy Mary, Mother of God, Mother of priests,
comfort and protect your sons as they discern their call.
With Saint Joseph, may they know your love and companionship
as they deepen their relationship with Jesus.
Immaculate Heart of Mary, pray for us.
St. Anne, pray for us.
St. John Vianney, patron saint of priests, pray for us.
Copy Permalink
Vocations
Priesthood