ROCHESTER HILLS — On paper, Bloomfield Hills Cranbrook-Kingswood went into last weekend's MHSAA Division 3 state championship meet at Oakland University ranked as the second-best team, behind the two-time defending champion, East Grand Rapids.
But when Cranes coach Paul Ellis studied the entries, he had a different outlook altogether and sensed that it was possible for the Cranes to win the title.
"I'm one of those coaches, I score out the psych sheet (advance meet entries)," he said. "We were down 37 points going into prelims (first round). Then I scored out the prelims and we were 11 points down."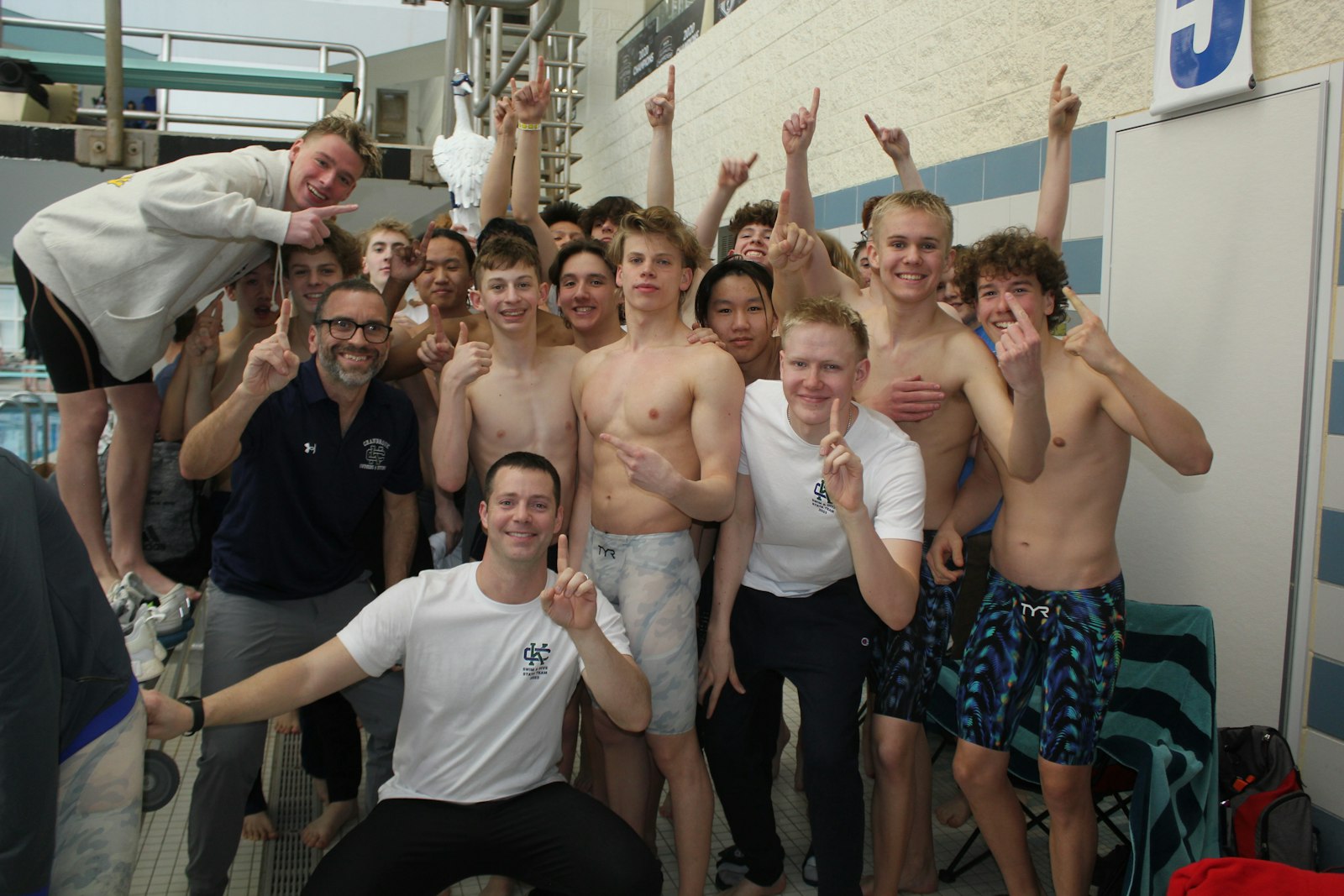 It turned out that Cranbrook made up the difference in the final session's first event — by the narrowest of margins. A.J. Farner, Ethan Schwab, Sean Lu and Joe Wiater won the 200-yard medley relay in 1:33.06 — finishing just one-hundredth of a second ahead of East Grand Rapids.
"After we won that first relay, that was a 12-point swing," Ellis said. "We kind of got that snowball rolling."
At the end of the meet, Cranbrook topped the field with 271 points, narrowly ahead of East Grand Rapids, which had 259. Yes, that was a 12-point final margin, and Cranes won their first state title since a four-year string from 2014-17.
Schwab spearheaded the effort by figuring in three of the team's four first-place finishes. Beyond the relay, he was the meet's only double winner, taking the gold medal in the 200-yard individual medley (1:48.63) and the 100-yard breaststroke (54.31). Both of those performances made the automatic All-American benchmark times.
Robbie Sarle, Christos Tzoumakas, Wiater and Will Farner earned Cranbrook's other gold medals, winning the 200-yard freestyle relay (1:27.33).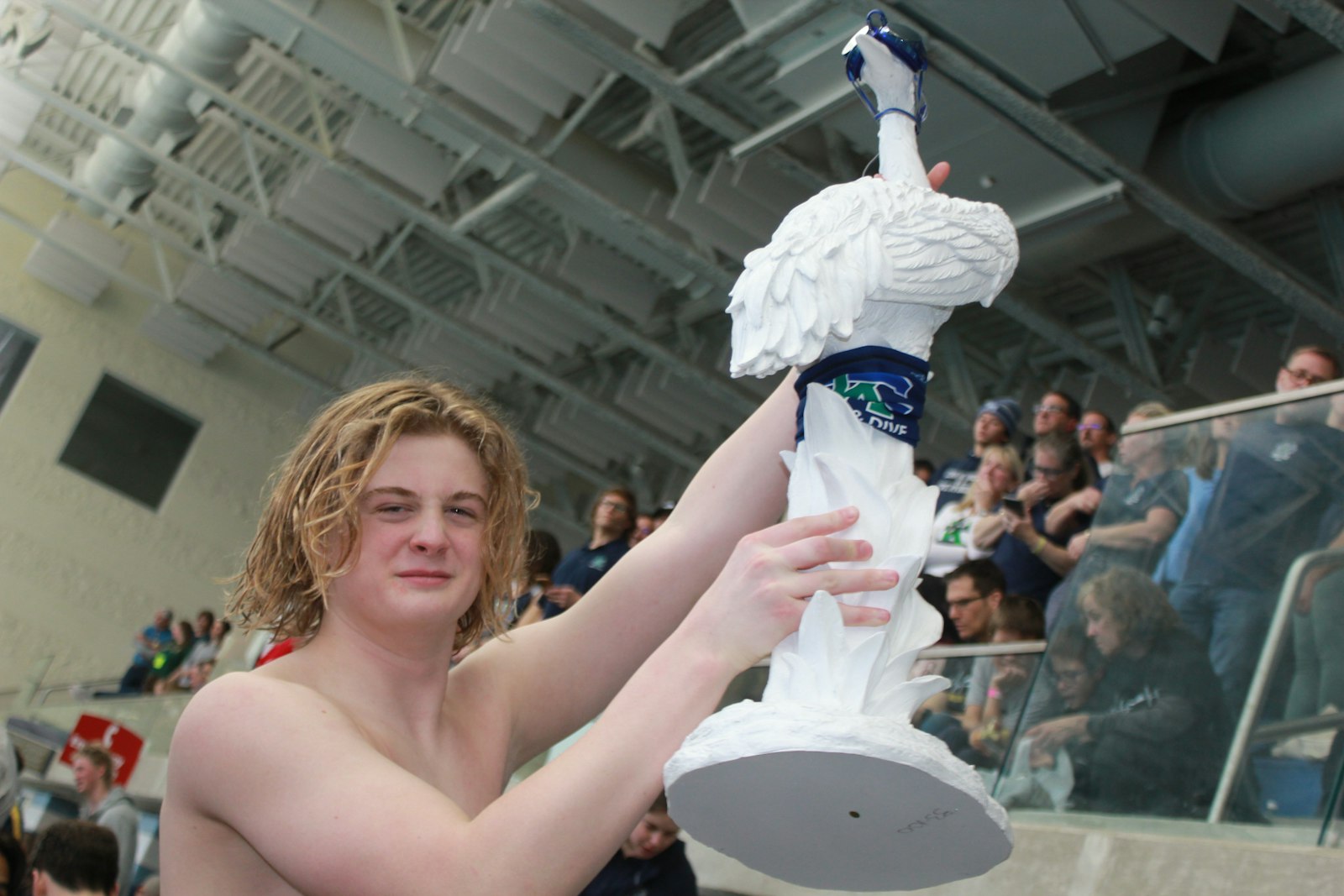 Both of Cranbrook's winning relays were ranked second after Friday's preliminary round.
"They knew that yesterday (Friday) was the day they had to make it in, and today was all about getting their hand on the wall first," Ellis said. "They had the energy, they owned the pool deck, and on every swim, they put it all out in the pool — lifetime best after lifetime best after lifetime best."
Actually, East Grand Rapids crept into the overall lead with two events to go, but one of those was Cranbrook's strongest: the 100-yard breaststroke. In addition to Schwab's victory, Wiater finished third, Michael Sawula was 10th and Sam Fisk was 13th. The resulting 47 points gave the lead for good.
"Everyone here who qualified for states, they all contributed to this. We're only as good as our worst swimmer," said Schwab, who will continue his career next year at Michigan. "I'm so proud of everyone. They came in and worked every day, and they knew what our goal was at the end of the season."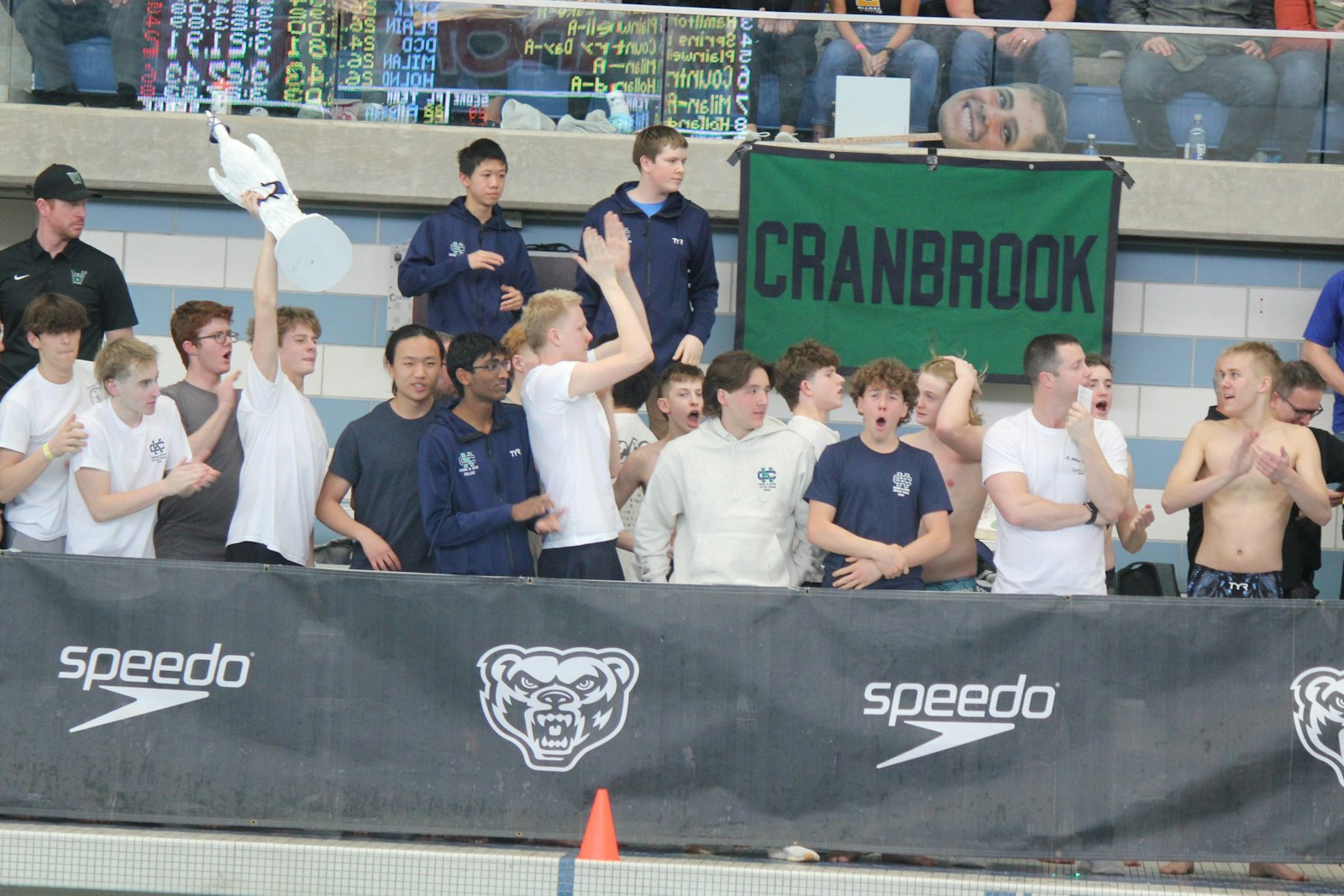 University of Detroit Jesuit is runner-up in Division 2
In the Division 2 state finals at Holland Aquatic Center, University of Detroit Jesuit nearly brought home a second title for the Catholic League. The Cubs settled for second place behind Birmingham Groves by a narrow 274-267 margin. It's the second year in a row the team has finished as state runner-up, matching the best finish in school history.
"Last year we were about 30 points away; this year we were seven points away," coach Drew Edson said. "On paper after prelims we were 12 points behind. I think we were just missing one extra kid, and Groves swam great."
While the Cubs didn't win any individual events, they touched the pad first in two relays, and that was just fine with Edson.
"I know every coach says this, but it was a definite team effort for sure," Edson said. "One of the things we focused on was not talking about winning anything, but talking about the team. Those kids have worked hard to get the team to where they're at for the past couple of years. When we focused on that, the times fell into place. They swam awesome, they left it all in the pool."
Kiernan Tague, Evan Hurtado, Patrick McKillop and Evan Tack won the 200-yard freestyle relay in 1:26.51, then Tague, Andy Szachta, Jordan Bouchillion and Tack won the 400-yard freestyle relay in 3:06.63.
"My favorite part of meet was seeing that relay last swim that fast, already knowing we weren't going to win the meet, but just trying their best," Edson said. "It didn't come down to the last relay, but we definitely closed the gap."
The Cubs did win their second consecutive Catholic League championship this winter, finishing just ahead of Cranbrook. With both squads earning trophies at the state finals, Catholic League swimming is as strong as ever, Edson says.
"The Catholic League in general has a history of a lot of talented kids, very fast swimming, and all the teams are going to continue to be better in the next couple of years," he said. "Every time a Catholic League school wins — whether it's Division 1, 2 or 3 — it says a lot about the league."
Copy Permalink