GRAND RAPIDS — Even though the announcement of the final results was delayed because of a competing team's disqualification in the final event, everything else involved University of Detroit-Jesuit at the MHSAA track and field state championships was fast.
Eventually, it was purely academic, as the Cubs registered a 10-point win over the rest of the field at the Division 1 meet at Rockford High School.
"We would have won by one point either way," U of D Jesuit coach Carl Brock said. "It made it a little more nerve-wracking, though. We were experiencing something being thrown our way that we didn't anticipate."
When the results were certified, U of D Jesuit had 41 points, ahead of Farmington (31), East Kentwood and Clinton Township Chippewa Valley (29 apiece), Rochester Adams (24) and at least 70 other schools taking part in the meet. That gave the Cubs their first state track championship since 1993.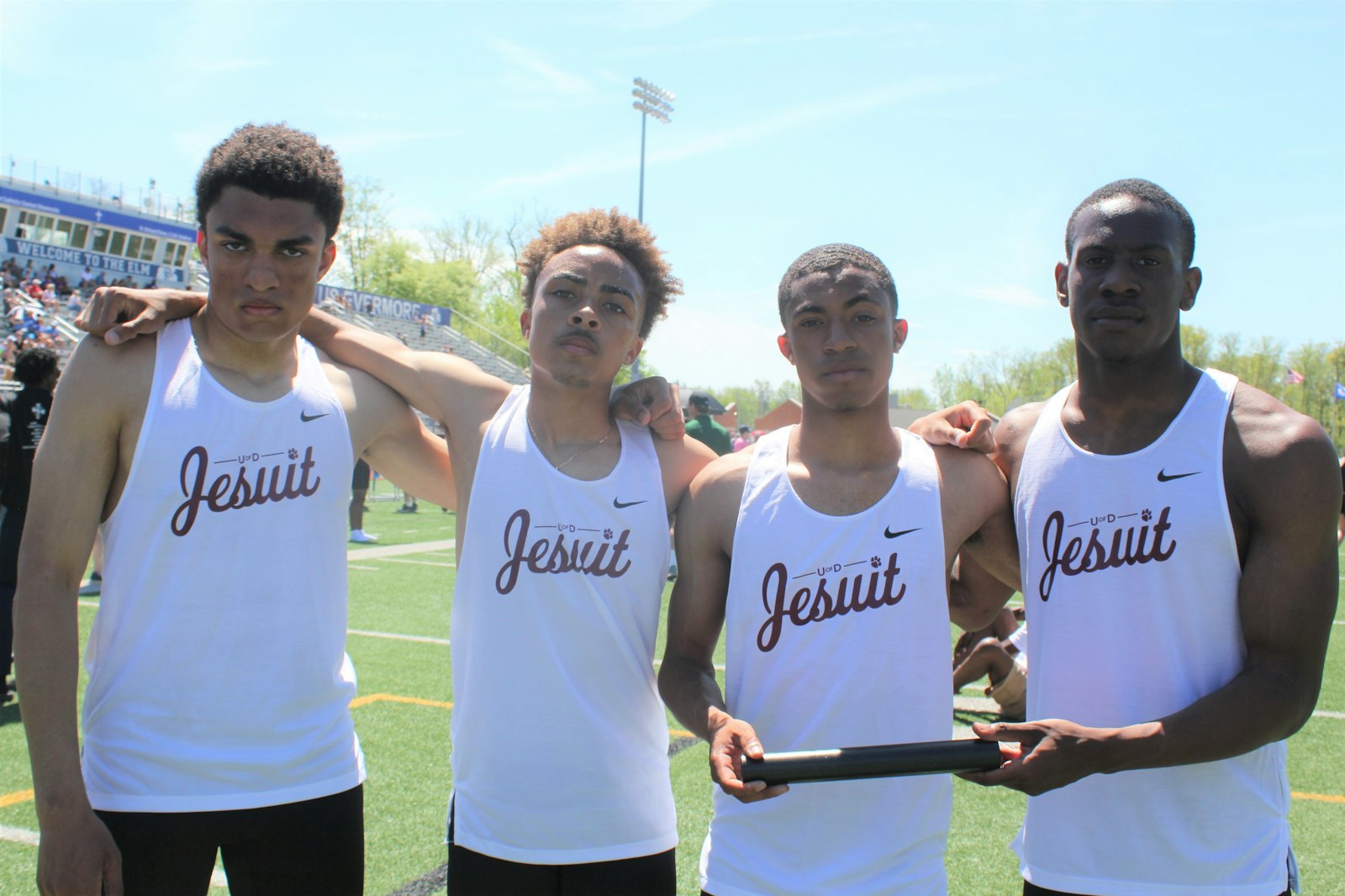 U of D Jesuit relied on its bread-and-butter events to accumulate the most points. Jaiden Reed, Cameron Hendrix, Nick Johnson and Devin Grantham won the 4x200-meter relay (1:28.06) and the same foursome repeated the feat in the 4x100 relay (42.39).
Hendrix, Bryson Wade, Johnson and Grantham placed third in the 4x400 (3:21.67) — despite running out of a slower heat. Reed finished second in the 100 dash (10.83) and fourth in the 200 (21.97), and Elijah Dotson completed the Cubs' scoring with seventh in the 110 high hurdles (15.40).
"We were pretty pleased with how the kids stepped up and did what they expected to do," Brock said. "You've got to have everything go your way, and then you have to get some luck."
The state title capped a wonderful season for the Cubs, who also won the state regional, the Catholic League meet, and invitational titles at Wayne County, Farmington, Warren Mott, Dexter, Walton-Verona (Ky.) and Eastern Michigan University.
"They talked about winning a state title in February," Brock said. "They were focused even back then. As a coach you don't want to talk about it, being superstitious. They had no problems talking about it, though."
Now that the Cubs' ultimate goal had been achieved, Brock said it was because of "the commitment from the kids."
"It was great to see the love for they have for each other, and they wanted to run for one another," he said. "It's amazing when you watch the kids set a goal and manifest it through hard work, and then it becomes real. When we won, they knew they had truly earned it."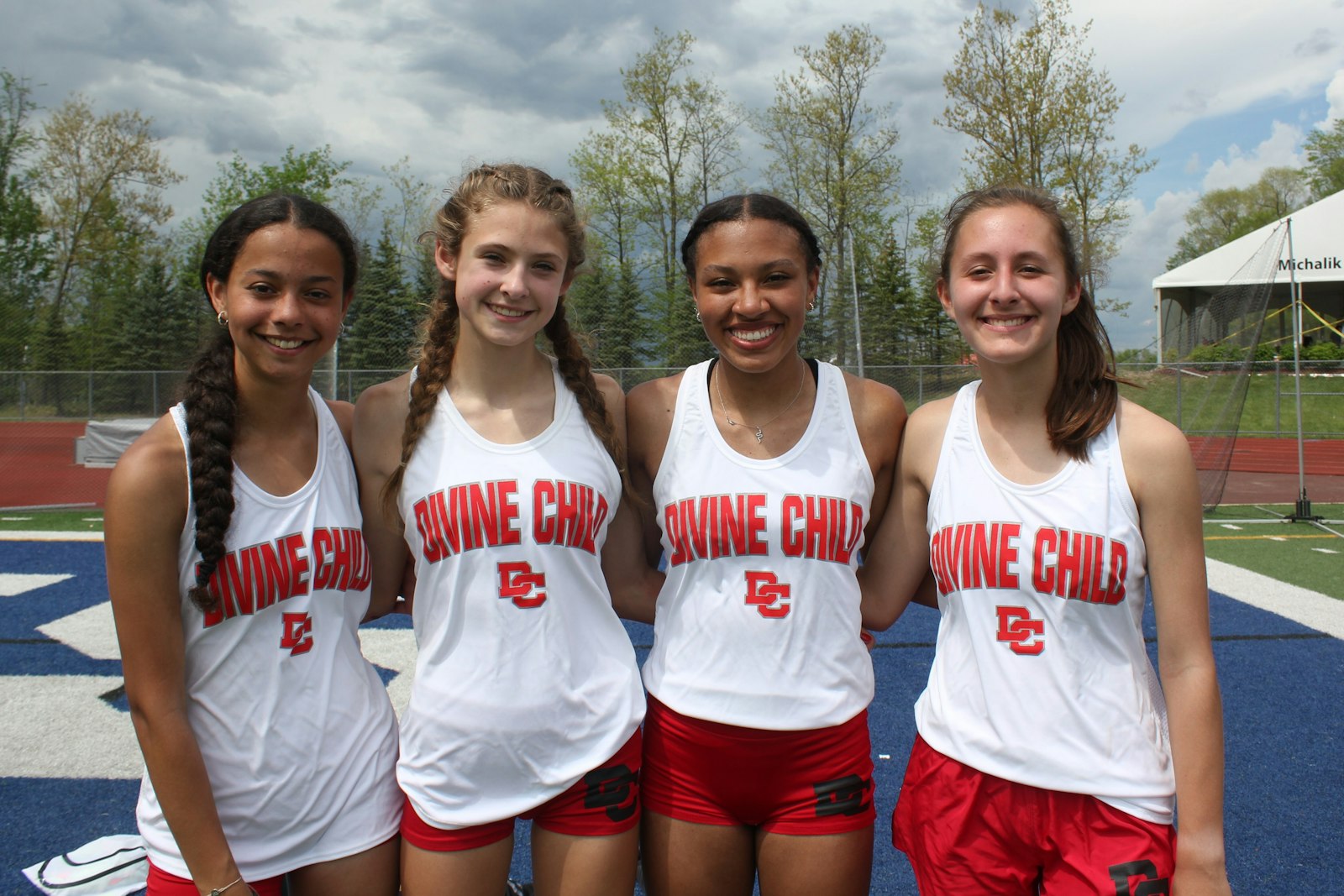 Other Catholic state champions, all-staters

There were several other Catholic League athletes winning state titles in their events, or earning all-state berths for placing among the top eight.
Also in the Division 1 meet at Rockford, Orchard Lake St. Mary's Joshua Roper tied for seventh in high jump (6' 3") and Warren De La Salle's Nathan Iacona placed eighth in the 400 dash (49.85).
Among girls' Division 1 competition, Farmington Hills Mercy had two all-state athletes: Milena Chevallier was sixth in high jump (5'4") while Taryn Henderson was seventh in the 100 dash.
The Catholic League claimed two championships at the Division 2 meet held at Ada Forest Hills Eastern.
Dearborn Divine Child's 4x400 relay team of Samantha Black, Lianna Shakoor, Kirsten Koss and Katie Kurtinaitis finished first with a time of 4:00.83. Relays were strong all day for the Falcons, who placed eighth in the overall competition. The Falcons scored all but two of their 20 points in relay events, including third in the 4x200 (1:44.65) and seventh in the 4x800 (9:51.18). Individually, Black finished seventh in the 400 dash (59.50).
Warren Regina placed 10th, powered behind an individual championship in the 300 low hurdles by Ella Jenkins (44.99). Earlier, Jenkins was runner up in the 100 high hurdles (14.97). Teammate Grace Zdankiewicz added an eighth-place finish in the 1600 (5:04.91), as the Saddleites finished 10th overall as a team.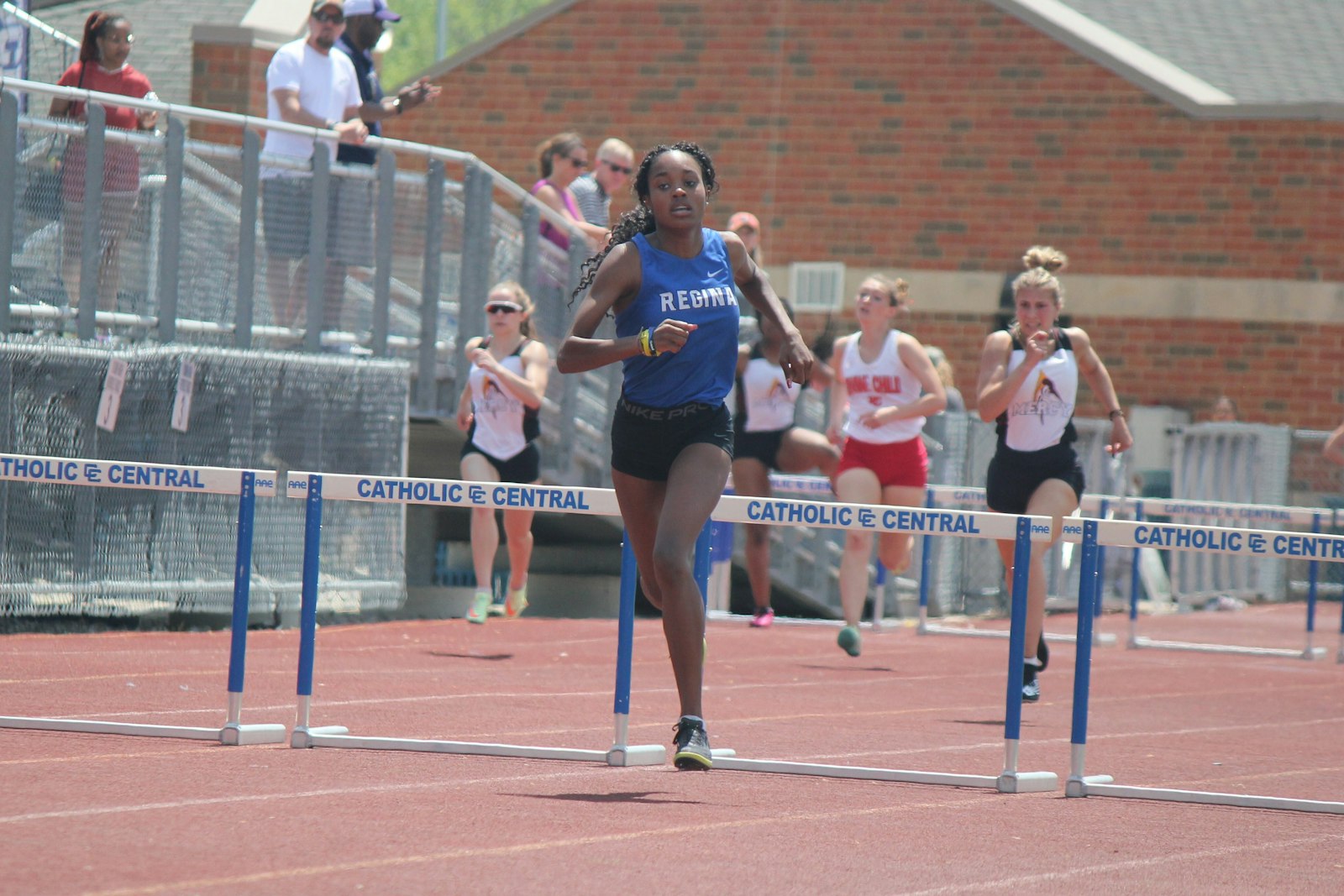 Divine Child's boys also finished tied for 10th, as Michael Hegarty was second in the 3200 (9:19.93) and third in the 1600 (4:18.99). Teammaate Brady Ploucha was fourth in the discus (162'5").
Other Division 2 boys who were all-state included Macomb Lutheran North's Nick Petersdorf, fifth in discus (157'6"), and Bloomfield Hills Cranbrook's Solomon Kwartowitz, seventh in the 3200 (9:22.08).
In Division 3 at Kent City, Madison Heights Bishop Foley's boys won a state title in the 4x100 relay, as Gus Toppi, Jackson Zeiter, Ethan Eisenhauer and Adam Kidder ran 44.38. Toppi, Zeiter, Lorenzo Martinez and Kidder were third in the 4x200 relay (1:31.92).
Monroe St. Mary Catholic Central's Cole Jondro placed second in the 100 (11.40) and seventh in the 200 (22.90).
Among Division 3 girls, Grosse Pointe Woods University-Liggett's Olivia Thomas placed in three events: third in the 100 (12.73), tied for fourth in the 400 (58.88) and eighth in the 200 (27.11).
Bishop Foley's girls finished fifth in three events. Alyssa Samartino placed in the 100 (12.84) and 200 (26.35), and joined Isabelle Salazar, Marie Gilbert and Brooklyn Hess on the 4x100 relay (51.32).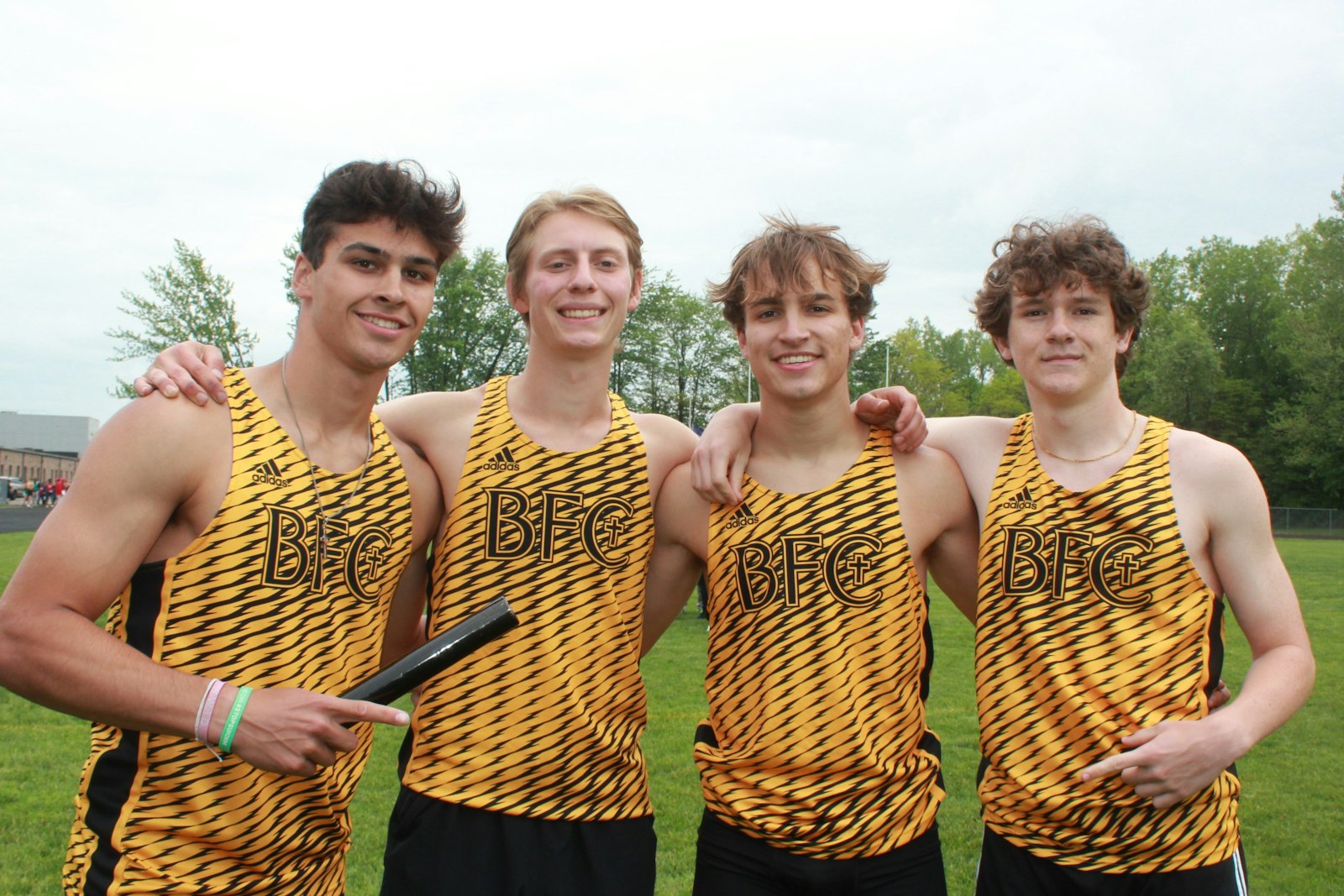 Monroe St. Mary Catholic Central's MaryAlice Lynch was sixth in the 100 hurdles (16.90) and the Kestrels ran sixth in the 4x100 relay.
Ann Arbor Fr. Gabriel Richard placed seventh in the 4x800 relay (9:54.23).
In the Division 4 meet at Hudsonville, Clarkston Everest Collegiate finished ninth overall, powered by the winning boys' 4x100 relay. Kevin Cronin, Antonio Santoro, John Morrison and Gavin Ryeson ran 44.17. Ryeson placed fifth in the 110 hurdles (16.09) and third in the 300 hurdles (40.91).
Two other boys were all-state in a pair of events: Marine City Cardinal Mooney's Tyler Lenn was fourth in the 800 (2:02.07) and eighth in the 1600 (4:36.11). Allen Park Cabrini's Christopher Russelburg was fifth in the 1600 (4:30.85) and eighth in the 3200 (10:05.67).
Among Division 4 girls, Cabrini's Ava Teed was third in the 3200 (11:17.69) and fifth in the 1600 (5:18.11). Royal Oak Shrine's Erin Cain was the seventh-place high jumper (5'0").
Copy Permalink