ROYAL OAK — "It ain't over 'til it's over" is more than just a phrase that's been part of the sports vernacular for nearly 50 years — it's actually a pretty fair six-word description of Saturday's Catholic League's Cardinal Division hockey championship game.
After Ann Arbor Fr. Gabriel Richard/Greenhills tied the contest with less than one second remaining in regulation play, Grosse Pointe Woods University-Liggett's Doug Wood netted the game-winner in overtime to give the Knights a thrilling 5-4 victory.
"It's kind of been our story all year — we don't stop until the last whistle," first-year coach Colin Smith said. "The message was we don't stop until the game ends. We found ourselves in penalty trouble at the end, fought back, and I've got to give them all the credit in the world for not stopping."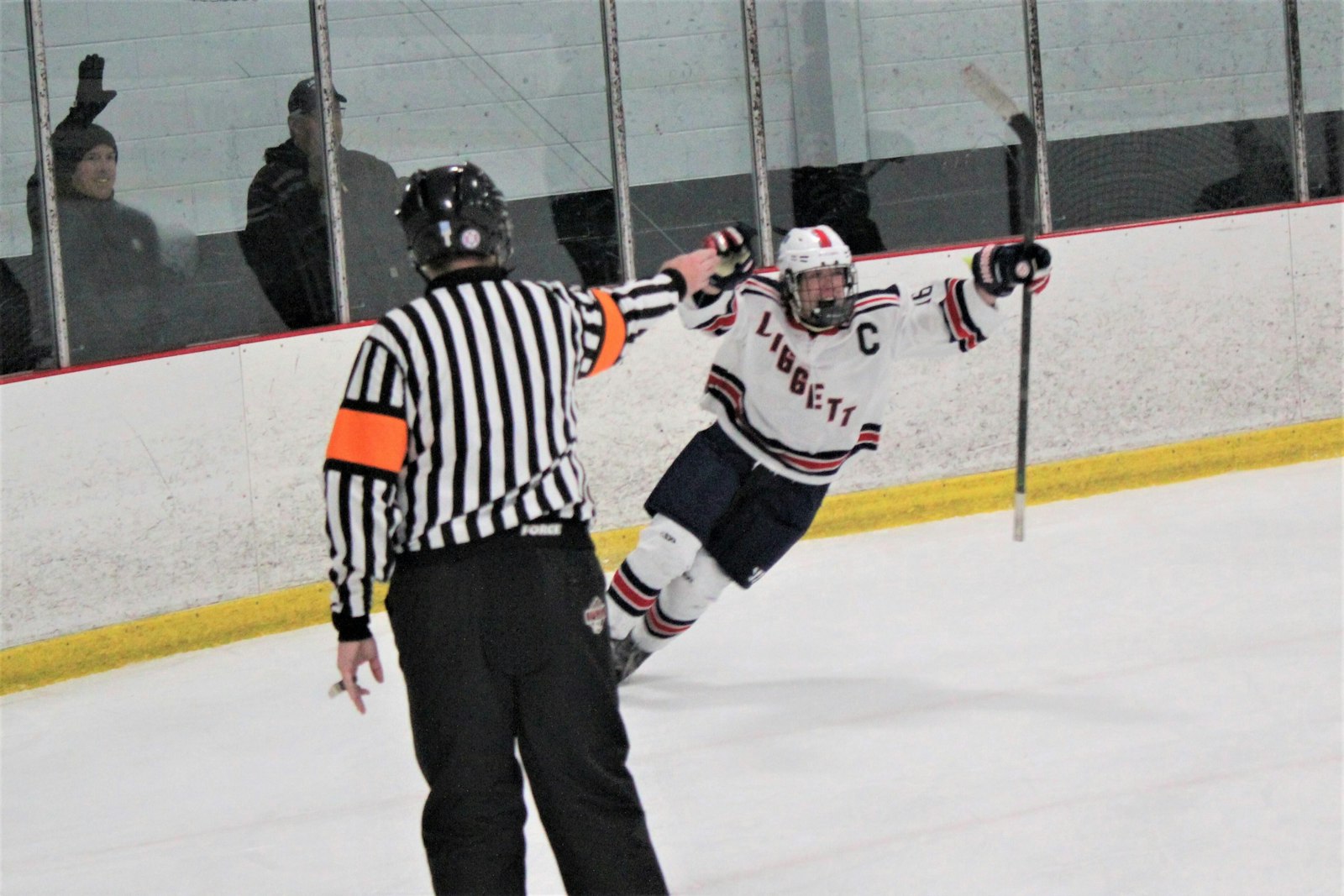 Both teams had a couple of good opportunities to score the winning goal in the extra period, but Wood finally prevailed with 1:06 left. He went on a one-man rush up the ice, skated to the right around a defenseman, and clanked a shot off the crossbar that bounced in.
"I picked up the puck in our end and saw some ice, skated at somebody and he had his back turned to me, beat him wide and I saw my spot. I got lucky, I guess," Wood said. "My first thought was, 'Thank God, it's over.' I couldn't play any longer."
That was the senior forward's third goal of the game — he also assisted on the other two by linemates Stephen Wheatley and Jake Kolk.
"He's been going all year, and his line was fantastic — they scored the first three goals and didn't stop all game," Smith said. "He's got great vision. He's an unselfish hockey player, but when we need him to be 'that guy,' he's been that guy all year. That's kind of his M.O. since he's been here at Liggett."
Although Wood was the likely pick, the Knights needed anyone to step up after Fr. Gabriel Richard fought back and forced overtime.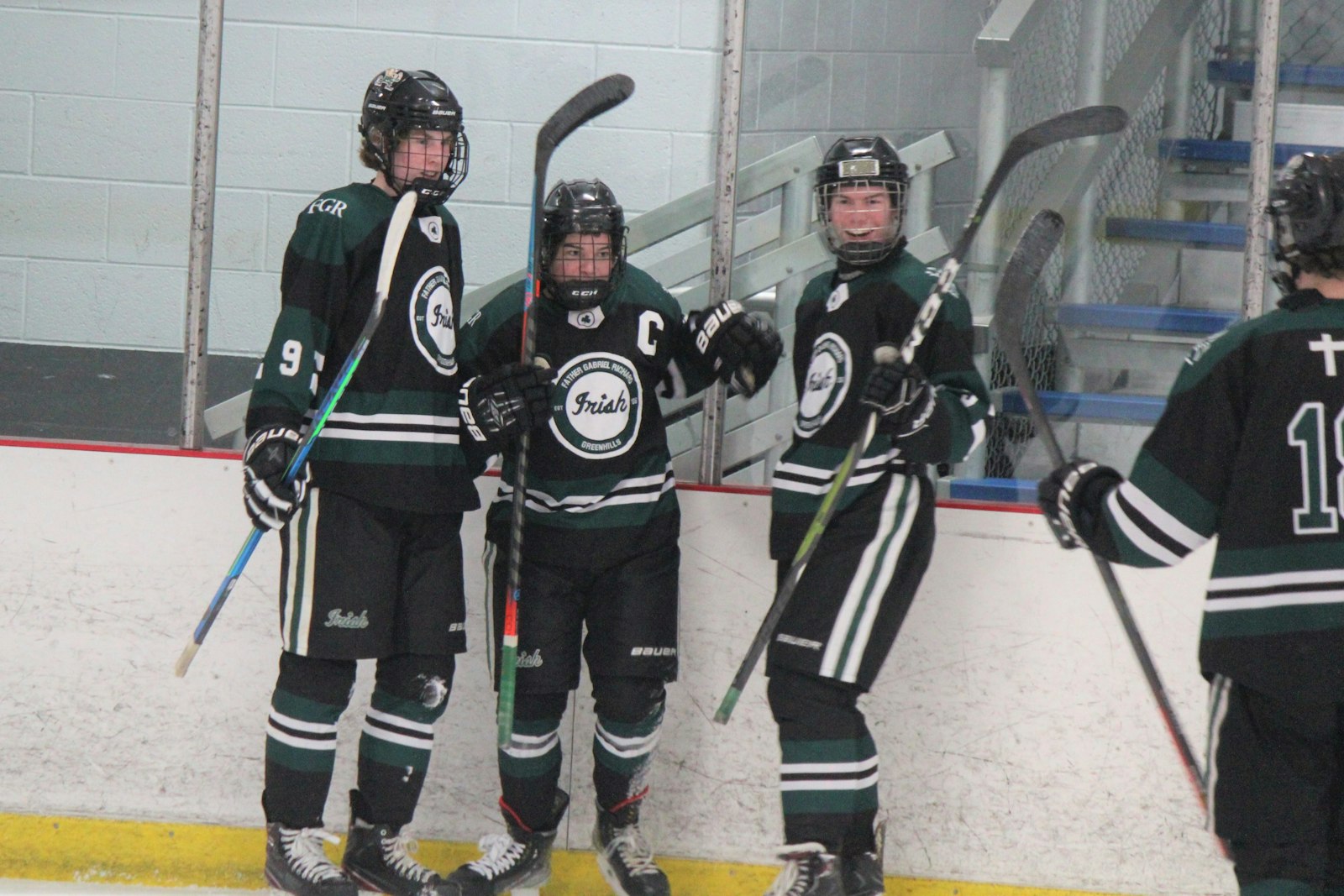 Liggett, which jumped out to a 3-1 lead in the first period and led for much of the contest, was poised to win its second league title in three seasons – that is, until Jack Lapinski slipped the puck behind the Knights' goaltender with just :00.7 showing on the clock, tying the game at four. The Fighting Irish had pulled their goalie, and a Liggett cross-checking penalty effectively gave Ann Arbor a six-on-four skater advantage down the stretch.
"That was our message after the period," Smith said. "We told them, 'You can either put your head down, or you can go back to work and figure it out.' And they figured it out."
The Knights (11-4-0) and Fighting Irish (11-2-0) have met head-to-head in the Cardinal Division finals for the past three seasons, with Liggett reclaiming the title that Ann Arbor won last year.
"It feels good. I just wanted our boys to have the trophy," Wood said. "I was telling the boys right at the beginning of the game, 'Let's get this trophy in our barn,' and we came out and did that. Colin has a lot of hope for us, and I guess we lived up to it tonight."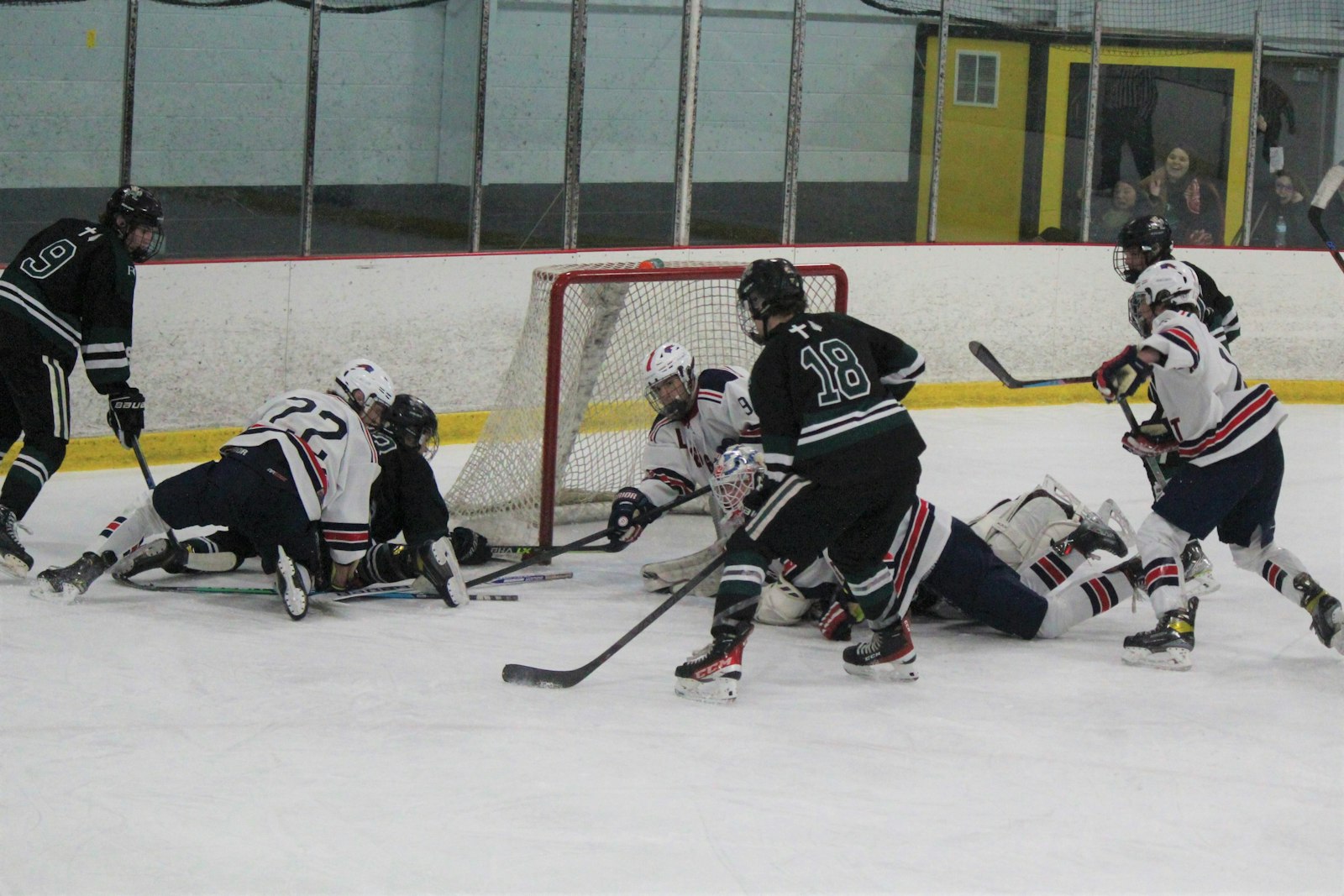 "Good things and bad things are going to happen during the game. Our big thing is how you react to everything," Smith said. "It was an awesome, exciting game. I give a lot of credit to that team over there (Fr. Gabriel Richard). They played a great game, and they didn't stop either."
For the Fighting Irish, senior forward Jack Waldo had two goals and two assists (including one on the last-second equalizer).
"It's not about who we're playing, but how we play our game. If we play our game, things will happen the right way," Smith said. "Every day at practice they're getting better and better, and as a coach, that's really all you can ask."
"I think every game we come out with the same attitude — win the first period, win the second period, win the third period — and they did that tonight," Smith continued. "We were just lucky enough they won the fourth one, too."
The consolation game between Allen Park Cabrini-Riverview and Madison Heights Bishop Foley United ended in a 4-4 tie. It was a back-and-forth contest with each team holding the lead twice, and neither squad scored in an eight-minute overtime period.
Hayden Kieltyka delivered the game-tying score with 2:35 left in the third period for the Monarchs (7-8-1), who also got a pair of goals from Jayce Johnson and one from Ethan Horen. Carter Penn, Bobby Kulka, Tim Martin and Tyler Dempsey scored for Bishop Foley (9-7-1).
Copy Permalink