NOVI — In order to defend its Catholic High School League Bishop Division boys track and field championship, University of Detroit Jesuit saved its best for last.
The Cubs decisively won the final race, the 4x400-meter relay, to preserve a slim lead over challenger Novi Detroit Catholic Central. Cameron Hendrix, Logan Mullan, Santino Cicarella and Elijah Dotson circled the track four times in 3:26.05, seven seconds ahead of the second-place Shamrocks.
"If it comes down to the 4x4, I'll take my 4x4's anywhere in the state and run against anybody. That's how comfortable and confident we are in that race," U of D Jesuit coach Carl Brock said. "We build our program on our 200s and 400s. We can insert multiple kids in that and still expect to run a certain time."
One of those inserted kids was Dotson, who earlier won both hurdle races but hadn't been in the final relay until injuries to teammates required him to step into the role earlier in the week.
"I'm very comfortable because Coach Brock has us well-prepared. We work really hard at practice running every day, so I was prepared, for sure. It's easier when there are no hurdles, so you've just got to go get it," he said. "We have a pretty strong 4x4, so we knew we had to lock in, lock down and go win it."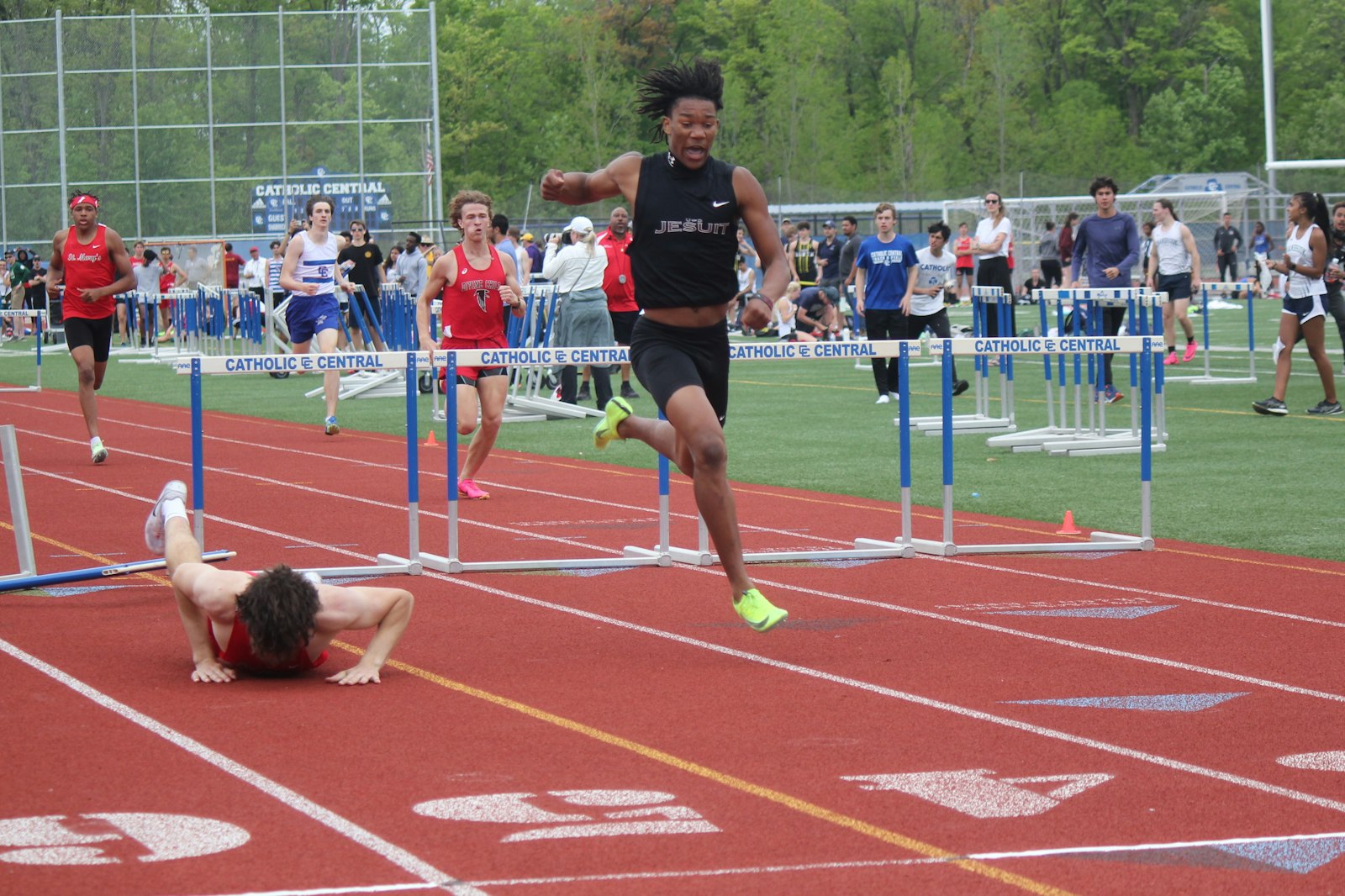 With the relay victory, U of D Jesuit finished the May 13 meet leading the nine-team field with 155 points, narrowly ahead of Catholic Central (152). Dearborn Divine Child (91), Orchard Lake St. Mary's (72) and Warren DeLaSalle (43) were also in the top five.
It was the third straight Catholic League title for the Cubs, who are also the defending MHSAA Division 1 team champions.
"We've got some injuries right now that we're dealing with, so we weren't able to stack our relays like we normally do," Brock said. "Jaiden Reed didn't run on any relays today — we had to work him nearly to death in the 100, the 200 and the 400. Logan Mullen had to run the mile, the 800 and the 4x4 because we lack a little depth right now, but these kids showed grit and we were able to do it today and get the job done."
"We have depth. If one of our runners gets hurt, we have another one. We work hard at practice and everyone's prepared," said Dotson, a sophomore. "We're good, for sure."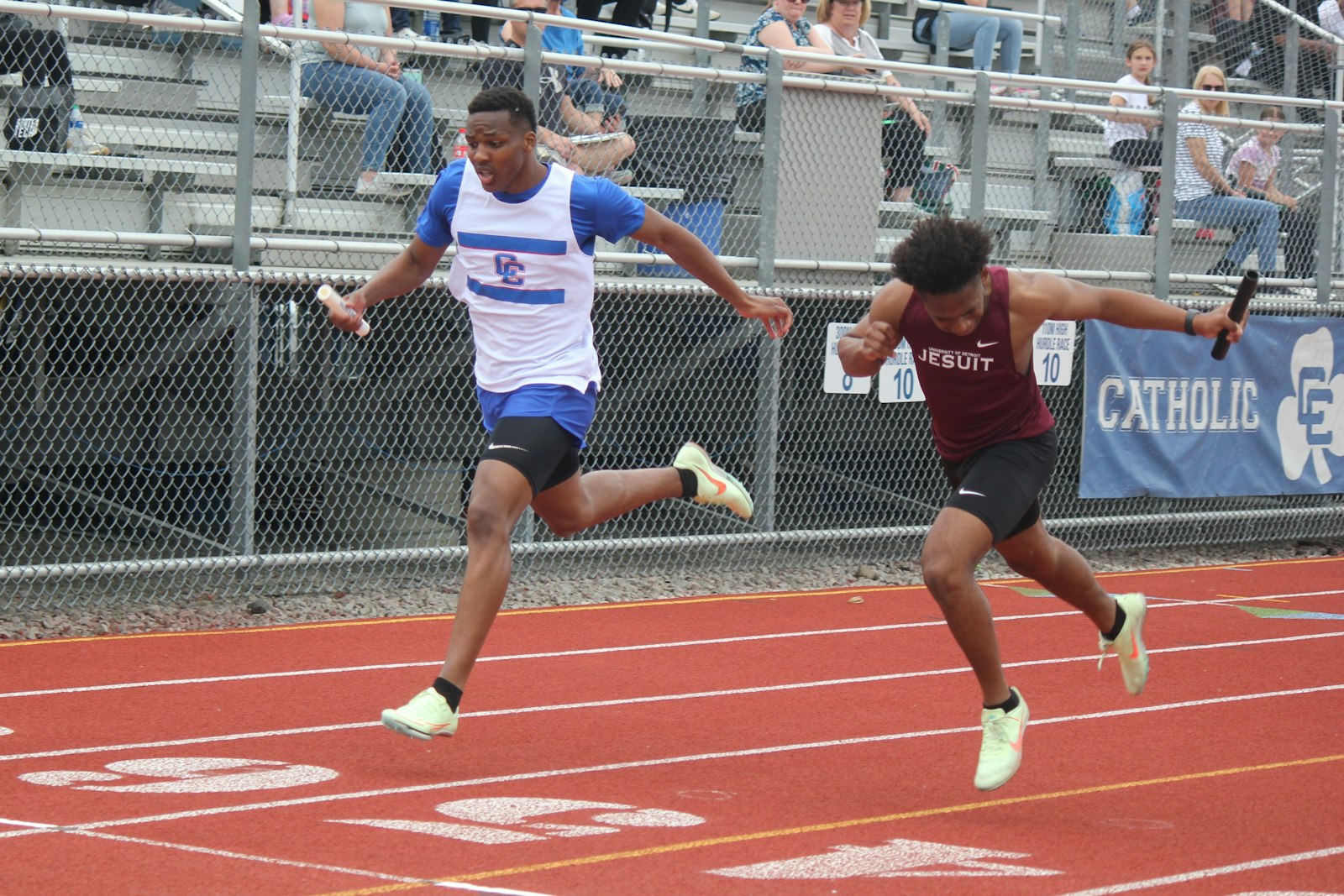 Despite being at less than full strength, the Cubs still had some stellar performances, winning seven of the 12 individual events. Reid won the 100 (10.89), the 200 (22.02) and 400 (49.00) dashes, Dotson took both hurdle races (14.60 and 40.67), Mullan finished first in the 800 (1:58.35) and Justin Freeman was the top long jumper (21'10.25").
Catholic Central's event winners were Spencer Lyons in high jump (6'3"), and the 4x200 relay team of John Almeda, Colin Morrison, Tyler Kolchuk and D.J. Lee (1:30.88), which nipped U of D Jesuit by 2/1000ths of a second.
Divine Child's Michael Hegarty set a new league record for the 1600-meter run (4:15.49), and he placed second to teammate Colin Murray (9:51.27) in the 3200.
Mercy reclaims Catholic League girls track title
Like U of D Jesuit, Farmington Hills Mercy is another team showing both strength and depth. The Marlins won 10 of the 16 events while bolstering their overall team score with secondary placers, and returned to the top of the stack to win the Bishop Division girls track title. Mercy had won the 2021 meet but slipped to second behind Dearborn Divine Child last year.
"There was a little motivation there," coach Michael Montijo said. "We came to compete today. The kids were ready, they did their prep and they came out wanting to win. When a team wants to win, they go out there and perform."
Mercy finished with 189 points, leading Divine Child (148), Warren Regina (82), Bloomfield Hills Cranbrook-Kingswood (47.5) and Orchard Lake St. Mary's (47) in the meet hosted by Detroit Catholic Central.
"Honestly, I feel like we have a real championship team this season, so I'm proud of all of them," Mercy sophomore Milena Chevallier said. "We have really good people in all sorts of disciplines. Our main goal is to win the regional championship."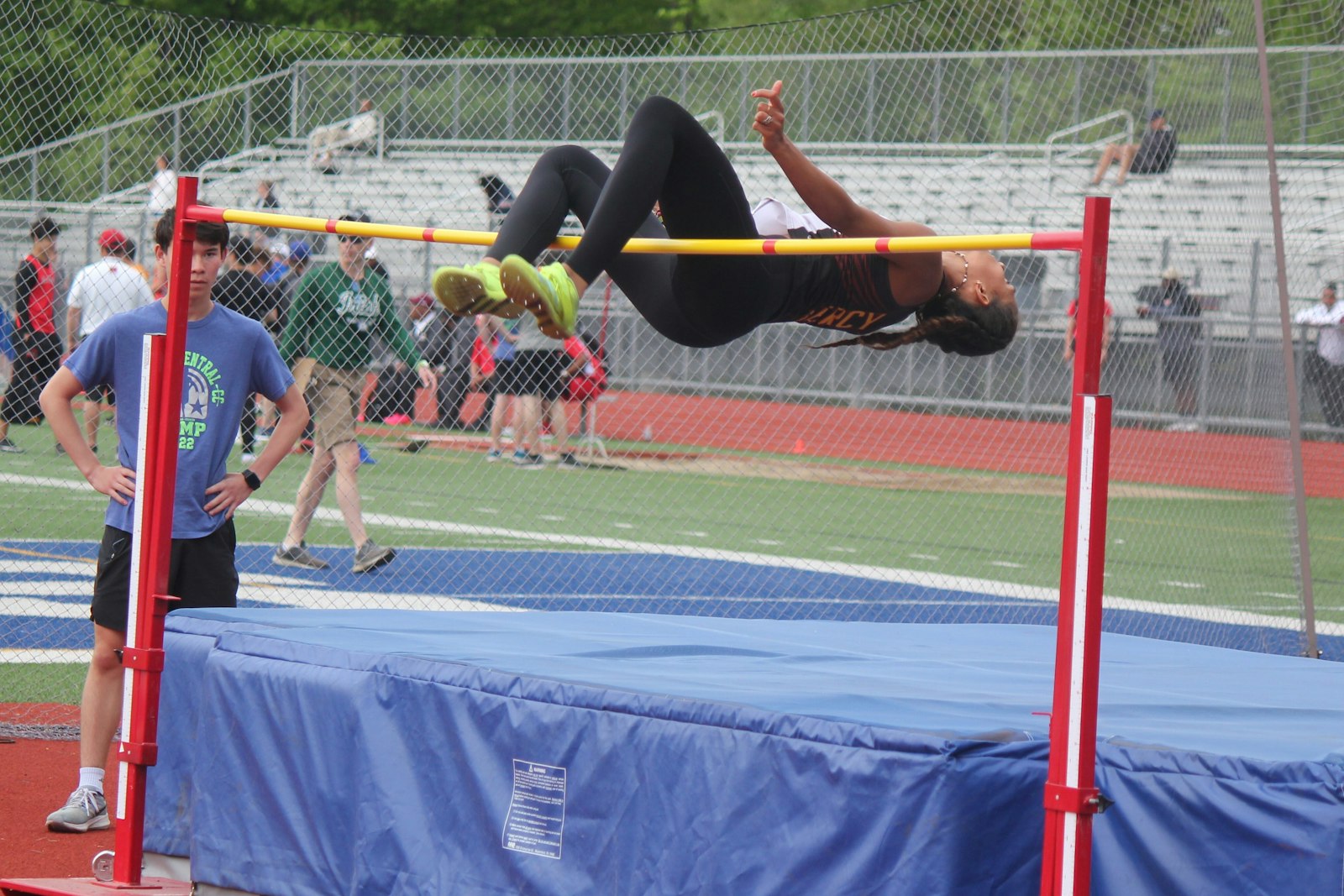 Chevallier did her part, tying the Catholic League record in high jump (5' 6.5"), winning the long jump (15' 6.75") and placing in both hurdle races, but she wasn't the only Marlin in the spotlight.

Taryn Henderson won the three open sprints (12.25 in the 100-meter dash, 25.36 in the 200 and 57.88 in the 400). Nora Gerzema won the 1600 (5:22.90) and 800 (2:21.70), Haley Lipscomb took the 300-meter hurdles (49.36), and the Marlins won both the 4x800 and 4x100 relays (9:50.99 and 51.21).

"We've set five school records in the past two weeks, and this is probably the finest team that's taken the track for Mercy, and we're young," Montijo said. "We didn't set any of those today, but there are more records that are going to fall shortly. This team, watch out for them at states."
Although the Marlins were frequently pushed by Divine Child throughout the afternoon, the Falcons could only manage first-place finishes in the 4x100 and 4x400 relays. Divine Child's Grace Steffes swept the throwing events (34' 6.5" in shot put and 111' 7" in discus).
Other event winners were Regina's Ella Jenkins in the 100-meter high hurdles (14.97) and Orchard Lake St. Mary's Mea D'Agostino in the 3200 run (12.11.91).
MHSAA regional competition takes place throughout the state this weekend — it's the meet that determines which athletes advance to the state championship meets on June 3.
Copy Permalink