NOVI — After you win an Olympic medal, then what?
If you're Detroit Catholic Central graduate Myles Amine, you go back to college and chase more championships. The wrestling ace has one season of eligibility remaining at the University of Michigan, where he is two classes away from earning a master's degree in sports management.
"You know, it's crazy — I was third in the world, third in the Olympics, and one accomplishment I'm trying to work for is winning a national title," he said. "In the NCAA, what a lot of people don't realize is that there's probably five or six guys who can wrestle on the world stage that are at that level, so that's something I'm working really hard to accomplish this year."
Amine was the 2021 Big Ten champion at 197 pounds and finished third in the NCAA championships, earning All-America honors.
If that isn't distinctive enough, Amine's college roommate, Stevan Micic, also wrestled in the Olympics for Serbia. He, too, is returning to the mat for the Wolverines.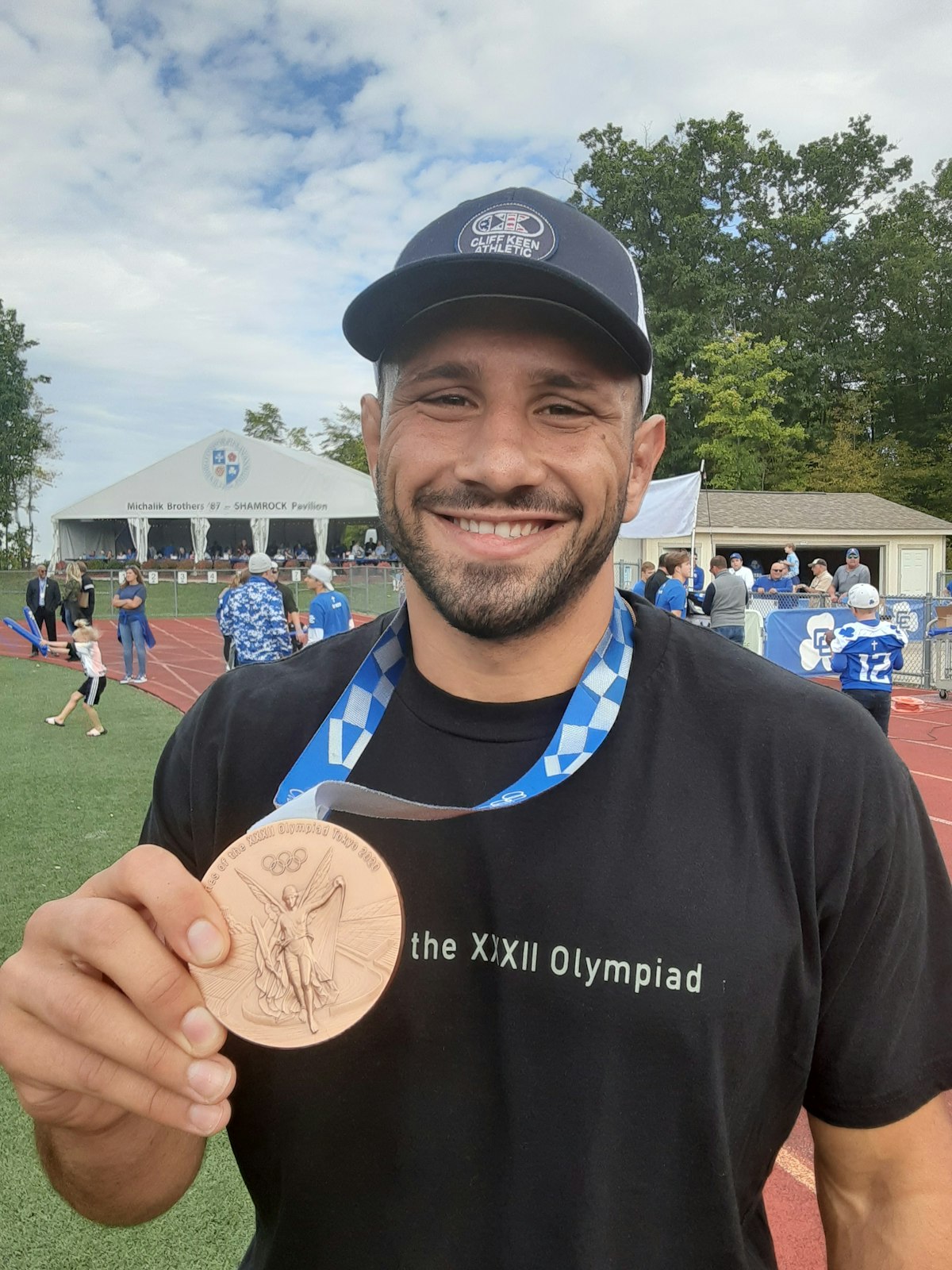 "It's a unique situation," Amine said. "We're both coming back, and it's going to be a special year."
Michigan, which kicks off its season on Saturday at Michigan State, is rated No. 4 nationally in the pre-season polls. Additionally, this is the U of M wrestling program's 100th season, and the Wolverines will co-host the NCAA national championship tournament March 17-19 at Detroit's Little Caesars Arena.
Not that 2021 hasn't already been a special year for Amine. The Brighton native earned a bronze medal in the 86-kilogram weight class at the Tokyo Olympics in August.
"My lifelong goal was just to wrestle in the Olympics," he said. "Then I thought I would raise it another level in this Olympics, to even try to win a gold medal. I fell a little bit short, but coming home with a bronze medal is something that I know I can still be really proud of."
Because of Amine's Sammarinese-American nationality, he competed in the Olympics not for the United States, but for the tiny European nation of San Marino.
"Part of the reason I wanted to wrestle and represent San Marino is my grandfather is so proud to be from there, and he's very proud of the country. Even though it's small, the people there are just so prideful," Amine said. "An Olympic medal is something we never had prior to this Olympics. One of the things is I wanted to be the first (medal-winner for the country), but two trap-shooters beat me to it, so I had to be the third. But to come home with three medals is an historic feat for our little country."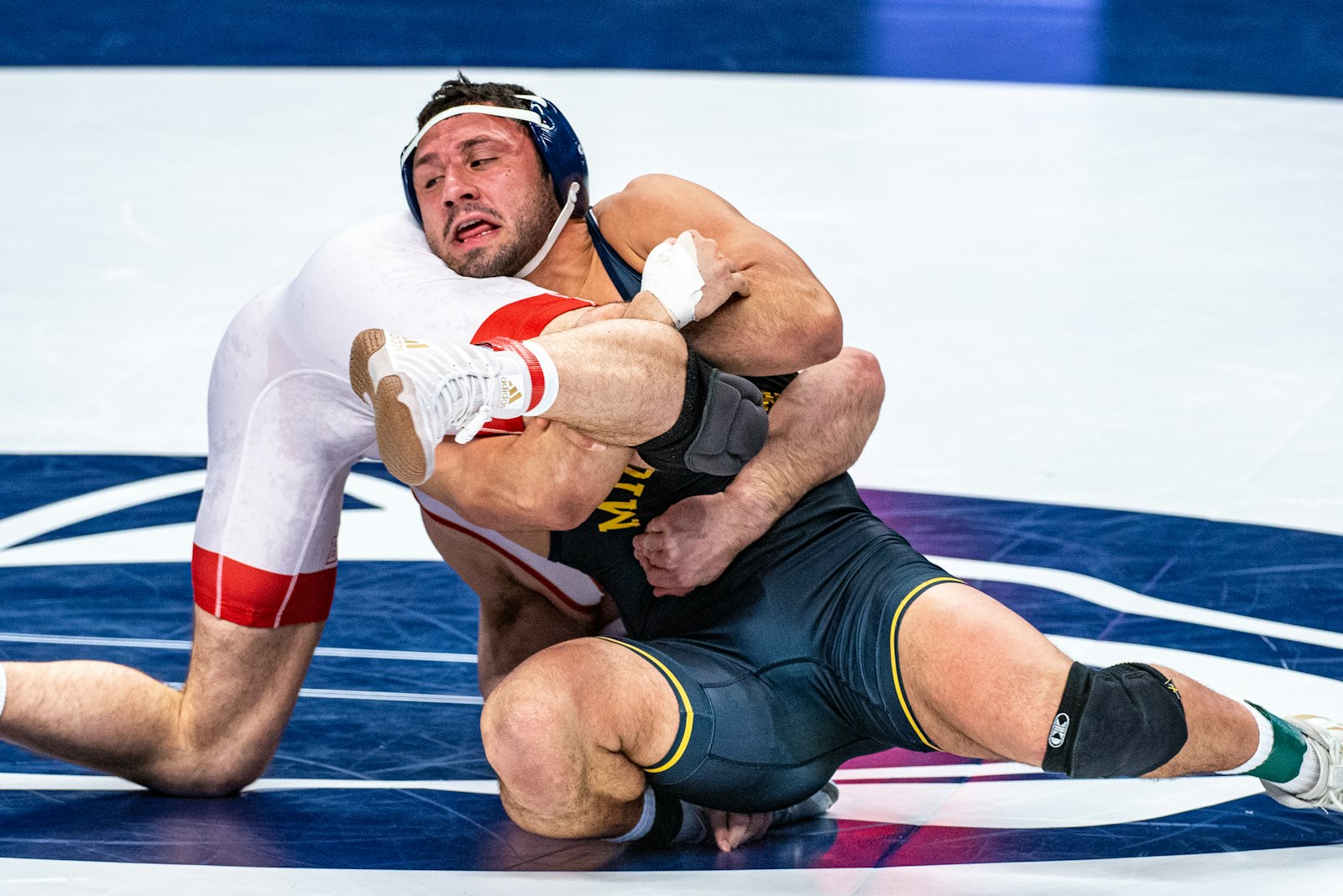 There were only five athletes on the entire San Marino Olympic team, for which Amine was the flag-bearer during the opening ceremony.
"Three for five, that's one of the stats that San Marino was proud about," Amine said. "As far as the percentage, three out of five athletes medaling was the highest percentage out of any country."
In order to earn the bronze medal, Amine won three out of four Olympic matches and had to defeat a pair of returning world medalists, Ali Shabanau (from Belarus) and Deepak Punia (India). Ironically, Amine's only loss during the tournament came at the hands of David Taylor, the eventual gold-medal winner from the United States.
"That was especially interesting for me," Amine said. "It was a guy that's six years older than me. When I was a wrestler at Catholic Central, I used to watch him wrestling for Penn State.
"I had to share the mat with him and compete against him; I had to switch gears and really try to change my mindset and to not look up to him anymore, but to beat him," Amine continued. "Unfortunately, that didn't happen, but now I know where I'm at. He's pound-for-pound probably the best guy in the world, not just at my weight, but at every weight, so I know where I'm at and where I need to be."
The bronze-medal match against Punia went down to the wire before Amine prevailed, 4-2, with a late takedown.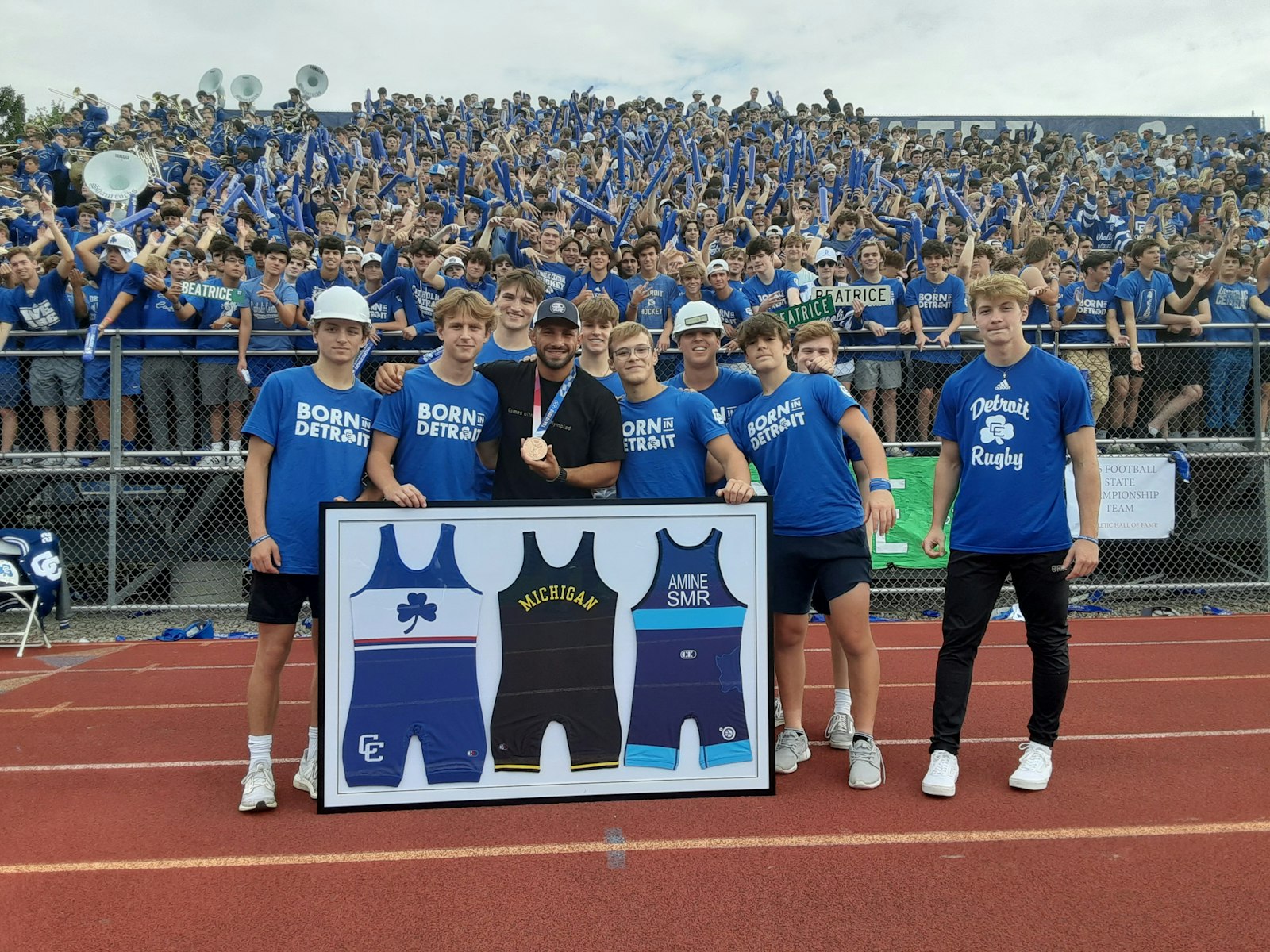 "I kind of blacked out and I was in that zone where just everything was happening in the moment," Amine said. "I didn't have to think, and I was going through all that stuff that I did in training. I remember when the clock hit zero, I let out that breath that I was holding for the last 30 seconds, waited for the challenge to go through to make sure I had won the match, and when the challenge went my way, it was the ultimate sigh of relief for all my hard work paying off."
Amine also said he will always remember how he felt up on the podium during the medal ceremony — even if the national anthem being played was the Star-Spangled Banner.
"When I was up there I was just taking it all in, and I was very happy, very prideful," he said. "No matter what, what the Olympics represent is sportsmanship. It represents all the hard work and all the blood, sweat and tears, you being able to showcase that. So, regardless of the outcome, I was prideful that I was standing there among the best athletes in the world, and to come home with a medal, I know that it's something that so many of those athletes in the Olympics dream of that don't get the chance."
Amine is a 2015 graduate of Novi Detroit Catholic Central. He and older brother Malik (2014) were each two-time individual state champions and part of a juggernaut of squads that won three consecutive state titles under head coach Mitch Hancock.
"I say it time and time again, CC made me," Amine said. "I had just elite mentors that I was able to look up to, and they pushed me to new levels, and they expected excellence. To this day I've been trying to be excellent in everything I do, and that's what CC taught me."
Copy Permalink