FARMINGTON HILLS — By all accounts, there was only one detail that Farmington Hills Mercy's swimming and diving coaches overlooked during last weekend's state championship meet.
"As the meet was winding down, the girls were starting to get a little giddy, and I said to them to act like you've been there before," head coach Mike Venos said.
"One of the girls came up to me and said, 'Coach, we haven't been there before. How are we supposed to act?'"
It's easy to forget that a whole generation of high school swimmers have passed through since Mercy last won a state title, in 2019, because the Marlins seem to be in the hunt every year. However, they had the right mix of leadership and youth necessary to become clear winners over the rest of the Division 2 field competing at the Holland Aquatic Center Nov. 17-18.
Despite finishing first in only three of the 12 events, the Marlins' depth enabled them to lead the pack with 326 points — well ahead of Birmingham Seaholm (198), Grand Rapids Northview (172), Ann Arbor Skyline (162) and Grosse Pointe South (156).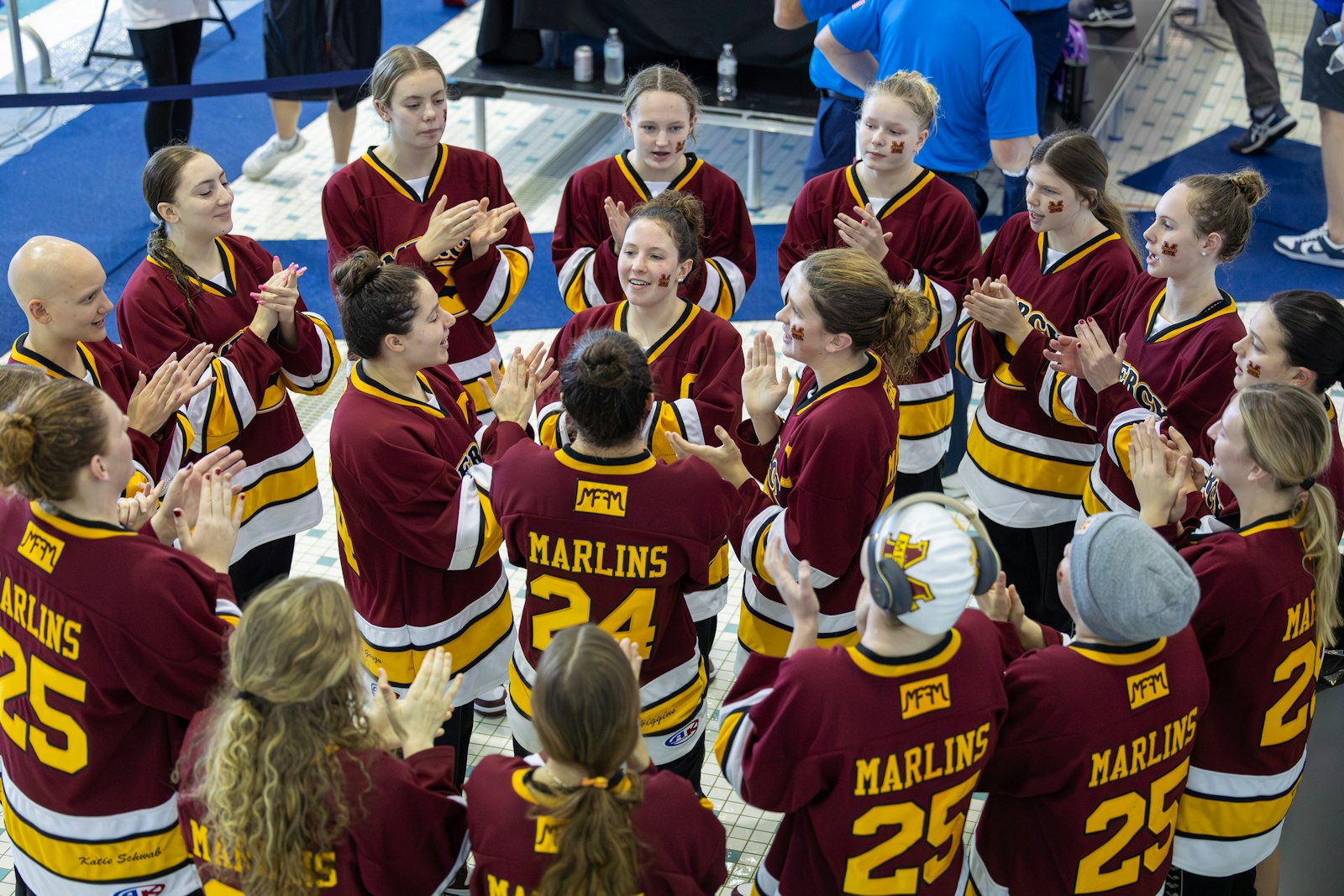 "We did take the largest squad there (19 qualifiers) and we had a fantastic Friday (in the preliminary heats)," Venos said. "If you can't do it on Friday, you can't do it (in the championship races) on Saturday. But these girls swam even better on Saturday than they did on Friday — and they didn't need to."
Mercy made its mark in the very first race. Venos and his coaching staff altered the lineup of the medley relay in order to qualify in the top eight, as senior captain Amylia Higgins was paired with veterans Mackenzie Conway, Olivia Engquist and Katie Schwab. The quartet was fifth-ranked after the prelims, but dropped more time to finish second on Saturday, in 1:47.32.
Higgins went on to win both sprint races, the 50- and 100-yard freestyle, with times of 23.57 and 50.84 seconds, respectively. Those positive performances seemed to set an example for younger teammates.
It was really noticeable with the 200 freestyle relay team, which Higgins was removed from. In her absence, Conway was joined by three freshmen — Campbell Shore, Leah Greaves and Avery Tack — who won the event in 1:37.21.
"We felt super-determined on that relay," Tack said. "Even though one of the best swimmers wasn't on it, we knew we gave it all we had, and left it all in the pool."
For the final event, the 400 free relay, Higgins rejoined Shore, Tack and Greaves, leading Mercy to second place in 3:30.14.
"It's really good to have strong freshmen contributing to the team, but it also happened with strong leadership from the captains. They did a really good job passing down the tradition and getting us ready," Tack said. "It felt great seeing great time drops and that all of our hard work paid off. We all knew we were swimming for Mercy and swimming to contribute. It felt great swimming for the whole team.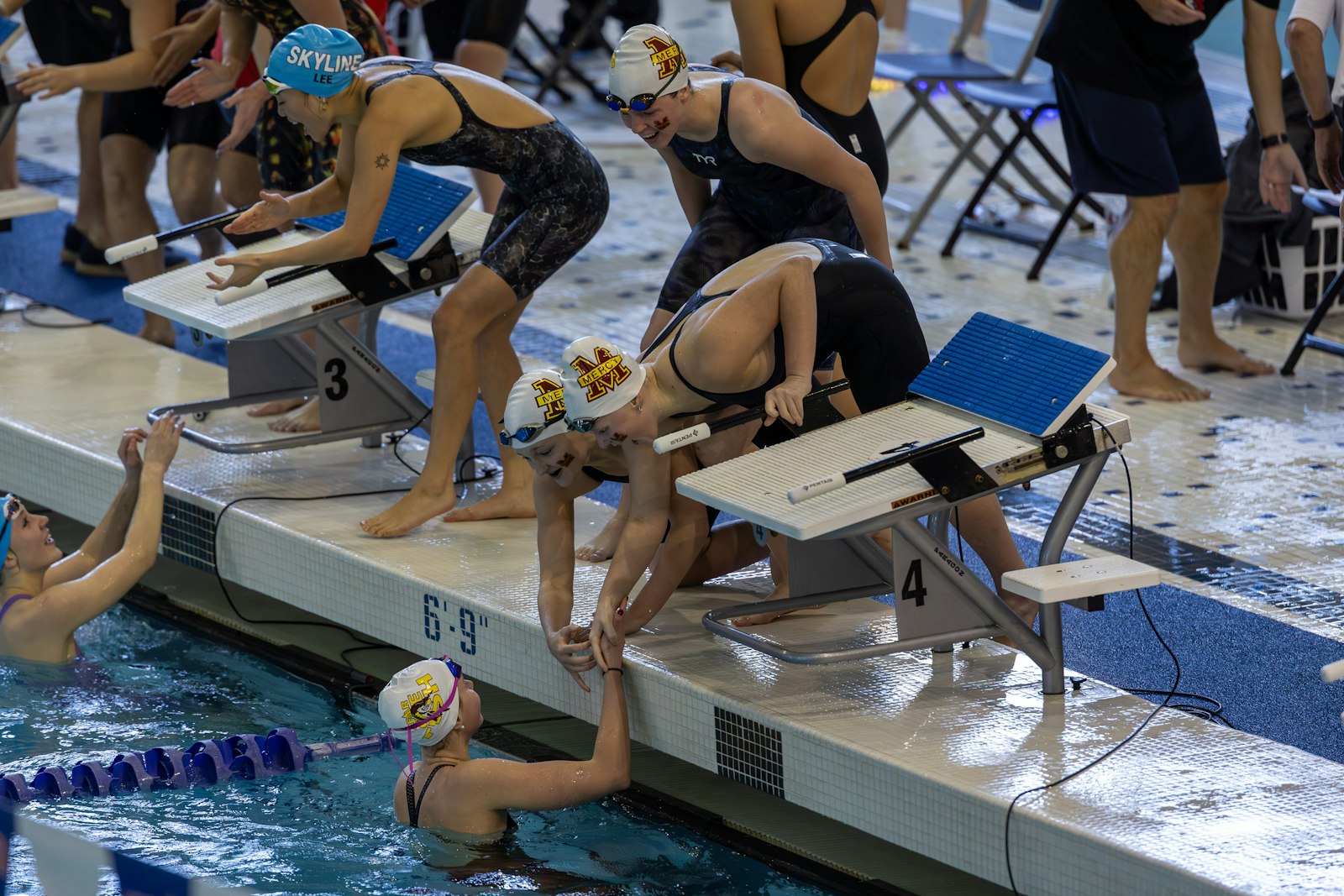 "It was all new to me and didn't know what to expect," she continued. "The older girls call it Mercy Magic. We're always ready to perform and we always do great. It feels like we accomplished a lot, and it was a lot of fun."
Tack said her favorite moment occurred after the outcome was well in hand, seeing two of the team's captains, Enquist and Savannah Sneyd, take the top two places in the consolation heat of the breaststroke.
"All the events were so fun to watch," Tack said. "Olivia dropped two seconds and placed ninth; it was very cool to see her reach her goals, and Savannah placed 10th in that event, so it was great to see them finish together."
Altogether, Mercy had at least one top-10 finisher in every event.
"We go into every state meet, whether we are the favorites or not, intent on swimming our fastest," Venos said. "We call it swimming in our own lane. It's all about controlling the things you can control, and if we do, we're going to be successful. We never, ever talk about winning a state championship."
Other Catholic schools make their mark in Division 3
Although East Grand Rapids overpowered the field to win the Division 3 championship at Oakland University, local Catholic swimmers made frequent trips to the awards stand.
Bloomfield Hills Cranbrook finished as the runner-up team, defending champion Bloomfield Hills Marian was third, Pontiac Notre Dame Prep was eighth and Dearborn Divine Child was 16th.
Divine Child sophomore Ella Dzobiak won the 500 freestyle by 10 seconds, with 5:02.61. Earlier, she finished third in the 200 free (1:53.92).
Cranbrook's Julijana Jelic was runner-up in two races: the individual medley (2:07.59) and the backstroke (56.75). Teammate Hazel Stain finished the backstroke right behind in third (58.40), while Erya McLaughlin was fifth in the butterfly (59.62) and Elizabeth Kurz placed seventh in the breaststroke (1:08.47).
The Cranes were also runners-up in two relays: the medley relay (1:47.81) and the 400 freestyle (3:35.68).
For Marian, Lily Low placed third in the butterfly (58.40), Meghan Bluethmann finished fourth in the 100 free (52.48) and fifth in the backstroke (52.94), Stella Gloria was sixth in the 500 free (5:22.11) and Mariana Becharas was eighth in the individual medley (2:15.84).
The Mustangs' 200 free relay team placed second (1:40.63) and the 400 free relay was fourth (3:44.40).
For Notre Dame Prep, Emma Ciesla finished fourth in the butterfly (58.79) and fifth in the individual medley (2:11.15). Two Fighting Irish relay teams also placed: they were seventh in the 400 free (3:44.60) and eighth in the 200 free (1:43.08).
Copy Permalink