DETROIT — Just when everyone thought Catholic High School League football couldn't get any stronger, here come four teams ready and eager to join the fray.
New league members Jackson Lumen Christi, Toledo Central Catholic, Toledo St. Francis de Sales and Toledo St. John's Jesuit are sure to provide a competitive boost to the existing Catholic League programs. And the new additions are no slouches, either, with Central Catholic and Lumen Christi each winning state championships in 2022.
To add to the challenge, Ohio schools started formal practices July 31, in preparation for that state's 10-game schedule (Michigan schools begin Aug. 7 and play nine regular-season contests). The first Michigan-Ohio clash takes place Aug. 31, when Bloomfield Hills Brother Rice hosts St. Francis.
Here's what to expect from the Catholic League's new football teams:
Toledo Central Catholic
NICKNAME: Fighting Irish
HEAD COACH: Greg Dempsey (24th year)
2022 RECORD: 15-1 (Ohio Division II state champions)
CATHOLIC LEAGUE DIVISION: Central
PREDICTED FINISH: 1st of seven
FIRST CHSL GAME: Sept. 1, vs. Detroit Catholic Central
The Catholic League coaches wasted no time showing respect to the Fighting Irish, picking them to finish first in the expanded seven-team Central Division.
"It's definitely surprising because we're the outsiders coming in," head coach Greg Dempsey said. "They have so many championship-rich tradition programs in the league themselves. But it's the same story. We're used to getting picked first coming out of the gate and then having to live up to it. I think you could have picked three or four teams that just as easily could win this thing."
The Fighting Irish, who won the Three Rivers Athletic Conference football title nine times in 12 years, defeated Akron Archbishop Hoban to win Ohio's Division II state title last December.
"We've been blessed with a lot of success, which is good because our kids are used to meeting the expectations of our program, but to face a meat-grinder (of a schedule) like we're going to face this year is a new challenge to us," he said. "Our kids are excited about it, getting to play some new schools, they're getting some exposure in two different states now, and if your season goes the best out of anybody in this room, you get the chance to play in Ford Field at the end of the season. There are a lot of fun things out there to go out and try to get, and it provides new goals."
With Warren De La Salle (predicted second) having won Michigan's Division 2 crown last fall, the Central Division will now have two reigning state champs, and Dempsey is excited about the new competition after Central Catholic's former league disbanded this year.
"Studying the scores and whatnot from last year, Warren De La Salle's the state champs, but Brother Rice knocks them off during the regular season," Dempsey said. "It's definitely the type of league where, literally, any week, anybody can beat each other."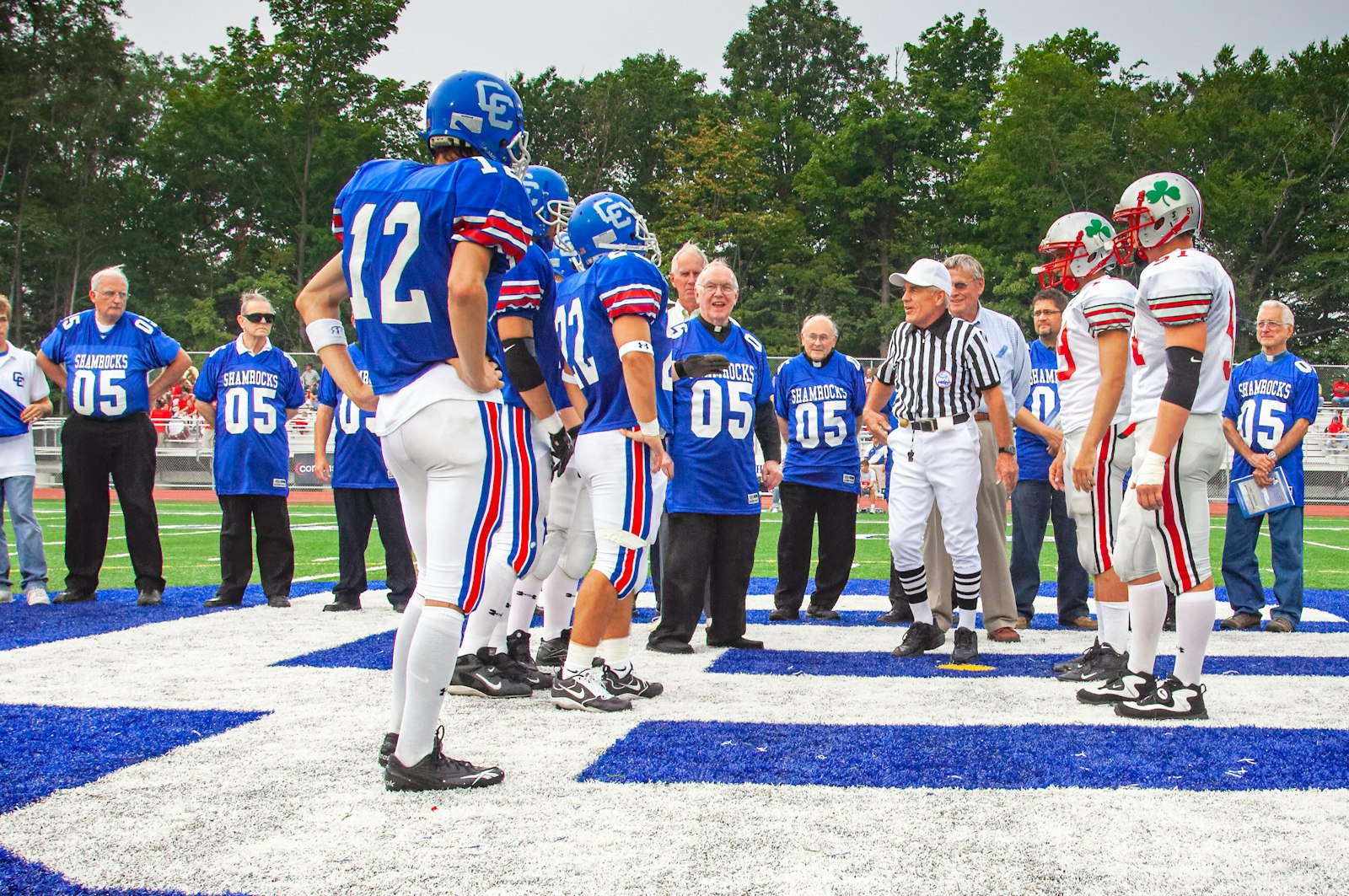 Toledo St. John's Jesuit

NICKNAME: Titans
HEAD COACH: Larry McDaniel (7th year)
2022 RECORD: 5-6
CATHOLIC LEAGUE DIVISION: Central
PREDICTED FINISH: 4th of seven
FIRST CATHOLIC LEAGUE GAME: Sept. 1, vs. Orchard Lake St. Mary's
While the Titans' football program has been in the middle of the pack recently — and predicted to show a similar fortune this fall — there's no arguing about the all-around success of the SJJ athletic program, which won the TRAC's All-Sports Trophy 10 of the 12 years the school spent in the conference.
"Universally we've been really successful," head coach Larry McDaniel said. "Across the board, excellence has kind of been our hallmark, not only academically, but we like to think, athletically as well."
What should athletes and fans except from the Titans?
"I think they'll find that we'll be a team that will come out and compete, that we'll play hard, we'll play until the whistle," McDaniel said. "We exercise really good sportsmanship for the most part. We do things above board, just like the schools in the league that we're coming into, and we're looking forward to competing against some of the best and brightest in the country. We'd like to think that they'll have that opportunity to compete against some of ours (in Ohio) as well."
McDaniel feels the other coaches' pre-season expectations for SJJ's football team are reasonable, given its recent record and having to compete against two opponents who are defending state champions. Still, his kids appear to be embracing the challenge.
"I think it's kind of a sense of the unknown. Cautiously optimistic is another way that I would describe it," he said. "They're excited about the opportunity to come up here and play, but then again, there's a little bit of apprehension.
"We know that the league's extremely strong. I would think just in our (division) alone, you've got De La Salle and Toledo Central Catholic, who both won state championships. I don't know how many conferences can say they've got two state champs, and I would almost venture to say none. We've got two state champs from different states in the same conference! We're looking forward to having the opportunity to go against both those teams."
Toledo St. Francis de Sales
NICKNAME: Knights
HEAD COACH: Charles Woolridge (1st year)
2022 RECORD: 2-8
CATHOLIC LEAGUE DIVISION: Central
PREDICTED FINISH: 7th of seven
FIRST CATHOLIC LEAGUE GAME: Aug. 31, at Bloomfield Hills Brother Rice
Although St. Francis has had a strong history in certain sports such as swimming, tennis and water polo, its football program has fallen on hard times since last winning a state championship in 2001. New coach Charles Woolridge is hoping to reverse the Knights' gridiron fortunes.
"As far as who we are now, I'm changing the culture. The team's been down for quite a few years," he said. "Team-wise right now, the junior and freshmen classes are the strength of our team. Our seniors are starting to step up as far as leading us. We've had a really good off-season as far as getting in the weight room and strengthening our bodies and getting in shape. Based on what I've seen from last season, that was the issue, just being in shape. I think we're starting to turn the corner on that."
Woolridge, who took the new job in January, played as a defensive lineman at Rutgers University and had prior coaching stints in the Washington D.C. and Cleveland areas.
"I'm excited to be here and joining this great league. I'm used to big-time Catholic school football, so this is exactly what I wanted — coming in here for year one and being part of a great league," he said. "One of our mottos right now is 'Building on Bancroft,' which is the physical location of our school. We're building this thing and we'll just see what happens. All we need to do is go out there and give our best, and we'll be able to compete. We're going to get that program back."
Jackson Lumen Christi
NICKNAME: Titans
HEAD COACH: Herb Brogan (44th year)
2022 RECORD: 11-3 (Michigan Division 7 state champions)
CATHOLIC LEAGUE DIVISION: AA
PREDICTED FINISH: 2nd of four
FIRST CATHOLIC LEAGUE GAME: Sept. 15, vs. University of Detroit Jesuit
With a co-ed enrollment of 302, Lumen Christi is smaller than the Toledo schools that are joining the Catholic League, but the Titans are no less of a football powerhouse. Lumen Christi has 12 titles to its name — including last year, when it beat Traverse City St. Francis at Ford Field.
"About half the kids are back from last year's team, and so we've got some experience, and we've got some experience playing in big games," head coach Herb Brogan said. "We're optimistic, but we understand that the schedule is a challenge."
Lumen Christi — which is in the Diocese of Lansing — joins the Catholic League after leaving the Interstate-8 Athletic Conference (which will continue with seven teams for now).
"We were the smallest team in that league by quite a bit," Brogan said. "It presents some depth issues. Your first goal is trying to stay healthy. If you start getting banged up against bigger schools, you can find yourself in trouble."
Brogan, with more than 40 seasons on the sideline, said Lumen Christi has changed conferences before, so this is not a totally new experience.
"We've done this before, we've traveled all over, it's just kind of business as usual. We know what we're up against, we understand the traditions from the schools," he said. "We've played U of D before; everybody in our division we've played before at some point, so we understand what we're up against. We've got to be ready."
Lumen Christi will be in the four-team AA Division with pre-season favorite University of Detroit Jesuit, Dearborn Divine Child and Detroit Loyola. Nonetheless, Brogan hasn't altered the program's objectives because it is joining the Catholic League.
"Our goal is always the same, and that is we want to reach the (state) playoffs. We always feel that if we get ourselves to the playoffs, we're going to have an opportunity to compete. That's always our No. 1 goal. League championships are nice, but they're probably secondary," Brogan said. "It's our job to try to figure out how to win on Friday nights. Our kids are going to be ready to compete, but we're going up against some really good football teams."
Copy Permalink