DETROIT — Simply unstoppable.
That was previously unbeaten Grand Rapids Forest Hills Central's impression of the Warren De La Salle football machine. After De La Salle rolled over the Rangers, 52-13, to win a second consecutive state championship Nov. 25, Central's coach admitted he tried to detect a weakness in De La Salle's attack and couldn't find any. De La Salle's performance made it hard not to agree.
The Pilots took control from the get-go against their West Michigan opponents by scoring touchdowns on each of their first five possessions — virtually a repeat of the 2021 title game when the Pilots put up a one-sided 41-14 victory over Traverse City Central.
"Our focus for the last five, six weeks was making sure we scored early to put some pressure on teams," coach Dan Rohn said. "We knew that they were a running team that would try to run the football at us, and we were going to force them to do things with their defense that they hadn't had to do all year long. They tried to mix some coverages up, and we took advantage of that. When you have to do those things and you're not used to doing those things, that makes it pretty tough."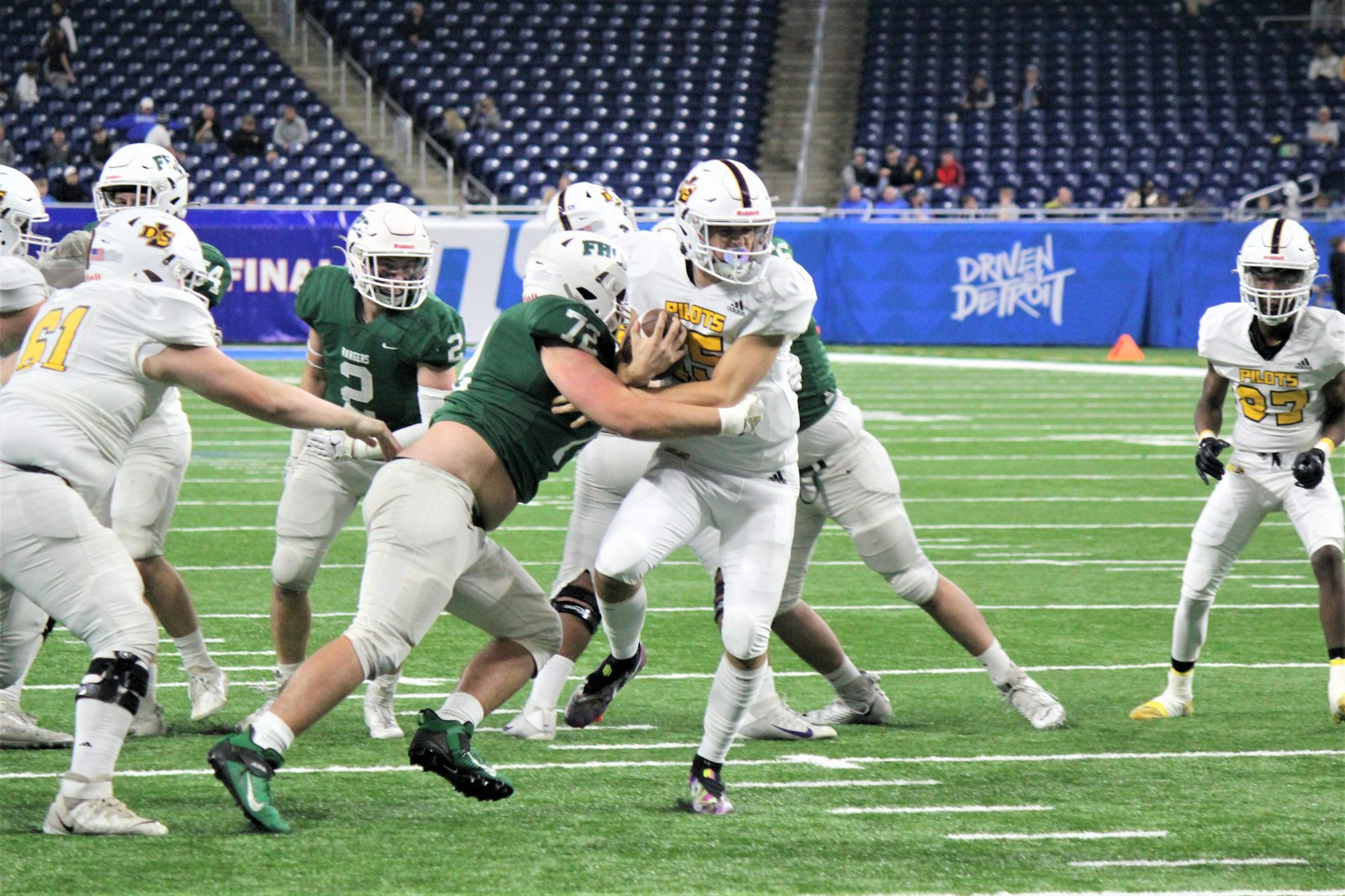 De La Salle needed a little over two minutes to establish its dominance. The 13-1 Pilots took the opening kickoff and drove 69 yards in six plays, with quarterback Brady Drogosh running the final three yards into the end zone for the first score.
After the Pilot defense held Forest Hills Central to three-plays-and-out on its first series, De La Salle's offense went on another productive 62-yard, eight-play drive, with Rhett Roeser scoring on another three-yard run four minutes into the game.
"I was super-excited when we got the ball first, and coming out and scoring really fast was something we've done all playoffs — really, something we've done the past three years," Drogosh said. "Then our defense got a big stop — they've made big stops all year long — but coming back and scoring again felt pretty good."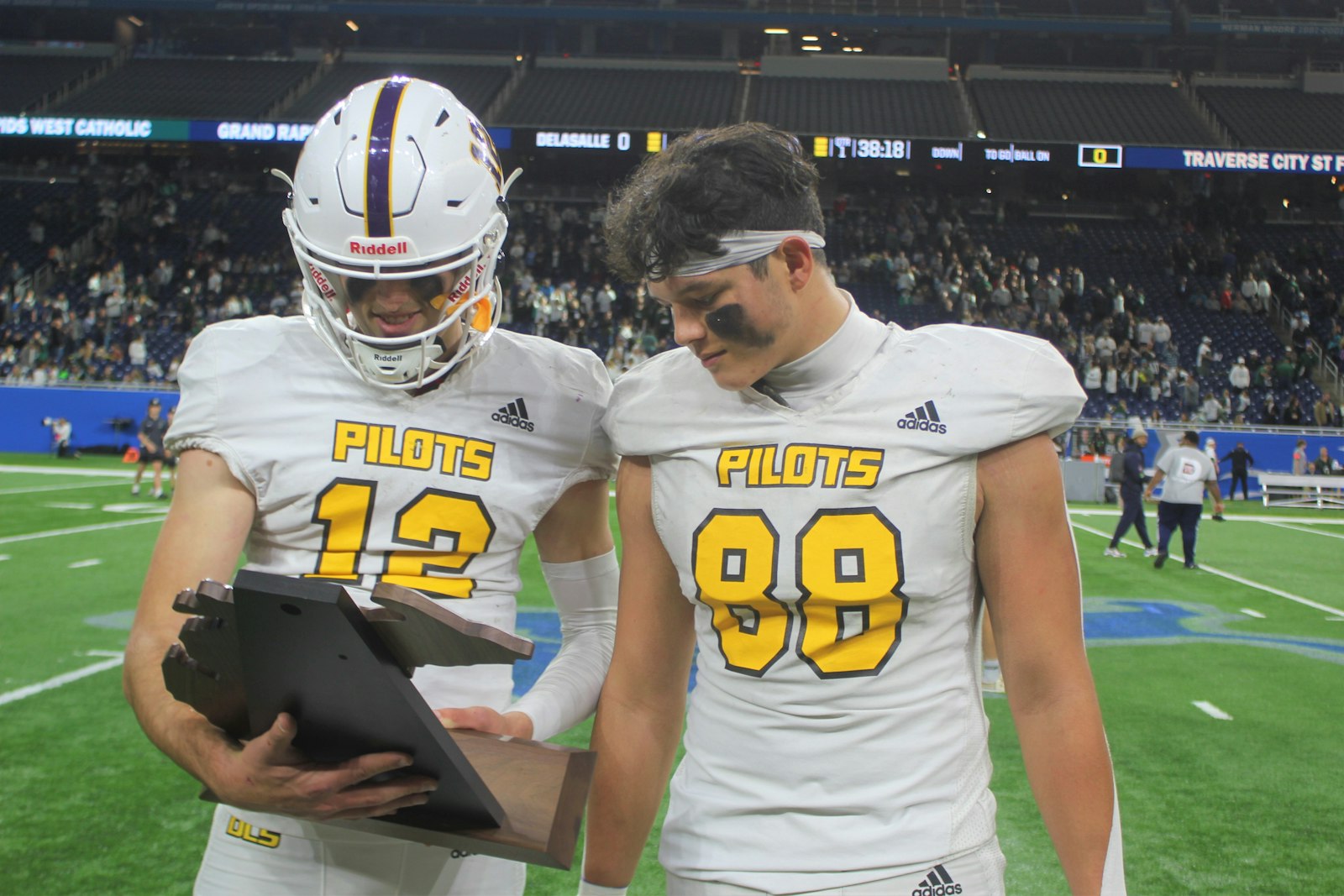 Mason Muragin forced a turnover on the ensuing drive by hitting the Central quarterback, and linebacker Payton Babich intercepted the throw in Ranger territory. One play later, Drogosh threw the ball deep to Jack Yanachik, who caught it in stride at the goal line. Landon Ryska's extra point made it 21-0.
By the time the first quarter ended, the Pilots were sitting pretty with the three-touchdown lead — and it might have been four, had not a face-mask penalty negated Sherron Sutton's 66-yard punt return.
The onslaught continued in the second quarter. Drogosh added a touchdown on two-yard run and threw nine yards to Triston Nichols for another, making it 35-0 6:41 before halftime.
"We have a lot of weapons opponents have to deal with, and we move the ball around," Rohn said. "I thought this group turned the corner in November and started playing better football than they did all season long, and that's why we're beating teams and having running clocks — not because our opponents weren't any good, because we had some real good opponents that could have represented and played at this level."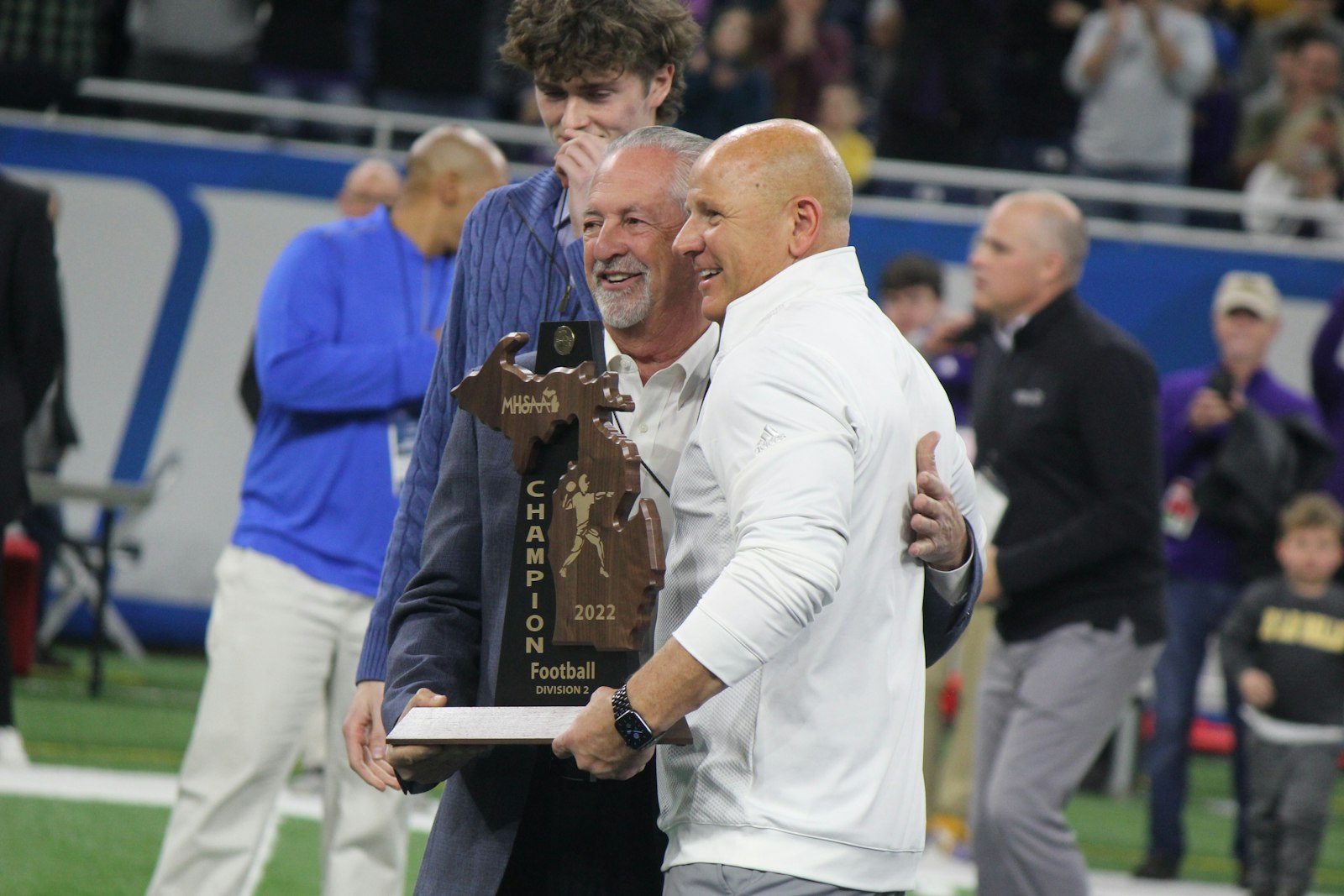 Forest Hills Central briefly showed signs of life late in the first half, creeping within 35-13 after scoring two touchdowns in less than a minute on Justin Osterhouse passes. The first covered 22 yards to Roman Brummel, and the second went 25 yards to Ty Hudkins. Hudkins' grab was set up by a fumble recovery by Nolan Hartl.
But De La Salle's defense tightened up, keeping the Rangers out of the end zone for the rest of the way.
Ryska hit a 25-yard field goal with one second remaining before halftime to make the score 38-13 at the break, while Drogosh and Roeser added third-quarter rushing touchdowns of nine and 19 yards, respectively, to account for the remaining scores.
Drogosh — playing on the Ford Field turf for the fifth time in his prep career — had a career day, completing 21 of 23 passes for 249 yards and two touchdowns. He was the game's leading rusher with 152 yards on 15 attempts, and reached the end zone three times.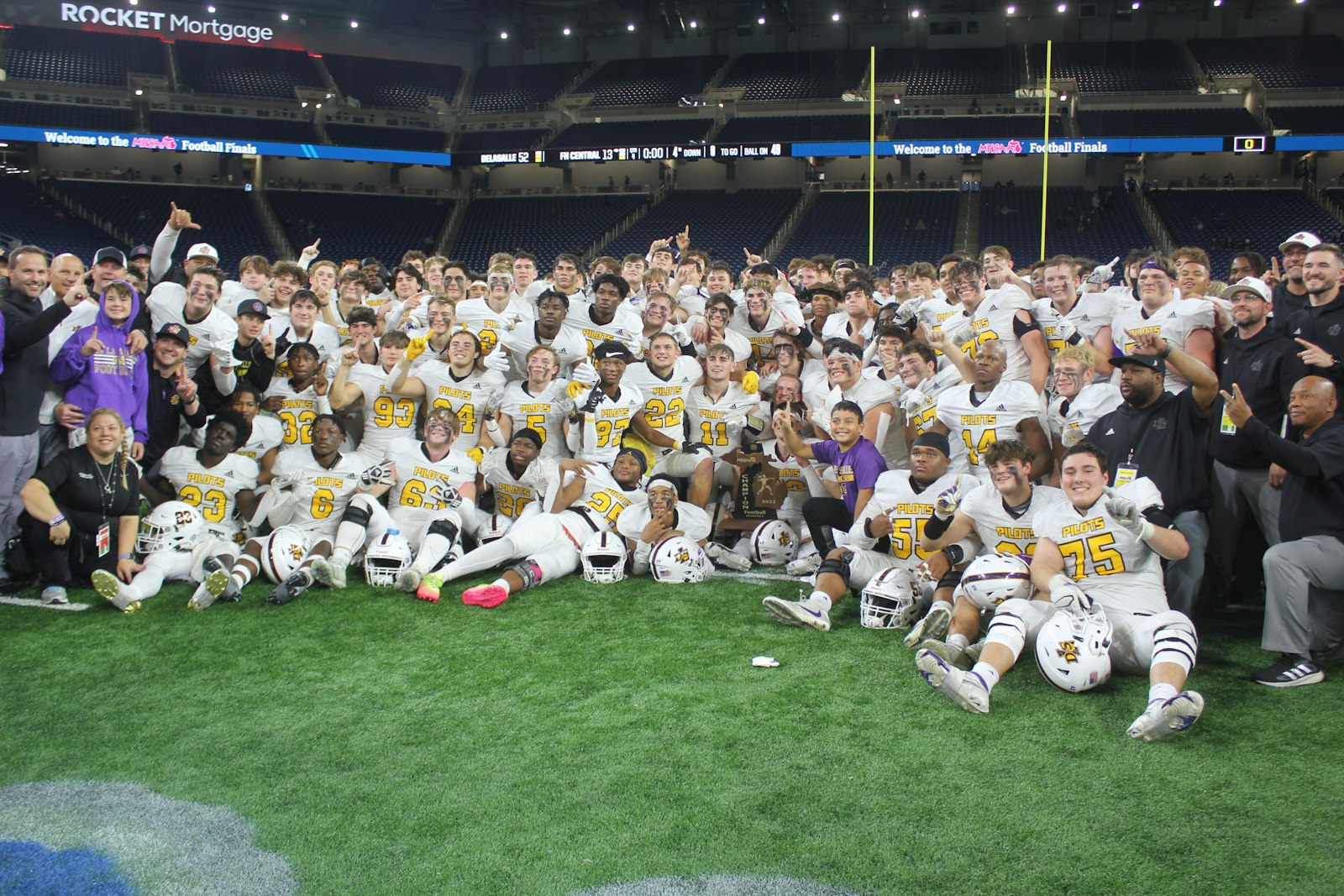 "I knew that this was my last game and I had nothing to lose, so why be nervous? I just came out and did my thing," he said. "Being here for my third time (in the state finals), I tried to not let anything rattle me.
"They're a great football team and they brought some pressure, but I was able to escape it. My versatility's a big part of why I never really get rattled. They did a great job, and our guys did a great job as well."
Lumen Christi claims Division 7 championship
Heading into the fourth quarter, things were looking pretty dire for Jackson Lumen Christi. The Titans couldn't get anything going on their first eight possessions, produced only 50 yards of offense, and trailed Traverse City St. Francis by two touchdowns, 12-0.
But Lumen Christi — who will join Detroit's Catholic High School League next year — came up big down the stretch, putting together two long scoring drives to eke out the Division 7 title, 15-12.
First, the Titans traveled 83 yards in 12 plays, eating up nearly six minutes of time. Senior quarterback Joe Lathers rushed for an 18-yard touchdown, and Andrew Salazar's extra point brought Lumen Christi to within 12-7 with 11:04 to play.
Lumen Christi forced St. Francis to punt on its ensuing possession, Derrick Walker scored on a two-yard burst with 7:05 left, and Lathers ran in the two-point conversion. Lathers also had the 49-yard drive's biggest play, a 36-yard run that took the ball into the red zone.
Lumen Christi came up big once more with an interception by Alex Pastoriza, and the Titans were able to use their deliberate ground game to run out the 6:21 of remaining time.
This was the 12th title in school history for Lumen Christi, which ended the season with 11 wins in a row after starting out the season losing its first three games (including a 42-35 defeat by St. Francis).
Copy Permalink