Ukrainian Catholic community has accepted refugees, sponsored students and raised funds for orphans fleeing occupation
SOUTHFIELD — One year into Russia's invasion of Ukraine, Metro Detroit's Ukrainian-Americans remain resolute in praying for peace and the freedom of their cultural home.
Orthodox and Catholic Ukrainian-Americans and their neighbors gathered Feb. 24 at St. Mary the Protectress Ukrainian Orthodox Cathedral in Southfield to pray for an end of the war that to date has killed tens of thousands, dislocated hundreds of thousands, reduced cities to rubble and shows no sign of ending soon.
Three hundred and sixty five days of war; 14 million Ukrainians forced to flee their homes; 8 million refugees; 5.9 million internally displaced people.
The bell tolled each time a statistic was read at the beginning of the Service of Supplication for Ukraine.
18,955 civilian casualties; 628,000 Ukrainian children abducted to Russia; 760 hospitals bombed; 3,139 schools bombed; 1.7 billion people worldwide facing food insecurity as the world's third-largest provider of grain faces the largest invasion on European soil since World War II.
"We pray to You, Lord of peace and tranquility, that as smoke vanishes, so our enemies shall vanish, and as dust is blown away by the wind, so should their evil (campaign) to destroy Ukraine, enslave her people, be eradicated," prayed Fr. Paul Bodnarchuk, rector of St. Mary the Protectress Ukrainian Orthodox Cathedral. "Lord, enlighten those who oppose Your commandments and teachings. Let them remember Your commandment that states: Blessed are the peacemakers, for they will be called sons of God."
The vigil was a call for peace in Ukraine as well as a rallying cry for a community that has contributed millions of dollars to Ukraine and has taken in thousands of refugees who have been welcomed in southeast Michigan.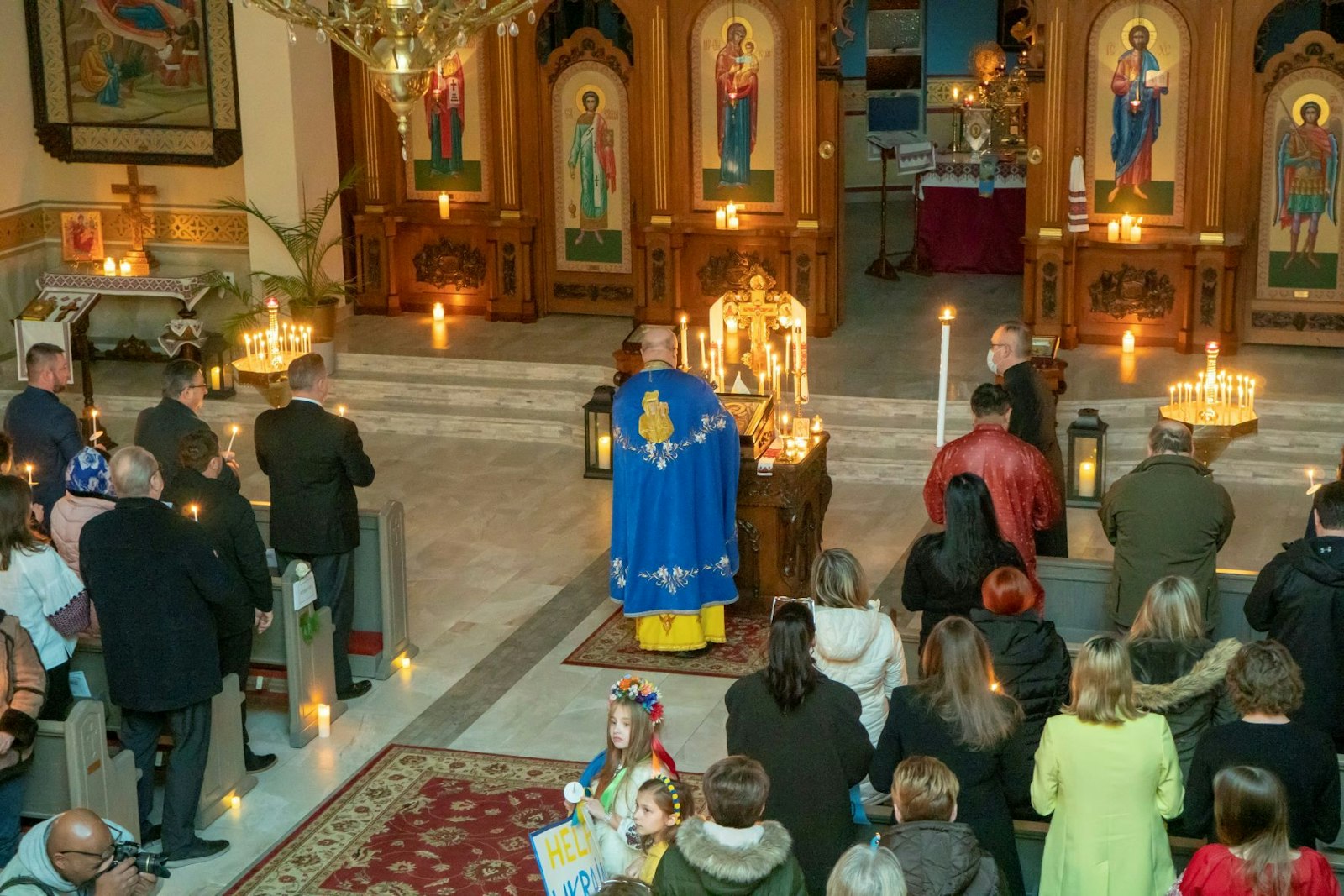 "We gather here on this anniversary of this terrible war to pray, to ask God for protection of our Ukrainian defenders," said Fr. Bodnarchuk, during an assembly attended by political and religious leaders from the region.
Across town at Immaculate Conception Ukrainian Catholic Church in Hamtramck, the parish continues to pray for Ukraine's defenders a year into the conflict, particularly friends, family and loved ones currently on the front lines. It's those realities that make a war in eastern Europe hit so close to home, said Fr. Daniel Schaicoski, OSBM, pastor of Immaculate Conception.
"The mood of the parish is better than at the beginning of all of this, when Russia was at the borders and when they invaded a year ago," Fr. Schaicoski told Detroit Catholic. "But now we see the news from Bakhmut (a city in Ukraine's eastern Donetsk region that is currently encircled by Russian troops), and there is so much sadness you can see in the eyes of the people. But at the same time, there is sadness mixed with hope and pride. Hope because you see the world standing with Ukraine, and pride that the Ukrainians are fighting back."
The winter months have brought the war to a stalemate, with neither Russia nor Ukraine willing to seek out a ceasefire. The past 12 months have been spiritually and emotionally draining for the local Ukrainian community, Fr. Schaicoski said, but the community retains faith in Ukraine's ultimate victory.
"The people see we can win this," Fr. Schaicoski said. "The one thing I hear the most is, 'Father, we are going to win this, but why are we losing all these good people? Why are we losing the flower of our nation?'"
The war has had a direct impact on the Immaculate Conception community — from the number of new families in the pews both at Immaculate Conception and St. Josaphat Ukrainian Catholic Church in Warren, to Immaculate Conception Ukrainian Catholic School's enrollment increasing from 170 students to more than 300 and even more on a waiting list, with more than half of the students being war refugees.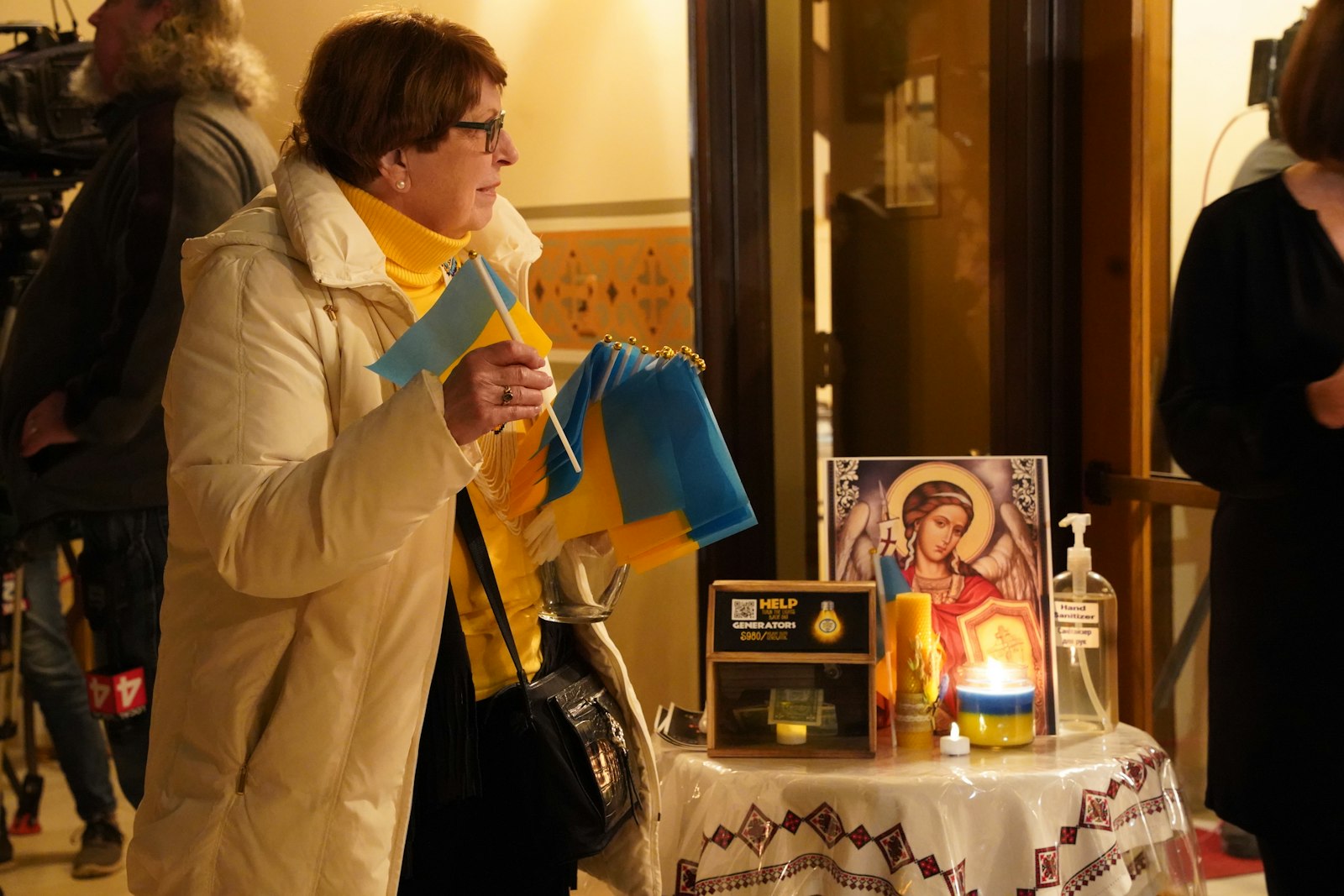 Immaculate Conception took in nearly 100 students who were war refugees in August 2022 and plans to take in an additional 100 refugee students when registration opens in March.
A Detroit Catholic story inspired an anonymous donor to create a matching grant fund for the school to cover tuition for students and to hire five ESL (English as a second language) teachers who will work with refugee students over the summer so they are better acclimated once school resumes in the fall.
"All the refugees coming in from March 1 to our school will get school for free, and we're looking for people to help so we can," Fr. Schaicoski said. "We've got people in Florida who read Detroit Catholic and worked with the Catholic Foundation (of Michigan). You don't know how much that helped. More people are coming here every week, and some of the money we raised this year we can use for next year, taking in students until our school is full."
Another aspect that has changed in the past year is the family life of parishioners in Detroit's Ukrainian Catholic community, with families taking in multiple generations who were granted special visas when fleeing Ukraine to come to the United States and live with relatives in the Metro Detroit area, home of one of the largest Ukrainian-American populations in the country.
Fr. Schaicoski recalls visiting many parishioners' homes on Jan. 7 for the Ukrainian-Greek Catholic Church's tradition of blessing homes for Epiphany and seeing three or four cars in front of every home.
"People brought from Ukraine their mom, their brother, their sister, their families with special visas," Fr. Schaicoski said. "One house had six cars in front of the house, and I was thinking, 'Wow, they are having a party as I'm coming to bless their homes.' But when I got in the house, it was three new families there from Ukraine; it's completely changed the community."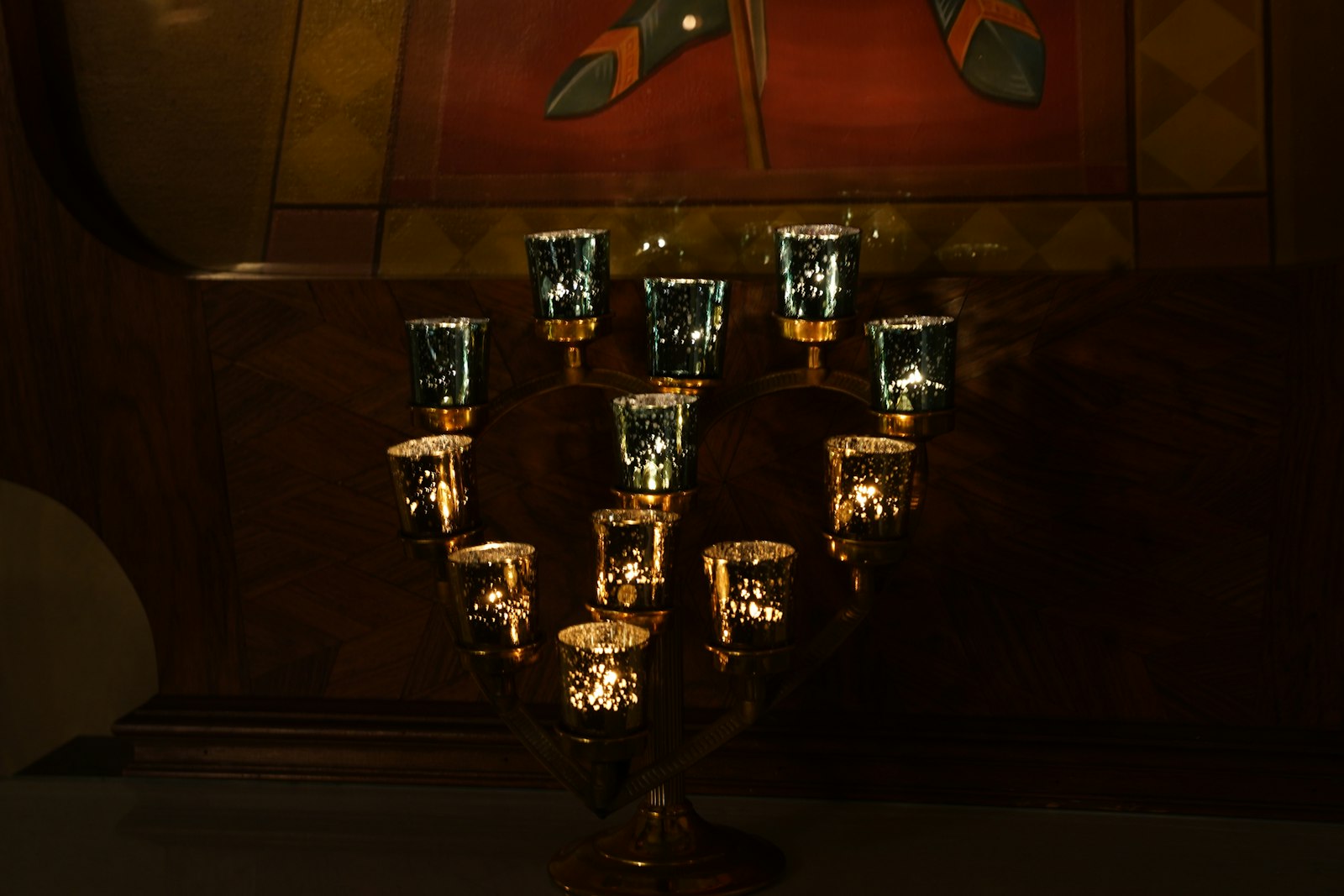 Fr. Schaicoski said close to 200 new families are in his parish, most of them being married couples who were living outside of Ukraine when the invasion started, elderly people who have family in Michigan or women with their children, as Ukrainian authorities forbade men from leaving the country as they were to be conscripted into the armed forces.
Immaculate Conception is now standing-room only during Sunday Divine Liturgy, but that is not the only change at the parish.
Earlier this year, the patriarch of the Ukrainian Greek Catholic Church — one of the 23 Eastern-rite churches in communion with Rome — announced it would be adjusting its liturgical calendar to celebrate Christmas on Dec. 25 rather than Jan. 7, and to switch Easter celebrations to align with the Roman Catholic Church instead of the Orthodox Church, particularly the Russian Orthodox Church based in Moscow.
"The change of the calendar is a very big deal," Fr. Schaicoski said. "If you look at the history of Ukraine, researching every time Russia invades Ukraine, the first thing the Russians try to do is destroy the Ukrainian Greek Catholic Church. The Ukrainian Greek Catholic Church is united with Rome; we are the Catholic Church, open to the West, and it is the church that is the majority church in the west of Ukraine.
"That's why my order, the Order of St. Basil the Great, and the Ukrainian patriarchs have always stood with Ukraine, always promoted the Ukrainian language in our schools, passing Ukrainian culture to children," Fr. Schaicoski said. "The Ukrainian Greek Catholic Church is the protector of Ukrainian identity, and it is that identity the Russians want to destroy. That is what this war is about. Are we Ukrainian? Do we have the right to exist as Ukrainians?"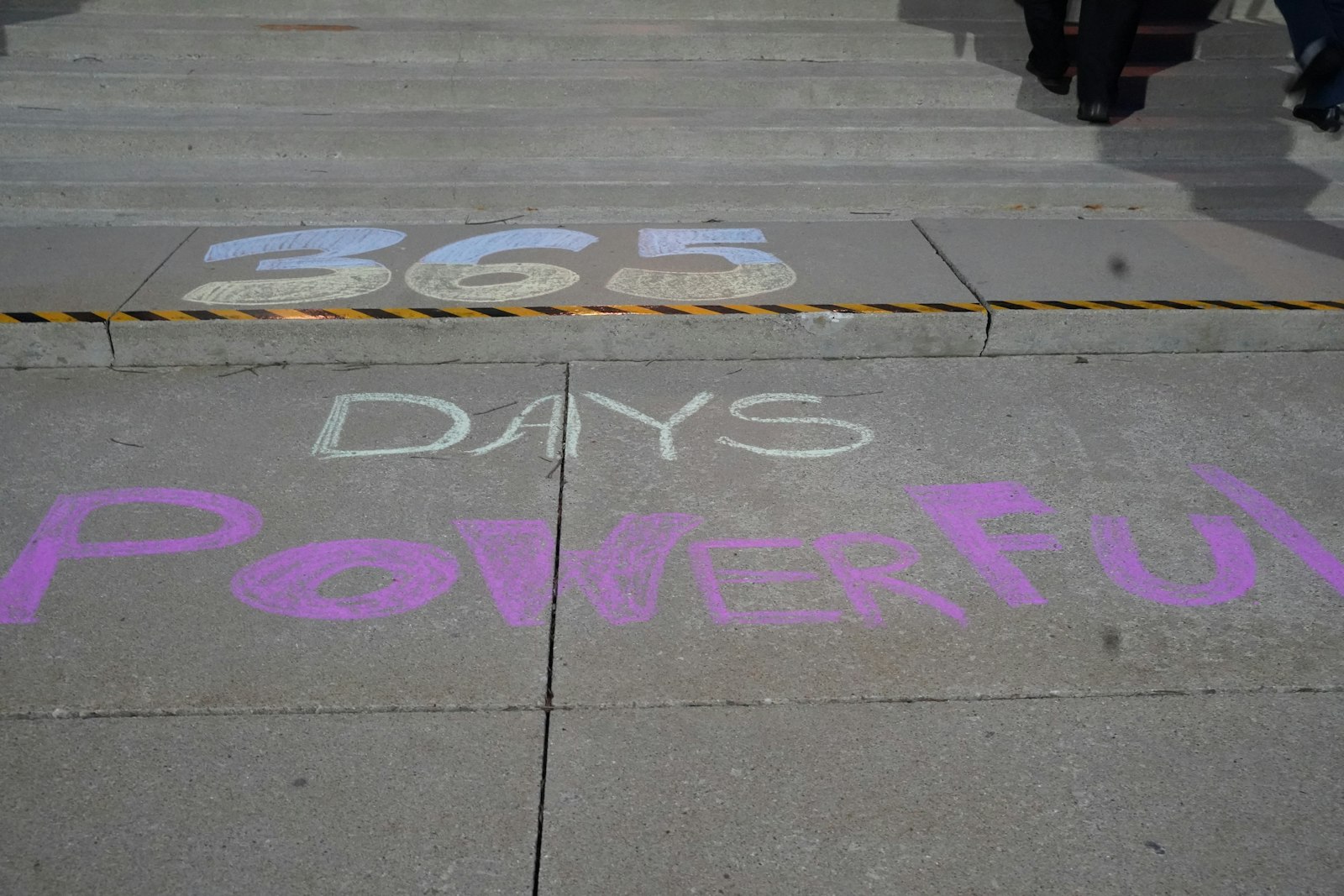 When the war started, Immaculate Conception Parish hosted bake sales to raise funds for medical supplies for the Ukrainian army and organized clothing drives for Ukrainian refugees fleeing the country.
Now the Order of St. Basil is focusing on orphans and displaced children in Ukraine.
"Now that Ukraine is getting help from large organizations, we can't make a big difference there, but we can help the orphans in Ukraine," Fr. Schaicoski said. "I've talked with priests in Ukraine and our superior, and they've identified orphanages run by nuns and lay people that need help."
Vera Petrusha, a parishioner of St. Mary the Protectress Ukrainian Orthodox Cathedral, is the founder and president of UCARE — Ukrainian Children Aid and Relief Effort — a nonprofit started in 1987 that cares for orphans and displaced children in Ukraine through humanitarian aid drives.
Petrusha said the outpouring of support for Ukraine's displaced children has been remarkable.
"We thought we would have one container of items to send, but we ended up with four," Petrusha said. "It was just amazing to see the outpouring of support, people volunteering their time, bake sales; it was very heartwarming to see the community support. We had diapers, baby items, hygiene items, clothing, shoes, suitcases, bedding, all types of things we could have over to refugees as well as orphans."
UCARE has been in contact with six orphanages that care for children whose parents are deceased, fighting on the front lines or incarcerated by Russian forces.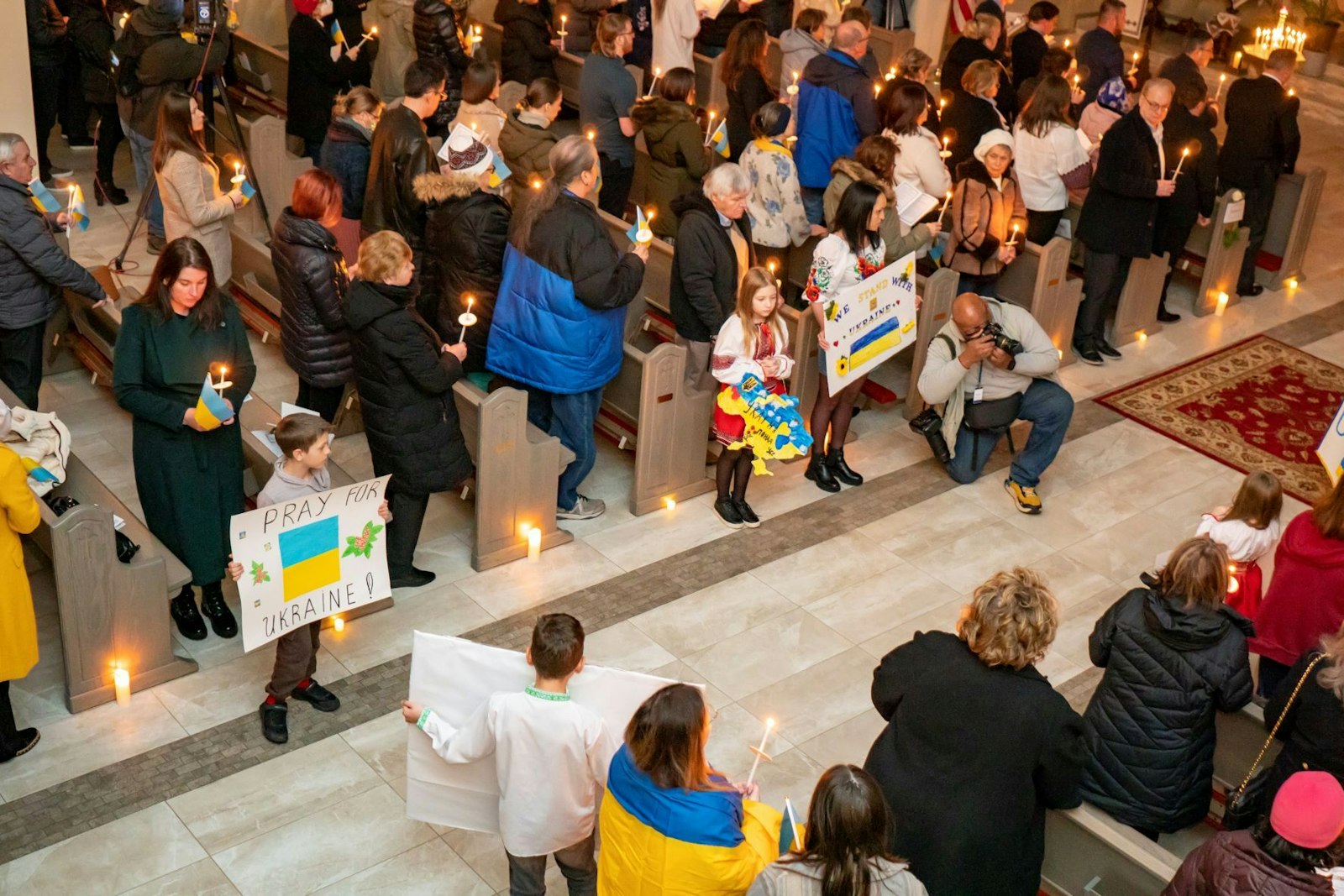 The organization was in contact with two orphanages in the Eastern region of Ukraine, in what is now occupied territory. The orphanages have had to shut down and relocate amidst reports 628,000 Ukrainian children have been abducted to Russia to be placed with Russian families.
"The children are being moved around, some of them from the east of Ukraine are being taken to the west; some are totally out of the country, moved to neighboring countries like Poland, Sweden, Italy or Germany," Petrusha said.
Petrusha said it's been difficult to monitor the fate of children on the east side of the besieged country, but the issue has been raised on an international level both at the United Nations and at the Vatican during a recent trip by Ukrainian parliamentarians.
"There are different groups working toward reclaiming Ukrainian orphans in Russian occupation, but it's just a difficult time," Petrusha said. "There was an article a week or so ago, 16 children being rescued and brought back and reunited with their families. So it's not even orphans, it's children being taken away from families, saying they are now orphans and are integrating them into Russian society."
Fr. Schaicoski said the preservation of Ukrainian identity, Ukrainian culture and Ukrainian faith are just as important as the battlefield victories the country can earn.
"All the money we raised from the beginning of the war from the church — $200,000 just from Immaculate Conception alone — has been helping other organizations in Ukraine; orphanages, damaged churches, rebuilding schools," Fr. Schaicoski said. "When the Russians first came around Kyiv and Kharkiv, the first thing they do is destroy the museums, schools, libraries, and everything that has to do with education. The end goal of the Russians is to erase the Ukrainian identity. That's why the local Ukrainian community had a walk-a-thon last year, so we would raise money to rebuild what was destroyed by the war already."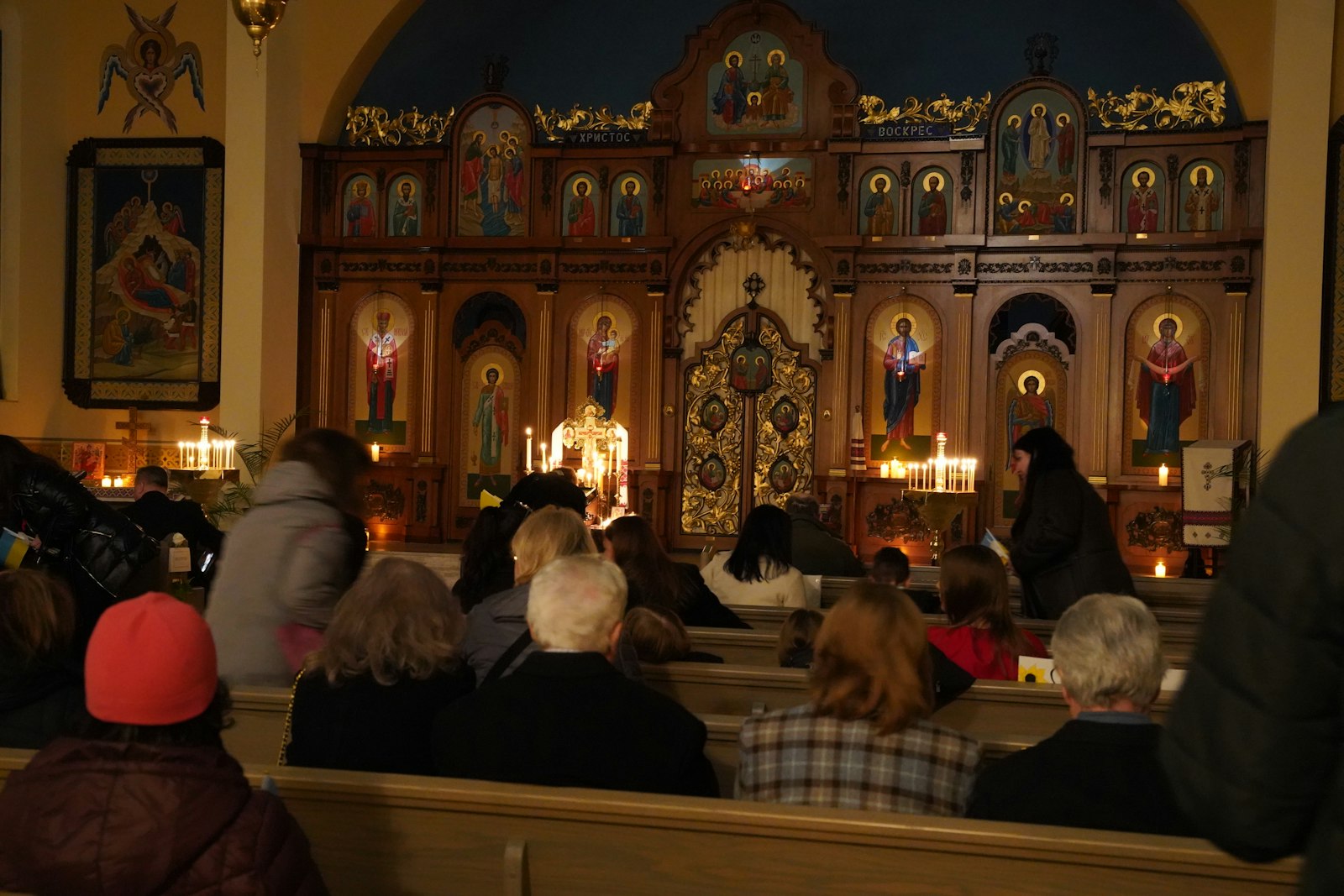 Now a year into the conflict, Fr. Schaicoski said there has been a mood shift in the greater Ukrainian-American community. It is not a matter of "if" Ukraine will prevail, but "when."
"My parishioners would ask me, 'Father, should we pray to defeat Russia?' Yes, we have an obligation to defeat Russia," Fr. Schaicoski said. "We have to pray so our soldiers can win the war over Russia. We now have an 8 a.m. Divine Liturgy, when we pray for the deceased in our church. And during that liturgy, we say the names of loved ones, fathers, sons, friends, and classmates killed. We commemorate each and every person who in some way was part of our community who gave their lives for Ukraine. We've had volunteers from our parish go over to Ukraine to fight, and after they serve their term, they come back and say they want to go back and keep fighting."
From praying for peace to taking in refugees to educating the future generation of Ukrainian-Americans, the war has called on Metro Detroit's local Ukrainian community to perform heroic acts.
But despite the heroism, they are acts the community believes it has no choice but to perform.
"They know they will win, the only question people in the parish ask is, 'How many people are we going to lose to win it?'" Fr. Schaicoski said. "Ukrainians who are now in my parish are convinced; they say, 'What other way do we have, Father? What else do we have to do but win?'
"They will win it, you will see," Fr. Schaicoski added. "These are people of faith, a faith that cannot be shaken."
Copy Permalink
Faithful citizenship