Fr. John McKenzie, social media influencer Jason A. Smith take a 'real' and honest look at fatherhood from multiple perspectives
DETROIT — A new Detroit-based podcast invites listeners to consider the perspectives of two Black men and paternal figures — one a spiritual father and one a dad.
The "Father & Father Podcast" is hosted by Fr. John McKenzie, a priest in solidum at Christ the King Parish and School in northwest Detroit, and Jason A. Smith, communications coordinator for the Archdiocese of Detroit's Office of Black Catholic Ministry and a content creator on TikTok with nearly 94,000 followers.
The podcast's tone is down to earth — two friends cutting it up — but the content goes deep, diving into personal testimonies, the realities of fatherhood, and their lives as Black Catholic men living in Detroit.
"When you take all the titles away — priest and all that — we are just two Black men who are Catholic and just talking about life," Fr. McKenzie explained to Detroit Catholic. "And so, that gives you an insight in a space that oftentimes the Church ... actually, for the most part, is lacking in understanding, and it's been great."
In addition to being a spiritual father, Fr. McKenzie has gained a new outlook as the guardian of his young niece and nephew. Smith, a father of three boys, said the podcast model is about storytelling and perpetuating a conversation.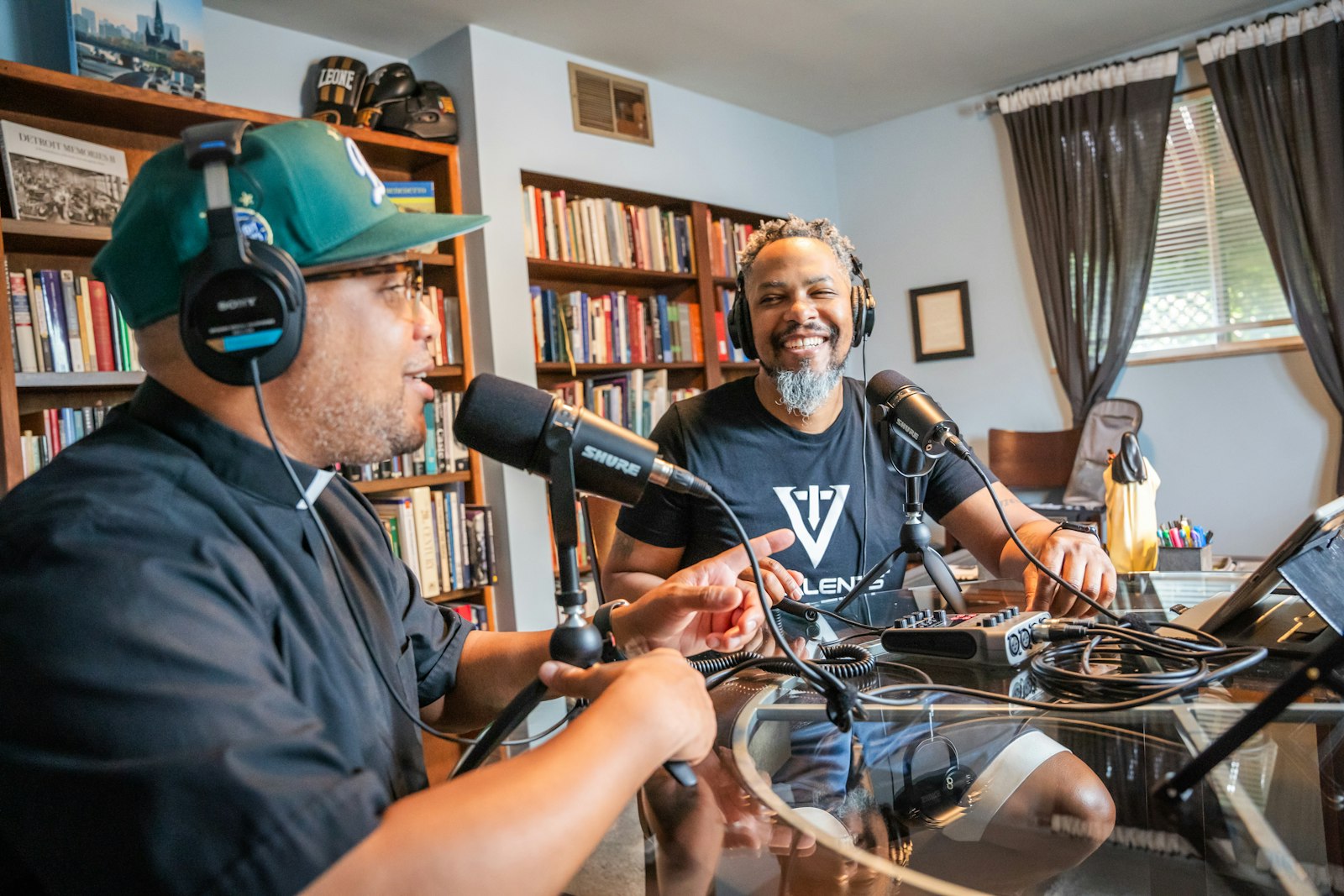 "I think ours is a little bit unique because of the rawness of being Catholic and at the same time being men and getting to real core issues that we go through day to day," Smith explained. "That is going to touch a lot of different people as well."
Initially launching in July, the pair have since released nine episodes recorded in Fr. McKenzie's office at Christ the King. Already, they have received feedback that encourages them that they are on the right track with their tone and message.

"There was a person who reached out to me (and said), 'One of the episodes really made me cry,'" Fr. McKenzie said. "A couple reached out to me, and (the wife) said, 'My husband found this to be the first Catholic podcast that he could actually listen to and understand.' The wife is not Black, and she said, 'I didn't know some of the things you guys talked about.' Anyone who listens to it will understand what Black men in the U.S. go through and how it connects to being Catholic and being part of the Church."
While the target demographic for the podcast is Black men between the ages of 25 and 55, Fr. McKenzie and Smith don't want to limit it.
"We are just (God's) instruments," Smith said. "We kind of let it be boundless, so to speak, so that all of the things we talk about are going to be relatable to all races, Catholics, non-Catholics, male or female and so many different age groups. Just being able to listen to our perspective will be unique."
In the first few episodes, both men share their personal testimonies, and in their words, they get "real," not shying away from the messiness of life.
"For people who are out in the street dealing with life, we just want them to know we're dealing with it, too, and that by the grace of God, we have encountered the Lord Jesus in his Church, and perhaps (the Catholic faith) might be for you, too," Fr. McKenzie said. "We are all in this together. That is what this is about."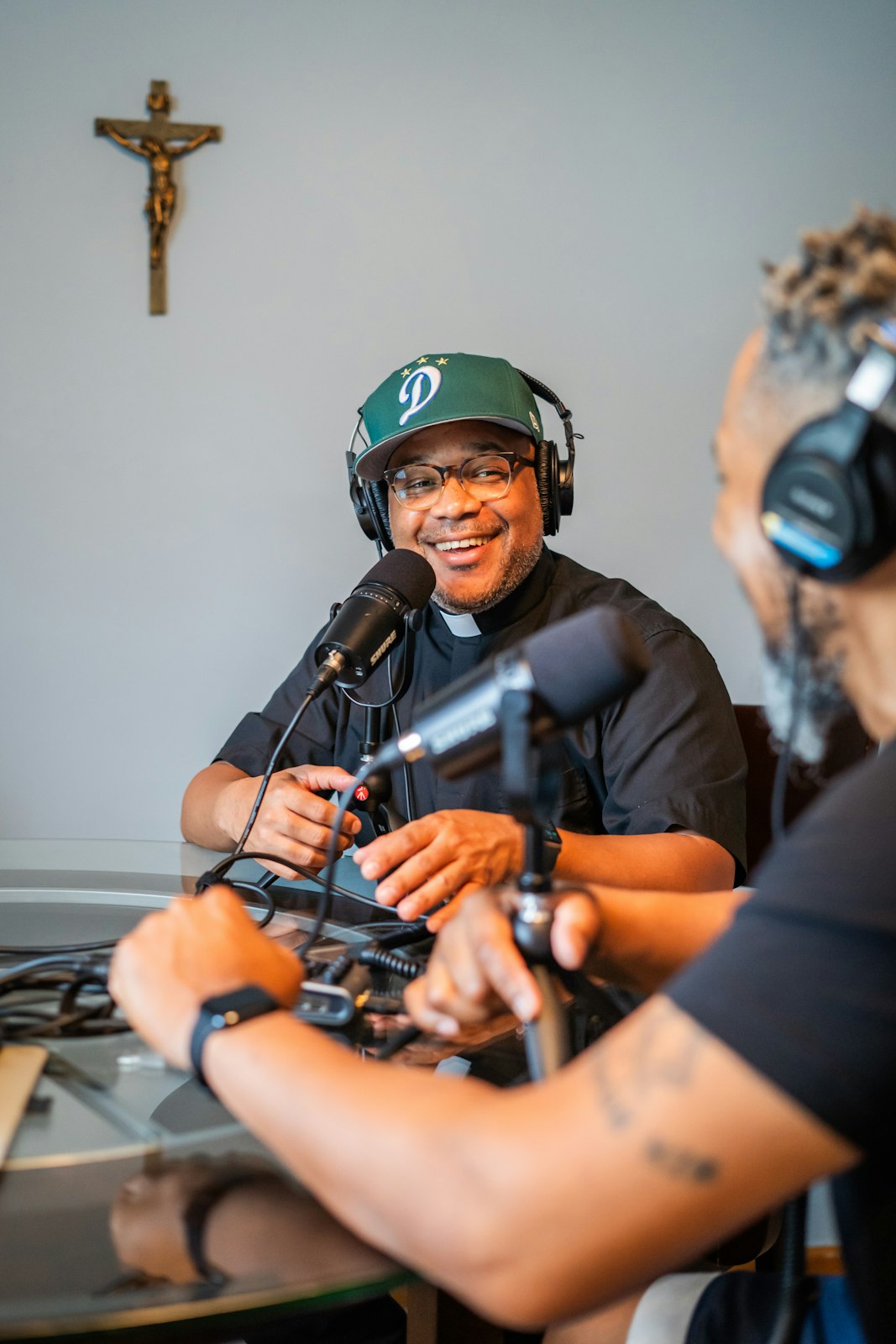 Fr. McKenzie said it is more important than ever to meet people where they are, and to communicate theology in a language accessible to the average person.

"The Church is declining — is it not increasing; it's declining," Fr. McKenzie emphasized. "People feel alienated. If I go out to the nearby Meijer and say, 'Do you know what the Eucharist is?' Most people would say, 'What's that? I have never heard of that?' We have a whole year dedicated to the Eucharist, and thousands of folks don't even know what the Eucharist is."
Smith and Fr. McKenzie want their podcast to help people understand the language of the Church, even if they haven't been raised attending a Catholic church or school.
"Human beings go through real stuff in life, and most of us are not these cookie-cutter saintly people who are produced in a factory," Fr. McKenzie said. "For most people, the language in the Church is its own insular thing ... very inside. On this podcast, we are speaking to folks who are going through very similar things that we've gone through, and we are trying to bring the Lord Jesus into all that."
By being real and honest, both fathers hope to give voice to a segment of the Church and the larger community that often goes underheard.
"We need to reach into the darkness, the slums and the people who need connection," Smith said. "These are gaps that need to be filled in, and the realism of our Catholic faith needs to connect with the realism of what's happening in the streets. We have to put those things together."

Listen to the podcast
The "Father & Father Podcast" with Fr. John McKenzie and Jason A. Smith is available to download on Spotify, Apple Podcasts, Buzzsprout and wherever else you get your podcasts.
Copy Permalink
Culture and Media
Black Catholic ministry