NOVI — Incoming Detroit Catholic Central football coach Justin Cessante knows there's too much tradition surrounding the Shamrock football program, and he would be foolish to change it.
But his players have already noticed one major difference.
"The intensity," senior captain Stone Chaney said. "When Coach is out there, he ramps it up to another level. He expects a lot from everybody, and we want to perform for him. A lot more's expected from us, and we hold ourselves to a certain standard, anyway. Cessante wants us to perform our best and reach our potential."
"The intensity is definitely there," added another captain, Kameron Lloyd. "It's good. I'm used to having authority figures like that — my dad's always like that; he's been hard on me, but I think it's good. When you realize the intensity they come with is really from a place of love, it makes you understand that these guys really care for you."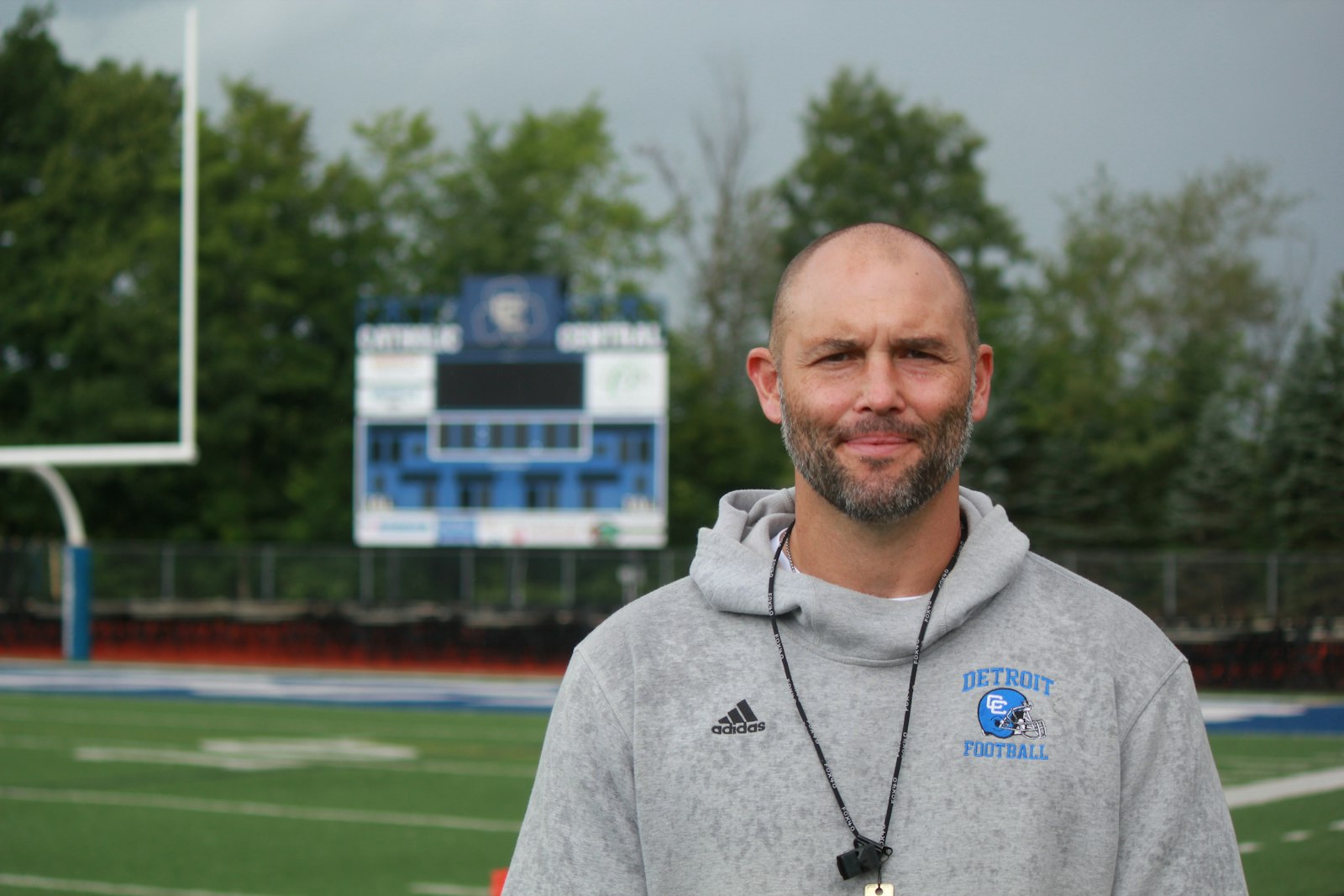 Cessante, a 1999 graduate of Catholic Central, is one of five new head football coaches in the Catholic League who put their players to work in the first official week of practice last week. Cessante, who also served as a Shamrock assistant from 2004-18, was hired in January following Dan Anderson's retirement. It was perhaps the most high-profile hire throughout the state this year.
"It was great hearing a former Shamrock is coming back. He knows the tradition. He wasn't here too long ago. He knows what this school is about," Lloyd said. "It's a good balance. It's like a really fresh renewal. Coach Cessante's a very intense guy. You really feel it every time he talks. He stays with the team. We've been out here working all off-season; he's been here every step of the way with us."
Cessante captained the Shamrocks' state championship-winning squads in 1997 and 1998 before going on to play at Grand Valley State University under noted coach Brian Kelly (currently at Louisiana State University). He was on the Grand Valley squad that won the 2002 NCAA Division II national championship.
More recently, Cessante was national director of football at the Legacy Center Sports Complex in Brighton, and said he had been talking with Anderson about coming back as an assistant coach when he was caught off-guard by Anderson's decision to retire from coaching last November following six seasons leading the Shamrocks (he still teaches at the school).
"I played under and coached with Tom Mach and was defensive coordinator for one year under Dan Anderson. I had a sickness in the family and a baby coming, so I had to step away for those reasons," Cessante said. "I resigned, but God had a plan to bring me back, and it's God's assignment."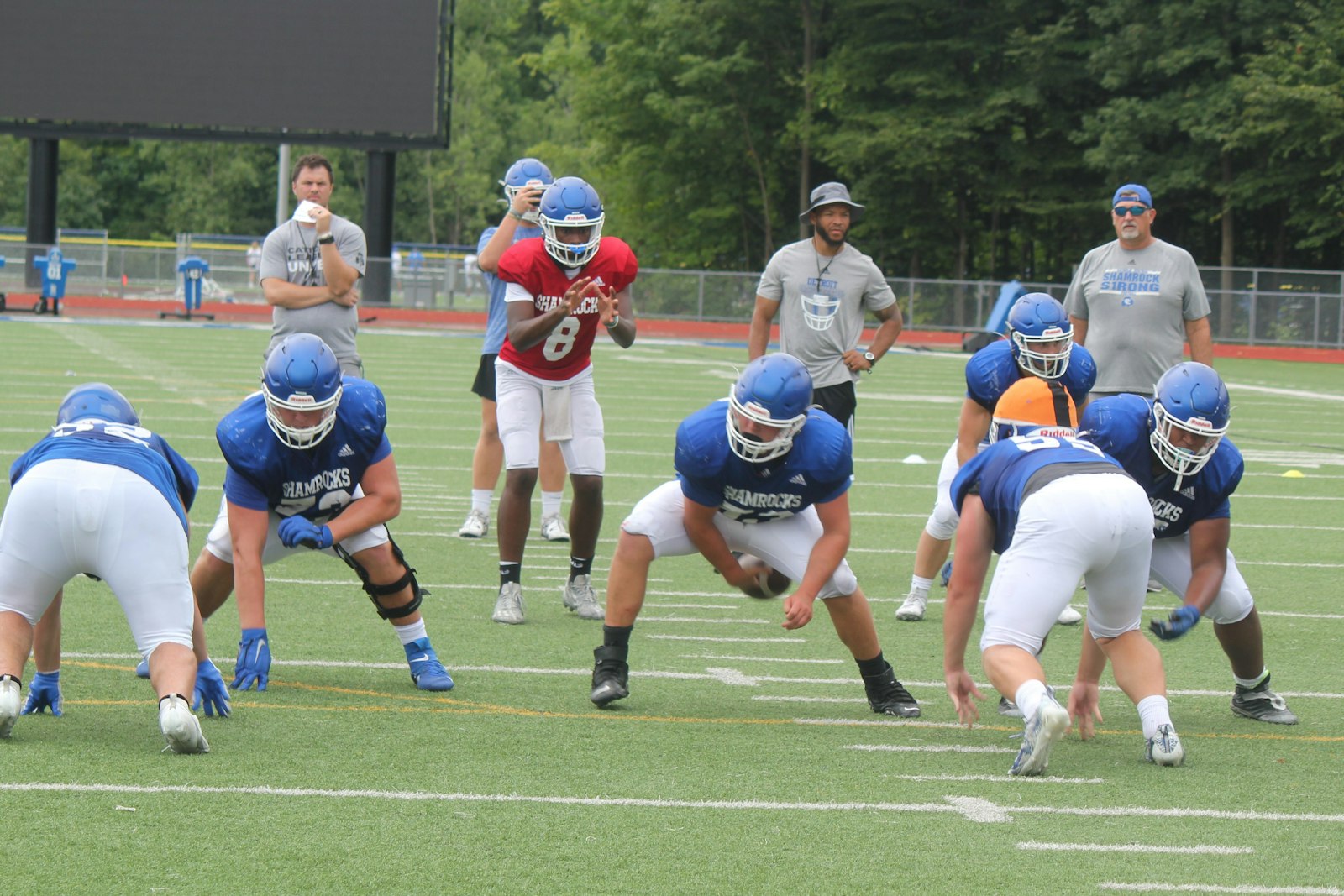 Although it's God's assignment, it's also Cessante's dream job as he seeks to re-establish Catholic Central's reputation as one of the elite programs in the state of Michigan.
"The biggest thing is this is in my soul, and I love this school and I love what it did for me as a man, and giving back to future leaders. I truly believe more Shamrocks in the world make it a better place," he said. "I also did not want to see changes in our core values of this program and what our tradition is. It means that much to me, what Coach Mach instilled over 40 years. I wanted to see this place to be recognizable, and I felt it was time to give back."
Cessante wasted no time getting to work in the winter, bringing in several new assistant coaches and establishing a demanding off-season conditioning program.
"Goal one was to really change the culture and the expectations in the off-season," he said. "I wanted to improve everything the brotherhood does off the field — speed and agility, athletic development, weight room — and make sure that we were really physically, mentally and emotionally prepared as we stepped on the field for two-a-days.
"The biggest change is more work. I believe if we put more work in we won't surrender."
That approach has already rubbed off on the Shamrock players.
"There's definitely more energy at practices; more intensity, and there's a lot more excitement," senior captain Nico Genrich said. "When someone makes a good play, people are loud and energetic, and it just kind of spreads across the entire field to everyone. It's definitely a positive thing."
"We play with a lot more confidence. The camaraderie is a lot more. We basically have been at the school all summer, so our chemistry is just out of this world," Lloyd said. "We're just looking forward to the season. We feel we'll be ready."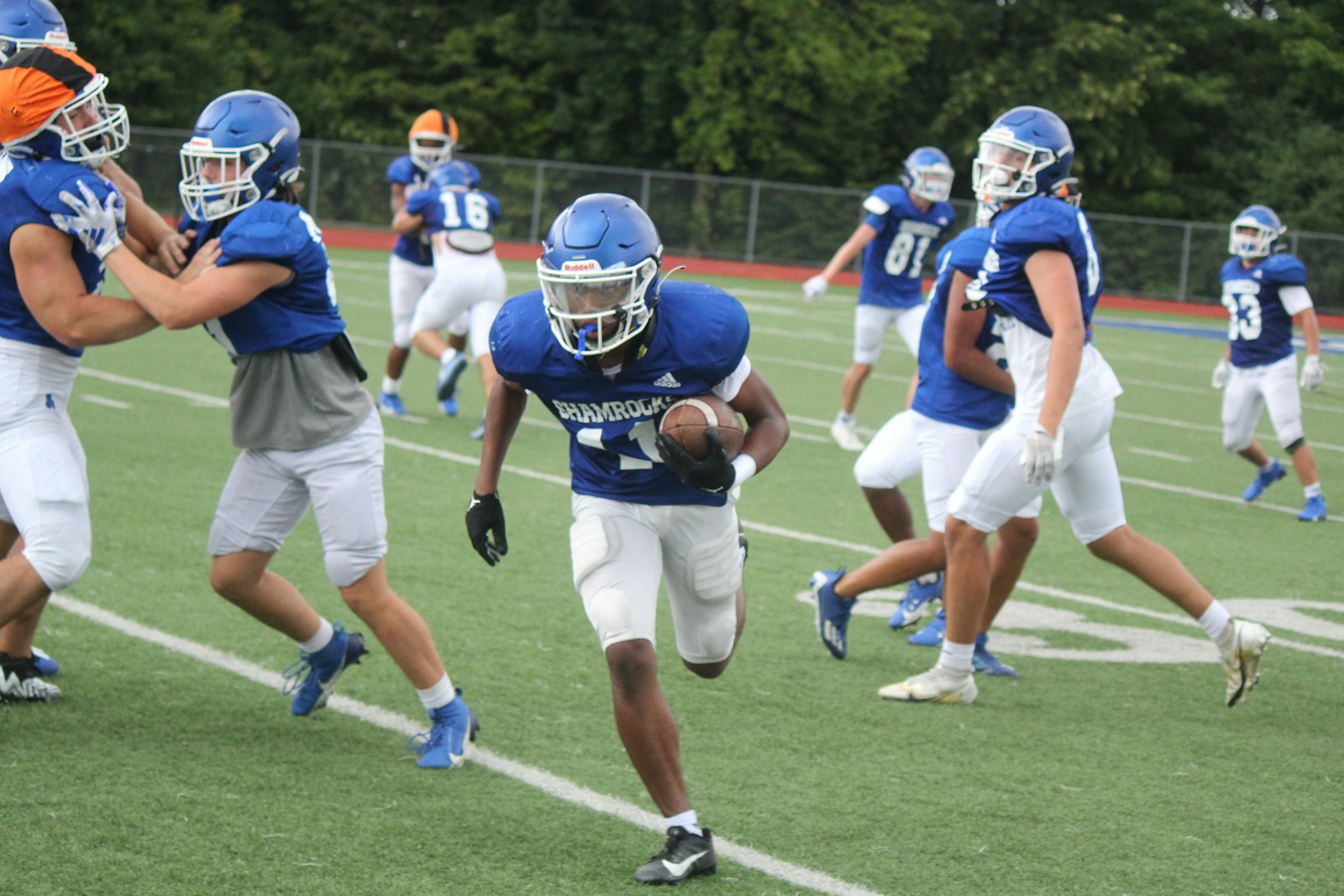 Catholic Central hosts reigning Division 3 state champion Detroit Martin Luther King for a joint practice and scrimmage on Wednesday, Aug. 16, before starting the season at home against Dearborn on Aug. 24.
What does Cessante hope to accomplish in his first season at the helm?
He said, "We'll take it one game at a time, have a championship mentality in reps at practice, build great relationships with the kids and empty the tank — get everything we can get out of them — so that they leave here as a team to be remembered."
Meanwhile, Catholic Central's former offensive coordinator under Anderson, Kevin Glenn, has accepted a head coaching role across town at Grosse Pointe Woods University-Liggett. Glenn played high school ball at the old Detroit St. Martin de Porres and collegiately at Illinois State before playing quarterback in the Canadian Football League for 18 seasons.
Glenn is one of three new head coaches among the five teams in the Catholic League's Intersectional-2 Division. Defending division champion Marine City Cardinal Mooney tapped Dan Kilian as its new mentor following the retirement of Joe Quesnelle. Kilian is no stranger to the Cardinals' program, having served as an assistant for eight years. He's also the school's director of advancement.
Royal Oak Shrine also brings in a new head coach in Brent Widdows, who succeeds Oscar Olejniczak. Widdows has 20 years of experience, including 10 as a head coach, most prominently at Sterling Heights High School. He was also the freshman team head coach at his alma mater, Orchard Lake St. Mary's.
One of the Catholic League's new member schools, Toledo St. Francis de Sales, also has a new head coach in Charles Woolridge, who was hired in January. Woolridge, who played collegiately at Rutgers, previously coached at Catholic schools in the Washington, D.C., and Cleveland areas.
Copy Permalink