ROYAL OAK/BROOKLYN — Although long-distance runners don't require much in the way of equipment, it's essential to have a good pair of running shoes. And if those shoes should happen to be blessed with holy water, the race can even be more meaningful.
That's one way the cross-country teams at Shrine High School in Royal Oak prepared for last weekend's state championship races. Shrine — the only Catholic High School League member to have both its full boys' and girls' teams qualify for the finals — held a team Mass in one of the school's classrooms the day before departing for the state meet. The Mass was celebrated by Shrine's Fr. Joseph Lang.
Coach Faith Luddy got the idea when her daughters, who graduated from Shrine, ran the Detroit Free Press Marathon this fall and had their shoes blessed at a race-weekend Mass at SS. Peter and Paul Jesuit Church in downtown Detroit.
"I thought, 'What a perfect thing to do,'" she said. "We did a whole Mass, and the kids brought their spikes (racing shoes). At the end of the Mass, Fr. Lang blessed the spikes and the runners. We start the season with a Mass with Fr. Lang, and circle back and end with Fr. Lang, it was a nice completion of the season."
Fr. Lang has presided over a special Mass for Shrine's cross-country team at its pre-season camp as far back as 2013, but this was the first time the team held one specifically for the state meet.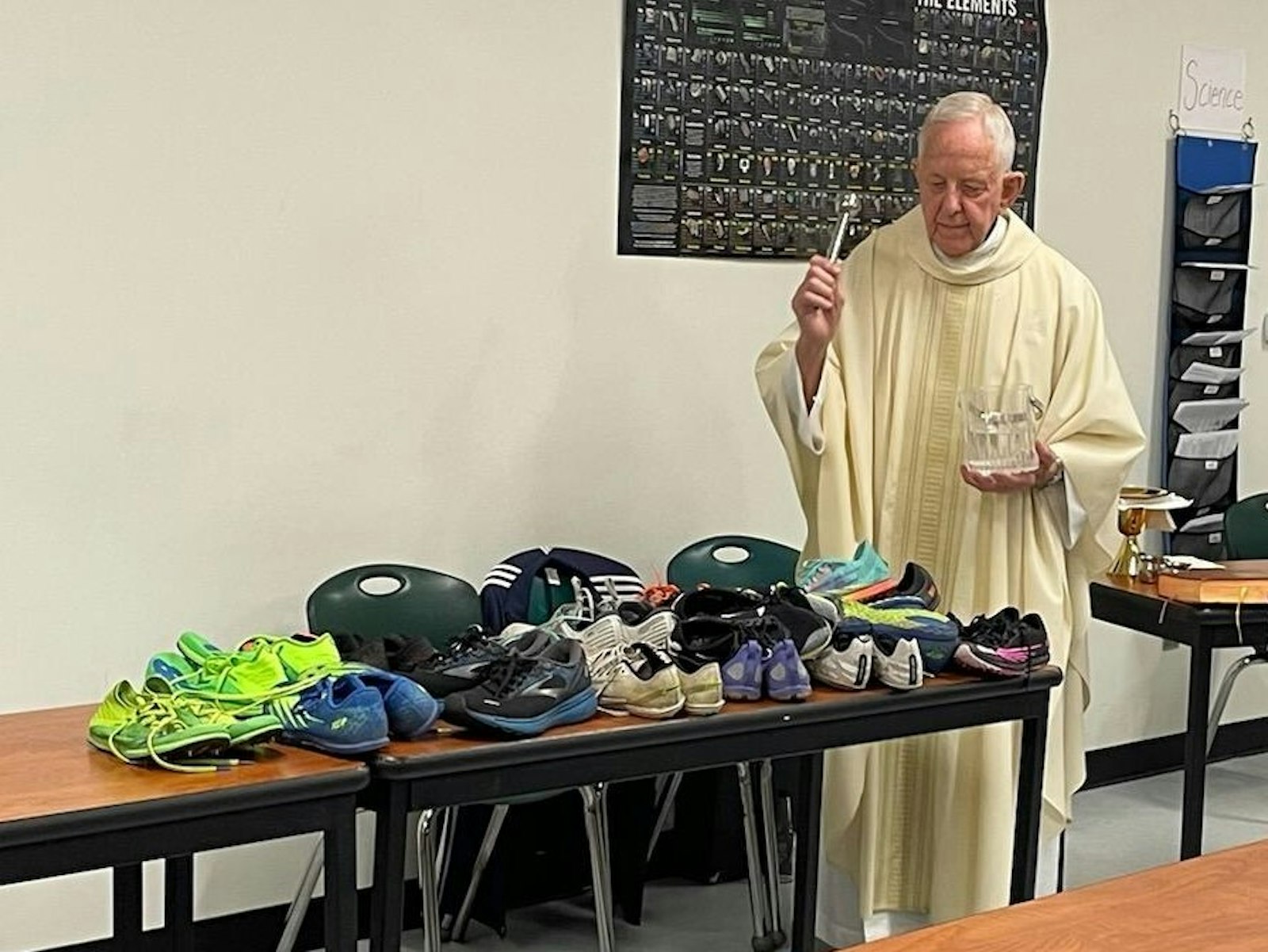 "I thought it was pretty nice," senior Mitchell Graveline said. "It really helped boost team morale, and it was a really good thing to do right before states. It was nice and quick; he gave a short homily, we all took in the Eucharist, and away we went. It really helps to keep you in the mindset, and keep yourself centered out there."

Fr. Lang said his homily to the student runners urged them give their best effort in all facets of life.
"Put everything out there, run beyond the finish line — and we do that in everyday life, hopefully, and this is what they take away from it and what they learn," he said. "It doesn't matter whether you place or not — well, it does matter, but that's not the real benefit of it."
Both Shrine teams finished in the middle of the pack, with the girls 15th out of 27 schools and the boys 19th in their race.
"I think we were expecting to do a little bit better, but then we got there and the (windy) conditions were as they were, and we had some sick runners, so I think all in all we did well," Luddy said. "Our No. 1 runner was down, but everyone else stepped up, and that was the definition of a team."
Luddy would like to continue the blessing of the shoes team Mass in future seasons.
"It just brings faith and sports together," she said. "We pray before every race, and just to have the kids see their shoes blessed, I think it was just rewarding for them to say, 'OK, my faith is important in sports also.'"
Cabrini duo highlights all-state performances
Although no local Catholic high schools won state championships, nine runners from teams within the Archdiocese of Detroit were named All-State for placing in the top 30 of their races.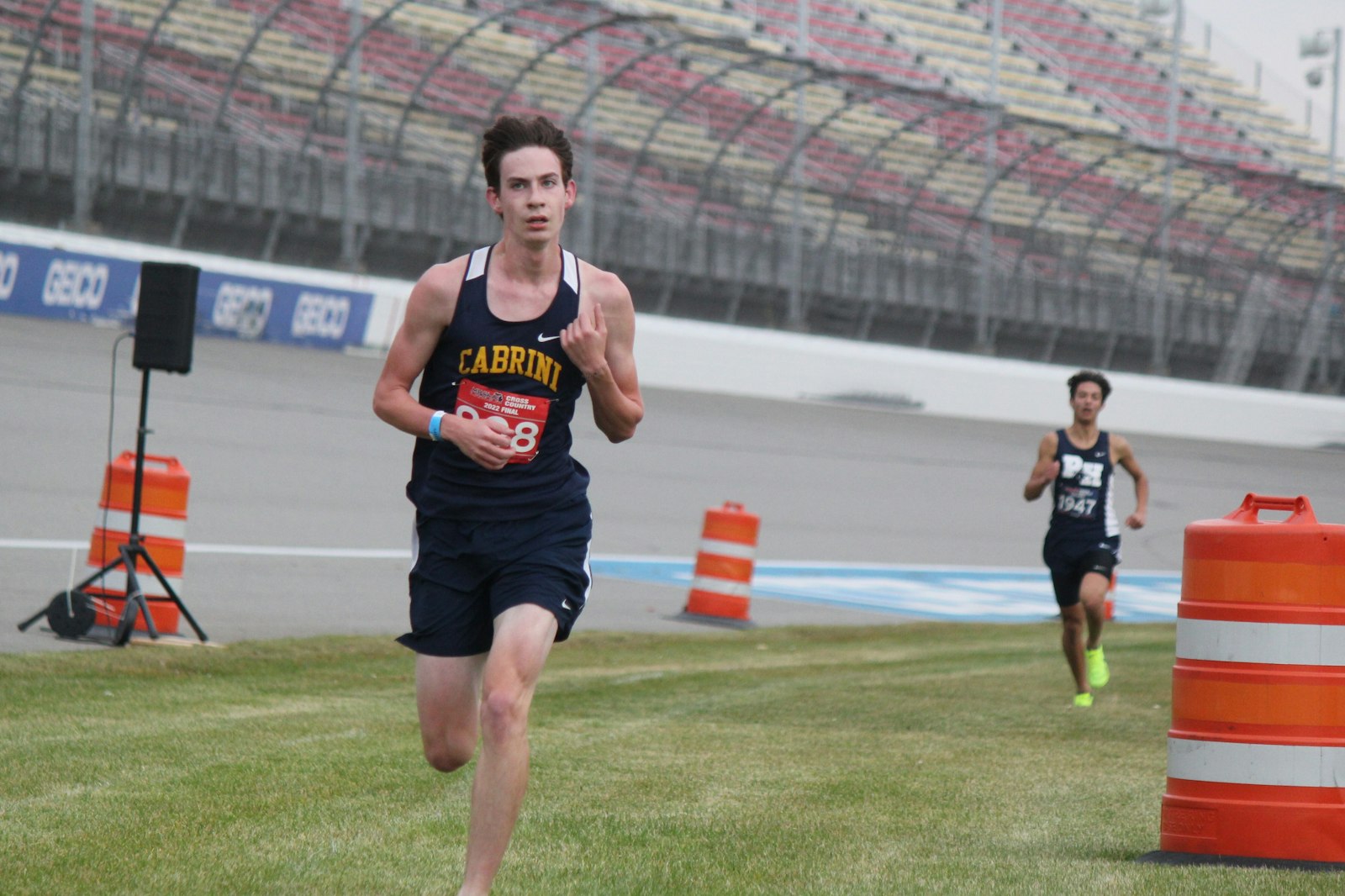 Allen Park Cabrini had two honorees: senior Christopher Russelburg and junior Ava Teed. The pair's state meet performances capped strong seasons, as each had won individual Catholic High School League titles and finished first in their regional race in the two weeks leading up to the state meet.
"It means a whole lot to us," Teed said. "I'm so glad; we both deserve it. It's been nice seeing him improve. We've both been working really hard this season because we've wanted to get to this spot. It was a good season, I'm glad I improved a lot, and I'm glad I got to finish good."
"I was shooting for a little bit higher, but I think 10th is fine," Russelburg said. "(The pack) was a little bit stretched out, and I got all the wind in my face, so it was kind of rough. I just tried to stay up front. This is my fourth time running here and this is my highest place."
It's not the first time the Monarch runners had earned All-State honors. Teed finished 14th as a freshman in 2020, moved up to 11th last year and was fifth among Division 4 competition last weekend, finishing the 5-kilometer course at Michigan International Speedway in 19:55.86.
Russelburg improved from 27th place in 2021 to 10th last Saturday. His time was 16:37.03.
Other All-Staters from local Catholic League schools include Dearborn Divine Child senior Michael Hegarty (fourth in Division 2, 15:41.81) and sophomore teammate Colin Murray (25th, 16:16.45), Bloomfield Hills Cranbrook junior Solomon Kwartowitz (ninth in the same race, 16:10.80), Monroe St. Mary Catholic Central junior Simon VanderVlucht (14th in Division 3, 16:30.90) and freshman Bella LaFountain (17th in Division 3, 19:23.59), Riverview Gabriel Richard senior Alex Meszaros (24th in Division 3, 17:14.29), and University of Detroit Jesuit sophomore Logan Mullan (25th in Division 1, 16:08.90).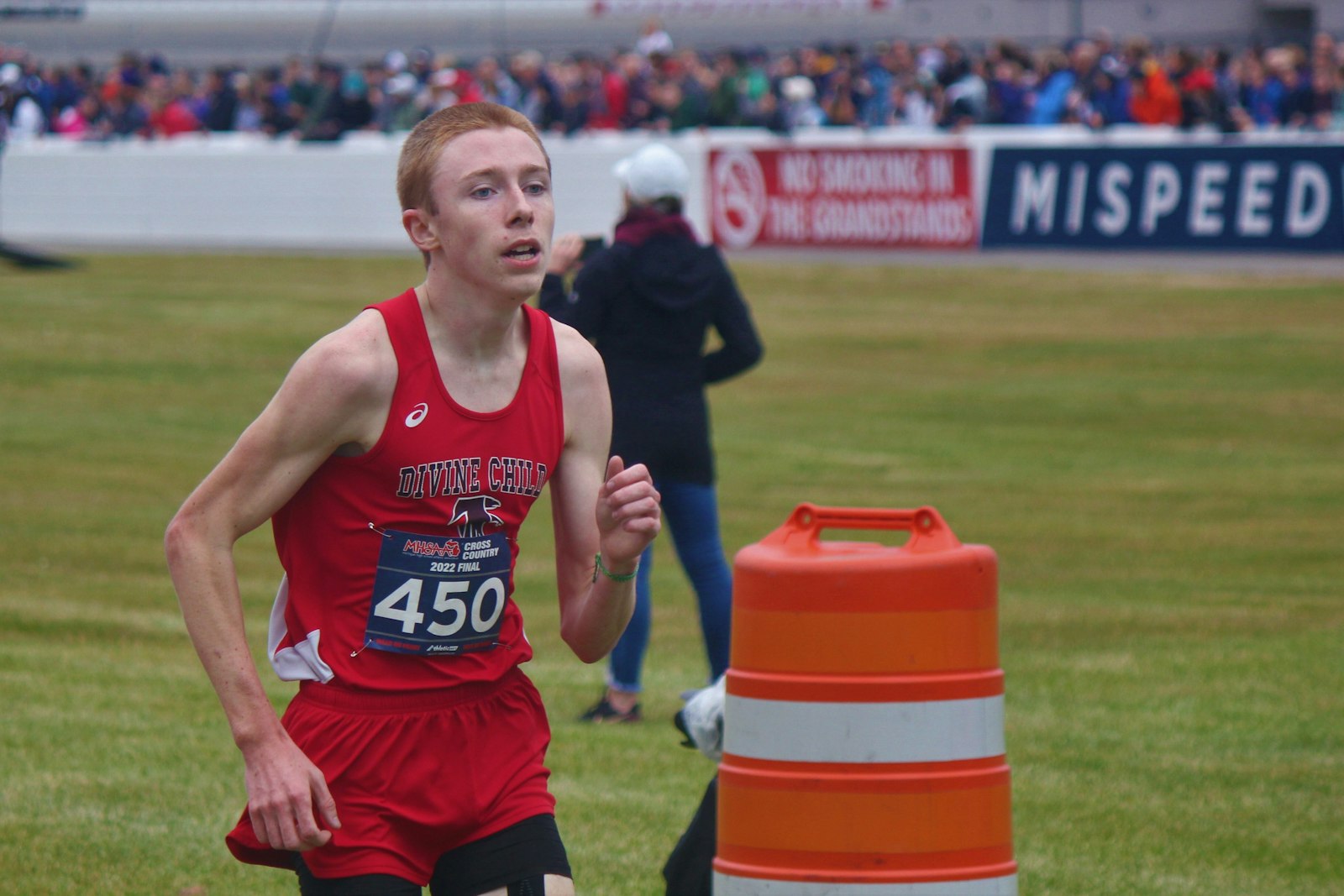 Team-wise, the Divine Child boys squad had the best placing, ranking seventh among the Division 2 field with 210 points. In addition to Hegarty and Murray, seniors Nathan Ulcak (74th), Elijah Jorgensen (93rd) and Dylan McGrath (98th) placed in the top 100 to account for the Falcons' scoring.
Other local Catholic team qualifiers included Novi Detroit Catholic Central (17th among Division 1 boys' squads), St. Mary Catholic Central (17th among Division 3 girls), Clarkston Everest Collegiate (17th in Division 4 girls), Marine City Cardinal Mooney (18th in Division 4 boys), Cranbrook (25th in Division 2 boys), Warren Regina (26th in Division 2 girls), and Madison Heights Bishop Foley (26th in Division 3 girls). Jackson Lumen Christi, which will join the CHSL next year, placed ninth among Division 3 girls' teams.
Copy Permalink