DETROIT — When it comes to the pre-game announcement of the Ann Arbor Fr. Gabriel Richard starting lineup, senior Mikayla Waroway insists on being the last one to be called out onto the basketball court.
"I just like to let everyone go first, obviously," she said. "It's just fun to be the last senior, I guess."
Well, the parable of the workers in the vineyard states that the last shall be first, which appeared to work in Waroway's favor at the Catholic League girls basketball championships.
A pair of Waroway three-pointers in the last minute of the third quarter gave the Fighting Irish their first lead of the day, and powered the team to its first Bishop Division championship — and its first league crown of any kind since 1992-93.
Fr. Gabriel Richard had trailed Farmington Hills Mercy 11-2 early in the second quarter, but finally found its shooting rhythm in the second half to post a 41-27 victory Saturday at the University of Detroit Mercy's Calihan Hall.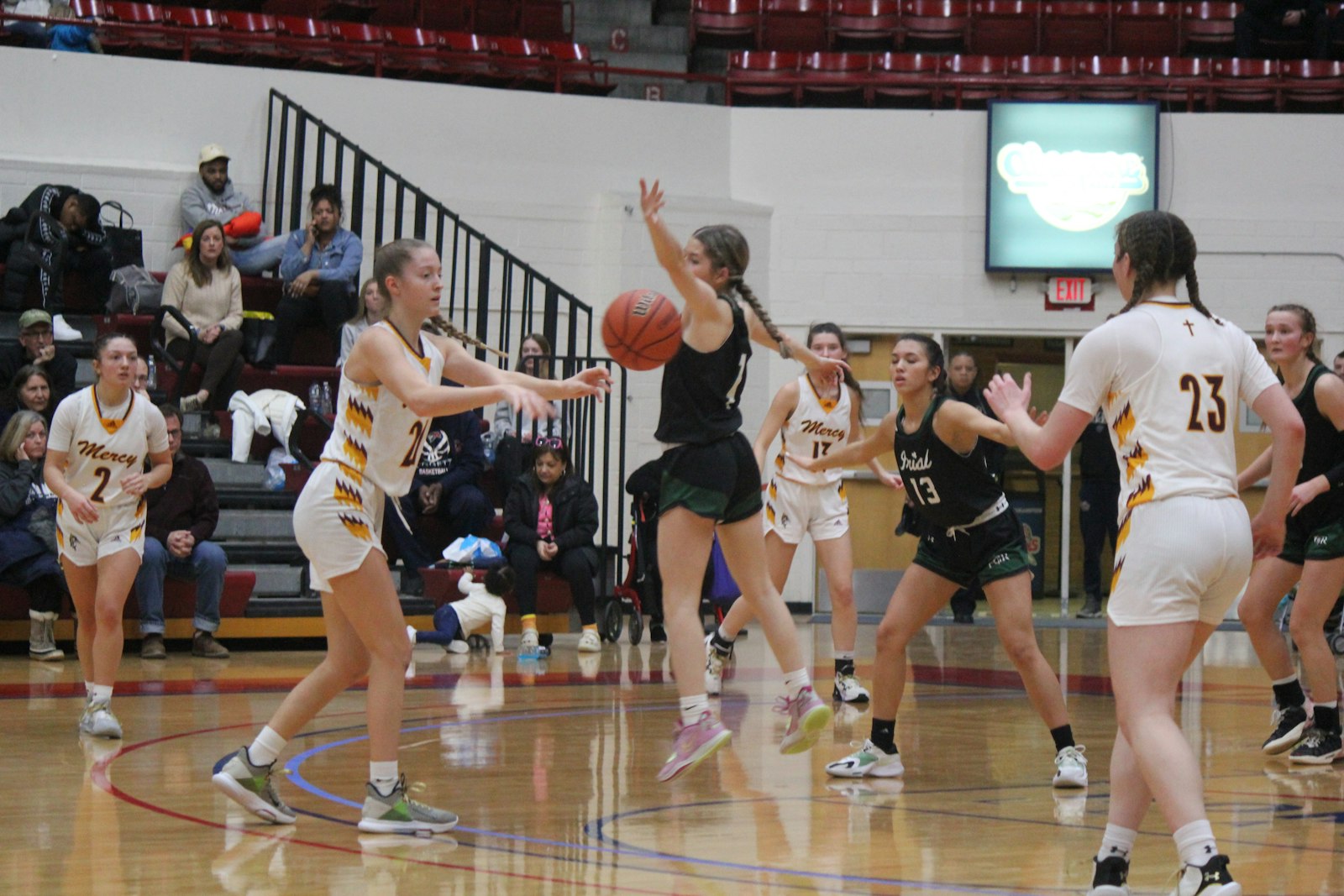 "I was a little bit shocked that they were changing their zone off the first pass, and that kind of accounted for our slow start," coach Tim Cain said. "As soon as we started moving against their zone, I think they had trouble. We threw five or six passes, then we got some girls wide open that hit some good shots."
Fr. Gabriel Richard (17-3, 7-1 Central Division) sank six from beyond the arc — three by Waroway en route to a high game of 16 points, two by sophomore Charlotte Miller, and another from freshman Vanessa Rodriguez.
Despite the fast start, Mercy (17-3, 7-1) couldn't keep the momentum as the game rolled on. The Marlins scored just two points in the third quarter, when Fr. Gabriel Richard seized its first lead. The Irish held Mercy to just nine points after halftime.
Cain said the key to overcoming the deficit was not to get rattled, reminding his players they had worked out of much bigger holes, such as when Divine Child scored the first 15 points of the game against the Fighting Irish in their semi-final playoff game.
Waroway agreed with her coach's assessment.
"I think we just really enjoy being around each other," she said. "We help each other stay calm and just stay positive and help each other up. If someone's not having a great game, another person's going to be great and we just have to help that person up."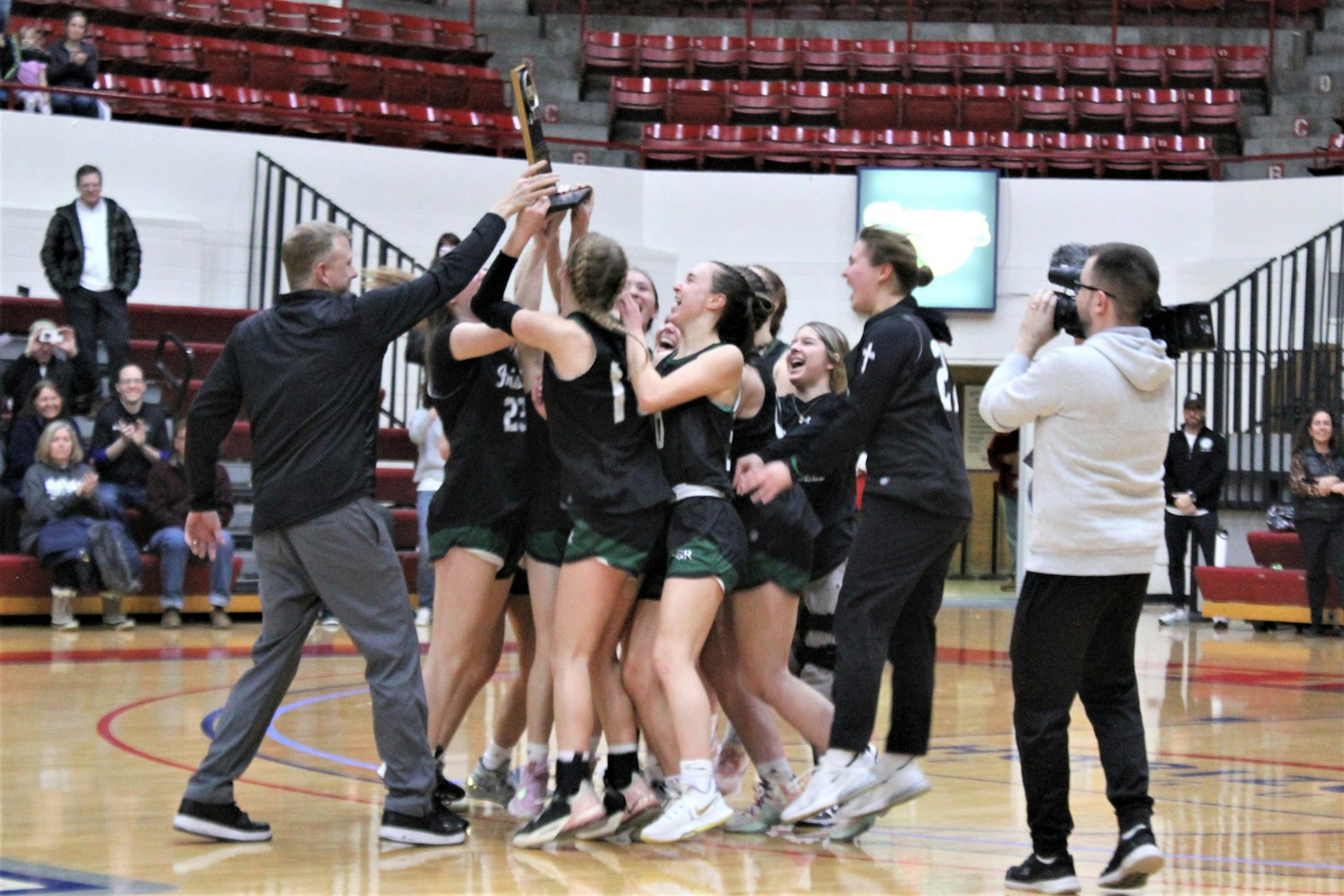 Fr. Gabriel Richard and Mercy were co-champions in the Central Division, splitting their two regular-season games against each other. The Fighting Irish dealt Mercy its first setback of the year on Jan. 23 after the Marlins had won 14 straight.
"It's been really big," Waroway said. "When I was a freshman, we had never really done very well in the Catholic League, so it's been exciting to see how we've worked our way up and finally came out on top, and it's just amazing to be here for my last year and see it happen."
St. Catherine reclaims Cardinal Division crown
Ever since Madison Heights Bishop Foley beat Wixom St. Catherine of Siena for the 2022 Catholic League championship, St. Catherine had one goal in mind.
"The loss last year, it definitely motivated us and we wanted to get some revenge," senior forward Hailey Baumann said.
Baumann and her teammates can now check that item off the top of their list. She scored a game-high 15 points on Saturday to help the Stars defeat Bishop Foley 47-40 to win their second Cardinal Division championship in three seasons.
In a match-up between two division champions with new head coaches, St. Catherine (18-1, 8-0 AA Division) never trailed. The Stars went on a 9-0 first-quarter run to take an 11-2 lead. Bishop Foley (15-4, 10-0 Interctional-1 Division) narrowed the gap to 22-19 by halftime, but a locker-room pep-talk by St. Catherine coach Dave Skown allowed his players to refocus.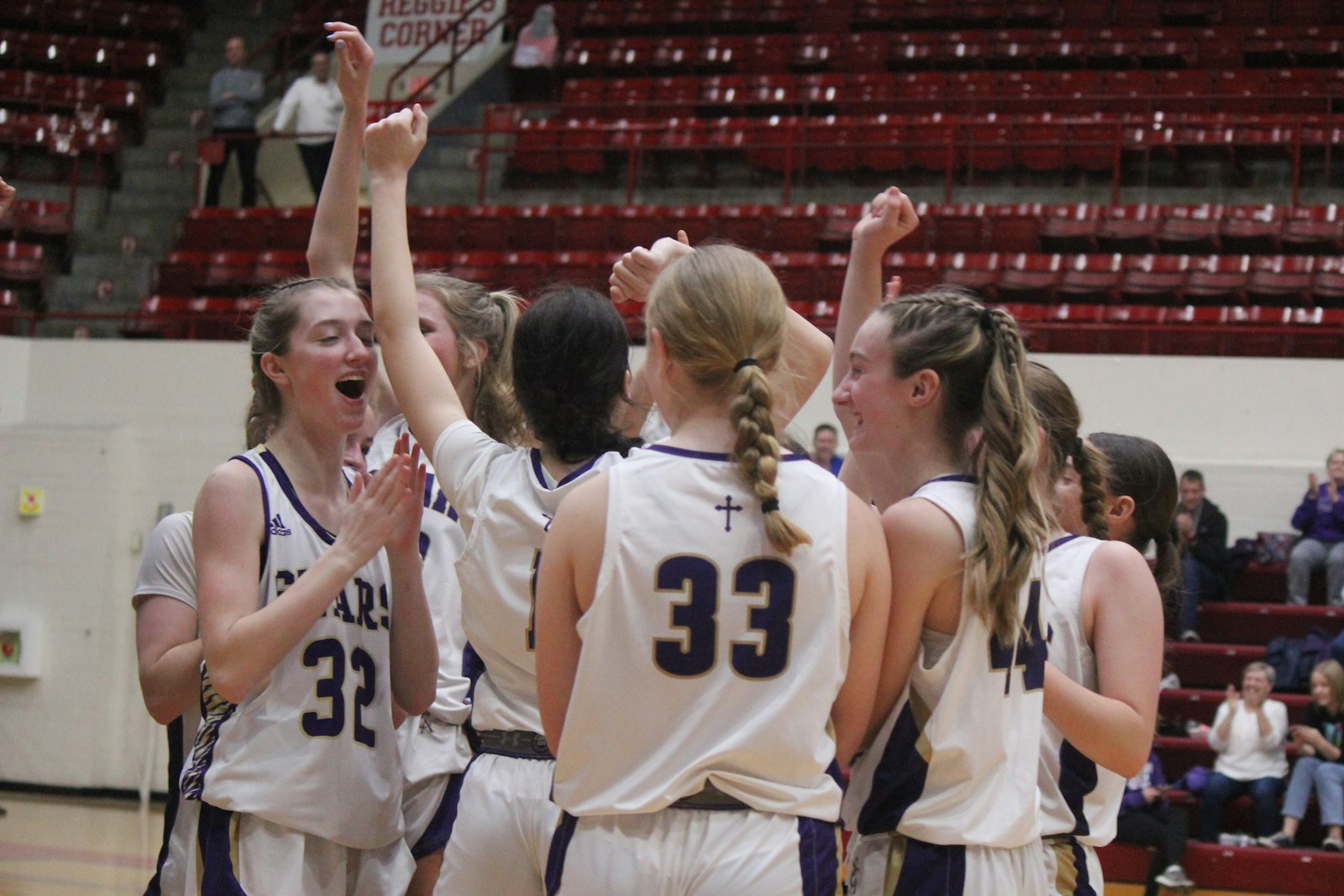 "We had a comfortable lead, and you look up and we were only up three," he said. "I told the girls, who were kind of dejected, that we were not at a funeral — we were playing a great basketball team and we had a three-point lead. Normally we come out and the third quarter's been our quarter. Let's win the third quarter, and we've got a bunch of experience going into the fourth quarter. Let's take care of the ball and make our free throws. They did that, and they were awesome."
Although Bishop Foley's Alyssa Samartino made a pair of free throws and scored a lay-up following a steal to close within 30-29, St. Catherine scored on four of its next five trips up-court, going on a 10-0 stretch to break the game wide open.
Baumann hit two "and-one" baskets during the pivotal stretch, sinking the resulting free throws after getting fouled. At the other end of the floor, three different Stars blocked Bishop Foley shots on three consecutive possessions.
"We like to play good defense," Baumann said. "We just play for each other out there, work hard, and we have a lot of senior experience, so when things get tough, we just stick to our game."
It was the fourth straight appearance in the Catholic League title contest and second championship for the Stars.
"I'm really, really proud. Obviously I can't say enough about this senior group — they went to four straight Catholic League finals, which is pretty impressive," Skown said. "It was absolutely awesome. The seniors on this team had a fabulous four years, and they were outstanding again. It was a blast."
Now, the Stars are tasked with setting a new goal.
"We'll start talking about it for next year when we say a prayer and leave here today," Skown said. "Getting back to Calihan — that's our main focus. It's completely the biggest goal."
Copy Permalink