EAST LANSING — It was a pretty unique season for Orchard Lake St. Mary's boys basketball team, to say the least.
During the regular season, the Eaglets underwhelmed. During the playoffs, they overachieved.
When it all was said and done, they were one of the last teams standing — just about where many observers thought they would be from the outset.
St. Mary's long and exciting post-season run came to an end last Friday one step short of the state championship game. Muskegon dispatched the Eaglets, 65-42 in a Division 1 semifinal played at Michigan State University's Breslin Center.
"We had a lot of conflicts during the season and we came together in the post-season," sophomore guard Trey McKenney said. "If you told me we would get to Breslin, I probably wouldn't have believed it, but I felt like we came together and made a great run."
His running mate, sophomore guard Sharod Barnes, added, "I just think we've been through a lot of ups and downs as a team; it was highs and lows. We just found each other and our coach believed in us, and we just found a way to pull off some wins.
"We just came up short tonight."
Muskegon jumped out to a 15-6 lead by the end of the first quarter, scoring on six straight possessions. Meanwhile, St. Mary's hit just two of their first 10 shots and were forced to play catch-up all night. Daniel Smythe's three-point play in the middle of the third quarter reduced the deficit to eight points at 34-26, but that would be as close as the Eaglets would get.
"I thought Muskegon's a very, very good team," St. Mary's coach Todd Covert said. "They were very well-coached. They do a lot of things very simple, but they do them very well. We got hurt on the boards; I think that was the biggest thing. We missed some shots early that I thought could have propelled us."
Only four players scored for St. Mary's: McKenney finished with 20 points (along with 10 rebounds), despite frequently being double-teamed. Barnes had 13, Mason Wisniewski garnered 6, and Smythe added 3. All four were in the starting lineup.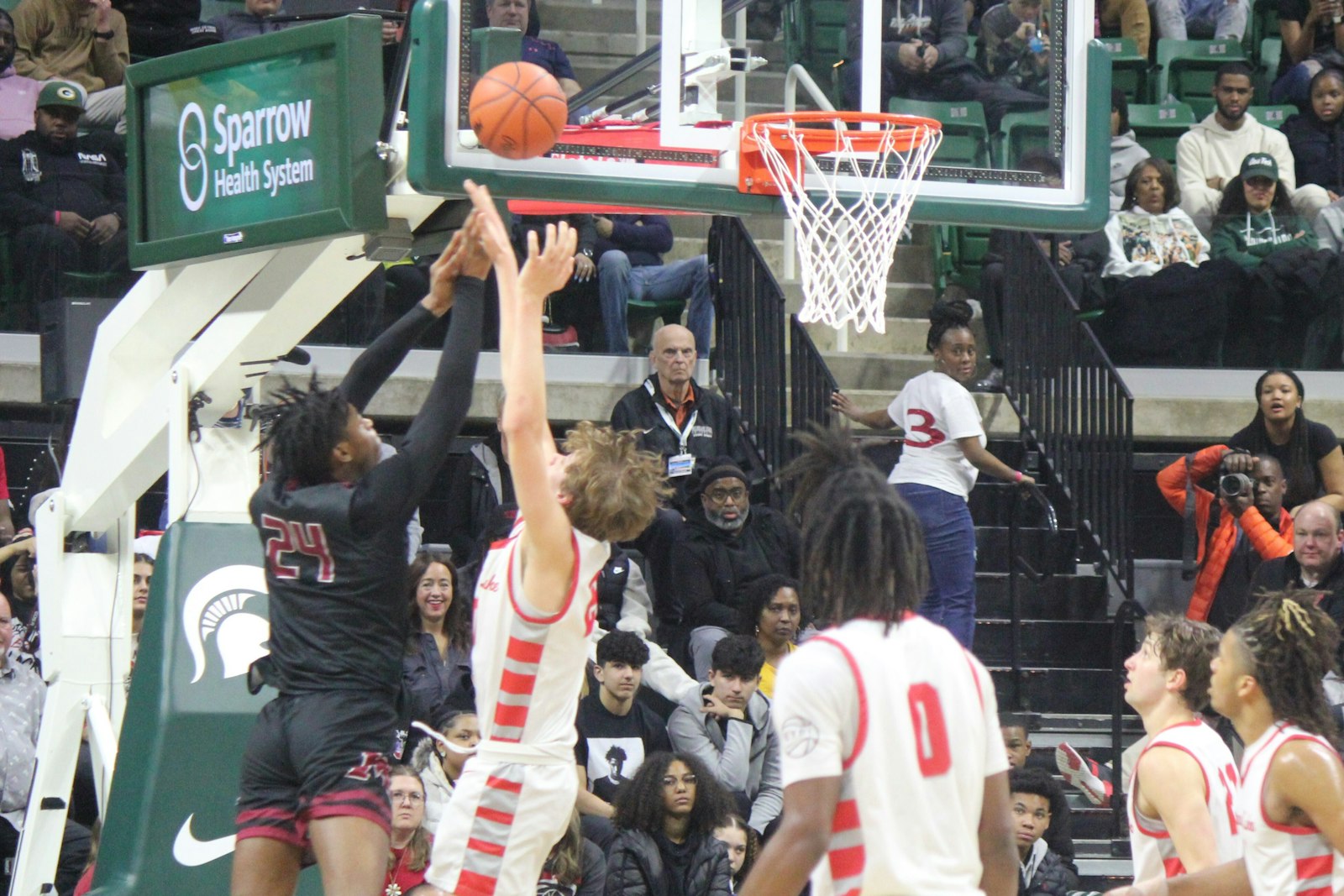 "The physicality of the game and the rebounding just couldn't get us over the hump. We just couldn't get that extra shot tonight," Covert said. "Like I said, Muskegon's a very well-coached team, very disciplined, they play extremely hard, so we were going to have to have another A-plus game tonight, and we didn't."
Despite the loss, it was a solid way for St. Mary's to end the season after facing adversity during the regular season. After capturing the Catholic League championship in 2021-22, St. Mary's was the only team not to qualify for this winter's Catholic League Bishop Division playoffs, winning just two of 10 Central Division contests.

The main distraction was the ongoing saga of Isaiah Hines and Jayden Savoury, two highly regarded sophomore basketball players who transferred to St. Mary's from Macomb Dakota and Detroit Renaissance, respectively, with hopes of suiting up for the Eaglets this winter.
The Michigan High School Athletic Association mandates athletes sit out a season after transferring, with designs on reducing the possibility of undue influence. The families challenged the rule in U.S. District Court, saying the players should be immediately eligible since living in St. Mary's boarding facilities constitutes a change of residence, which is one of the 15 allowances in MHSAA procedures.
However, the MHSAA did not allow the duo to play this season, and the court struck down the families' appeal for injunctive relief.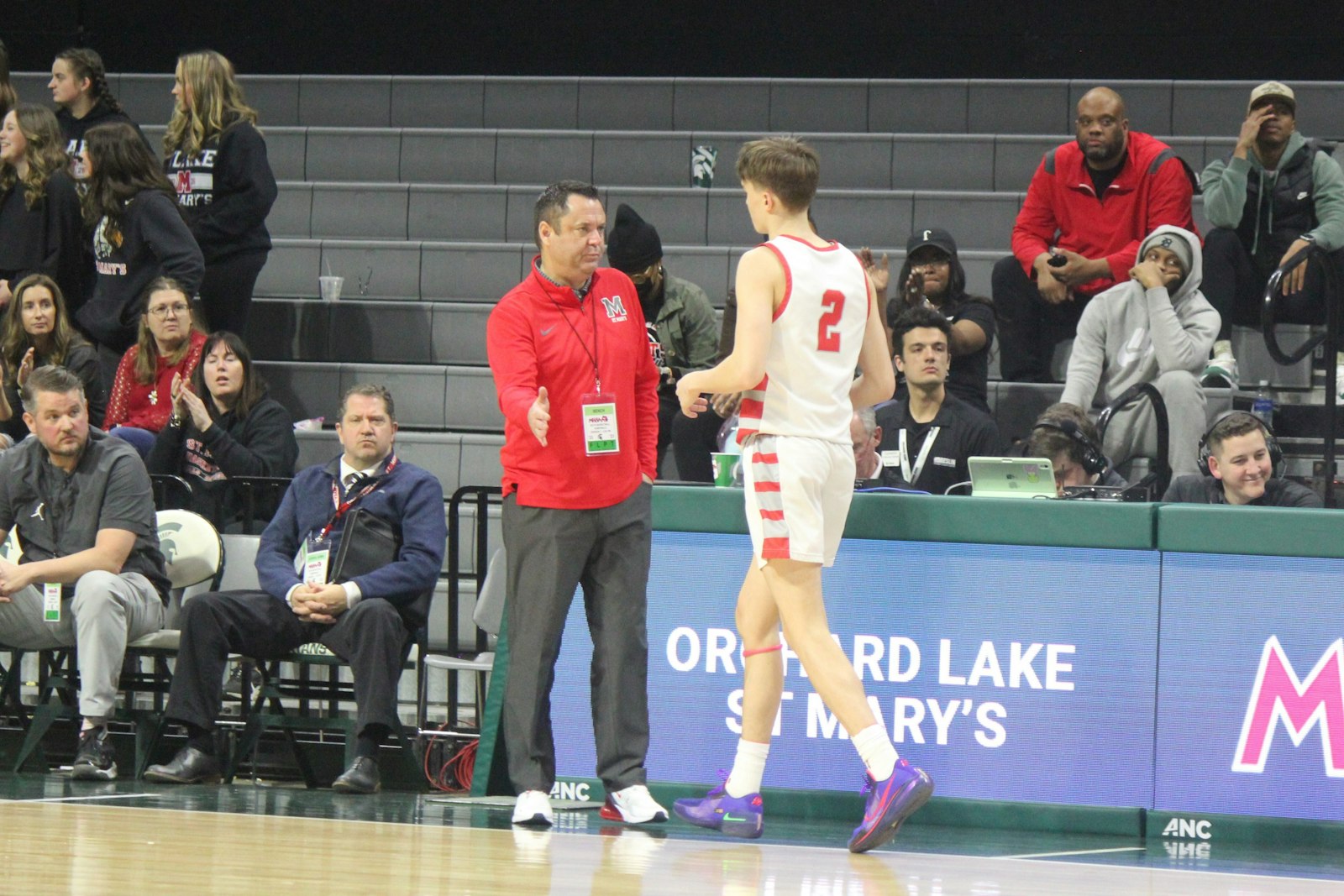 After finishing the regular season 11-10, St. Mary's went on a post-season tear, defeating many of the schools that had beaten them earlier. The Eaglets won a district championship over Bloomfield Hills Brother Rice, who was ranked No. 1 in the state at that point after winning the Catholic League crown. St. Mary's then eliminated a pair of top-10 schools, University of Detroit Jesuit and North Farmington, to win the regional, and knocked out defending state champion Warren De La Salle in the quarterfinal round.
"It was a testament to these kids, what they did," Covert said. "Sharod and Trey a few weeks ago said we've got to start playing for our school, who we represent, our community and our students. Our student body was just fantastic, the school really propelled us."
St. Mary's only graduates one senior, Jackson Wasylewski, and hopes to get contributions from Hines and Savoury next year, so it's possible the Eaglets can pick up at the level they left off.
"I don't even know what happened the last two weeks, but I know it was a pretty special, special thing. I've been at St. Mary's for close to 23 years now, but I haven't seen too many teams — football, basketball, baseball — accomplish what we've done," Covert said. "We've been grinding pretty hard the last couple of weeks, but we're excited for our future and our school, I can tell you that."
Copy Permalink