ROYAL OAK — It took patience, sprinkled with a dash of frustration, but three Catholic high school girls soccer teams survived the regional round and are playing into the final week of the season.
Reigning state champion Bloomfield Hills Marian (Division 2), Pontiac Notre Dame Prep (Division 3) and Royal Oak Shrine (Division 4) each won their regional final contests with late goals, after playing scoreless first halves.
As a result, the three teams advance into the state semi-finals this week, in hopes of playing for a state championship Friday or Saturday at Michigan State University.
"It's definitely a good feeling. We're a little nervous, but we're not going to dwell on that," said Shrine senior Claire Plaskey. She hopes to play in her third state final, as the Lady Knights lost to North Muskegon last year and won the championship in 2019 over Kalamazoo Christian. (The entire 2020 season was lost to the COVID-19 pandemic.)
Before then, 10th-ranked Shrine (15-4-2) will play unranked Bad Axe (16-3-3) in the semi-final, 6 p.m. Tuesday at Troy High School. It's a re-match of the 2021 semi, won by Shrine, 3-1.
"I don't know anything about them. We played them last year, but they could be like us, having graduated seven or eight girls," coach Mark Soma said after Shrine's 2-0 victory against Plymouth Christian on Saturday. "I still don't think we've played to our potential. If we play fast and in control, teams can't keep up with us."
Tuesday night's winner moves on to the Division 4 championship against either North Muskegon or Kalamazoo Christian, at 1 p.m. Friday.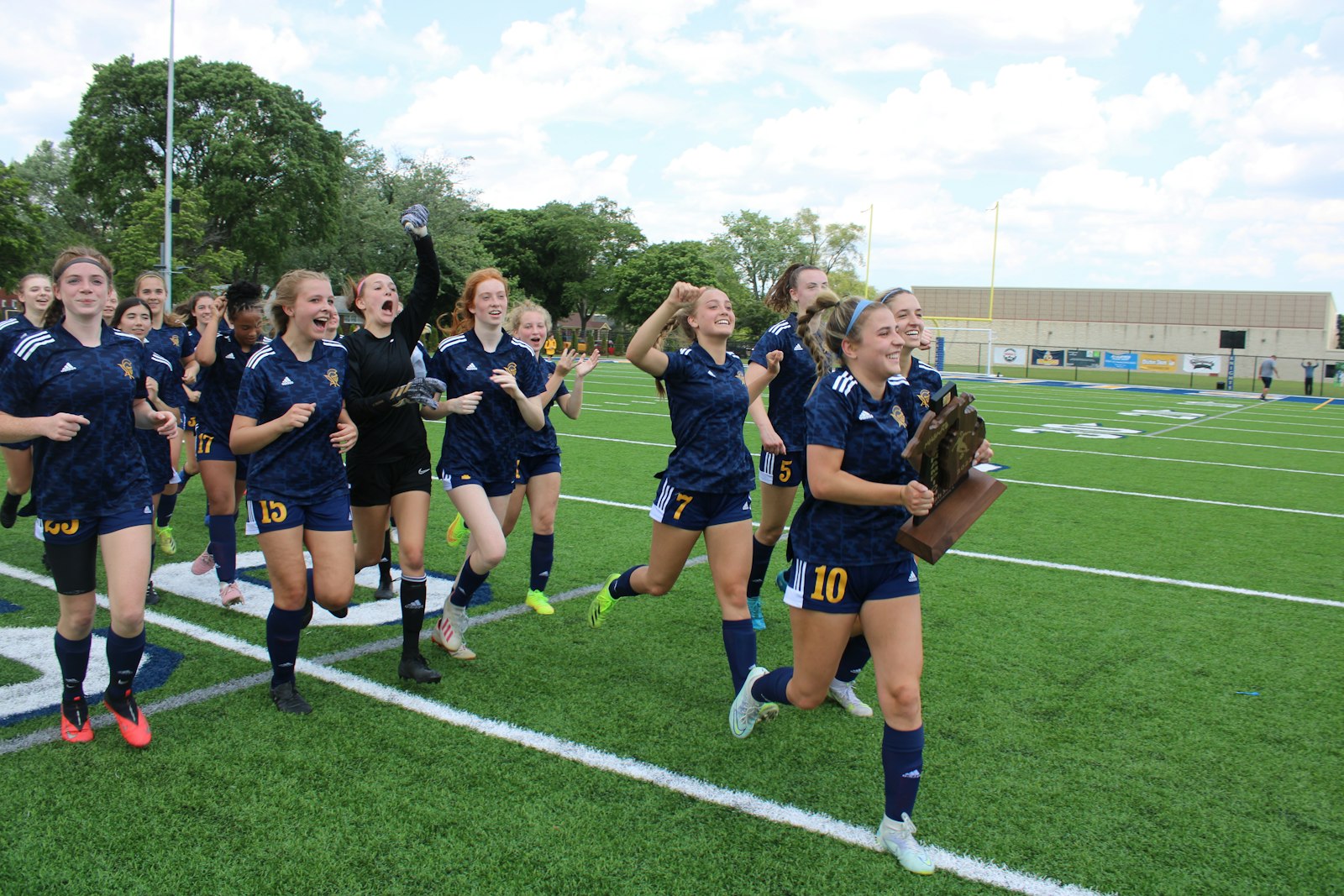 It took a pair of second-half goals by Julia Bock to get Shrine to this point, as the Lady Knights defeated Plymouth Christian (11-7-1) in the regional championship on June 11.
Shrine controlled the run of play early, but didn't even get a shot on goal for the first 20 minutes of the contest.
"They had more defenders than any team we faced before in the district finals and semis, so we had to deal with that. It was really frustrating, but we had to keep going," Bock said.
"We were frazzled and frustrated at first, but we got a few shots," Plaskey said. "We made sure not to press too high, but eventually we figured it out."
The breakthrough came in the 57th minute, as Bridgette Drouillard sent a crossing pass from the right side into the goal box. Bock connected for a close-range shot that was bobbled by the Eagles' goalkeeper, and then Bock was there to send the rebound into the net.
Shrine added an insurance tally with less than two minutes to play. Plaskey sent a lead pass in Bock's direction, and she beat the defenders to the ball for a breakaway. Bock fired the ball into the lower left corner of the goal.
"We got good opportunities," Soma said. "We had beaten them before (3-0, on May 16) but you never know how they're going to respond. Early balls, balls in behind — that's how you beat a team that's sitting back. We've said this since the playoffs started, but it's one game at a time. Even though that's a cliché, it really is the case."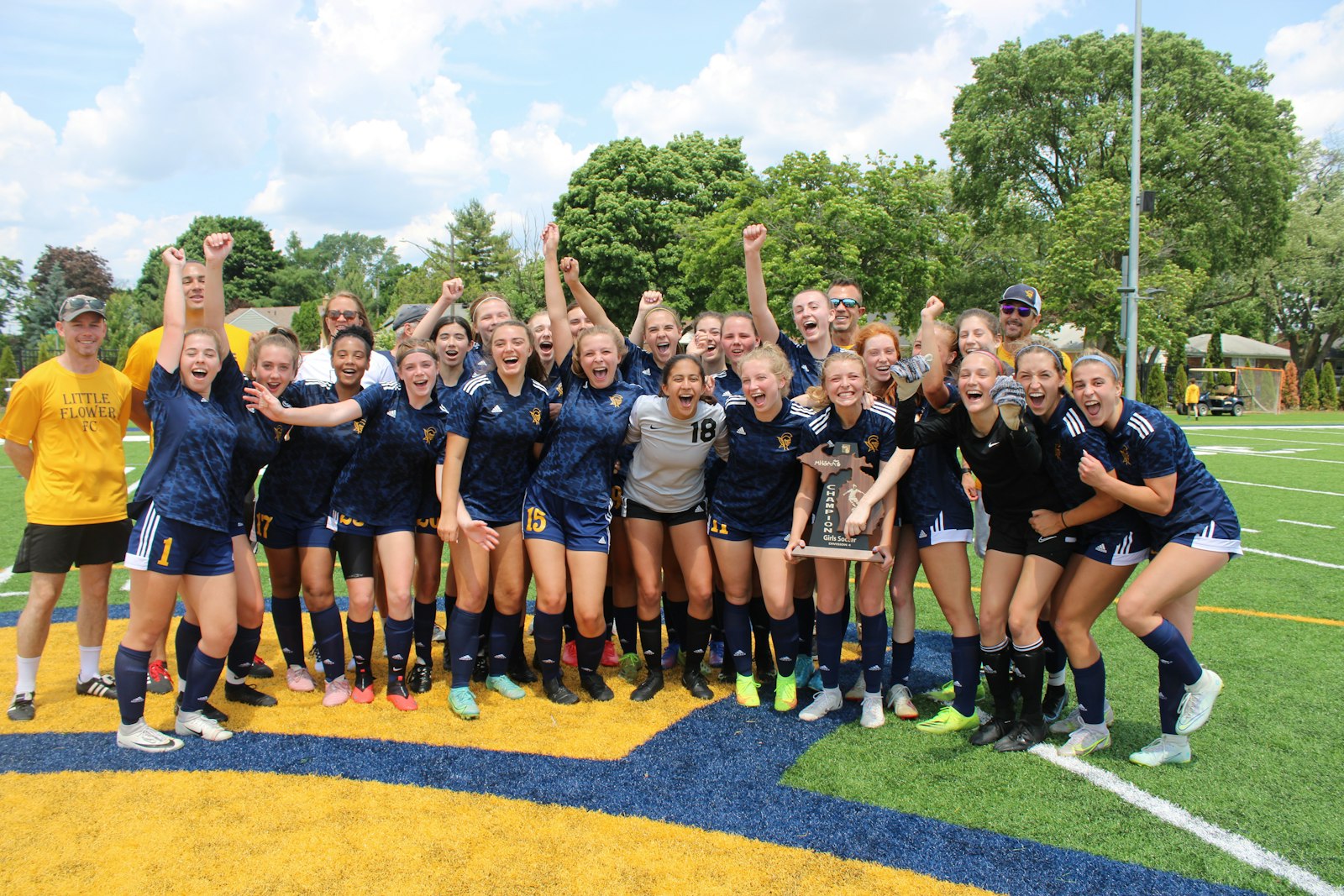 Marian, the four-time reigning state champ, was put to the test in its regional championship game against New Boston Huron, which was seeking its first-ever regional title.
After a scoreless first half, Isabelle Agrusso chipped in a shot to the lower right with 15 minutes remaining, and that was all that the Mustangs (16-1-0) needed to get past the Chiefs. Marian, led by first-year coach Reid Friedrichs, had no choice but to respect Huron (12-6-3) after the close win.
Next, second-ranked Marian moves on to a semi-final against seventh-ranked Haslett (17-1-1), 6 p.m. Wednesday at Northville. The Division 2 state championship will be 4 p.m. Saturday at Michigan State.
Wednesday's winner is sure to face a formidable opponent. On the other side of the bracket, the teams remaining are Grand Rapids Forest Hills Central (which won the Division 1 championship in 2017) and Richland Gull Lake (which has dealt Marian two of its three championship-game defeats, in 2013 and 2014).
While Haslett has never been to the state finals, it's practically been the exclusive domain of Marian. The Mustangs have won nine state championships since 2002 — all of those coming under the guidance of now-retired head coach Barry Brodsky.
One of the teams that has been able to cut into Marian's dominance has been Pontiac Notre Dame Prep. Jim Stachura's squad won the Division 2 state championship in 2016, and their 3-0 win over Grosse Ile on June 9 gave the Fighting Irish their first regional title since then.
Notre Dame Prep (17-4-3) and Grosse Ile (15-6-1) were tied 0-0 after the first half, but Alexandra Williams poked in a shot in the 51st minute to give the Fighting Irish a lead. Following a weather delay because of lightning, Bree Blakesley and Adriana Lorenz added tallies to close out the game.
It was the ninth straight win for Notre Dame Prep, who earlier eliminated Warren Regina via shootout in the regional semi-final.
Next, the third-ranked Fighting Irish will play top-ranked Williamston (15-2-1) in the Division 3 semi-final, at 6 p.m. Wednesday at Howell Parker Middle School. The winner advances to the state championship at 1 p.m. Saturday at Michigan State, facing either Elk Rapids or Hudsonville Unity Christian.
Copy Permalink