BLOOMFIELD HILLS — Marian's volleyball team is starting a new season right where it left off last year — ranked No. 1.
The Mustangs are rated atop MaxPreps Pre-Season Top 25 USA high school volleyball teams.
The Michigan Interscholastic Volleyball Coaches Association agrees in their state Division 1 rankings.
For the last two seasons, Marian has dominated the prep volleyball scene in Michigan and gained national attention by winning back-to-back Division 1 championships.
"We have targets on our backs," coach Mayssa Cook said recently before Marian took the floor against archrival Farmington Hills Mercy in an early-season Catholic League Central Division showdown.
"It's nice," Cook said. "We know we're a top five team and everybody will be playing their best game against us. We welcome that. It'll make us better."
With the departure of "four big contributors" — Miss Volleyball Ava Brizard, Janiah Jones, Sophie Treder and Sarah Sylvester — Cook will be counting on leadership coming off the bench but with not as much on-court experience.
Heading into the Labor Day weekend, Marian (13-0; 30-3 sets) is formulating a new cast of contributors led by senior All Americans Ava Sarafa (committed to Kentucky) and Ella Schomer (Wofford College). In the all-important setters position, distributing the ball to attackers, Sarafa has directed the offense with 265 assists (en route to a fourth year of 1,000-plus), setting up sophomore Izzy Busignani's 108 kills, Schomer's 101, and 68 by senior Molly Banta.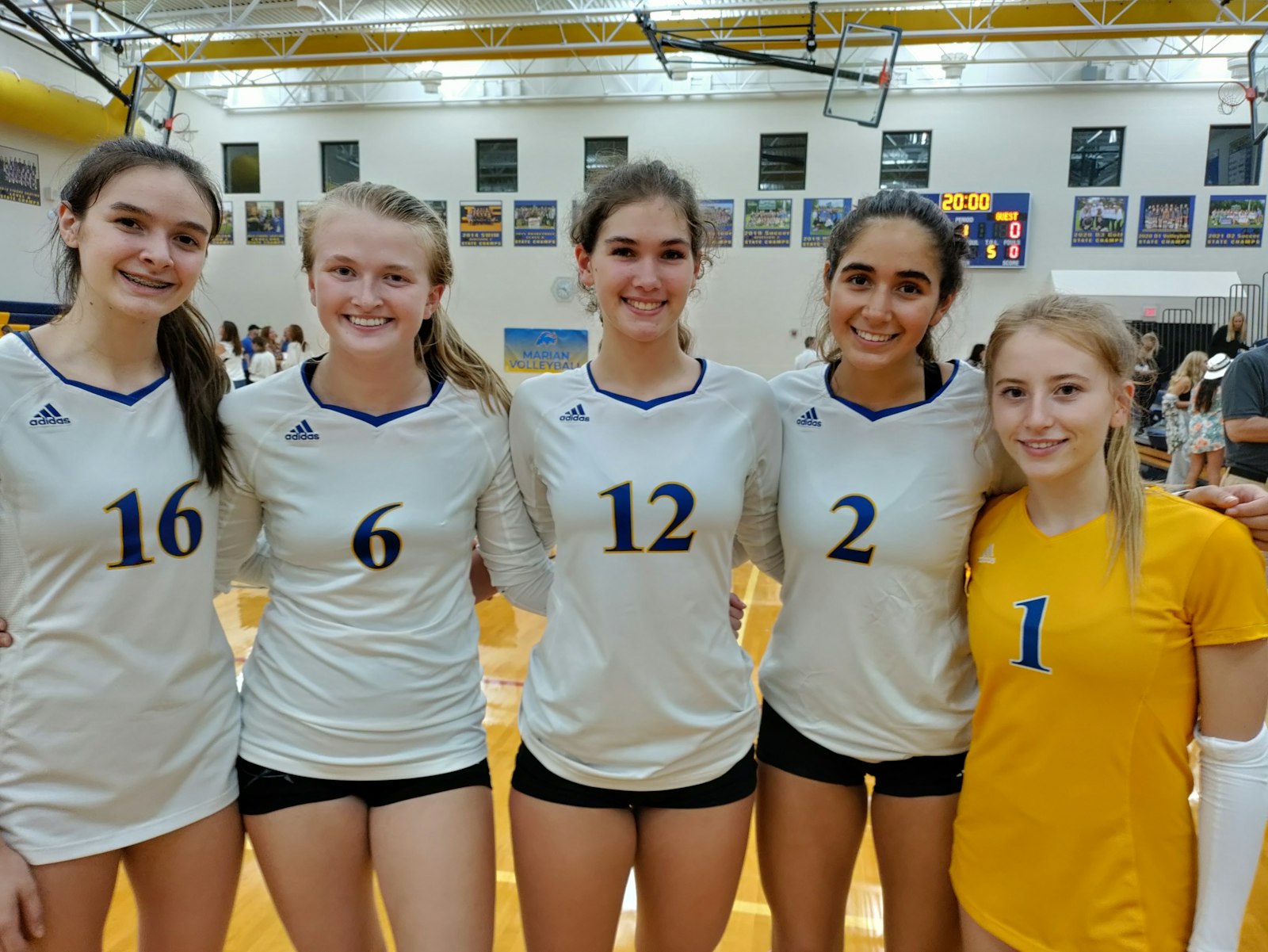 Six-foot-3 junior McKenzie Swanson and senior Reagan Sass lead the defense at the net with 19 and 18 blocks, respectively. Senior elfin libero Lauren Heming keeps the ball in play with 90 clutch acrobatic digs.
Marian beat Mercy 25-13, 27-25, 25-11. Busignani had 13 kills and Schomer and Banta 11 each. The squads had faced each other six days earlier in a non-league tournament contest which the Mustangs prevailed 25-13 25-23.
In her pre-game comments, Marlins coach Loretta Vogel — in her 46th year, 13th at Mercy — said, "Our success will be dictated by senior Erin Kline and sophomore Campbell Flynn" in their roles as setters.
In Mercy's first 15 games (12-3; 26-8 sets), Kline has 168 assists and Flynn 138. Senior Ella Shields (committed to Stony Brook in New York) is a primary target so far with 100 kills.
"We have only four seniors," Vogel said, "but some very talented underclass girls." One of them is sophomore softball hurler Kaitlyn Pallozzi, who struck out all 21 batters in a perfect no-hitter last spring. "She's the real deal."
"We're fortunate to be a top 10 team every year," Vogel said. "So we'll be looking to see what works, what adjustments to make to be successful."
About the Mustangs' and Marlins' intense rivalry, "You know, for three or four years we were the thorn in their side (2017-18-19 CHSL champs; 2019 state champ.). We've been through it all," Vogel said.
Marian has won the league and state titles the last two years. They will clash again Sept. 28.
Noteworthy: Jess Mruzek, Miss Volleyball who led Mercy's domination in volleyball and the 2019 state championship, is a junior volleyballer at Michigan. She has been named to the Big Ten Pre-season All-Conference team.
Marian's Miss Volleyball Ava Brizard is a freshman at North Carolina State University. She had a season-high 20 kills in a victory against Sam Houston State University.
Other rankings: Mercy is No. 6 in Division 1. Pontiac Notre Dame Prep, defending Division 2 champ, is No. 4; Warren Regina in D2 is No. 12; in Division 3, defending champ Monroe St. Mary Catholic Central is No. 1, Royal Oak Shrine No. 10 and Riverview Gabriel Richard No. 12.
Contact Don Horkey at [email protected]
Copy Permalink