Sr. Marcine Klemm, OP, baptized Jeannine Therese Klemm, died on Tuesday, March 22, 2022, at the Dominican Life Center in Adrian. She was 92 years of age and in the 74th year of her religious profession in the Adrian Dominican Congregation.
Sister Marcine was born in Des Moines, Iowa, to John and Agnes (Rose) Klemm. Sister graduated from St. Joseph Academy in Des Moines and received a Bachelor of Science degree in Biology and a Master of Education degree in Counseling, both from Siena Heights College (University) in Adrian, and a Master of Science degree in Physiology from Catholic University in Washington, D.C.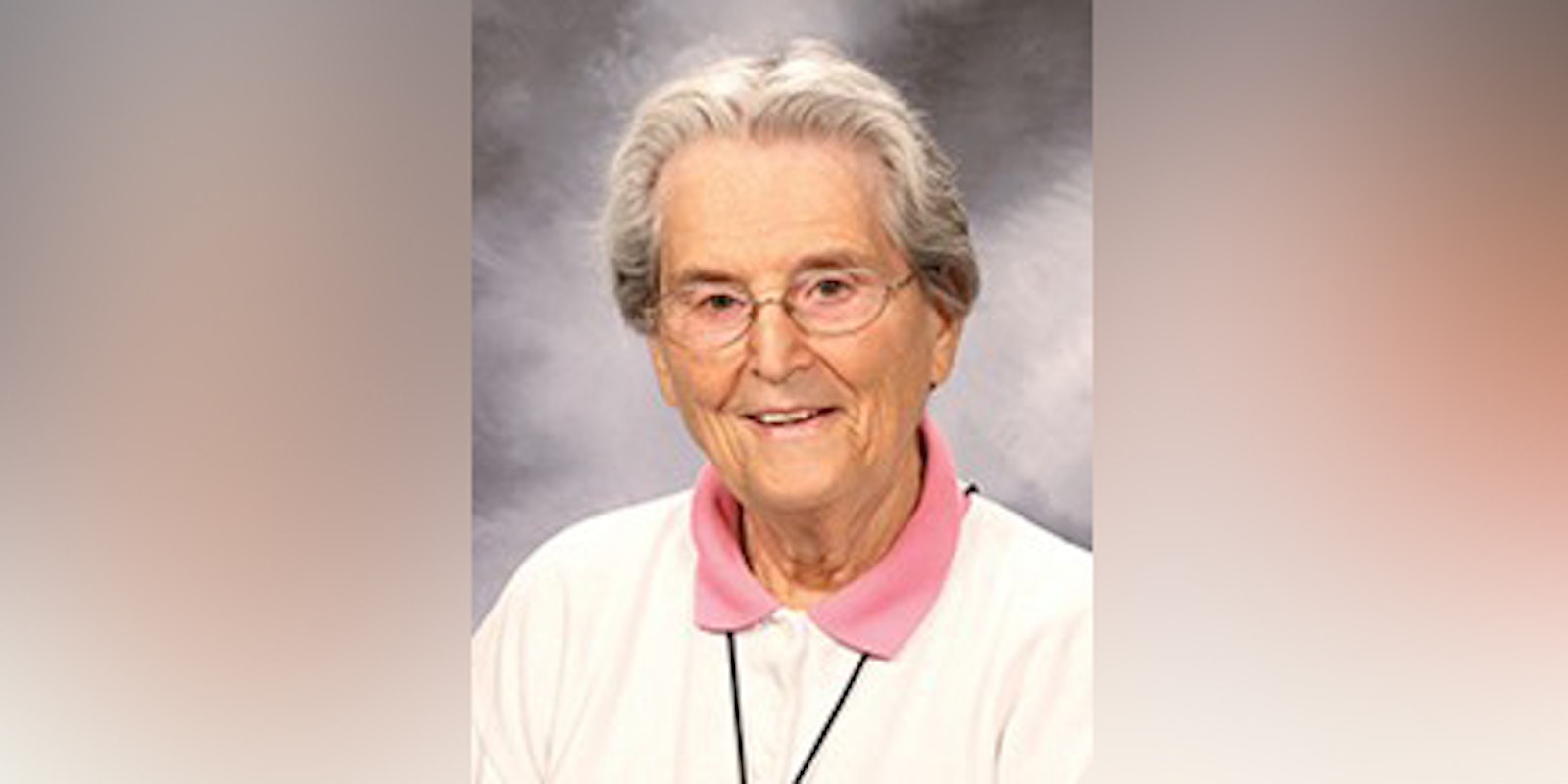 Sister spent over 23 years ministering in education in Detroit, Ypsilanti and Madison Heights, Michigan; Bronxville, New York; Guayama, Puerto Rico; and San Fernando, Philippines. During her four years in the Philippines, she assisted in the initial formation of the Dominican Sisters of Our Lady of Remedies.
She also ministered at three Congregation institutions: 14 years at Siena Heights University in Adrian, two years at Hoban Dominican High School in Cleveland, Ohio, and one year at Barry University, Miami Shores, Florida. In addition, she served 11 years in Congregation leadership positions, including three years as Co-Provincial of Immaculate Conception Province, two years as Chapter Prioress of the South East Adrian Chapter (SEAC), and six years as Chapter Prioress of the Great Lakes Chapter. She served five years as an administrative assistant at the Mexican American Cultural Center in San Antonio, Texas. She volunteered for many years at the St. Mary Food Pantry & Dire Needs in Adrian. Sister became a resident of the Dominican Life Center in 2010.
Sister Marcine was preceded in death by her parents; five sisters: Sisters Jeannine and Jean Agnes Klemm (both Adrian Dominican Sisters), Agnes Swartzbaugh, Mary Catherine Lippold and Cecilia Johnson; and six brothers: James, John, Francis and Richard Klemm, and twin boys who died in infancy. She is survived by loving family members and her Adrian Dominican Sisters.
Due to COVID-19 mitigation protocols, the Dominican Life Center is closed to all guests or visitors unless granted individual pre-approval. All are welcome to participate in Sister's wake and funeral via live stream at http://www.adriandominicans.org/LiveStream.aspx
The Vigil Prayer will be held at 7:00 pm Wednesday, March 30, 2022, in St. Catherine Chapel. A Funeral Mass will be offered in St. Catherine Chapel at 10:30 am Thursday, March 31, 2022. Prayers of Committal will be held at a later date in the Congregation Cemetery. Memorial gifts may be made to Adrian Dominican Sisters, 1257 East Siena Heights Drive, Adrian, MI, 49221.
Funeral arrangements are being handled by Anderson-Marry Funeral Home, Adrian.
Sister ministered in Michigan 38 years:
St. Dominic, Detroit (1949): Elementary Teacher
Visitation, Detroit (1949-51): Elementary Teacher
St. Johns High School, Ypsilanti (1959-65): High School Teacher
Bishop Foley High School, Madison Heights (1965-68): High School Teacher
Siena Heights College (University), Adrian (1977-79): Administrative Assistant
Immaculate Conception Province, Detroit (1979-82): Co-Provincial
SEAC Chapter, Detroit (1982-84): Chapter Prioress
Overseas Chapter Office, Adrian (1987-88): Administrative Assistant
Great Lakes Chapter, Detroit (1988-94): Chapter Prioress
Peace & Justice Office, Adrian (1995-96): Coordinator
Siena Heights College (University), Adrian (1996-98): Administrative Assistant
Siena Heights University, Adrian (1998-08): Administrative Assistant to the Academic Dean
Obituaries for clergy and religious who have lived or served in the Archdiocese of Detroit may be emailed to [email protected]. Obituaries are printed as they are submitted, but may be edited for grammar and style. Detroit Catholic reserves the right to refuse or edit any submissions.

Copy Permalink