CLARKSTON — Even though Bryce Baringer's future could lie in the National Football League, his route toward the pros contains more twists and turns than a New England country road.
"The most phenomenal thing about Bryce is his story; what he went through," said Baringer's high school coach, Pat Fox. "Never giving up on your dream; finding a way even when people tell you no. I couldn't sell the story to Disney — Disney wouldn't buy it because there are too many clichés."
The Waterford native, who was a punter for Pontiac Notre Dame Prep and Michigan State University, was drafted in the sixth round by the New England Patriots last Saturday.
"I'm just very thankful for the opportunity to play. It's been a lifelong dream to be able to play in the NFL, and I'm just thankful that this organization and the Patriots were able to select me. I'm just so grateful and very excited," Baringer said during a post-draft media conference call orchestrated by the team.
Baringer, a 2017 Notre Dame Prep graduate, got to this point in a roundabout way.

The NCAA All-American and record-holder wasn't even his high school team's punter for the first few seasons; he only added those duties as a senior.
"He did a great job," Fox said of the multi-sport athlete, who also lettered for the Fighting Irish in soccer, basketball and golf. "And what a wonderful young man — Bryce had all the things you'd want out of a young man, so this couldn't happen to anyone nicer."

Baringer originally attended college at Illinois, where he made the squad as a walk-on in 2017. He was red-shirted that season and did not play in order to preserve a season of eligibility.
He transferred to Michigan State the following year and was pressed into service following season-ending injuries to the two punters listed ahead of him on the depth chart. But after those two players returned for the 2019 season, Baringer was cut from the squad.
Despite losing his spot, Baringer never stopped working out individually, and returned to the team in 2020, winning his old job back. After averaging 43.7 yards and leading the Big Ten with 12 punts farther than 50 yards, he was rewarded with a scholarship.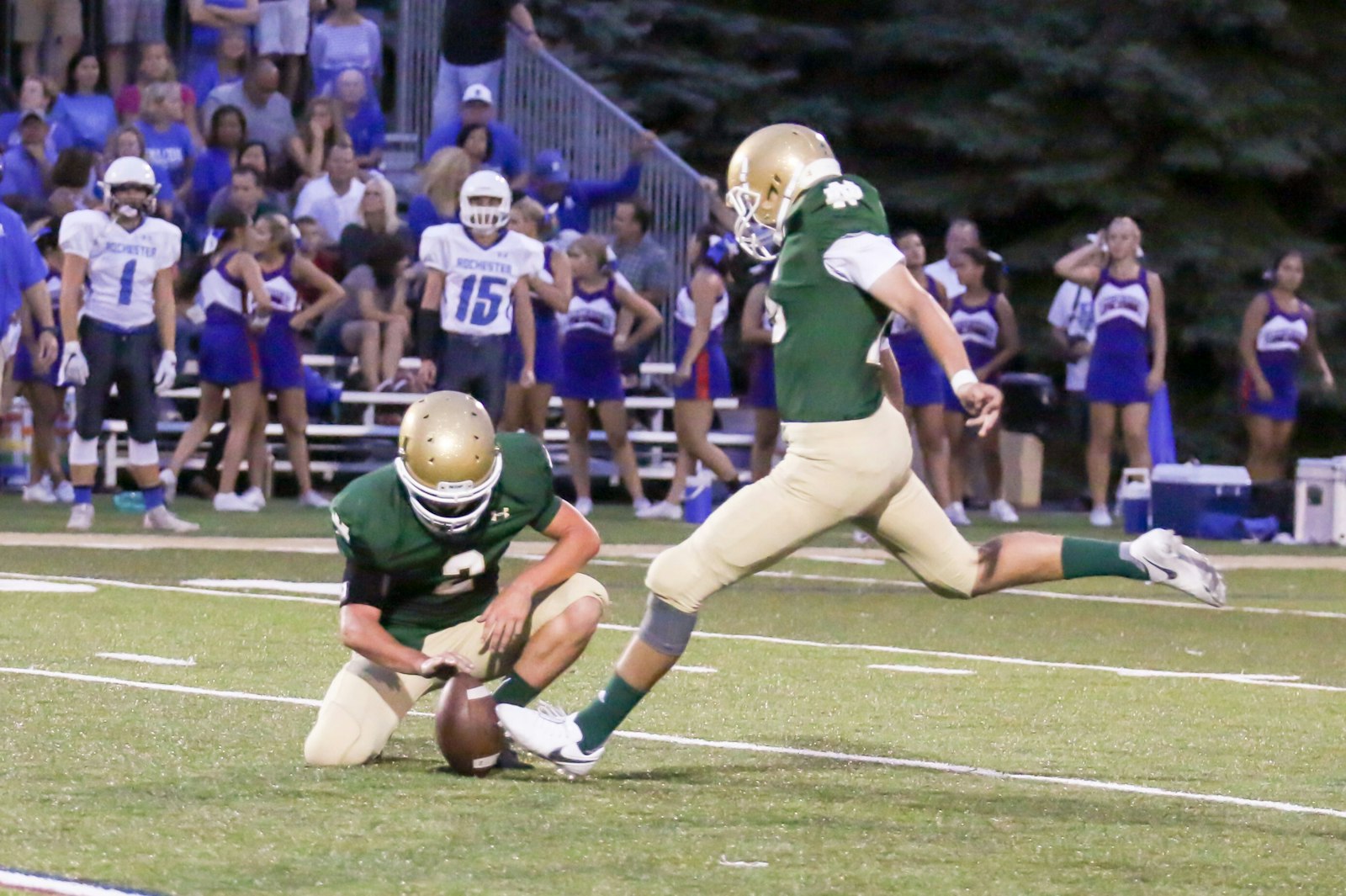 Things only got better for Baringer from that point. In 2021, as a red-shirt senior, he set MSU's single-season record with a 48.4-yard punting average, which ranked second-best in conference history. He became the first Spartan in 10 years to lead the conference in punting.
He earned an advertising degree in December 2021, but had one more season of athletic eligibility remaining and suited up in 2022, breaking his prior record with a 49.0-yard average. He was once again named Big Ten's Punter of the Year, was afforded All-American status by four sources and was a finalist for the Ray Guy Award (nationwide punter of the year).
"It's perseverance. Perseverance, believing in his own dream, never giving up. All those clichés, that's him," Fox said. "He was first team All-American this year — how he didn't win the Ray Guy Award, we don't know — he played in the Senior Bowl, and he just tested out so highly at the NFL combine."
The 6-foot-1, 220-pounder, whom ESPN analyst Todd McShay called "the best punter in this draft," was projected to be selected anywhere from Rounds 4 through 7, and the Patriots came calling with the 192nd overall pick, making Baringer the first punter drafted.
"I actually heard it on my radio on the way to his draft party (in Clarkston). It was a very nice gathering, with former Notre Dame kids there. Unfortunately, he had to get on a plane and go to Boston, everybody was still waving goodbye," Fox said. "He's going to go to play for Coach (Bill) Belichick — what a tremendous opportunity."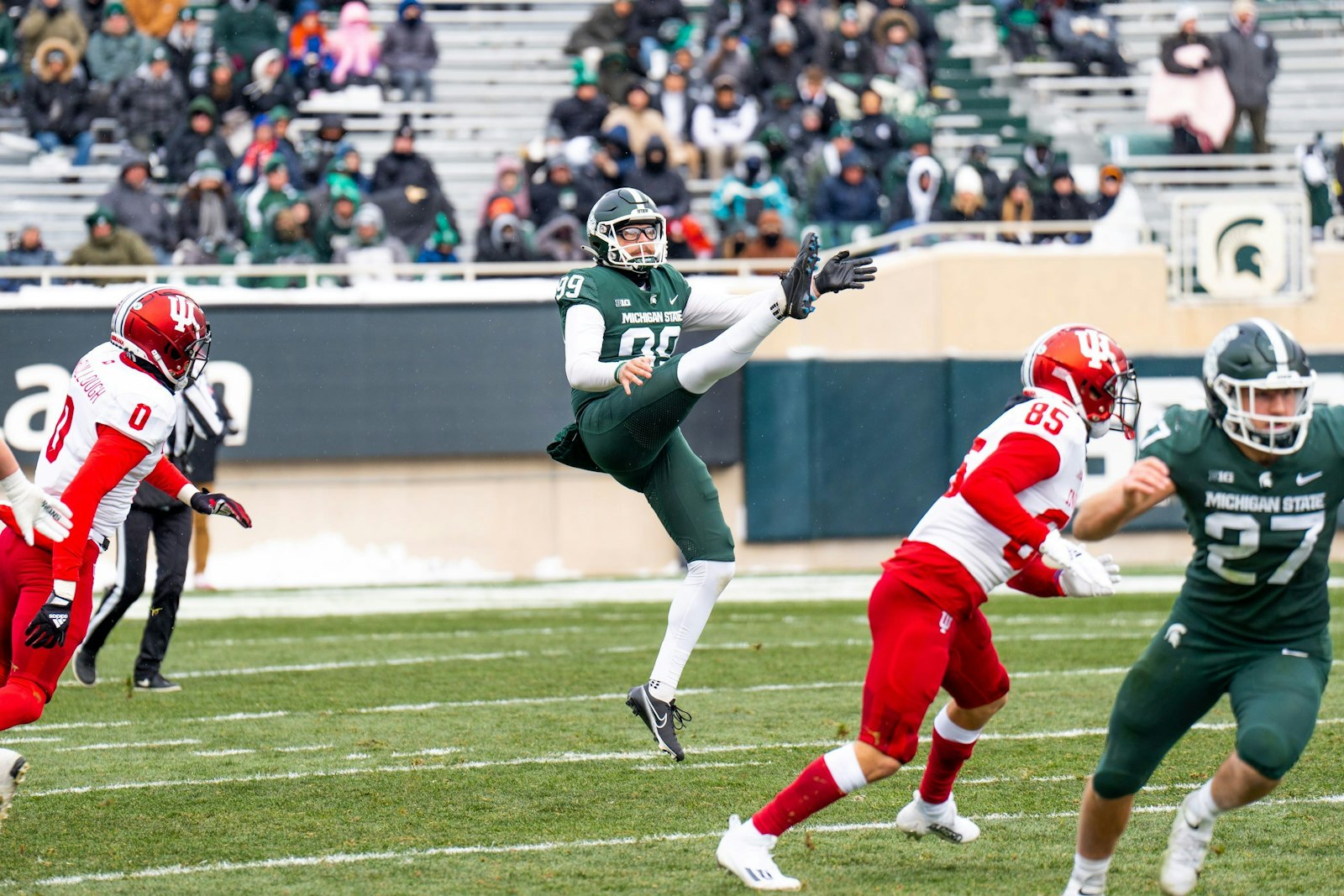 "I'm very grateful," Baringer said. "I'm very thankful for (Patriots owner) Mr. (Robert) Kraft and Coach Belichick for bringing me in. Definitely a life-long memory for sure.

"Just seeing everything come to fruition, all the hard work, a lot of dedication, a lot of early mornings — kind of the stereotypical stuff," Baringer said. "Just to be able to get that call was such an incredible feeling."
Actually, this is the second player Fox has had the pleasure to see drafted in his 33-year prep coaching career. Aric Morris, who played under Fox at Berkley High School, was selected by the Tennessee Titans in the fifth round in 2000 following a successful career at Michigan State. Morris played four seasons in the NFL for the Titans and the Patriots (who won a Super Bowl in 2003 while Morris was on the roster).
"Hopefully Bryce will have a nice career like that, too," Fox said. "Aric Morris is a very frugal young man. If I could tell Bryce anything, it would be to save all your money, put it in the bank. If you want to get ahead in life, start on third base."
Copy Permalink